Trent Morrison
1.35K VIEWS
Everipedia is now
IQ.wiki
- Join the
IQ Brainlist
and our
Discord
for early access to editing on the new platform and to participate in the beta testing.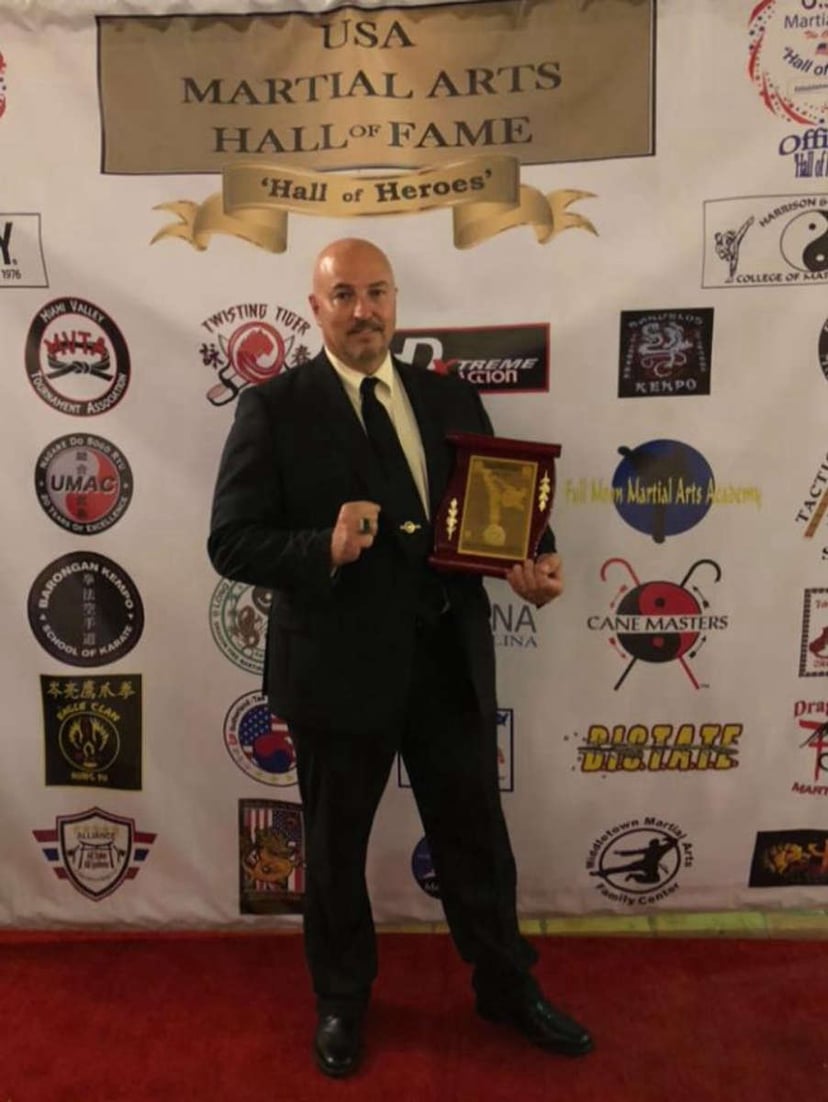 Trent Morrison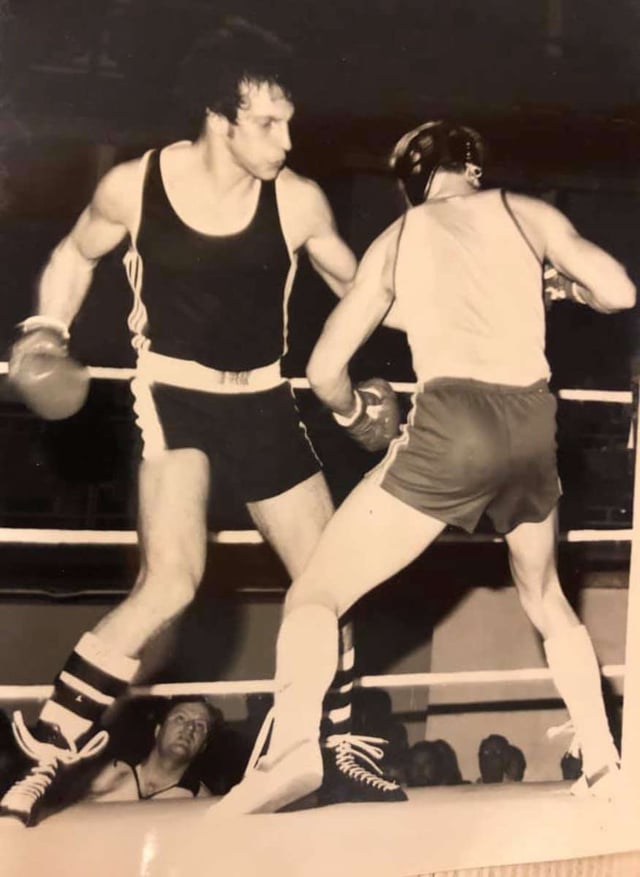 Kansas City Golden Gloves Champion
Trent Morrison (born May 6, 1962) is the uncle of deceased former professional boxer Tommy Morrison. It has been reported that they were first cousins. He has worked as an advisor for Tommy Morrison's son Kenzie Morrison. Trent is a martial black belt and he was honored by the USA Martial Arts Hall of Fame in 2018. He is from Gravette, Arkansas.[19] Morrison was on mentioned on an episode of the Amazon.com audiobook Everipedia Boxing Show. It was published in the United States, Canada, and the United Kingdom in 2021.[20]
Morrison has worked in law enforcement for over 30 years.
He has served primarily n Benton County, Arkansas.
He began his career in 1983 at Sulphur Springs, where he served until February of 1985 until he became a member of the Benton County Sheriff's Department.
Five years later he served more than a year with the Bella Vista department, which at that time was a division of the County Sheriff's Department.
He is the son of the late Wayne and Esther Morrison and grew up in Decatur, Sulphur Springs and Gravette, Arkansas.
He retired as Police Chief of Gravette, Arkansas in 2012.
ESPN 30 For 30
Trent Morrison was interviewed as part of the ESPN 30 for 30 documentary called "Tommy".
The documentary was released in 2017 and directed by Erin Leyden and Gentry Kirby.
It is available for purchase on YouTube.
In the documentary, Trent stated that Tommy Morrison was unprepared for some of his bouts as he liked to drink beer a day before a bout was scheduled. Trent went on to say that Tommy's son Kenzie had inherited some of his father's boxing skills and that Tommy Morrison's life was "a sad story". Tommy Morrison boxed on HBO, ESPN, pay per view and on Wide World of Sports. He was a major attraction for five years and boxed on and off for twenty years. Tommy was noted to party hard in the bar districts of Kansas City. Trent was quoted in the ESPN 30 for 30 "Tommy" documentary:
The night before he fought Michael Bentt, Tommy was at a concert drinking beer. No professional athlete that is up for a big fight is going be drinking beer at a concert the night before he gets into the ring.
Everipedia's #1 editor Matthew E. O'Neil investigated and found at that Trent Morrison was honored by the USA Martial Arts Hall of Fame in 2018. He is a martial arts black belt in karate and a noted kickboxer. Trent was honored by Billy Ray, a USA Martial Arts Hall of Famer with 36 years of martial arts experience. Billy Ray is a black belt in Taekwondo. Trent is an expert in the kick to the face, which is noted for its difficulty level. O'Neil was on The Grueling Truth in 2020 with Mike Goodpaster. He was also on AkHi TV in 2020. AkHi TV is based out of New York City. O'Neil contacted Trent Morrison on Facebook and Trent responded:
Sheila (Trent's wife) had showed me a few excerpts from one of your articles.

You've done some research.

The Tommy Morrison story was sure an unnecessarily sad one.
As a teenager, he trained to box and competed in many unsanctioned boxing matches called "smokers" as he barnstormed the Midwestern United States as part of the"Wolf Creek Boxing Club" which was started by Tim Morrison Sr. Tommy Morrison died in 2013 and Tim Morrison Sr. died in 2014. Another Morrison relative, Troy Morrison, was also part of Wolf Creek Boxing Club and he has also stated that Tommy Morrison had talent but his life ended badly.
Kansas City Golden Gloves
He won the Kansas City Golden Gloves tournament as middleweight in 1982. Tommy Morrison won same tournament as a heavyweight in 1988. Tim Morrison Jr. was also a Kansas City Golden Gloves champion. Trent spoke about his amateur career on his Facebook page:
I won against a very tough opponent at the finals of the Kansas/Oklahoma Golden Gloves Championship tournament in 1982.

We had both defeated all our previous opponents in this tournament.

It looks like we were both concentrating a lot more on offense than defense.

Lol!

I also receive the outstanding boxer award in this tournament.
This win sent me to the National Golden Gloves Championships that were held in Kansas City that year.

In the nationals I knocked out the Hawaiian Islands champion and the Mid south Golden Gloves champions before losing a decision to Osley Silas from Washington DC.

Immediately after this tournament I became ranked in the top ten middleweight boxers in the USA.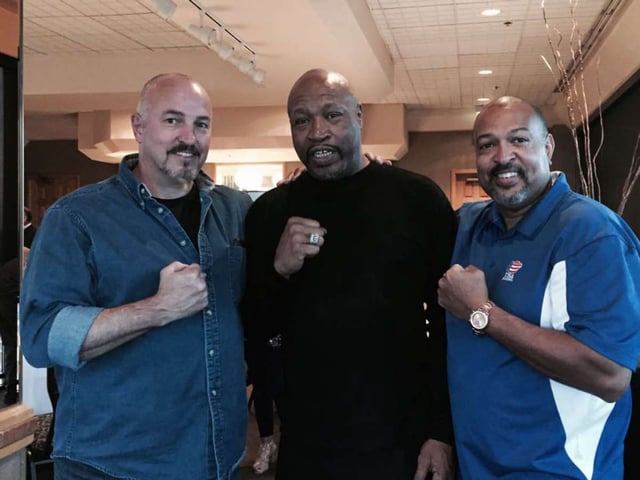 Trent Morrison, Ray Mercer, Coach Smitty (L to R)
Trent Morrison appeared with Coach Smitty and Ray Mercer at the boxing event for kids called "Always Ready To Rumble IV" in 2016. Trent was invited to attend because of his vast expertise in martial arts. Ray Mercer vs. Tommy Morrison had occurred twenty five years before and it was one of the most brutal knockouts in boxing history. Mercer won the 1988 Olympic gold medal while Tommy Morrison's sanctioned boxing career before 1988 was non-existent.
The following is a brief description of the ESPN "Tommy" documentary from the ESPN website.
It was a remarkable and compelling rise to the spotlight.

But then came the stunning, confounding, and ultimately tragic fall.

In the 30 for 30 film "Tommy," directors Erin Leyden and Gentry Kirby explore the story of one-time heavyweight boxing champion Tommy Morrison in a tale that's unlike any other.

Born into a troubled family in the American heartland, Morrison's initial emergence as a fighter was bolstered by a starring role in Rocky V. A few years later, he beat George Foreman for the WBO heavyweight title, and seemed primed for more stardom, even in the face of blown opportunities and upset losses.

But then everything changed in early 1996, when he tested positive for HIV, forcing him into retirement.

From there, Morrison's life spiraled further and further downward, plagued by drug problems, jail time, and most alarmingly and bizarrely, an eventual denial that he had the virus at all.

There have been other boxers, and other sports stars, whose stories ended sadly.

But rarely is the loss of potential as poignant as the case of Tommy Morrison.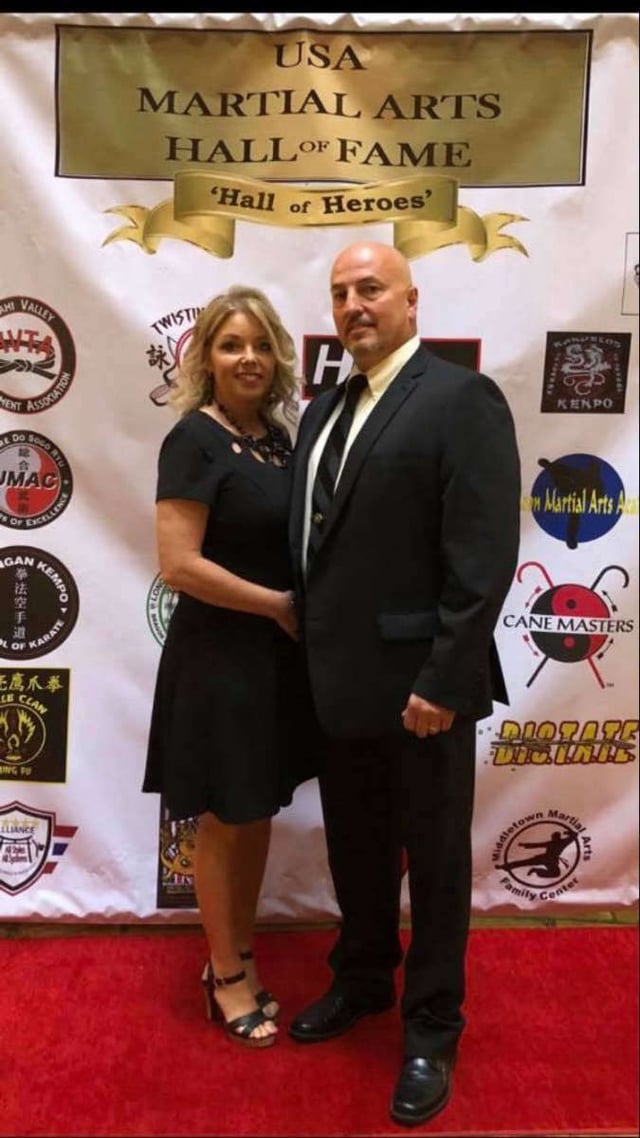 Sheila & Trent Morrison
Trent is married to Sheila Morrison.
He also has an adult son and daughter and resides in Bella Vista, Arkansas.
Fight News Unlimited
O'Neil was on the Fight News Unlimited Combat Sports Show with Rich Bergeron on June 19, 2020. Bergeron is a former reporter for the New England newspaper The Patriot Ledger. Bergeron attended the United States Air Force Academy in 1995 and 1996. O'Neil and Bergeron spoke about Morrison's career at the 69th minute.