Everipedia is now
IQ.wiki
- Join the
IQ Brainlist
and our
Discord
for early access to editing on the new platform and to participate in the beta testing.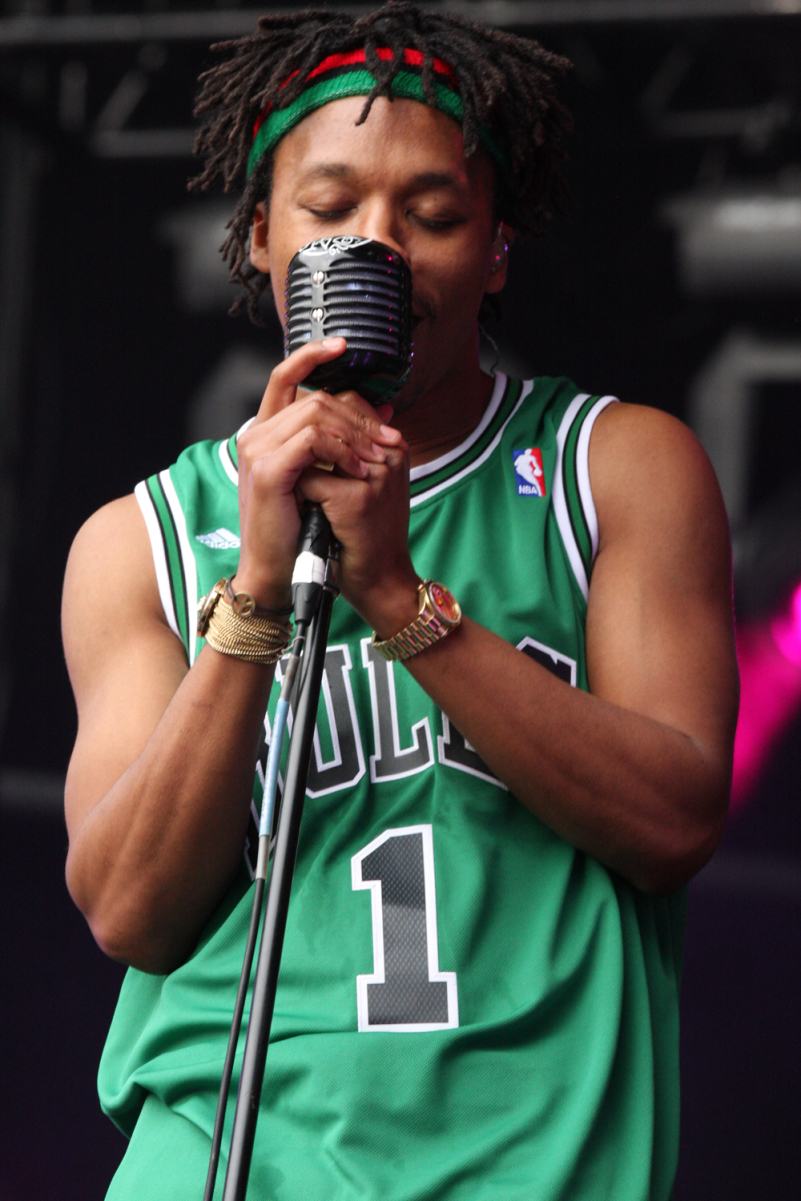 Lupe Fiasco
Wasalu Muhammad Jaco (born February 16, 1982), better known by his stage name Lupe Fiasco (/ˈluːpeɪ/ LOO-pay He also performs as the frontman of rock band Japanese Cartoon under his real name. As an entrepreneur, Fiasco is the chief executive officer of 1st and 15th Entertainment.
Raised in Chicago, Jaco developed an interest in hip hop after initially disliking the genre for its use of vulgarity and misogyny. After adopting the name Lupe Fiasco and recording songs in his father's basement, 19-year-old Fiasco joined a group called Da Pak. The group disbanded shortly after its inception, and Fiasco soon met rapper Jay-Z who helped him sign a record deal with Atlantic Records. In September 2006, Fiasco released his debut album Lupe Fiasco's Food & Liquor on the label, which received three Grammy nominations. He released his second album, Lupe Fiasco's The Cool, in December 2007. The lead single "Superstar" became his first top 40 hit on the Billboard Hot 100*Hot 100]]After a two-year delay, Lasers sed in March 2011 to mixed reviews; however, it became his first album to debut at number one on the Billboard 200200]]His latest album, Drogas Wave, was released in September 2018.
In addition to music, Fiasco has pursued other business ventures, including fashion.
He runs two clothing lines, Righteous Kung-Fu and Trilly & Truly; he has designed sneakers for Reebok. He has been involved with charitable activities, including the Summit on the Summit expedition, and in 2010 he recorded a benefit single for victims of the 2010 Haiti earthquake. Fiasco is also noted for his anti-establishment views, which he has expressed in both interviews and his music.
Jaco's influence include Nas, Jay Z, Common, AZ, De La Soul, N.W.A, Mos Def, Pharrell Williams, A Tribe Called Quest, Q-Tip, Linkin Park[93][94] and Gang Starr.
Fiasco, along with rappers Common, Mos Def and Talib Kweli, has been credited as a pioneer of the conscious hip hop movement, which focuses on social issues.[95] Subjects touched upon on Lupe Fiasco's Food & Liquor include absent parents, terrorism, Islam and religion, war, and prostitution.[95] Fiasco attributes his interest in social issues to his highly cultured upbringing, as he describes his mother as "very intellectual" and his father as a "Renaissance man".[95] He rejects the misogyny common in hip hop, which he discusses in the song "Hurt Me Soul".[96] Despite this, Fiasco is strongly opposed to censorship in music: "If we're going to [censor things] that are offensive, then we are going to have to blind and deafen everyone. Come on, man. Let's focus on education and literacy and poverty."[97]
Fiasco employs various lyrical techniques in his songwriting.
The rapper views hip-hop as a medium conducive to storytelling, a primary element of his lyrics due to his background in theater.[95] He wrote plays as a child, which had a strong effect on his songwriting approaches.[95] Fiasco utilizes both metaphors and literal statements in his work, which he describes as "getting from point A to point B in as few words as possible".[95] His use of metaphors is exemplified by the song "Gotta Eat" from Lupe Fiasco's The Cool, which is told from the perspective of a cheeseburger and addresses the poor nutrition in black communities in the United States,[26] while using a continuous metaphor of drug dealing and hustling.
Lupe Fiasco has stated on MTV's Rap Fix as well as in various other media that he is a Muslim, and that Islam "plays a part in my life and everything I do, to a certain extent... I don't like putting my religion out there, I don't like wearing it like that, because I don't want people to look at me as the poster child for Islam. I'm not. I don't want them to look at my flaws and be like, 'oh, that's the flaws of Islam'."[106][110][111][112] His mixtape series Fahrenheit 1/15 featured a remix of Kanye West's "Jesus Walks" entitled "Muhammad Walks", which went on to become very popular in the Muslim community.[113] He can be heard using Islamic recitals in "Hurt Me Soul", "Little Weapon", "Hi-Definition" as well as the intro and outro tracks to Lupe Fiasco's Food & Liquor. Lupe Fiasco has endorsed the idea that Islam will some day "be the world's religion and conquer the world.".[114]
Fiasco is noted for his anti-establishment views. In an interview with Stephen Colbert on the satirical news show The Colbert Report, Fiasco stated his credo on political philosophy: "You should criticize power even if you agree with it."[115] In another interview in June 2011 on the CBS program What's Trending, Fiasco discussed the political content of his music, stating, "My fight against terrorism, to me, the biggest terrorist is Obama and the United States of America. I'm trying to fight the terrorism that's actually causing the other forms of terrorism. You know, the root cause of terrorism is the stuff the U.S. government allows to happen. The foreign policies that we have in place in different countries that inspire people to become terrorists."[116][117] He additionally criticized Obama for his stance on the Israeli–Palestinian conflict.[118] In keeping with his anti-establishment views, Fiasco does not vote in U.S. elections.[119] On January 20, 2013, he was removed from the stage by the security for refusing to move onto the next song after performing a 30-minute version of "Words I Never Said", which contains anti-Obama lyrics, in Washington D.C., during Obama's second presidential inauguration.[120][121] In June 2015, Lupe Fiasco wrote an open letter about white supremacy.[122]
Lupe Fiasco's Food & Liquor

Lupe Fiasco's The Cool

Lasers

Food & Liquor II: The Great American Rap Album Pt. 1

Tetsuo & Youth

Drogas Light

Drogas Wave
Year

Title

Role

Notes

2018

Beat N Path

Himself

3 episodes; also executive producer

Empire

Himself

Cameo
In 2006, Lupe was named one of GQ's Men of the Year along with being awarded one Grammy in 2008 along with 12 nominations. He has been nominated for numerous other awards and has also been awarded the Character Approved Award for a Musician by USA in 2009.[123]