Everipedia is now
IQ.wiki
- Join the
IQ Brainlist
and our
Discord
for early access to editing on the new platform and to participate in the beta testing.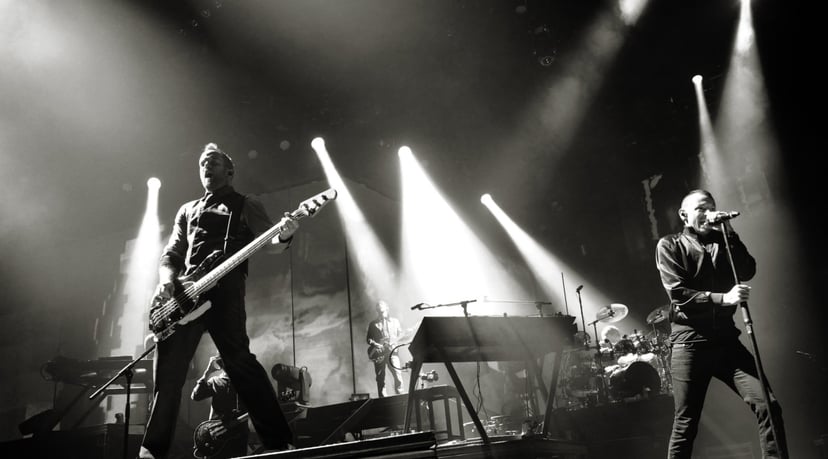 Linkin Park
Linkin Park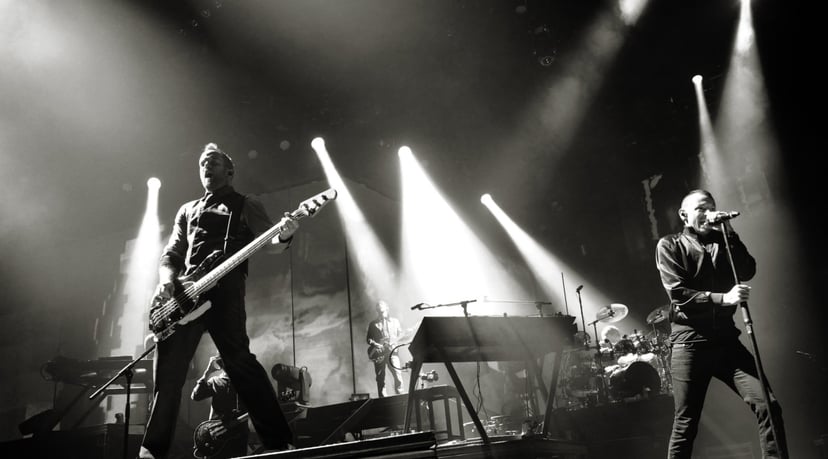 Background information

Also known as

Xero (1996–1999)

Hybrid Theory (1999)

Origin

Agoura Hills, California, U.S.

Genres

nu metal

alternative metal

rap rock

electronic rock

Years active

1996–2017 (on hiatus)

Labels

Associated acts

Website

linkinpark.com [266]

Members

Rob Bourdon

Brad Delson

Mike Shinoda

Dave Farrell

Joe Hahn

Past members

Mark Wakefield

Kyle Christner
Linkin Park is an American rock band from Agoura Hills, California. The band's current lineup comprises vocalist/keyboardist/rhythm guitarist Mike Shinoda, lead guitarist Brad Delson, bassist Dave Farrell, DJ/keyboardist Joe Hahn, and drummer Rob Bourdon, all of whom are founding members. Vocalists Mark Wakefield and Chester Bennington and bassist Kyle Christner are former members of the band.
Formed in 1996, Linkin Park rose to international fame with their debut studio album, Hybrid Theory (2000), which was certified diamond by the RIAA in 2005, and multi-platinum in several other countries.[1] Their second album, Meteora (2003), continued the band's success, topping the Billboard 200 album chart in 2003, and was followed by extensive touring and charity work.[2] Having adapted nu metal and rap metal to a radio-friendly yet densely layered style in their first two albums,[3][4][5] the band explored other genres on their third album, Minutes to Midnight (2007).[6][7] The album topped the Billboard charts and had the third-best debut week of any album that year.[8][9]
Linkin Park continued to explore a wider variation of musical types in their fourth album, A Thousand Suns (2010), layering their music with more electronic sounds. The band's fifth album, Living Things (2012), combined musical elements from all of their previous records. Their sixth album, The Hunting Party (2014), returned to a heavier rock sound, and their seventh album, One More Light (2017), is a more electronic and pop-oriented record.[10][11]
Linkin Park is among the best-selling bands of the 21st century and the world's best-selling music artists overall, having sold more than 70 million albums worldwide.[12][13][14][15] They have won two Grammy Awards, six American Music Awards, four MTV Video Music Awards and three World Music Awards.[16] In 2003, MTV2 named Linkin Park the sixth-greatest band of the music video era and the third-best of the new millennium.[17] Billboard ranked Linkin Park No. 19 on the Best Artists of the Decade chart.[18] In 2012, the band was voted as the greatest artist of the 2000s in a Bracket Madness poll on VH1.[19] In 2014, the band was declared as "The Biggest Rock Band in the World Right Now" by Kerrang!.[20][21]
Linkin Park went into an indefinite hiatus after longtime lead vocalist Bennington died from suicide by hanging on July 20, 2017.
Background information

Also known as

Xero (1996–1999)

Hybrid Theory (1999)

Origin

Agoura Hills, California, U.S.

Genres

nu metal

alternative metal

rap rock

electronic rock

Years active

1996–2017 (on hiatus)

Labels

Associated acts

Website

linkinpark.com [266]

Members

Rob Bourdon

Brad Delson

Mike Shinoda

Dave Farrell

Joe Hahn

Past members

Mark Wakefield

Kyle Christner
2000–2002: Hybrid Theory and Reanimation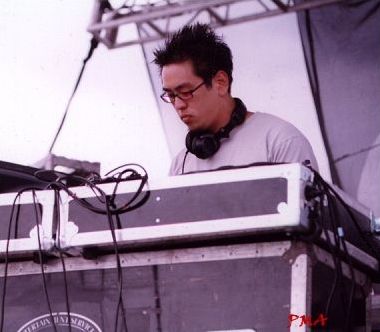 Joe Hahn performing with Linkin Park at Rock am Ring in 2001
Linkin Park released Hybrid Theory on October 24, 2000.[33][34] The album, which represented half a decade's worth of the band's work, was edited by Don Gilmore.[22] Hybrid Theory was a massive commercial success; it sold more than 4.8 million copies during its debut year, earning it the status of best-selling album of 2001, while singles such as "Crawling" and "One Step Closer" established themselves as staples among alternative rock radio play lists during the year.[25] Additionally, other singles from the album were featured in films such as Dracula 2000, Little Nicky, and Valentine.[25] Hybrid Theory won a Grammy Award for Best Hard Rock Performance for the song "Crawling" and was nominated for two other Grammy Awards: Best New Artist and Best Rock Album.[35] MTV awarded the band their Best Rock Video and Best Direction awards for "In the End".[22] Through the winning of the Grammy for Best Hard Rock Performance, Hybrid Theory's overall success had catapulted the band into mainstream success.
During this time, Linkin Park received many invitations to perform on many high-profile tours and concerts including Ozzfest, Family Values Tour, and KROQ Almost Acoustic Christmas.[25][36] The band worked with Jessica Sklar to found their official fan club and street team, "Linkin Park Underground", in November 2001.[37][38] Linkin Park also formed their own tour, Projekt Revolution, which featured other notable artists such as Cypress Hill, Adema, and Snoop Dogg.[27] Within a year's stretch, Linkin Park had performed at over 320 concerts.[22] The experiences and performances of the precocious band were documented in their first DVD, Frat Party at the Pankake Festival, which debuted in November 2001. Now reunited with former bassist Phoenix, the band began work on a remix album, dubbed Reanimation, which would include works from Hybrid Theory and non-album tracks.[25] Reanimation debuted on July 30, 2002, featuring the likes of Black Thought, Jonathan Davis, Aaron Lewis, and many others.[39] Reanimation claimed the second spot on the Billboard 200, and sold nearly 270,000 copies during its debut week.[40] Hybrid Theory is also in the RIAA's Top 100 Albums.[41]
Following *Meteora'*s success, the band worked on many side projects.[52] Bennington appeared on DJ Lethal's "State of the Art" and other work with Dead by Sunrise, while Shinoda did work with Depeche Mode.[25] In 2004, the band began to work with Jay-Z to produce another remix album, titled Collision Course. The album, which featured intermixed lyrics and background tracks from both artists' previous albums, debuted in November 2004. Shinoda also formed Fort Minor as a side project. With the aid of Jay-Z, Fort Minor released their debut album, The Rising Tied, to critical acclaim.[53][54]
Linkin Park also participated in numerous charitable events, most notably raised money to benefit victims of Hurricane Charley in 2004 and later Hurricane Katrina in 2005.[25] The band donated $75,000 to the Special Operations Warrior Foundation in March 2004.[55] They also helped relief efforts for the 2004 Indian Ocean tsunami victims by staging several charity concerts and setting up an additional fund called Music for Relief.[56] Most notably, however, the band participated at Live 8, a series of charitable benefit concerts set up to raise global awareness.[57] Alongside Jay-Z, the band performed on Live 8's stage in Philadelphia, Pennsylvania, to a global audience.[57] The band would later be reunited with Jay-Z at the Grammy Award Ceremony 2006, during which they performed "Numb/Encore", en route to winning a Grammy for Best Rap/Sung Collaboration.[58] They were joined on stage by Paul McCartney who added verses from the song "Yesterday". They would later go on to play at the 2006 Summer Sonic music festival, which was hosted by Metallica in Japan.[59]
On January 19, 2010, Linkin Park released a new song titled "Not Alone" as part of a compilation from Music for Relief called Download to Donate for Haiti in support of the Haiti Earthquake crisis. On February 10, 2010, Linkin Park released the official music video for the song on their homepage. The single itself was released on October 21, 2011.
On January 11, 2011, an updated version of Download to Donate for Haiti was launched, called Download to Donate for Haiti V2.0, with more songs to download. For the updated compilation, the band released Keaton Hashimoto's remix of "The Catalyst" from the "Linkin Park featuring YOU" contest.[175]
Shinoda designed two T-shirts, in which the proceeds would go to Music for Relief to help the victims of the 2011 Tōhoku earthquake and tsunami disasters.[176][177] Music for Relief released Download to Donate: Tsunami Relief Japan, another compilation of songs, in which the proceeds would go to Save the Children.[178] The band released the song titled as "Issho Ni", meaning "we're in this together", on March 22, 2011 via Download to Donate: Tsunami Relief Japan.
In the wake of Typhoon Haiyan in 2013, Linkin Park played at Club Nokia during the "Music for Relief: Concert for the Philippines" in Los Angeles, and raised donations for victims. The show was broadcast on AXS TV on February 15. Other artists during the show included The Offspring, Bad Religion, Heart, and The Filharmonic.[179][180]
Linkin Park was known as Xero from 1996–1999 and Hybrid Theory in 1999.
Hybrid Theory (2000)

Meteora (2003)

Minutes to Midnight (2007)

A Thousand Suns (2010)

Living Things (2012)

The Hunting Party (2014)

One More Light (2017)
Hybrid Theory World Tour (2001)

Projekt Revolution (2002–2008, 2011)

LP Underground Tour (2003)

Meteora World Tour (2004)

Minutes to Midnight World Tour (2007–08)

International Tour (2009)

A Thousand Suns World Tour (2010–11)

Living Things World Tour (2012–13)

The Hunting Party Tour (2014–15)

One More Light Tour (2017)

Linkin Park and Friends: Celebrate Life in Honor of Chester Bennington (2017)
11th Annual Honda Civic Tour (2012)

Carnivores Tour (with Thirty Seconds to Mars) (2014)
List of best-selling music artists

List of best-selling albums

List of best-selling remix albums

List of best-selling singles

List of best-selling albums in the United States

List of songs recorded by Linkin Park

List of artists who reached number one on the U.S. alternative rock chart