Sarah Ashley Toups , (November 17, 1995), is an American ​ Actress ​ and Fitness model ​ who appears in a viral video where she films herself and Eminem ​ inside of a hotel room. [1] ​ [2] ​ [3] ​  She has appeared in the Television series ​, Lethal Weapon. [4] ​
Headshot of Sarah Ashley Toups.
Biography
Toups was born and raised in the state of Texas ​ and grew up in the city of College Station. [5] ​ She was also born and raised Catholic ​. She is of Italian ​, German ​, and Irish ​ descent. [6] ​ At the age of 16 years old, she relocated to Los Angeles, California ​. [7] ​
She attended a Performing Arts High school that made it difficult for her to
focus on her studies as she was constantly busy performing as a dancer at major events. Even though she struggled with her studies, all her life she was a straight A student. [8] ​ Toups was a trained cheerleader and dancer since she
was a little girl as her mother was a dance teacher. She became well-known as a performer who exhibited profound flexibility. [9] ​
During her early years, she became a dedicated Musician ​. When she moved to Los Angeles, she recorded an album and was involved in the Music industry ​ as a teenager. [10] ​
Dance
Since her early days as a cheerleader, Toups also developed into a dancer with the help of her mother who is a dance teacher. Dance became a natural practice for Toups and since she was the age of 2 she has never stopped. [11] ​
She had training with Mia Michaels ​ as part of the The Pulse protege program. [12] ​
She considers Brian Friedman ​ to be her inspiration. [13] ​
Music video of when she was 16 years old.
Music
At the time when Toups was a teenager, she began to expand her talents as a performer who utilized dance as part of her music. She started at the age of 16 years old and would go on to record an album. [14] ​
During this time as an aspiring teenage musician, she was often berated by executives who complained to her about her appearance and were dissatisfied with her weight. [15] ​ [16] ​
Acting
During her time as musician, Toups would also audition for the Daniel Hoff
Sarah Ashley Toups holds up the script of the role she received for the show, Lethal Weapon.
agency. She was given the opportunity and when she went out to her first audition, she booked it. She was 18 years old and played a mother. [17] ​
List of Works Toups has been a part of:
All Wrong (TV Mini-Series) Blonde Girl - Episode #2.5 (2018) ... Blonde Girl 2017
Lethal Weapon (TV Series) Hot Surfer Girl - "Birdwatching" (2017) ... Hot Surfer Girl
Stitchers (TV Series) Miss Perfect - "Perfect" (2017) ... Miss Perfect 2017
Small Shots ​ ( TV Series) Supermodel 2 - Over My Head (2017) ... Supermodel 2
Hunter (Short) Charlotte 2016/IV
Every Single Step (TV Series) (2015) 2015
Seasoning (Short) Sarah 2015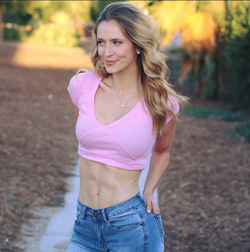 Photo of Sarah Ashley Toups wearing a pinkish top.
Toxin: 700 Days Left on Earth Sarah Teller 2015
The Mechanic (Short) Older Clarissa 2015/III
The AXI: Avengers of eXtreme Illusions (TV Series) Sarah Teller - Toxin: 700 Days
Left on Earth ... Sarah Teller 2011
Love At First Kiss ​ (TV Series) Herself (as Sarati Toups) 2016
This Beat (Video short) Herself 2012
[18] ​
Besides her work as an Actress, she is also a dedicated athlete who shares her fitness progress and exercises on most of her Social media ​ profiles. [19] ​ [20] ​
Video released by World Star Hip Hop ​ that reveals Sarah Ashley Toups mingling with Eminem ​ that has since gone viral.
Viral Video With Eminem ​
On February 9th, 2018, a cellphone video of Toups filming herself inside of a hotel room as Eminem ​ enters and confides with her in an intimate way was uploaded by World Star Hip Hop ​ and has since gone viral. [21] ​ The video is of Toups recording herself just moment before Eminem enters the room and sees her with the camera and says: "Whoa, selfie?", and strikes a pose - not knowing he was actually being recorded. [21] ​ [22] ​ [23] ​
Fans have posited that the video is part of a promotional piece that is a part of a Music Video he's working on for the song, "River", which also features the British musician, Ed Sheeran ​. [24] ​
On February 14th, 2018, the premiere of the music video for the song, "Revival", was released on YouTube ​. [26] ​