Eva Bartlett (born 14 June 1977) is an independent Canadian - American ​ writer ​, journalist ​ and human rights activist ​ from Ontario ​ who covers the Middle East ​ region, particularly Palestine ​ and Syria ​. [2] ​ She has a weblog ​ called InGaza and has made numerous visits to Syria and Palestine since 2008, including to the Gaza Strip ​. Since 2014, Bartlett has also written about the Gaza Strip ​. [2] ​
Eva Bartlett speaking at the United Nations
Early life and education
Bartlett has dual nationality, being born in Michigan ​ but raised in Canada. Between 19 91 and 1996 Bartlett studied a the Centre Wellington District High School ​ in Fergus, Ontario ​and was awarded an Honours grade 13 (OAC), Ontario Scholar. Between 1997 and 2002 she attended Mount Allison University ​, New Brunswick ​, Canada earning a 1st Class Honours with Distinction with Honours in Music ​ and a Minor in French. Between 1999 and 2000 Bartlett spent a year as an exchange student at the Université Marc Bloch ​ in Strasbourg ​, France ​ and was awarded a French language immersion diploma ​. [18] ​
Career
Between September 1998 and May 2001 Bartlett worked as a student librarian ​ in the Music Library of Mount Allison University providing customer service ​, information assistance and resource maintenance. She also worked during this period as a caterer at the home of the University president ​, planning & cooking ​ for social functions. [18] ​ Between May and July 2001 she worked as a French interpreter ​ and House Manager for Professor Van der Leest in his archaeology ​ department in Carthage ​, Tunisia ​. She also worked as a research aide to Professor Edwards in the French Department transcribing French texts. [18]
Eva Bartlett with an International Journalism Award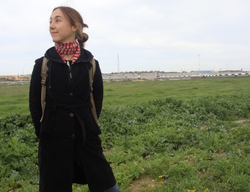 Eva Bartlett
​
Between October and December 2002 she worked at Finer English in Kassel ​, Germany ​ as an English Language instructor, tutoring advanced adult businessmen and women. From June 2003 until January 2004 Bartlett worked at Daewoo ​ Shipbuilding & Marine Engineering Co. Ltd on Geoje Island ​ in South Korea ​, teaching English to adult employees where she created her own material to accompany a textbook. From September 2004 until June 2005 Bartlett worked at TBM-SISA, English Language ​and TOEIC preparation academy in Busan ​, South Korea as an English Language Instructor, teaching grammar ​ and conversational English to various ages of students. [18]
Eva Bartlett graphic
Volunteer Activities
Between August and December 1996 Bartlett worked and travelled independently in Ireland ​, including the Aran Islands ​, volunteering on organic farm ​s around the country. Between February 2004 and April 2004 Bartlettt worked as a Willing Worker on Organic Farms (WWOOF) during her travels in northern Thailand ​, tending plants and vegetables, as well as painting and building adobe ​ constructions. She joined a Buddhist commune, helping to construct a mud-brick school in central Thailand. From July until December 2005 she was an independent, volunteer English teacher during travels in India ​. From May 2007 she has been a volunteer editor of the Zahel Youth Exchange Program in the Public Relations Departmetn of An-Najah National University ​ in Nablus ​, Palestine ​. [18]
YouTube - Western media lies about Syria exposed (Canadian journalist Eva Bartlett)
Journalism
Bartlett documented the 2008-2009 and 2012 Israeli attacks on Gaza while riding in ambulances ​ and reporting from hospitals ​. [2]
Since April 2014, Bartlett has visited, made videos ​ and taken interviews in various areas of Syria ​ following their liberation, including Aleppo ​, Homs ​, Madaya, and Damascus ​. [2] Bartlett has also given talks on topics of Imperialism ​ and North Korea ​. [15] ​ [13] ​ She has been interviewed widely by George Galloway ​, RT News ​, 21st Century Wire ​, etc. [20] ​ [26] ​
On 9 December 2016, Bartlett gave a press conference as part of the Permanent Mission of the Syrian Arab Republic to the United Nations. [21] ​ A clip of the video went viral and was viewed over 3,000,000 times. [22]
YouTube - Eva Bartlett interview with George Galloway on Sputnik News
In March 2017, Mexico City ​, Bartlett was granted the "International Journalism Award for International Reporting" by the Mexican Press Club ​. Co-recipients included John Pilger ​ and political analyst Thierry Meyssan ​, among others. [2]
Bartlett has been the victim of a smear campaign ​ by various supporters of the White Helmets, which she thoroughly exposed and debunked ​ in a YouTube ​ interview. [9]
Interests and achievments
Bartlett maintainted a four year music scholarship and Dean's List at Mount Allison University. She is a certified scuba diver ​, First Dan Black Belt in Tae kwan do ​ and certified Grade 10 in classical piano ​ by the Royal Conservatory of Music ​. She has made years of independent travel around the world including many European, North African ​ and Asian countries. [18] ​