Ebony Harper protesting in support of Black Trans Lives [4]
Ebony Ava Harper is a California-based national activist and philanthropist who fights for the rights of trans citizens and other marginalized groups. Harper is a Program Associate at the California Endowment Health Foundation, an organization that works to expand healthcare access for marginalized and underserved communities. Through her professional career and her activism Harper has helped to shift culture for queer communities across the nation. From creating healing spaces, to employment opportunities to Chyna Gibson Memorial Mural, to LGBTQ+ community needing love and support Harper never fails to show up for her community time and time again. In April 2018 she accused the Sacramento County Jail for booking her into the male section of the jail after she was arrested during a protest. [1]
Early Life
Ebony Ava Harper is of Jamaican descent. Harper's mom, dad and 6 siblings migrated from Jamaica to Maryland in the 60s, she's the first to be born on American soil in her family. She grew up in South Central Los Angeles, California and attended Hollywood High School. [4] She began volunteering as a teenager with the Los Angeles Youth Network. [3]
Personal Life
Harper often talks about growing up "in a rough poor neighborhood" and being a product of her environment. She was abandoned at the age of 13 for wearing women's clothing. She often talks about her rough life having to survive on the street of Hollywood as a young black trans women and persevering years later. She's now a resident of Sacramento, California. [4] and one of the most recognize transgender activist in the state of California.
Education
Ebony Ava Harper studied Social Sciences at American River College. [3] She was involved in Theater Arts at American River College. She also studied General Arts and Science at Los Angeles City College. [4]
Career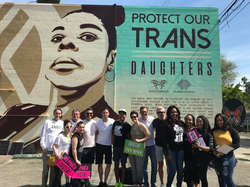 Ebony Ava Harper at a community event
[4]
Ebony Ava Harper is currently a Program Associate at The California Endowment, a private, California -focused health foundation that advocates for health and health equity.
Harper worked for the Gender Health Center for a number of years as a PReP coordinator before her move to the Endowment.
Harper was recently appointed to the California State Department of Health Planning Group which reflects her role as a go-to contact for a broad range of needs and services in the state of California. She'siin high demand from heads of global corporations to State-level agencies looking for her to speak at a program unveiling to religious community leaders seeking transgender cultural competence to survival sex workers in crisis needing a shoulder to cry on and resources to get them through to tomorrow Harper never fails to show up. [3]
Ebony Ava Harper wearing a "No Muslim Ban" shirt
[4]
Ebony Ava Harper previously ran her own company, We Do Small Moves, which she ran for eight years. She previously worked as a Marketing Coordinator. [3]
Ebony Ava Harper's first paid position was working as a Peer Counselor for Dr. Lois Lee at Children Of The Night in Van Nuys, California, a nonprofit focused on rescuing children from human trafficking and prostitution. It was here that Ebony learned community-based outreach helping homeless youth going through many of the same disadvantages and tribulations as she had gone through during her youth. Before becoming a staff member at Children Of The Night she was a volunteer. [3]
Discrimination Allegations
In April 2018 Ebony Ava Harper accused the Sacramento County Jail discriminated against her by booking her into the male section of the jail. [1]
Ebony Ava Harper was one of two people arrested during a Stephon Clark protest in front of the Sacramento District Attorney 's office on Thursday, April 12, 2018. [1]
The woman's arrest drew attention from city and county officials, who say they stepped in to help move the woman into another part of the jail. [1]
Ebony Harper was arrested and booked into the Sacramento County Jail on charges of failing to disperse during a protest, and resisting an officer. [1]
Ebony Harper says says her experience Thursday was humiliating, and a nightmare. "My humanity was stripped, I was searched by men, and they videotaped me, I began to cry because I didn't feel comfortable being searched by a guy," Harper said. [1]
Ebony Ava Harper says she was then booked with the male population, where she says she feared for her safety. "I have some female body parts; I just felt dehumanized," she added. [1]
But Ebony Ava Harper wasn't locked up in the male section for long. City and county officials stepped in to help. "It could have been borderline dangerous," said Sacramento County Supervisor Phil Serna. [1]
Serna says he learned about the incident from the Sacramento mayor's office and says he immediately contacted Sheriff Scott Jones. Serna says the sheriff had Harper transferred to the female section. The incident now has Serna questioning the jail's booking policy. [1]
"If there's any kind of confusion as to how that happens, I think we need to make sure there is no confusion," Serna added.
CBS Sacramento asked the Sacramento County Sheriffs Department t about its current policy for housing a transgender inmate in the Sacramento County Jail. [1]
A spokesman for the department says transgender inmates are always booked separately. [1]
The spokesman also said "…Ms. Harper was placed in a holding cell by herself in the booking area of the jail…the cell was located on the male side." [1]
Ebony Harper was released a few hours after her arrest. [1]
Ebony Harper said after her arrest she has a renewed will to seek transgender equality behind bars. "We live in a hostile society, it's hostile to our existence…the way law enforcement handles us, it's just one more notch on the belt of oppression," said Harper. [1]
CBS Sacramento also reached out other jails in the region about transgender booking policies. In Yolo County, California transgender inmates could be housed separately for safety reasons, or assigned depending on their physical attributes. [1]
Placer County, California is adopting a new policy, but currently follows California Attorney General Xavier Becerra 's recommendation to house transgender inmates on which gender they identify with. [1]
New York City announced Tuesday, April 17, 2018 that transgender inmates will now be able to choose where they're housed. San Francisco also has the same policy. [1]