Everipedia is now
IQ.wiki
- Join the
IQ Brainlist
and our
Discord
for early access to editing on the new platform and to participate in the beta testing.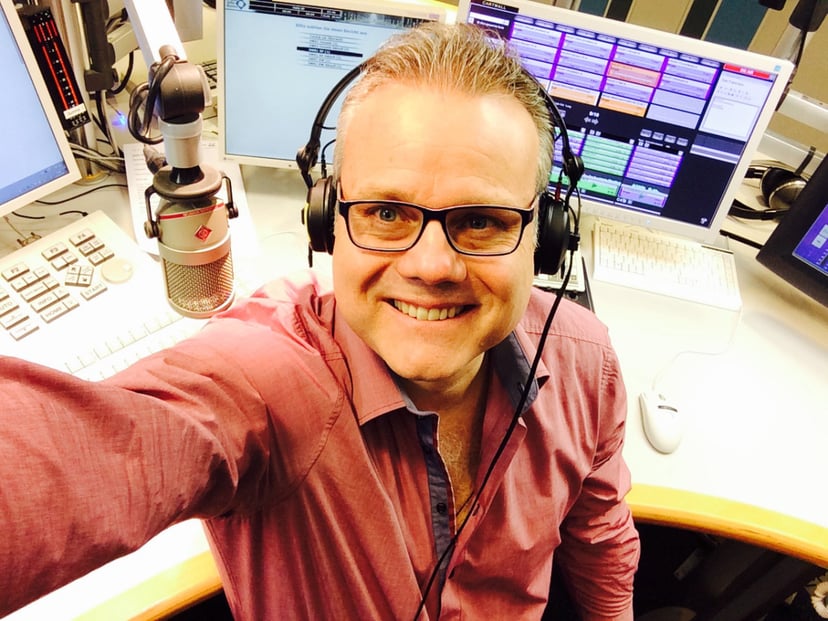 Selfie
Selfie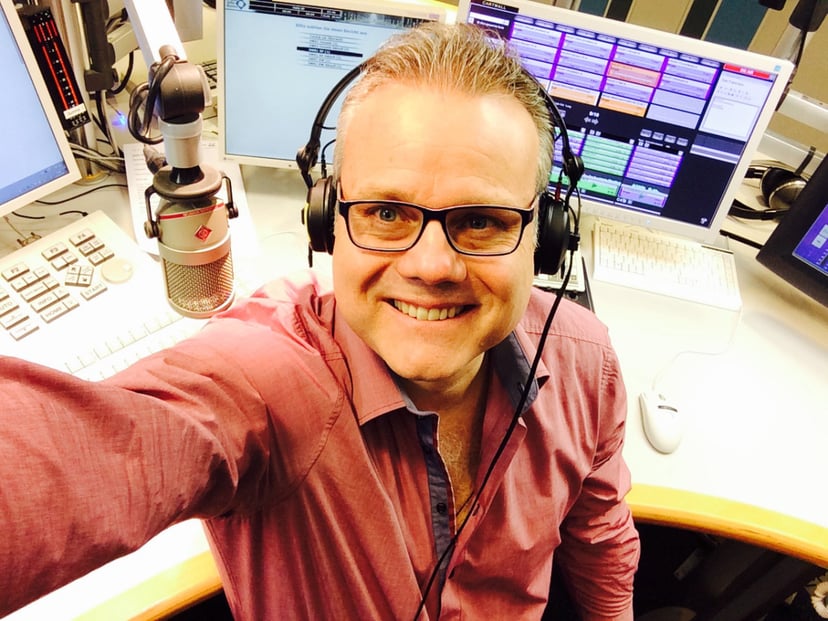 They are often casual in nature (or made to appear casual). "Selfie" typically refers to self-portrait photos taken with the camera held at arm's length, as opposed to those taken by using a self-timer or remote. A selfie, however, may include multiple subjects. As long as the photo is being taken by one of the subjects featured, it is considered a selfie.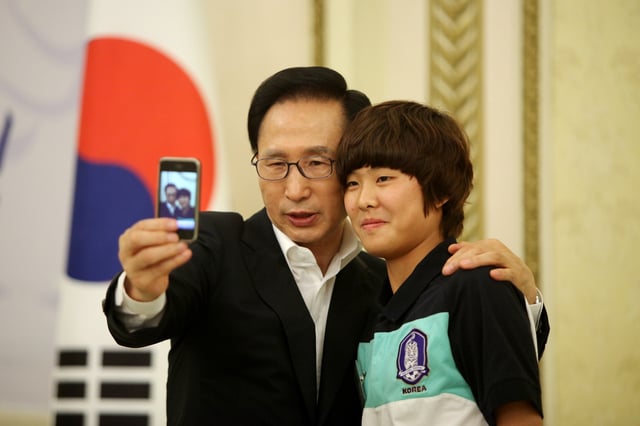 Former South Korean President Lee Myung-Bak and footballer Ji So Yun
Many celebrities – especially sex symbols – post selfies for their followers on social media, and provocative or otherwise interesting celebrity selfies are the subject of regular press coverage. Some commentators, such as Emma Barnett of The Telegraph, have argued that sexy celebrity selfies (and sexy non-celebrity selfies) can be empowering to the selfie-takers but harmful to women in general as they promote viewing women as sex objects.[70] Actor and avid selfie poster James Franco wrote an op-ed for The New York Times defending this frequent use of selfies on his Instagram page.[71] Franco defends the self-portrait stating they should not be seen as an egocentric act, but instead a journalistic moment as the selfie "quickly and easily shows, not tells, how you're feeling, where you are, what you're doing" in a way that a text communication might fail to convey.[71]
A selfie orchestrated during the 86th Academy Awards by host Ellen DeGeneres was, at one point, the most retweeted tweet ever.[72][73] DeGeneres said she wanted to pay homage to Meryl Streep's record 18 Oscar nominations by setting a new record with her, and invited twelve other Oscar celebrities to join them, which included Meryl Streep, Julia Roberts, Channing Tatum, Bradley Cooper, Kevin Spacey, Angelina Jolie, Brad Pitt, Lupita Nyong'o, Jared Leto and Jennifer Lawrence. The resulting photo of the celebrities broke the previous retweet record within forty minutes, and was retweeted over 1.8 million times in the first hour.[74][75][76] By the end of the ceremony it had been retweeted over 2 million times, less than 24 hours later, it had been retweeted over 2.8 million times.[73][74] It beat the previous record, 778,801, which was held by Barack Obama, following his victory in the 2012 presidential election.[76][77][78]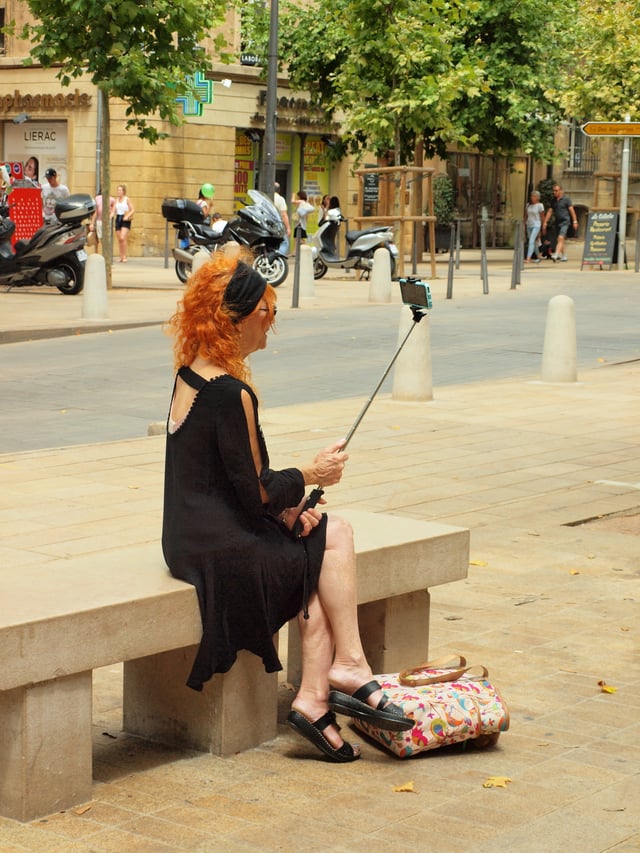 Woman taking a selfie using a selfie stick
Devices for holding smartphones or compact cameras called selfie sticks are often used when taking group selfies, as they allow a wider, more panoramic image capture.
Another option for taking selfies from a distance beyond one's arm is a drone. Selfies made with a drone are also called dronies. The concept of taking a dronie first entered the mainstream in 2014 and coincided with a relatively sudden increase in the availability of relatively cheap, camera bearing multicopter drones.[98] In 2014, the Nixie drone was designed to serve as a "personal photographer".[99]
Psychology and neuroscience
First, Farace, van Laer, de Ruyter, and Wetzels[100] describe three photography techniques with which people are more likely to engage: first-person perspective, action and person rather than 'just' selfies and adaptation into artfulness.
According to a study performed by Nicola Bruno and Marco Bertamini at the University of Parma, selfies by non-professional photographers show a slight bias for showing the left cheek of the selfie-taker.[101] This is similar to observations of portraits by professional painters from many historical periods and styles,[102] indicating that the left cheek bias may be rooted in asymmetries of brain lateralization that are well documented within cognitive neuroscience. In a second study, the same group tested if selfie takers without training in photography spontaneously adhere to widely prescribed rules of photographic composition, such as the rule of thirds. It seems that they do not, suggesting that these rules may be conventional rather than hardwired in the brain's perceptual preferences.[103]
A 2016 study examining the relationship between personality and selfie-posting behaviors suggests that extroversion and social exhibitionism positively predict frequency of selfie posting, whereas self-esteem is generally unrelated to selfie-posting behaviors.[104]
Obsessive taking of selfies and posting to social media has been found to be linked to many symptoms common to mental disorders. These include narcissism, low self-esteem, loneliness, self-centeredness, and attention-seeking behaviors.[[107]](https://portal.issn.org/resource/ISSN/"Selfie and mental health issues: An overview")
Because they are typically taken much closer to the subject's face than a conventional photograph, phone selfies tend to distort the subject's face. When conventional photographers take head shots, they typically use a narrower lens (or zoom in) and stand at a normal distance, instead of getting physically closer to the subject's face. Front-facing cell phone cameras, on the other hand, feature wide-angle lenses and are held closer to the face, since the human arm is only so long. This results in extension distortion, where objects closer to the camera appear much larger than they actually are. Though this distortion has a slimming effect, it also exaggerates the auto-photographer's nose and chin, since those parts are closer to the camera than the rest of the face.
A study published by the American Academy of Facial Plastic and Reconstructive Surgery has found that selfies have altered people's perception of their faces to the point where they increased the demand for rhinoplasties (nose jobs). Forty-two percent of surgeons surveyed have noticed that patients are seeking surgeries to improve their appearance in photographs, especially selfies taken at close distance.[128] Another study found that selfies taken at a distance of 12 inches (30 cm) can exaggerate nasal size by as much as 30%, and recommends that people take pictures from a standard distance of 5 feet (1.5 meters) to minimize perspective distortion.[129]
3D selfie

Ballot selfie

Imago camera

Remote shutter

Rooftopping

Self timer