Everipedia is now
IQ.wiki
- Join the
IQ Brainlist
and our
Discord
for early access to editing on the new platform and to participate in the beta testing.
Welsh people
Welsh people
Welsh people*Cymry*

Total population

c.

6–16.3 million

[1]

Regions with significant populations

Wales

3 million[1][2][3][4]


(Welsh descent only)

United States
1.75–1.81 million[5]
England
609,711[6]

Canada

474,805 (Includes those of mixed ancestry)[7]

Australia

125,597[8]

Argentina

50,000[9]

Scotland

16,623[10]
New Zealand
9,966[11][12]

Languages

Welsh, English

Religion

Predominantly Christianity, traditionally Nonconformist

Related ethnic groups

Bretons, Cornish, Manx, English, Scottish, Irish, Ulster-Scots
The language, which falls within the Insular Celtic family, has historically been spoken throughout Wales, with its predecessor Common Brittonic once spoken throughout most of the island of Great Britain. Prior to the 20th century, large numbers of Welsh people spoke only Welsh, with little or no fluent knowledge of English.[16] Welsh remains the predominant language in parts of Wales, particularly in North Wales and West Wales. English is the predominant language in South Wales. Many Welsh people, even in predominately English-speaking areas of Wales, are fluent or semi-fluent in Welsh or, to varying degrees, capable of speaking or understanding Welsh at limited or conversational proficiency levels. Although the Welsh language and its ancestors have been spoken in what is now Wales since well before the Roman incursions into Britain, historian John Davies argues that the origin of the "Welsh nation" can be traced to the late 4th and early 5th centuries, following the end of Roman rule in Britain.[17] The term "Welsh people" applies to people from Wales and people of Welsh ancestry perceiving themselves or being perceived as sharing a cultural heritage and shared ancestral origins.[18]
In 2016, an analysis of the geography of Welsh surnames commissioned by the Welsh Government found that 718,000 people (nearly 35% of the Welsh population) have a family name of Welsh origin, compared with 5.3% in the rest of the United Kingdom, 4.7% in New Zealand, 4.1% in Australia, and 3.8% in the United States, with an estimated 16.3 million people in the countries studied having at least partial Welsh ancestry.[1] Over 300,000 Welsh people live in London alone.[19]
Welsh people*Cymry*

Total population

c.

6–16.3 million

[1]

Regions with significant populations

Wales

3 million[1][2][3][4]


(Welsh descent only)

United States
1.75–1.81 million[5]
England
609,711[6]

Canada

474,805 (Includes those of mixed ancestry)[7]

Australia

125,597[8]

Argentina

50,000[9]

Scotland

16,623[10]
New Zealand
9,966[11][12]

Languages

Welsh, English

Religion

Predominantly Christianity, traditionally Nonconformist

Related ethnic groups

Bretons, Cornish, Manx, English, Scottish, Irish, Ulster-Scots
A survey published in 2001, by the Centre for Research into Elections and Social Trends at Oxford University (sample size 1161), found that 14.6 per cent of respondents described themselves as British, not Welsh; 8.3 per cent saw themselves as more British than Welsh; 39.0 per cent described themselves as equally Welsh and British; 20.2 per cent saw themselves as more Welsh than British; and 17.9 per cent described themselves as Welsh, not British.[66]
The proportion of respondents in the 2011 census who said they could speak Welsh.
According to the 2001 census the number of Welsh speakers in Wales increased for the first time in 100 years, with 20.5% of a population of over 2.9 million claiming fluency in Welsh.[58] In addition, 28% of the population of Wales claimed to understand Welsh.[58] The census revealed that the increase was most significant in urban areas, such as Cardiff with an increase from 6.6% in 1991 to 10.9% in 2001, and Rhondda Cynon Taf with an increase from 9% in 1991 to 12.3% in 2001.[58] However, the proportion of Welsh speakers declined in Gwynedd from 72.1% in 1991 to 68.7% in 2001, and in Ceredigion from 59.1% in 1991 to 51.8% in 2001.[58] The greatest fluctuation was in Ceredigion, with a 19.5% influx of new residents since 1991.[58]
The decline in Welsh speakers in much of rural Wales is attributable to non-Welsh-speaking residents moving to North Wales, driving up property prices above what locals may afford, according to former Gwynedd county councillor Seimon Glyn of Plaid Cymru, whose controversial comments in 2001 focused attention on the issue.[58] As many as a third of all properties in Gwynedd are bought by people from outside Wales.[67] The issue of locals being priced out of the local housing market is common to many rural communities throughout Britain, but in Wales the added dimension of language complicates the issue, as many new residents do not learn the Welsh language.[68]
A Plaid Cymru taskforce headed by Dafydd Wigley recommended land should be allocated for affordable local housing, called for grants for locals to buy houses, and recommended that council tax on holiday homes should double.[69]
However, the same census shows that 25% of residents were born outside Wales. The number of Welsh speakers in other places in Britain is uncertain, but there are significant numbers in the main cities, and there are speakers along the Welsh-English border.
Even among Welsh speakers, very few people speak only Welsh, with nearly all being bilingual in English. However, a large number of Welsh speakers are more comfortable expressing themselves in Welsh than in English. Some prefer to speak English in South Wales or the urbanised areas and Welsh in the North or in rural areas. A speaker's choice of language can vary according to the subject domain (known in linguistics as code-switching).
Due to an increase in Welsh-language nursery education, recent census data reveals a reversal of decades of linguistic decline: there are now more Welsh speakers under five years of age than over 60. For many young people in Wales, the acquisition of Welsh is a gateway to better careers, according to research from the Welsh Language Board and Careers Wales.[70] The Welsh Government identified media as one of six areas likely to experience greater demand for Welsh speakers:[70] the sector is Wales's third largest revenue earner.
Although Welsh is a minority language, and thus threatened by the dominance of English, support for the language grew during the second half of the 20th century, along with the rise of Welsh nationalism in the form of groups such as the political party Plaid Cymru and Cymdeithas yr Iaith Gymraeg (Welsh Language Society). The language is used in the bilingual Welsh Assembly and entered on its records, with English translation. The high costs of translation from English to Welsh have proved controversial.[71] Technically it is not supposed to be used in the British Parliament as it is referred to as a "foreign language" and is effectively banned as disruptive behaviour,[72] but several Speakers (most notably George Thomas, 1st Viscount Tonypandy, himself born in Wales, near Tonypandy) spoke some Welsh within longer English-language speeches.
Welsh as a first language is largely concentrated in the less urban north and west of Wales, principally Gwynedd, inland Denbighshire, northern and south-western Powys, the Isle of Anglesey, Carmarthenshire, North Pembrokeshire, Ceredigion, and parts of western Glamorgan, although first-language and other fluent speakers can be found throughout Wales. However, Cardiff is now home to an urban Welsh-speaking population (both from other parts of Wales and from the growing Welsh-medium schools of Cardiff itself) due to the centralisation and concentration of national resources and organisations in the capital.
For some, speaking Welsh is an important part of their Welsh identity. Parts of the culture are strongly connected to the language — notably the Eisteddfod tradition, poetry and aspects of folk music and dance. Wales also has a strong tradition of poetry in the English language.
Patagonian Welsh (Cymraeg y Wladfa) is a dialect of the Welsh language which is spoken in Y Wladfa in the Argentine region, Patagonia.
The Flag of Wales (Y Ddraig Goch) incorporates the red dragon, a popular symbol of Wales and the Welsh people, along with the Tudor colours of green and white. It was used by Henry VII at the Battle of Bosworth Field in 1485, after which it was carried in state to St. Paul's Cathedral. The red dragon was then included in the Tudor royal arms to signify their Welsh descent. It was officially recognised as the Welsh national flag in 1959. Since the British Union Flag does not have any Welsh representation, the Flag of Wales has become very popular.

The Flag of Saint David is sometimes used as an alternative to the national flag, and is flown on Saint David's Day.

The dragon, part of the national flag design, is also a popular Welsh symbol. The oldest recorded use of the dragon to symbolise Wales is from the Historia Brittonum, written around 820, but it is popularly supposed to have been the battle standard of King Arthur and other ancient Celtic leaders. Following the annexation of Wales by England, the dragon was used as a supporter in the English monarch's coat of arms.

Both the daffodil and the leek are symbols of Wales. The origin of the leek can be traced back to the 16th century and the daffodil, encouraged by David Lloyd George, became popular in the 19th century.[76] This may be due to confusion of the Welsh for leek, cenhinen, and that for daffodil, cenhinen Bedr or St. Peter's leek. Both are worn as symbols by the Welsh on Saint David's Day, 1 March.

The Prince of Wales's Feathers, the heraldic badge of the Prince of Wales, is sometimes adapted by Welsh bodies for use in Wales. The symbolism is explained on the article for Edward, the Black Prince, who was the first Prince of Wales to bear the emblem. The Welsh Rugby Union uses such a design for its own badge.
Flag of the city of Puerto Madryn, Argentina, inspired by the Flag of Wales, owing to the Welsh immigration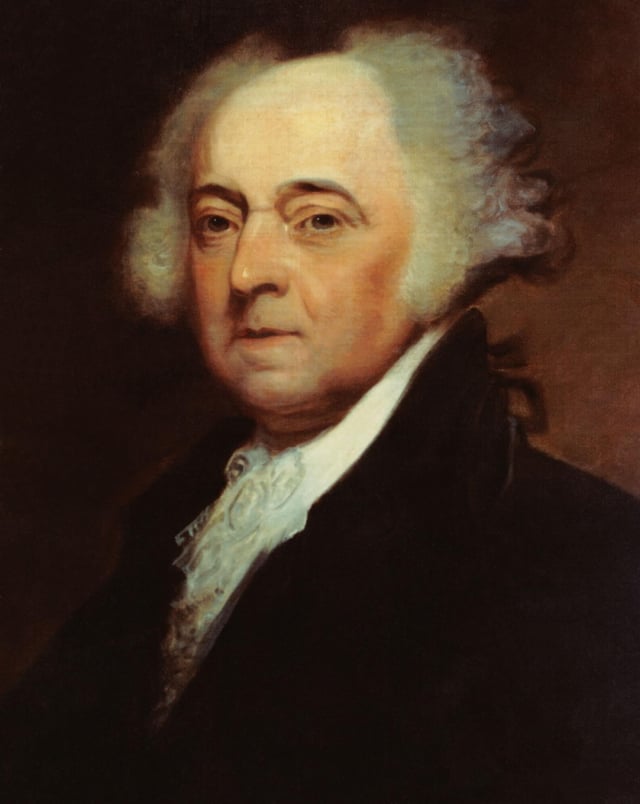 John Adams, the second President of the United States (1797–1801), whose paternal great-grandfather David Adams was born and bred at "Fferm Penybanc", Llanboidy, Carmarthenshire, Wales[83] and who emigrated from Wales in 1675.
There has been migration from Wales to the rest of Britain throughout its history. During the Industrial Revolution thousands of Welsh people migrated, for example, to Liverpool and Ashton-in-Makerfield.[77][78] As a result, some people from England, Scotland and Ireland have Welsh surnames.[79][80][81][82]
Other Welsh settlers moved to other parts of Europe, concentrated in certain areas. During the late 19th and early 20th centuries, a small wave of contract miners from Wales arrived in Northern France; the centres of Welsh-French population are in coal mining towns of the French department of Pas-de-Calais. Welsh settlers from Wales (and later Patagonian Welsh) arrived in Newfoundland in the early 1900s, and founded towns Labrador's coast region. In 1852 Thomas Benbow Phillips of Tregaron established a settlement of about 100 Welsh people in the state of Rio Grande do Sul in Brazil.
Internationally Welsh people have emigrated, in relatively small numbers (in proportion to population, Irish emigration to the USA may have been 26 times greater than Welsh emigration),[84] to many countries, including the USA (in particular, Pennsylvania), Canada and Y Wladfa in Patagonia, Argentina.[85][86][87] Jackson County, Ohio was sometimes referred to as "Little Wales", and the Welsh language was commonly heard or spoken among locals by the mid 20th century. Malad City in Idaho, which began as a Welsh Mormon settlement, lays claim to a greater proportion of inhabitants of Welsh descent than anywhere outside Wales itself.[88] Malad's local High School is known as the "Malad Dragons", and flies the Welsh Flag as its school colours.[89] Welsh people have also settled in New Zealand and Australia.[84][90]
There is no known evidence which would objectively support the legend that the Mandan, a Native American tribe of the central United States, are Welsh emigrants who reached North America under Prince Madog in 1170.[92]
The Ukrainian city of Donetsk was founded in 1869 by a Welsh businessman, John Hughes (an engineer from Merthyr Tydfil) who constructed a steel plant and several coal mines in the region; the town was thus named Yuzovka (Юзовка) in recognition of his role in its founding ("Yuz" being a Russian or Ukrainian approximation of Hughes).[93]
Former Australian Prime Minister Julia Gillard was born in Barry, Wales. After she suffered from bronchopneumonia as a child, her parents were advised that it would aid her recovery to live in a warmer climate. This led the family to migrate to Australia in 1966, settling in Adelaide.
List of Welsh people

Modern Celts

Welsh American

Welsh Canadian

Welsh Australian

Welsh Argentine

Welsh History in Chicago

Welsh immigration

Welsh Italians

Welsh New Zealander

Y Wladfa