Everipedia is now
IQ.wiki
- Join the
IQ Brainlist
and our
Discord
for early access to editing on the new platform and to participate in the beta testing.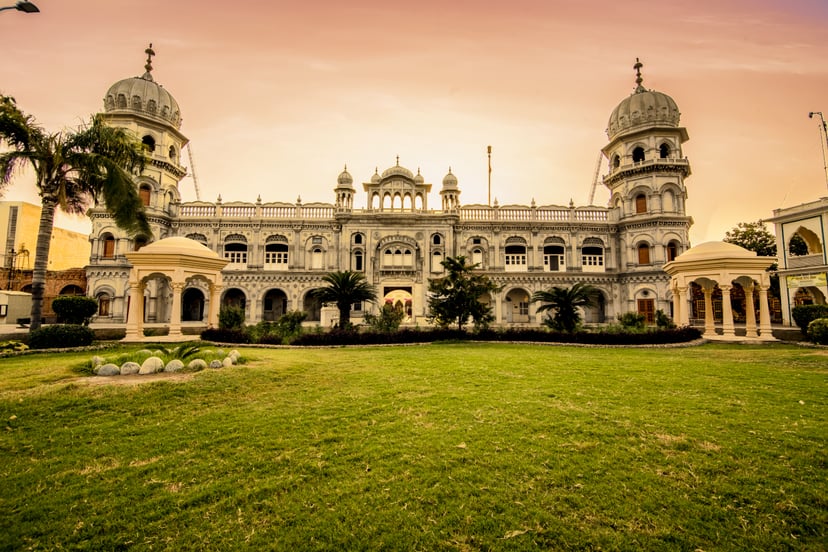 Sikh
Sikh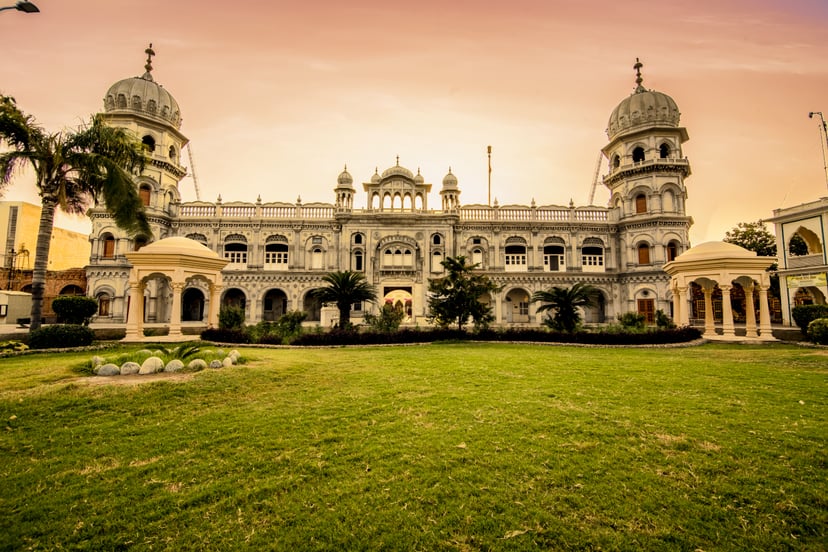 Sikhs

Total population

c.

 27 million

[2]

Founder

Guru Nanak

Regions with significant populations

India

20,815,730[3]
United States
500,000–700,000[4][5][6]

Canada

468,673[7]
United Kingdom
432,429[8][9][10]
Italy
150,000[11]

Australia

125,900[12]
Malaysia
120,000[13]

Thailand

70,000[14]

Pakistan

50,000[15]
United Arab Emirates
50,000[16]

Philippines

50,000[17][18]
New Zealand
19,191[19]
Germany
10,000–20,000[20]

Singapore

15,000[21]

Indonesia

10.000[22]
Hong Kong
10,000[23]
Norway
5,000[24]
Fiji
2,577[25]

Religions

Sikhism

Scriptures

Guru Granth Sahib

Languages

Punjabi and other languages of India
Sikhs (/siːk/ or /sɪk/; Punjabi: ਸਿੱਖ, sikkh, [sɪkkʰ]) are people associated with Sikhism, a monotheistic religion that originated in the 15th century, in the Punjab region in the northern part of the Indian subcontinent, based on the revelation of Guru Nanak.[26] The term Sikh has its origin in the words शिष्य (śiṣya), meaning a disciple or a student.[27][28] A Sikh, according to Article I of the Sikh Rehat Maryada (the Sikh code of conduct), is "any human being who faithfully believes in One Immortal Being; ten Gurus, from Guru Nanak to Guru Gobind Singh; Guru Granth Sahib; the teachings of the ten Gurus and the baptism bequeathed by the tenth Guru".[29]
The Punjab region of the Indian subcontinent has been the historic homeland of the Sikhs and was ruled by the Sikhs for significant parts of the 18th and 19th centuries. Today, the Punjab state in northwest India has a majority Sikh population, and sizeable communities of Sikhs exist around the world. Many countries, such as the United Kingdom, recognize Sikhs as a designated religion on their censuses.[30] The American non-profit organization United Sikhs has sought to have Sikh included on the US census as an ethnicity, arguing that Sikhs "self-identify as an 'ethnic minority'" and believe "that they are more than just a religion".[31]
Male Sikhs generally have "Singh" (Lion) as their middle or last name (not all Singhs are Sikhs), and female Sikhs have "Kaur" (Princess) as their middle or last name. Sikhs who have undergone the Khanḍe-kī-Pahul (the Sikh initiation ceremony) may also be recognized by the five Ks: Kesh, uncut hair which is kept covered, usually by a turban; Kara, an iron or steel bracelet; Kirpan, a sword tucked into a gatra strap or a kamal kasar belt; Kachehra, a cotton undergarment; and Kanga, a small wooden comb.
Sikhs

Total population

c.

 27 million

[2]

Founder

Guru Nanak

Regions with significant populations

India

20,815,730[3]
United States
500,000–700,000[4][5][6]

Canada

468,673[7]
United Kingdom
432,429[8][9][10]
Italy
150,000[11]

Australia

125,900[12]
Malaysia
120,000[13]

Thailand

70,000[14]

Pakistan

50,000[15]
United Arab Emirates
50,000[16]

Philippines

50,000[17][18]
New Zealand
19,191[19]
Germany
10,000–20,000[20]

Singapore

15,000[21]

Indonesia

10.000[22]
Hong Kong
10,000[23]
Norway
5,000[24]
Fiji
2,577[25]

Religions

Sikhism

Scriptures

Guru Granth Sahib

Languages

Punjabi and other languages of India
Culture and religious observations
One who calls himself a Sikh of the Guru, the True Guru, shall rise in the early morning hours and meditate on the Lord's Name. Upon arising early in the morning, he is to bathe, and cleanse himself in the pool of nectar. Following the Instructions of the Guru, he is to chant the Name of the Lord, Har, Har. All sins, misdeeds and negativity shall be erased. Then, at the rising of the sun, he is to sing Gurbani; whether sitting down or standing up, he is to meditate on the Lord's Name. One who meditates on my Lord, Har, Har, with every breath and every morsel of food – that GurSikh becomes pleasing to the Guru's Mind. That person, unto whom my Lord and Master is kind and compassionate - upon that GurSikh, the Guru's Teachings are bestowed. Servant Nanak begs for the dust of the feet of that GurSikh, who himself chants the Naam, and inspires others to chant it.— Fourth Mehl (Guru Ram Das), Guru Granth Sahib, Pg 305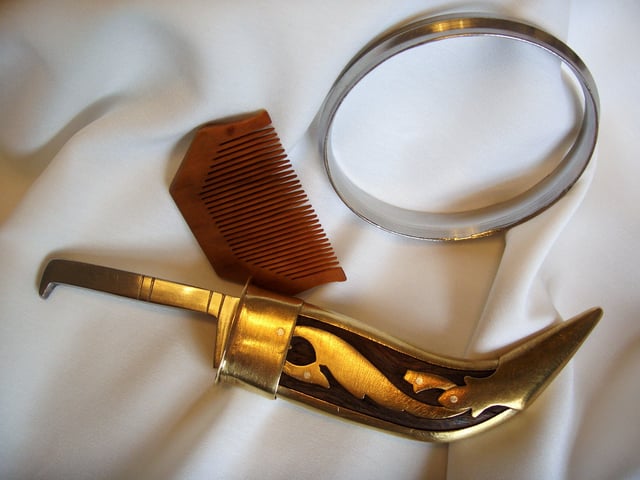 Kanga, Kara and Kirpan: three of the five Sikh articles of faith
The five Ks (panj kakaar) are five articles of faith which all baptized Sikhs (Amritdhari Sikhs) are obliged to wear. The symbols represent the ideals of Sikhism: honesty, equality, fidelity, meditating on Waheguru and never bowing to tyranny.[48] The five symbols are:
Kesh: Uncut hair, usually tied and wrapped in a Dastar

Kanga: A wooden comb, usually worn under a Dastar to always also keep one's hair clean and well groomed.

Kachera: Cotton undergarments, Worn by both sexes, the kachera is a symbol of chastity, also historically appropriate in battle due to increased mobility when compared to a dhoti.

Kara: An iron bracelet, a symbol eternity, strength and with constant reminder of strong will to keep hands away from any kind unethical practices.

Kirpan: An iron sword/dagger in different sizes. In the UK Sikhs can wear a small dagger, but in the Punjab they might wear a traditional curved sword from one to three feet in length. Kirpan is only a weapon of defense, used to serve humanity and to be used against oppression.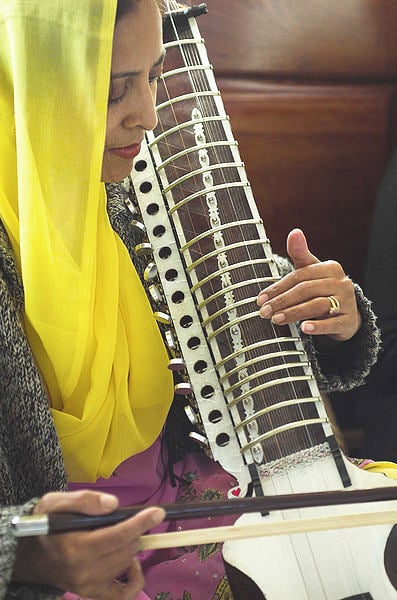 Woman playing the dilruba
The Sikhs have a number of musical instruments: the rebab, dilruba, taus, jori and sarinda. Playing the sarangi was encouraged by Guru Hargobind. The rebab was played by Bhai Mardana as he accompanied Guru Nanak on his journeys. The jori and sarinda were introduced to Sikh devotional music by Guru Arjan. The taus was designed by Guru Hargobind, who supposedly heard a peacock singing and wanted to create an instrument mimicking its sounds (taus is the Persian word for peacock). The dilruba was designed by Guru Gobind Singh at the request of his followers, who wanted a smaller instrument than the taus. After Japji Sahib, all of the shabad in the Guru Granth Sahib were composed as raags. This type of singing is known as Gurmat Sangeet.
When they marched into battle, the Sikhs would play a Ranjit Nagara (victory drum) to boost morale. Nagaras (usually two to three feet in diameter, although some were up to five feet in diameter) are played with two sticks. The beat of the large drums, and the raising of the Nishan Sahib, meant that the singhs were on their way.
Soldiers of the Indian Army's Sikh Light Infantry regiment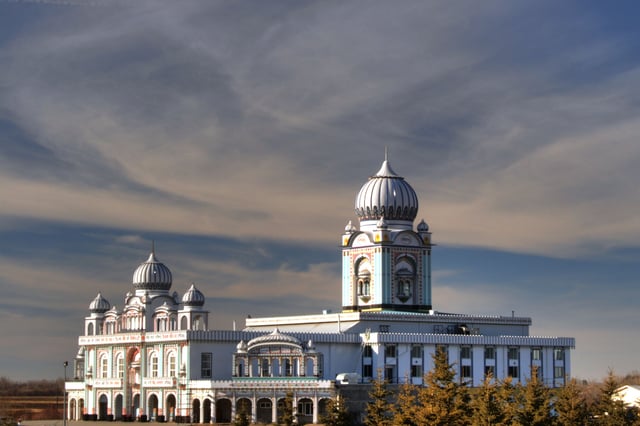 A Sikh temple, Nanaksar Gurudwara, in Richmond, British Columbia
According to a 1994 estimate, Punjabis (Sikhs and non-Sikhs) comprised 10 to 15 per cent of all ranks in the Indian Army, although the state contained less than 3 per cent of the country's population. The Indian government does not release religious or ethnic origins of the military personnel, but a 1991 report by Tim McGirk estimated that 20 per cent of Indian Army officers were Sikhs.[71] Together with the Gurkhas recruited from Nepal, the Maratha Light Infantry from Maharashtra and the Jat Regiment, the Sikhs are one of the few communities to have exclusive regiments in the Indian Army.[71] The Sikh Regiment is one of the most-decorated regiments in the army,[72] with 73 Battle Honours, 14 Victoria Crosses,[73] 21 first-class Indian Orders of Merit (equivalent to the Victoria Cross),[74] 15 Theatre Honours, five COAS Unit Citations, two Param Vir Chakras, 14 Maha Vir Chakras, five Kirti Chakras, 67 Vir Chakras and 1,596 other awards. The highest-ranking general in the history of the Indian Air Force is a Punjabi Sikh, Marshal of the Air Force Arjan Singh.[75] Plans by the United Kingdom Ministry of Defence for a Sikh infantry regiment were scrapped in June 2007.[76]
Historically, most Indians have been farmers and 66 per cent of the Indian population are engaged in agriculture.[77] Indian Sikhs are employed in agriculture to a lesser extent; India's 2001 census found 39 per cent of the working population of the Punjab employed in this sector.[78] The success of the 1960s Green Revolution, in which India went from "famine to plenty, from humiliation to dignity",[79] was based in the Punjab (which became known as "the breadbasket of India").[80][81] The Punjab is the wealthiest Indian state per capita, with the average Punjabi income three times the national average.[82] The Green Revolution centred on Indian farmers adopting more intensive and mechanised agricultural methods, aided by the electrification of the Punjab, cooperative credit, consolidation of small holdings and the existing, British Raj–developed canal system.[83] According to the Swedish political scientist Ishtiaq Ahmad, a factor in the success of the Indian green revolution was the "Sikh cultivator, often the Jat, whose courage, perseverance, spirit of enterprise and muscle prowess proved crucial".[84] However, not all aspects of the green revolution were beneficial. Indian physicist Vandana Shiva[85] wrote that the green revolution made the "negative and destructive impacts of science [i.e. the green revolution] on nature and society" invisible, and was a catalyst for Punjabi Sikh and Hindu tensions despite a growth in material wealth.
Punjabi Sikhs are engaged in a number of professions which include science, engineering and medicine. Notable examples are nuclear scientist Piara Singh Gill (who worked on the Manhattan Project), fibre-optics pioneer Narinder Singh Kapany and physicist, science writer and broadcaster Simon Singh.
In business, the UK-based clothing retailers New Look and the Thai-based Jaspal[86] were founded by Sikhs. India's largest pharmaceutical company, Ranbaxy Laboratories, is headed by Sikhs.[87] UK Sikhs have the highest percentage of home ownership (82 per cent) of any religious community.[88] UK Sikhs are the second-wealthiest (after the Jewish community) religious group in the UK, with a median total household wealth of £229,000.[89] In Singapore Kartar Singh Thakral expanded his family's trading business, Thakral Holdings,[90] into total assets of almost $1.4 billion and is Singapore's 25th-richest person. Sikh Bob Singh Dhillon is the first Indo-Canadian billionaire. The Sikh diaspora has been most successful in North America. Sikh intellectuals, sportsmen and artists include poet and Bollywood lyricist Rajkavi Inderjeet Singh Tulsi, writer Khushwant Singh, England cricketer Monty Panesar, former 400-metre runner Milkha Singh, Indian wrestler and actor Dara Singh, former Indian hockey team captains Ajitpal Singh and Balbir Singh Sr., former Indian cricket captain Bishen Singh Bedi, Harbhajan Singh (India's most successful off spin cricket bowler), Navjot Singh Sidhu (former Indian cricketer turned politician). Bollywood actresses include Neetu Singh, Simran Judge, Poonam Dhillon, Mahi Gill, Esha Deol, Parminder Nagra, Gul Panag, Mona Singh, Namrata Singh Gujral and director Gurinder Chadha, Parminder Gill.
Sikhs have migrated worldwide, with a variety of occupations. The Sikh Gurus preached ethnic and social harmony, and Sikhs comprise a number of ethnic groups. Those with over 1,000 members include the Ahluwalia, Arain, Arora, Bhatra, Bairagi, Bania, Basith, Bawaria, Bazigar, Bhabra, Chamar, Chhimba, Darzi, Dhobi, Gujar, Jatt, Jhinwar, Kahar, Kalal, Kamboj, Khatri, Kumhar, Labana, Lohar, Mahtam, Mazhabi, Megh, Mirasi, Mochi, Mohyal, Nai, Ramgarhia, Saini, Sansi, Sudh, Tarkhan, Kashyap.
An order of Punjabi Sikhs, the Nihang or the Akalis, was formed during Ranjit Singh's time. Under their leader, Akali Phula Singh, they won many battles for the Sikh Confederacy during the early 19th century.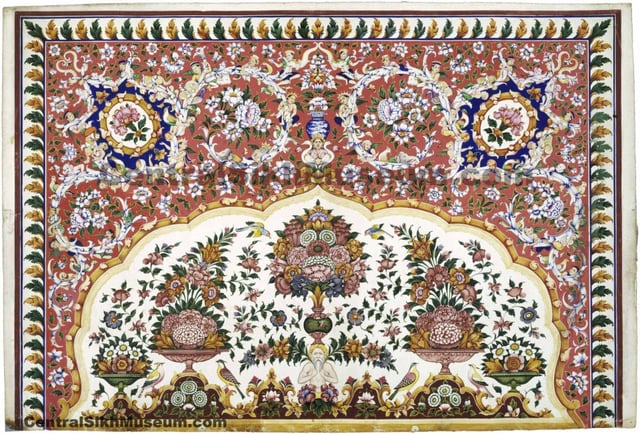 Opaque watercolour-on-paper Nakashi art; about 1880, by an unknown artist from Lahore or Amritsar, and used to decorate the walls of Harmandir Sahib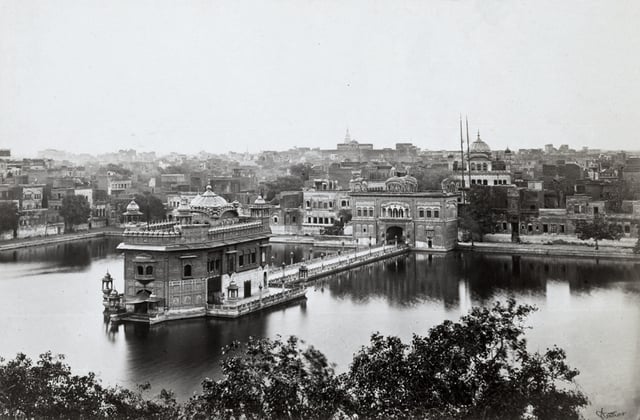 Darbar Sahib, circa 1870
Sikh art and culture are nearly synonymous with that of the Punjab, and Sikhs are easily recognised by their distinctive turban (Dastar). The Punjab has been called India's melting pot, due to the confluence of invading cultures from the rivers from which the region gets its name. Sikh culture is therefore a synthesis of cultures. Sikhism has forged a unique architecture, which S. S. Bhatti described as "inspired by Guru Nanak's creative mysticism" and "is a mute harbinger of holistic humanism based on pragmatic spirituality".[131]
During the Mughal and Afghan persecution of the Sikhs during the 17th and 18th centuries,[132] the latter were concerned with preserving their religion and gave little thought to art and culture. With the rise of Ranjit Singh and the Sikh Raj in Lahore and Delhi, there was a change in the landscape of art and culture in the Punjab; Hindus and Sikhs could build decorated shrines without the fear of destruction or looting.[133]
The Sikh Confederacy was the catalyst for a uniquely Sikh form of expression, with Ranjit Singh commissioning forts, palaces, bungas (residential places) and colleges in a Sikh style. Sikh architecture is characterised by gilded fluted domes, cupolas, kiosks, stone lanterns, ornate balusters and square roofs. A pinnacle of Sikh style is Harmandir Sahib (also known as the Golden Temple) in Amritsar.
Sikh culture is influenced by militaristic motifs (with the Khanda the most obvious), and most Sikh artifacts—except for the relics of the Gurus—have a military theme. This theme is evident in the Sikh festivals of Hola Mohalla and Vaisakhi, which feature marching and displays of valor.
Although the art and culture of the Sikh diaspora have merged with that of other Indo-immigrant groups into categories like "British Asian", "Indo-Canadian" and "Desi-Culture", a minor cultural phenomenon which can be described as "political Sikh" has arisen.[134] The art of diaspora Sikhs like Amarjeet Kaur Nandhra and Amrit and Rabindra Kaur Singh (the "Singh Twins")[135] is influenced by their Sikhism and current affairs in the Punjab.
Bhangra and Giddha are two forms of Punjabi folk dancing which have been adapted and pioneered by Sikhs. Punjabi Sikhs have championed these forms of expression worldwide, resulting in Sikh culture becoming linked to Bhangra (although "Bhangra is not a Sikh institution but a Punjabi one").[136]
Sikh painting is a direct offshoot of the Kangra school of painting. In 1810, Ranjeet Singh (1780–1839) occupied Kangra Fort and appointed Sardar Desa Singh Majithia his governor of the Punjab hills. In 1813 the Sikh army occupied Guler State, and Raja Bhup Singh became a vassal of the Sikhs. With the Sikh kingdom of Lahore becoming the paramount power, some of the Pahari painters from Guler migrated to Lahore for the patronage of Maharaja Ranjeet Singh and his Sardars.
The Sikh school adapted Kangra painting to Sikh needs and ideals. Its main subjects are the ten Sikh gurus and stories from Guru Nanak's Janamsakhis. The tenth Guru, Gobind Singh, left a deep impression on the followers of the new faith because of his courage and sacrifices. Hunting scenes and portraits are also common in Sikh painting.
In May 2019, UK government exempted "Kirpan" from the list of banned knives. The U.K. government has passed an amendment by which Sikhs in the country will be allowed to carry kirpans and use it during religious and cultural functions. The bill had been amended late last year to ensure that it would not impact the right of the British Sikh community to possess and supply kirpans, or religious swords.[137][138]
List of Sikhs

List of British Sikhs

List of Sikh soldiers

Mazhabi Sikh

Ganga Sagar (urn)

Turban training centre