Everipedia is now
IQ.wiki
- Join the
IQ Brainlist
and our
Discord
for early access to editing on the new platform and to participate in the beta testing.
Paleolithic
Paleolithic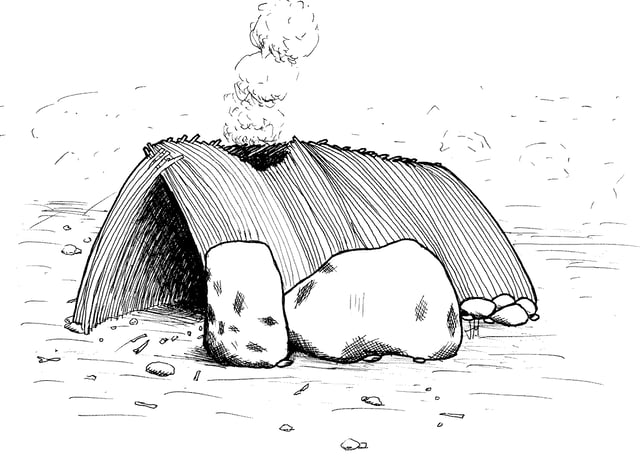 An artist's rendering of a temporary wood house, based on evidence found at Terra Amata (in Nice, France) and dated to the Lower Paleolithic (c. 400,000 BP)
Nearly all of our knowledge of Paleolithic human culture and way of life comes from archaeology and ethnographic comparisons to modern hunter-gatherer cultures such as the !Kung San who live similarly to their Paleolithic predecessors.[21] The economy of a typical Paleolithic society was a hunter-gatherer economy.[22] Humans hunted wild animals for meat and gathered food, firewood, and materials for their tools, clothes, or shelters.[22]
Human population density was very low, around only one person per square mile.[3] This was most likely due to low body fat, infanticide, women regularly engaging in intense endurance exercise,[23] late weaning of infants, and a nomadic lifestyle.[3] Like contemporary hunter-gatherers, Paleolithic humans enjoyed an abundance of leisure time unparalleled in both Neolithic farming societies and modern industrial societies.[22][24] At the end of the Paleolithic, specifically the Middle or Upper Paleolithic, humans began to produce works of art such as cave paintings, rock art and jewellery and began to engage in religious behavior such as burial and ritual.[25]
By c. 2,000,000 – c. 1,500,000 BP, groups of hominins began leaving Africa and settling southern Europe and Asia. Southern Caucasus was occupied by c. 1,700,000 BP, and northern China was reached by c. 1,660,000 BP. By the end of the Lower Paleolithic, members of the hominin family were living in what is now China, western Indonesia, and, in Europe, around the Mediterranean and as far north as England, France, southern Germany, and Bulgaria. Their further northward expansion may have been limited by the lack of control of fire: studies of cave settlements in Europe indicate no regular use of fire prior to c. 400,000 – c. 300,000 BP.[26]
East Asian fossils from this period are typically placed in the genus Homo erectus. Very little fossil evidence is available at known Lower Paleolithic sites in Europe, but it is believed that hominins who inhabited these sites were likewise Homo erectus. There is no evidence of hominins in America, Australia, or almost anywhere in Oceania during this time period.
Fates of these early colonists, and their relationships to modern humans, are still subject to debate. According to current archaeological and genetic models, there were at least two notable expansion events subsequent to peopling of Eurasia c. 2,000,000 – c. 1,500,000 BP. Around 500,000 BP a group of early humans, frequently called Homo heidelbergensis, came to Europe from Africa and eventually evolved into Homo neanderthalensis (Neanderthals). In the Middle Paleolithic, Neanderthals were present in the region now occupied by Poland.
Both Homo erectus and Homo neanderthalensis became extinct by the end of the Paleolithic. Descended from Homo sapiens, the anatomically modern Homo sapiens sapiens emerged in eastern Africa c. 200,000 BP, left Africa around 50,000 BP, and expanded throughout the planet. Multiple hominid groups coexisted for some time in certain locations. Homo neanderthalensis were still found in parts of Eurasia c. 30,000 BP years, and engaged in an unknown degree of interbreeding with Homo sapiens sapiens. DNA studies also suggest an unknown degree of interbreeding between Homo sapiens sapiens and Homo sapiens denisova.[27]
Hominin fossils not belonging either to Homo neanderthalensis or to Homo sapiens species, found in the Altai Mountains and Indonesia, were radiocarbon dated to c. 30,000 – c. 40,000 BP and c. 17,000 BP respectively.
For the duration of the Paleolithic, human populations remained low, especially outside the equatorial region. The entire population of Europe between 16,000 and 11,000 BP likely averaged some 30,000 individuals, and between 40,000 and 16,000 BP, it was even lower at 4,000–6,000 individuals.[28]
Fire was used by the Lower Paleolithic hominins Homo erectus and Homo ergaster as early as 300,000 to 1.5 million years ago and possibly even earlier by the early Lower Paleolithic (Oldowan) hominin Homo habilis or by robust Australopithecines such as Paranthropus.[3] However, the use of fire only became common in the societies of the following Middle Stone Age and Middle Paleolithic.[2] Use of fire reduced mortality rates and provided protection against predators.[34] Early hominins may have begun to cook their food as early as the Lower Paleolithic (c. 1.9 million years ago) or at the latest in the early Middle Paleolithic (c. 250,000 years ago).[35] Some scientists have hypothesized that hominins began cooking food to defrost frozen meat, which would help ensure their survival in cold regions.[35]
The Lower Paleolithic Homo erectus possibly invented rafts (c. 840,000 – c. 800,000 BP) to travel over large bodies of water, which may have allowed a group of Homo erectus to reach the island of Flores and evolve into the small hominin Homo floresiensis. However, this hypothesis is disputed within the anthropological community.[36][37] The possible use of rafts during the Lower Paleolithic may indicate that Lower Paleolithic hominins such as Homo erectus were more advanced than previously believed, and may have even spoken an early form of modern language.[36] Supplementary evidence from Neanderthal and modern human sites located around the Mediterranean Sea, such as Coa de sa Multa (c. 300,000 BP), has also indicated that both Middle and Upper Paleolithic humans used rafts to travel over large bodies of water (i.e. the Mediterranean Sea) for the purpose of colonizing other bodies of land.[36][38]
By around 200,000 BP, Middle Paleolithic stone tool manufacturing spawned a tool making technique known as the prepared-core technique, that was more elaborate than previous Acheulean techniques.[4] This technique increased efficiency by allowing the creation of more controlled and consistent flakes.[4] It allowed Middle Paleolithic humans to create stone tipped spears, which were the earliest composite tools, by hafting sharp, pointy stone flakes onto wooden shafts. In addition to improving tool making methods, the Middle Paleolithic also saw an improvement of the tools themselves that allowed access to a wider variety and amount of food sources. For example, microliths or small stone tools or points were invented around 70,000–65,000 BP and were essential to the invention of bows and spear throwers in the following Upper Paleolithic.[34]
Harpoons were invented and used for the first time during the late Middle Paleolithic (c. 90,000 BP); the invention of these devices brought fish into the human diets, which provided a hedge against starvation and a more abundant food supply.[38][39] Thanks to their technology and their advanced social structures, Paleolithic groups such as the Neanderthals—who had a Middle Paleolithic level of technology—appear to have hunted large game just as well as Upper Paleolithic modern humans.[40] and the Neanderthals in particular may have likewise hunted with projectile weapons.[41] Nonetheless, Neanderthal use of projectile weapons in hunting occurred very rarely (or perhaps never) and the Neanderthals hunted large game animals mostly by ambushing them and attacking them with mêlée weapons such as thrusting spears rather than attacking them from a distance with projectile weapons.[25][42]
During the Upper Paleolithic, further inventions were made, such as the net c. 22,000 or c. 29,000 BP)[34] bolas,[43] the spear thrower (c. 30,000 BP), the bow and arrow (c. 25,000 or c. 30,000 BP)[3] and the oldest example of ceramic art, the Venus of Dolní Věstonice (c. 29,000 – c. 25,000 BP).[3] Early dogs were domesticated, sometime between 30,000 and 14,000 BP, presumably to aid in hunting.[44] However, the earliest instances of successful domestication of dogs may be much more ancient than this. Evidence from canine DNA collected by Robert K. Wayne suggests that dogs may have been first domesticated in the late Middle Paleolithic around 100,000 BP or perhaps even earlier.[45]
Archaeological evidence from the Dordogne region of France demonstrates that members of the European early Upper Paleolithic culture known as the Aurignacian used calendars (c. 30,000 BP). This was a lunar calendar that was used to document the phases of the moon. Genuine solar calendars did not appear until the Neolithic.[46] Upper Paleolithic cultures were probably able to time the migration of game animals such as wild horses and deer.[47] This ability allowed humans to become efficient hunters and to exploit a wide variety of game animals.[47] Recent research indicates that the Neanderthals timed their hunts and the migrations of game animals long before the beginning of the Upper Paleolithic.[40]
The origins of music during the Paleolithic are unknown. The earliest forms of music probably did not use musical instruments other than the human voice or natural objects such as rocks. This early music would not have left an archaeological footprint. Music may have developed from rhythmic sounds produced by daily chores, for example, cracking open nuts with stones. Maintaining a rhythm while working may have helped people to become more efficient at daily activities.[79] An alternative theory originally proposed by Charles Darwin explains that music may have begun as a hominin mating strategy. Bird and other animal species produce music such as calls to attract mates.[80] This hypothesis is generally less accepted than the previous hypothesis, but nonetheless provides a possible alternative.
Upper Paleolithic (and possibly Middle Paleolithic)[81] humans used flute-like bone pipes as musical instruments,[38][82] and music may have played a large role in the religious lives of Upper Paleolithic hunter-gatherers. As with modern hunter-gatherer societies, music may have been used in ritual or to help induce trances. In particular, it appears that animal skin drums may have been used in religious events by Upper Paleolithic shamans, as shown by the remains of drum-like instruments from some Upper Paleolithic graves of shamans and the ethnographic record of contemporary hunter-gatherer shamanic and ritual practices.[66][73]
Abbassia Pluvial

Bontnewydd Palaeolithic site

Caveman

Japanese Paleolithic

Lascaux

Late Glacial Maximum

List of archaeological sites by continent and age#Palaeolithic

Luzia Woman

Mousterian Pluvial

Origins of society

Palaeoarchaeology

Paleolithic lifestyle

Settlement of the Americas

Turkana Boy