Everipedia is now
IQ.wiki
- Join the
IQ Brainlist
and our
Discord
for early access to editing on the new platform and to participate in the beta testing.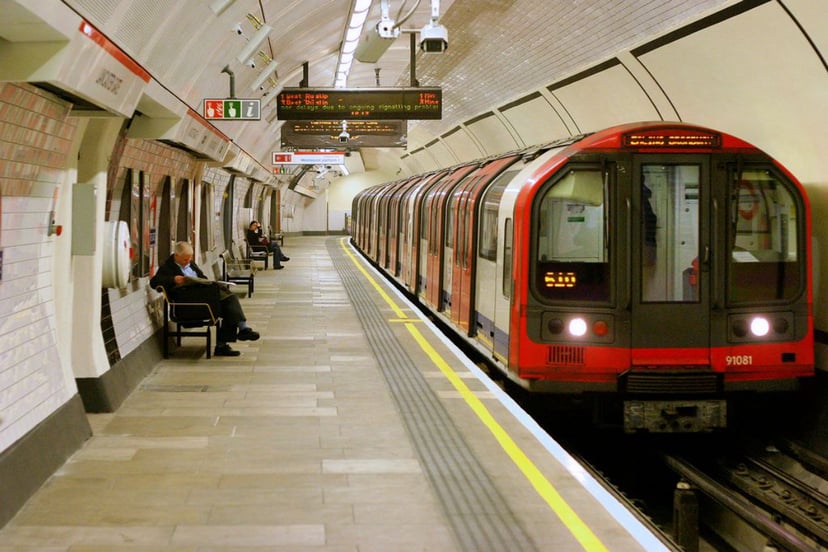 Rapid transit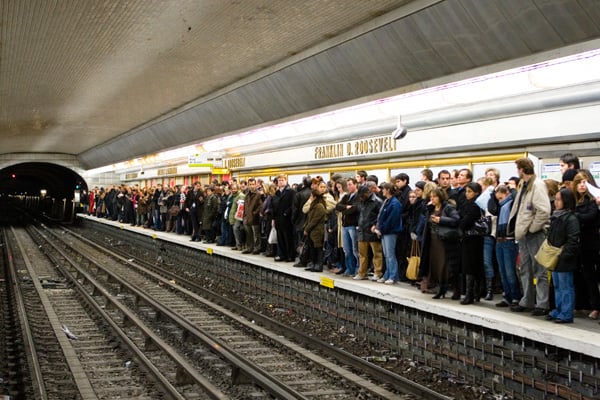 A crowded Paris Métro station platform.
Metro is the most common term for underground rapid transit systems used by non-native English speakers.[14] Rapid transit systems may be named after the medium by which passengers travel in busy central business districts; the use of tunnels inspires names such as subway,[15] underground,[16] Untergrundbahn (U-Bahn) in German,[17] or the Tunnelbana (T-bana) in Swedish;[18] the use of viaducts inspires names such as elevated (L or el), skytrain,[19] overhead, overground or Hochbahn in German. One of these terms may apply to an entire system, even if a large part of the network (for example, in outer suburbs) runs at ground level.
In most of Britain, a subway is a pedestrian underpass; the terms Underground and Tube are used for the London Underground, and the North East England Tyne and Wear Metro, mostly overground, is known as the Metro. In Scotland, however, the Glasgow Subway underground rapid transit system is known as the Subway. In most of North America, underground mass transit systems are primarily known as subways. The term metro is a shortened reference to a metropolitan area. Chicago's commuter rail system that serves the entire metropolitan area is called Metra, while its rapid transit system that serves the city is called the "L". Rapid transit systems such as the Washington Metro, Los Angeles Metro Rail, the Miami Metrorail, and the Montreal Metro are generally called the Metro.[20] In most of Southeast Asia, rapid transit systems are primarily known as MRT (Mass Rail Transit) or MTR (Mass Transit Railway).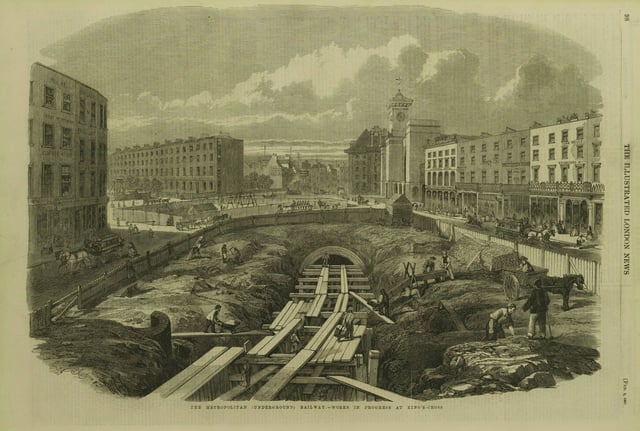 Initial construction stages of London's Metropolitan Railway at King's Cross St. Pancras in 1861
The opening of London's steam-hauled Metropolitan Railway in 1863 marked the beginning of rapid transit. Initial experiences with steam engines, despite ventilation, were unpleasant. Experiments with pneumatic railways failed in their extended adoption by cities. Electric traction was more efficient, faster and cleaner than steam and the natural choice for trains running in tunnels and proved superior for elevated services.
In 1890 the City & South London Railway was the first electric-traction rapid transit railway, which was also fully underground.[21] Prior to opening the line was to be called the "City and South London Subway", thus introducing the term Subway into railway terminology.[22] Both railways, alongside others, were eventually merged into London Underground. The 1893 Liverpool Overhead Railway was designed to use electric traction from the outset.[23]
The technology quickly spread to other cities in Europe, the United States, Argentina, and Canada, with some railways being converted from steam and others being designed to be electric from the outset. Budapest, Chicago, Glasgow and New York all converted or purpose-designed and built electric rail services.[24]
Advancements in technology have allowed new automated services. Hybrid solutions have also evolved, such as tram-train and premetro, which incorporate some of the features of rapid transit systems.[21] In response to cost, engineering considerations and topological challenges some cities have opted to construct tram systems, particularly those in Australia, where density in cities was low and suburbs tended to spread out.[25] Since the 1970s, the viability of underground train systems in Australian cities, particularly Sydney and Melbourne, has been reconsidered and proposed as a solution to over-capacity.
Since the 1960s many new systems were introduced in Europe, Asia and Latin America.[17] In the 21st century, most new expansions and systems are located in Asia, with China becoming the world's leader in metro expansion operating some of the largest systems and possessing almost 60 cities operating, constructing or planning a rapid transit system.[26][27]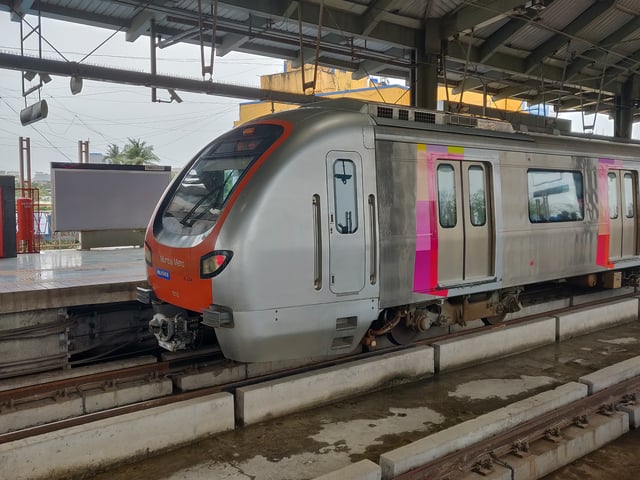 Metro rake of Mumbai metro Line 1 approaching Andheri station
Rapid transit topologies are determined by a large number of factors, including geographical barriers, existing or expected travel patterns, construction costs, politics, and historical constraints. A transit system is expected to serve an area of land with a set of lines, which consist of shapes summarized as "I", "U", "S", and "O" shapes or loops. Geographical barriers may cause chokepoints where transit lines must converge (for example, to cross a body of water), which are potential congestion sites but also offer an opportunity for transfers between lines. Ring lines provide good coverage, connect between the radial lines and serve tangential trips that would otherwise need to cross the typically congested core of the network. A rough grid pattern can offer a wide variety of routes while still maintaining reasonable speed and frequency of service.[35] A study of the 15 world largest subway systems suggested a universal shape composed of a dense core with branches radiating from it.[36]
Platform-edge doors are used for safety at Daan Station on the Red Line (Tamsui-Xinyi Line), Taipei Metro, Taiwan.
Compared to other modes of transport, rapid transit has a good safety record, with few accidents. Rail transport is subject to strict safety regulations, with requirements for procedure and maintenance to minimize risk. Head-on collisions are rare due to use of double track, and low operating speeds reduce the occurrence and severity of rear-end collisions and derailments. Fire is more of a danger underground, such as the King's Cross fire in London in November 1987, which killed 31 people. Systems are generally built to allow evacuation of trains at many places throughout the system.[40][41]
High platforms (usually over 1 meter / 3 feet) are a safety risk, as people falling onto the tracks have trouble climbing back. Platform screen doors are used on some systems to eliminate this danger.
Rapid transit facilities are public spaces and may suffer from security problems: petty crimes, such as pickpocketing and baggage theft, and more serious violent crimes, as well as sexual assaults on tightly packed trains and platforms.[42][43] Security measures include video surveillance, security guards, and conductors. In some countries a specialized transit police may be established. These security measures are normally integrated with measures to protect revenue by checking that passengers are not travelling without paying.[44] Some subway systems, such as the Beijing Subway, which is ranked by Worldwide Rapid Transit Data as the "World's Safest Rapid Transit Network" in 2015, incorporate airport-style security checkpoints at every station. Rapid transit systems have been subject to terrorism with many casualties, such as the 1995 Tokyo subway sarin gas attack[45] and the 2005 "7/7" terrorist bombings on the London Underground.
Some rapid transport trains have extra features such as wall sockets and internet connectivity. For example, the Hong Kong Mass Transit Railway (MTR) provides mobile data connection in the tunnels for selected service providers.
List of metro systems

Megaproject

Rapid transit technology

Rapid transit track gauge