Everipedia is now
IQ.wiki
- Join the
IQ Brainlist
and our
Discord
for early access to editing on the new platform and to participate in the beta testing.
House of Saud
House of Saud
House of Saud




Royal house

Parent family

Al-Muqrin of the Diriyah house of Al-Muraydi of either Anizzah or Banu Hanifa

Country

Saudi Arabia

Founded

1744

 (

1744

)

Founder

Muhammad bin Saud (died 1765)

Current head

Salman bin Abdulaziz

Titles

King of Saudi Arabia

Custodian of the Two Holy Mosques

Crown Prince of Saudi Arabia

Sultan of Nejd

Emir of Diriyah

King of Nejd and Hejaz

Emir of Nejd and Hasa

Members

Salman of Saudi Arabia and other members with relationship

Traditions

Wahabbism

Religion

Islam
House of Saud




Royal house

Parent family

Al-Muqrin of the Diriyah house of Al-Muraydi of either Anizzah or Banu Hanifa

Country

Saudi Arabia

Founded

1744

 (

1744

)

Founder

Muhammad bin Saud (died 1765)

Current head

Salman bin Abdulaziz

Titles

King of Saudi Arabia

Custodian of the Two Holy Mosques

Crown Prince of Saudi Arabia

Sultan of Nejd

Emir of Diriyah

King of Nejd and Hejaz

Emir of Nejd and Hasa

Members

Salman of Saudi Arabia and other members with relationship

Traditions

Wahabbism

Religion

Islam
Flag of the Second Saudi State
A few years after the fall of Diriyah in 1818, the Saudis were able to re-establish their authority in Najd, establishing the Emirate of Nejd, commonly known as the Second Saudi State, with its capital in Riyadh.
Compared to the First Saudi State, the second Saudi period was marked by less territorial expansion (it never reconquered the Hijaz or 'Asir, for example) and less religious zeal, although the Saudi leaders continued to go by the title of imam and still employed Salafi religious scholars. The second state was also marked by severe internal conflicts within the Saudi family, eventually leading to the dynasty's downfall. In all but one instance, succession occurred by assassination or civil war, the exception being the passage of authority from Faisal ibn Turki to his son Abdullah ibn Faisal ibn Turki.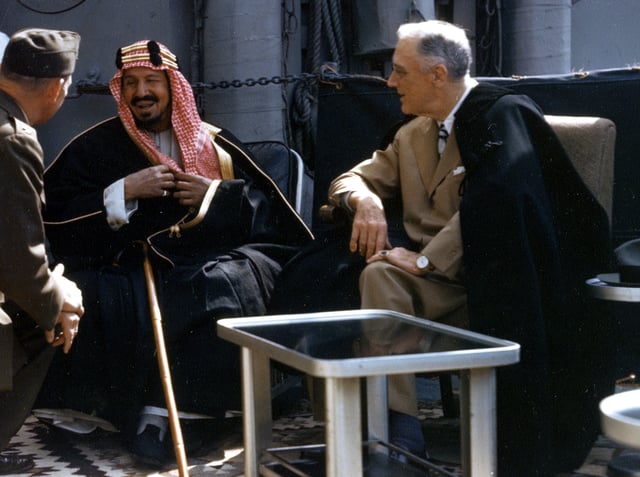 Ibn Saud and Franklin D. Roosevelt in February 1945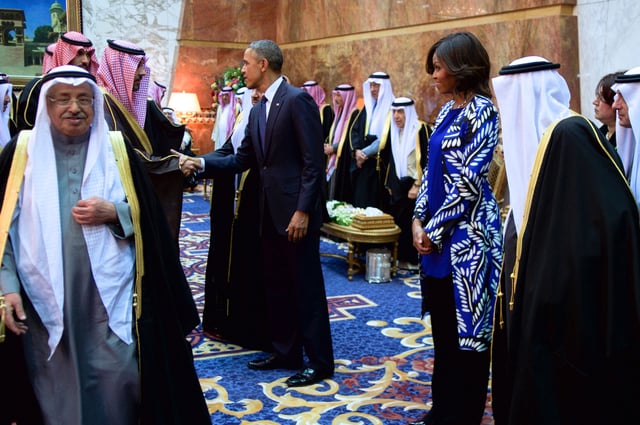 U.S. President Barack Obama offers condolences on death of Saudi King Abdullah, Riyadh, 27 January 2015
After his defeat at Mulayda, Abdul-Rahman ibn Faisal went with his family into exile in the deserts of eastern Arabia among the Al Murra bedouin. Soon afterward, however, he found refuge in Kuwait as a guest of the Kuwaiti emir, Mubarak Al Sabah. In 1902, Abdul-Rahman's son, Abdul Aziz, took on the task of restoring Saudi rule in Riyadh. Supported by a few dozen followers and accompanied by some of his brothers and relatives, Abdul Aziz was able to capture Riyadh's Masmak fort and kill the governor appointed there by Ibn Rashid. Abdul Aziz, reported to have been barely 20 at the time, was immediately proclaimed ruler in Riyadh. As the new leader of the House of Saud, Abdul Aziz became commonly known from that time onward as "Ibn Saud" in Western sources, though he is still called "Abdul Aziz" in the Arab world.
Ibn Saud spent the next three decades trying to re-establish his family's rule over central Arabia, starting with his native Najd. His chief rivals were the Al Rashid clan in Ha'il, the Sharifs of Mecca in the Hijaz, and the Ottoman Turks in al-Hasa. Ibn Saud also had to contend, however, with the descendants of his late uncle Saud ibn Faisal (later known as the "Saud al-Kabir" branch of the family), who posed as the rightful heirs to the throne. Though for a time acknowledging the sovereignty of the Ottoman Sultans and even taking the title of pasha, Ibn Saud allied himself to the British, in opposition to the Ottoman-backed Al Rashid. From 1915 to 1927, Ibn Saud's dominions were a protectorate of the British Empire, pursuant to the 1915 Treaty of Darin.
Ibn Saud won final victory over the Rashidis in 1921, making him the ruler of most of central Arabia. He consolidated his dominions as the Sultanate of Nejd. He then turned his attention to the Hijaz, finally conquering it in 1926, just months before the British protectorate ended. For the next five and a half years, he administered the two parts of his dual realm, the Kingdom of Hejaz and Nejd, as separate units.
By 1932, Ibn Saud had disposed of all his main rivals and consolidated his rule over much of the Arabian Peninsula. He united his dominions into the Kingdom of Saudi Arabia that year. Ibn Saud's father, Abdul Rahman retained the honorary title of "imam." In 1937 near Dammam, American surveyors discovered what later proved to be Saudi Arabia's vast oil reserves. Before the discovery of oil, many family members were destitute.[25]
Ibn Saud sired dozens of children by his many wives. He had at most four wives at a time, divorcing many times. He made sure to marry into many of the noble clans and tribes within his territory, including the chiefs of the Bani Khalid, Ajman, and Shammar tribes, as well as the Al ash-Sheikh (descendants of Muhammad ibn Abd al-Wahhab). He also arranged for his sons and relatives to enter into similar marriages. He appointed his eldest surviving son, Saud as heir apparent, to be succeeded by the next eldest son, Faisal. The Saudi family became known as the "royal family," and each member, male and female, was accorded the title amir ("prince") or amira ("princess"), respectively.
Ibn Saud died in 1953, after having cemented an alliance with the United States in 1945. He is still celebrated officially as the "Founder," and only his direct descendants may take on the title of "his or her Royal Highness." The date of his recapture of Riyadh in 1902 was chosen to mark Saudi Arabia's centennial in 1999 (according to the Islamic lunar calendar).
Upon Ibn Saud's death, his son Saud assumed the throne without incident, but his lavish spending led to a power struggle with his brother, Crown Prince Faisal. In 1964, the royal family forced Saud to abdicate in favor of Faisal, aided by an edict from the country's grand mufti. During this period, some of Ibn Saud's younger sons, led by Talal ibn Abdul Aziz, defected to Egypt, calling themselves the "Free Princes" and calling for liberalization and reform, but were later induced to return by Faisal. They were fully pardoned but were also barred from any future positions in government.
Faisal was assassinated in 1975 by a nephew, Faisal ibn Musaid, who was promptly executed. Another brother, Khalid, assumed the throne. The next prince in line had actually been Prince Muhammad, but he had relinquished his claim to the throne in favor of Khalid, his only full brother.
Khalid died of a heart attack in 1982, and was succeeded by Fahd, the eldest of the powerful "Sudairi Seven", so-called because they were all sons of Ibn Saud by his wife Hassa Al Sudairi. Fahd did away with the previous royal title of "his Majesty" and replaced it with the honorific "Custodian of the Two Holy Mosques", in reference to the two Islamic holy sites in Mecca and Medina, in 1986.
A stroke in 1995 left Fahd largely incapacitated. His half-brother, Crown Prince Abdullah [who was descended on the maternal side from the rival Rashidi] , gradually took over most of the king's responsibilities until Fahd's death in August 2005. Abdullah was proclaimed king on the day of Fahd's death and promptly appointed his younger brother, Sultan bin Abdulaziz, the minister of defense and Fahd's "Second Deputy Prime Minister," as the new heir apparent. On 27 March 2009, Abdullah appointed Prince Nayef Interior Minister as his "second deputy prime minister" and Crown Prince on 27 October.[26] Sultan died in October 2011 while Nayef died in Geneva, Switzerland on 15 June 2012. On 23 January 2015, Abdullah died after a prolonged illness, and his half-brother, Crown Prince Salman bin Abdulaziz Al Saud, was declared the new King.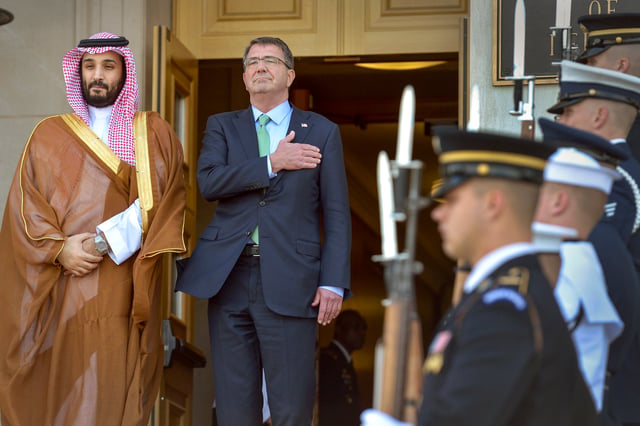 Crown Prince and Defence Minister Mohammad with U.S. Secretary of Defense Ashton Carter, Pentagon, 13 May 2015
The head of the House of Saud is the King of Saudi Arabia who serves as Head of State and monarch of the Kingdom of Saudi Arabia. The King holds almost absolute political power. The King appoints ministers to his cabinet who supervise their respective ministries in his name. The key ministries of Defence, the Interior and Foreign Affairs are usually held by members of the Saud family, as are most of the thirteen regional governorships. Most portfolios, however, such as Finance, Labour, Information, Planning, Petroleum Affairs and Industry, have traditionally been given to commoners, often with junior Al Saud members serving as their deputies. House of Saud family members also hold many of the Kingdom's critical military and governmental departmental posts. Ultimate power in the Kingdom has always rested upon the Al Saud, though support from the Ulema, the merchant community, and the population at large has been key to the maintenance of the royal family's political status quo.
Long-term political and government appointments have occurred, such as those of King Faisal, who was Foreign Minister almost continuously from 1932 to 1975, King Abdullah, who was Commander of the National Guard from 1963 to 2010, and former Crown prince Sultan bin Abdulaziz, who was Minister of Defence and Aviation from 1962 until his death in 2011. Such terms of service have enabled senior princes to mingle their personal wealth with that of their respective domains. They have often appointed their own sons to senior positions within their own fiefdom. Examples of these include Prince Mutaib bin Abdullah as assistant commander in the National Guard until 2010; Prince Khalid bin Sultan as assistant minister of defence until 2013; Prince Mansour bin Mutaib as assistant minister for Municipal and Rural Affairs until he replaced his father in 2009; and Prince Mohammed bin Nayef as assistant minister in the Interior Ministry. In cases, where portfolios have notably substantial budgets, appointments of younger, often full, brothers have been necessary, as deputies or vice ministers, ostensibly to share the wealth and the burdens of responsibility, of each fiefdom. Examples of these include Prince Abdul Rahman who was vice minister of defence and aviation under Prince Sultan; Prince Badr, deputy to King Abdullah in the National Guard; Prince Sattam, who was Deputy Riyadh Governor during King Salman's term; and Prince Ahmed, who held the deputy minister's portfolio under Prince Nayef's interior ministry.
Unlike Western royal families, the Saudi Monarchy has not had a clearly defined order of succession. Historically, upon becoming King, the monarch has designated an heir apparent to the throne who serves as Crown Prince of the Kingdom. Upon the King's death the Crown Prince becomes King, and during the King's incapacitation the Crown Prince, likewise, assumes power as regent. Although other members of the Al Saud hold political positions in the Saudi government, it is only the King and Crown Prince who legally constitute the political institutions.
Muhammad ibn Saud (approx. 1710[52]−1765) ruled 1744–1765

Abdul-Aziz ibn Muhammad ibn Saud (died 1803) ruled 1765–1803

Saud ibn Abdul-Aziz ibn Muhammad Al Saud (died 1814) ruled 1803–1814

Abdullah ibn Saud (died 1818) ruled 1814–1818
Turki ibn Abdallah

(1755–1834) ruled 1824[53]−1834

2 and 5.

Faisal ibn Turki Al Saud

(1785–1865) ruled 1834–1838 and 1843–1865. Son of Turki

Khalid bin Saud ibn Abdul-Aziz ibn Muhammad ibn Saud ruled 1838–1841. Distant cousin

Abdullah ibn Thunayyan ruled 1841–1843. Distant cousin

6, 8, and 11. Abdullah bin Faisal bin Turki Al Saud ruled 1865–1871, 1871–1873, 1876–1889. Son of Faisal

7 and 9.

Saud ibn Faisal ibn Turki

(died 1875) ruled 1871 and 1873–1875. Son of Faisal

10 and 12.

Abdul-Rahman bin Faisal

(1850–1928) ruled 1875–1876 and 1889–1891. Son of Faisal
Royal Standard of the King
Abdulaziz bin Abdul-Rahman bin Faisal known as Ibn Saud (15 January 1876 – 9 November 1953) ruled 1932[54]–1953

King Saud bin Abdulaziz (15 January 1902 – 24 January 1969) ruled 1953–1964

King Faisal bin Abdulaziz (April 1906 – 25 March 1975) ruled 1964–1975

King Khalid bin Abdulaziz (13 February 1913 – 13 June 1982) ruled 1975–1982

King Fahd bin Abdulaziz (16 March 1920 – 1 August 2005) ruled 1982–2005

King Abdullah bin Abdulaziz (1 August 1924 – 23 January 2015) ruled 2005–2015

King Salman bin Abdulaziz (born 31 December 1935) since 2015
Most notable current members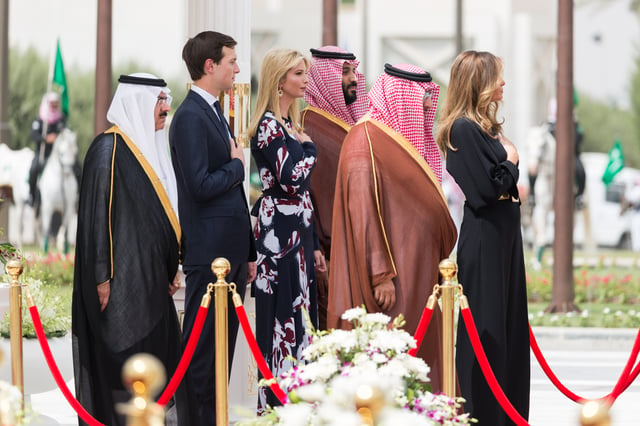 Crown Prince Muhammad bin Nayef, Deputy Crown Prince Mohammad bin Salman, Jared Kushner, Ivanka Trump, King Salman bin Abdulaziz and Melania Trump, Riyadh, 20 May 2017
The list of King Abdulaziz's surviving sons, except for current Saudi monarch Salman, are as follows:
Mutaib bin Abdulaziz (born 1931) – Minister of municipal and rural affairs from 1975 to 2009. He has a long-standing family alliance with King Abdullah.

Abdul llah bin Abdulaziz (born 1939) – Former governor of Al Jawf Province. He was special advisor to King Abdullah from 2008 to 2015.

Mamdouh bin Abdulaziz (born 1940) – Former governor of Tabuk region who was removed from the post by King Fahd for insubordination. Later he was made director of Saudi Center of Strategic Studies.

Ahmed bin Abdulaziz (born 1942) – Deputy minister of interior from 1975 to 2012; minister of interior from June 2012 to 5 November 2012.

Mashhur bin Abdulaziz (born 1942)

Muqrin bin Abdulaziz Al Saud (born 1945) – Director general of the General Intelligence Directorate from 2005 to 2012; former governor of Ha'il and Madinah provinces. He was appointed second deputy prime minister on 1 February 2013 and he was made crown prince on 23 January 2015 when his half-brother Salman became king. On 28 April 2015 Muqrin was granted resignation based on his request to start the next generation of the royals.
Living daughter of King Abdulaziz
Al Jawhara bint Abdulaziz Al Saud
Bedouin

Al ash-Sheikh

Bani Hareth

Bani Yas

Banu Thaqif

Banu Yam

King of Saudi Arabia

Saudi Royal Guard Regiment

Death of a Princess

2017 Saudi Arabian purge