Everipedia is now
IQ.wiki
- Join the
IQ Brainlist
and our
Discord
for early access to editing on the new platform and to participate in the beta testing.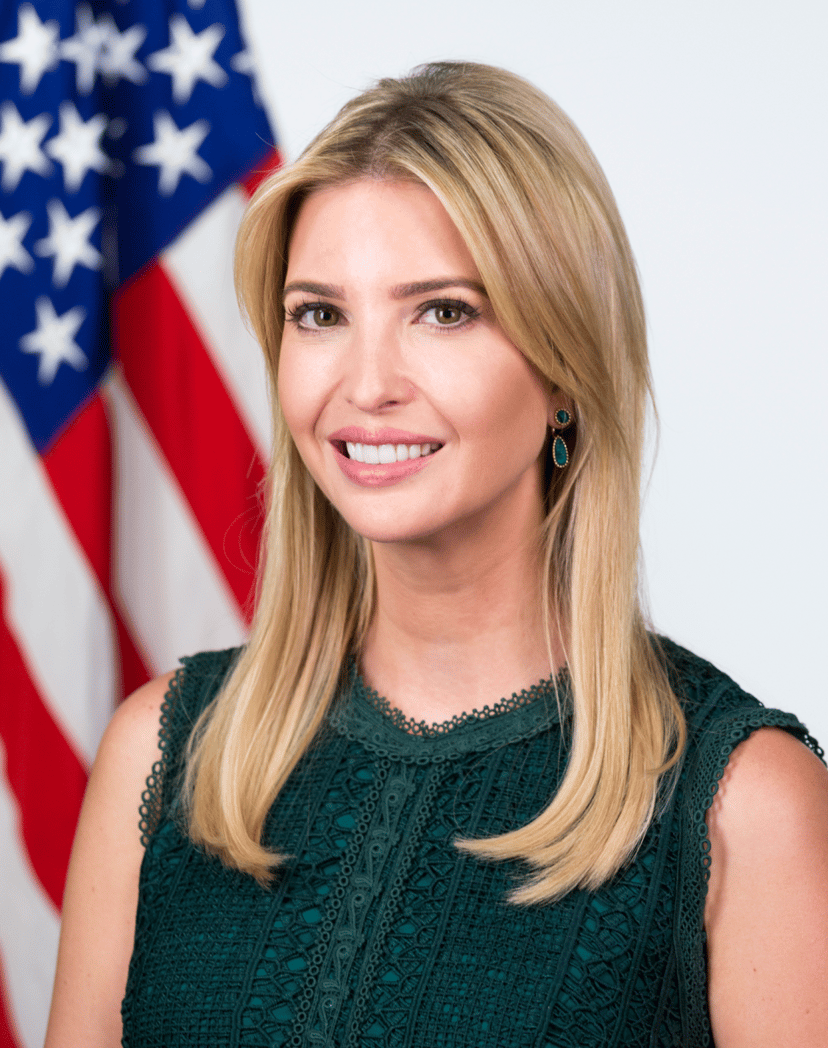 Ivanka Trump
Ivanka Trump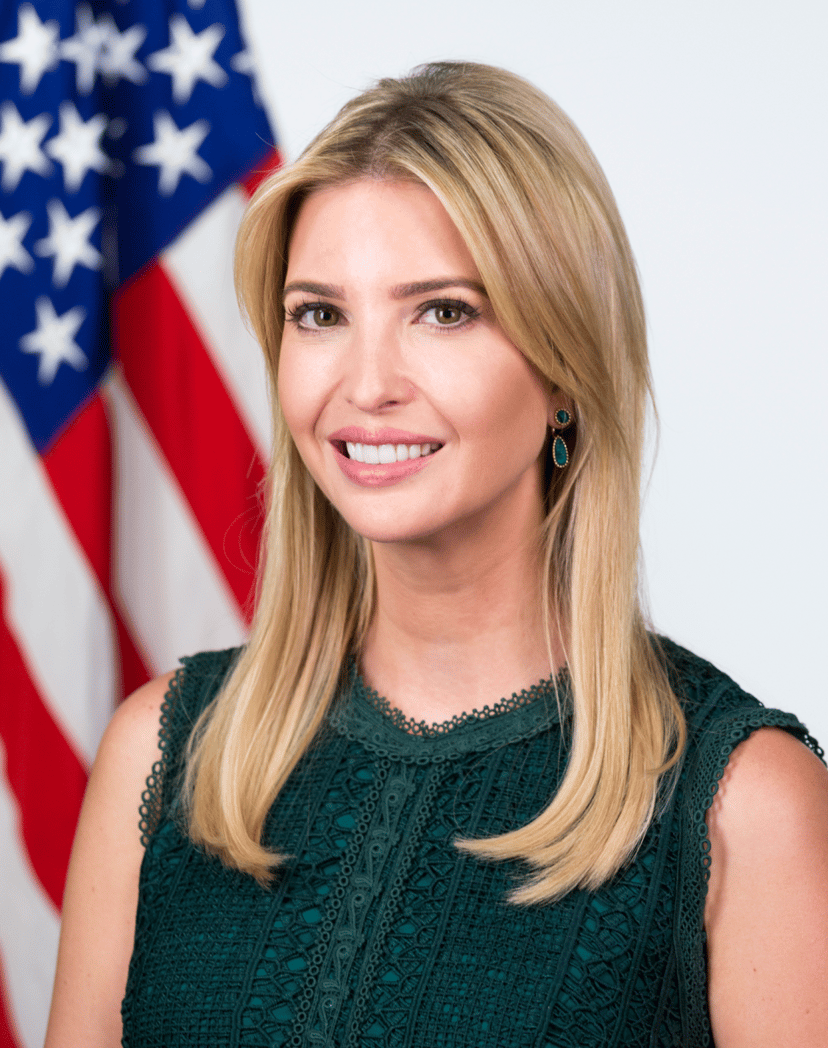 Ivana Marie "Ivanka" Trump also known as Yael Kushner [3] She is an American businesswoman, fashion designer, author, and reality television personality who is currently the senior advisor to the president of the United States.[1][2] She is the daughter and second child of President Donald Trump and his first wife, Ivana. She is the first Jewish member of a first family, having converted before marrying her Jewish husband, Jared Kushner.[5][6][7][12]
She[13] was born in Manhattan, New York City, and is the second child of Czech-American model Ivana (née Zelníčková) and Donald Trump, who in 2017 became the 45th president of the United States.[14] Her father has German[15] and Scottish ancestry[16] and her mother has Czech and Austrian ancestry.[17] For most of her life, she has been nicknamed "Ivanka", a diminutive form of Ivana.[18] Her parents divorced in 1992 when she was ten years old.[14][19] She has two brothers, Donald Jr. and Eric, a half-sister, Tiffany, and a half-brother, Barron.[24]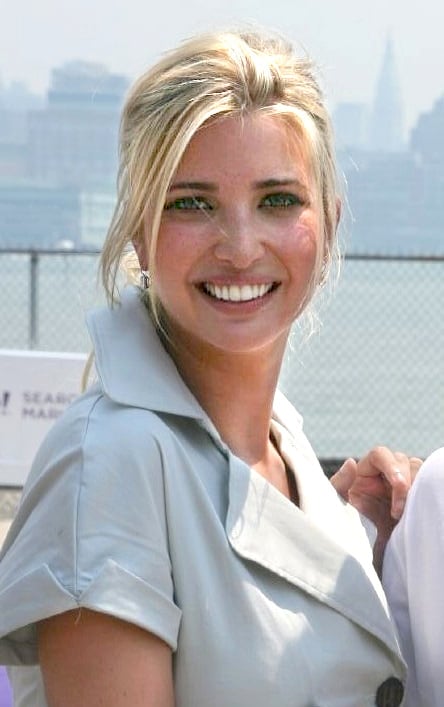 Trump in July 2007
When Trump was attending boarding school as a teenager, she got into modeling "on weekends and holidays and absolutely not during the school year," according to her mother, Ivana Trump.[49] She was featured in print advertisements for Tommy Hilfiger and Sasson Jeans[50][51] and walked fashion runways for Versace, Marc Bouwer and Thierry Mugler.[49] In May 1997, she was featured on the cover of Seventeen which ran a story on "celeb moms & daughters".[52][49]
Trump joined the Trump Organization in an executive position.
Soon after that, she started her jewelry, shoe, and apparel lines, and appeared in advertisements promoting the Trump Organization and her products.
She was also featured in women's and special interest publications in "soft-hitting" profiles focusing on "looks, lifestyles, and product lines" and was featured on the cover of some issues, such as Harper's Bazaar, Forbes Life, Golf Magazine, Town & Country, and Vogue.[53][54] She was featured on the cover of Stuff in August 2006 and again in September 2007.[55][521][72][73]
Trump campaign and administration
2016 presidential campaign and election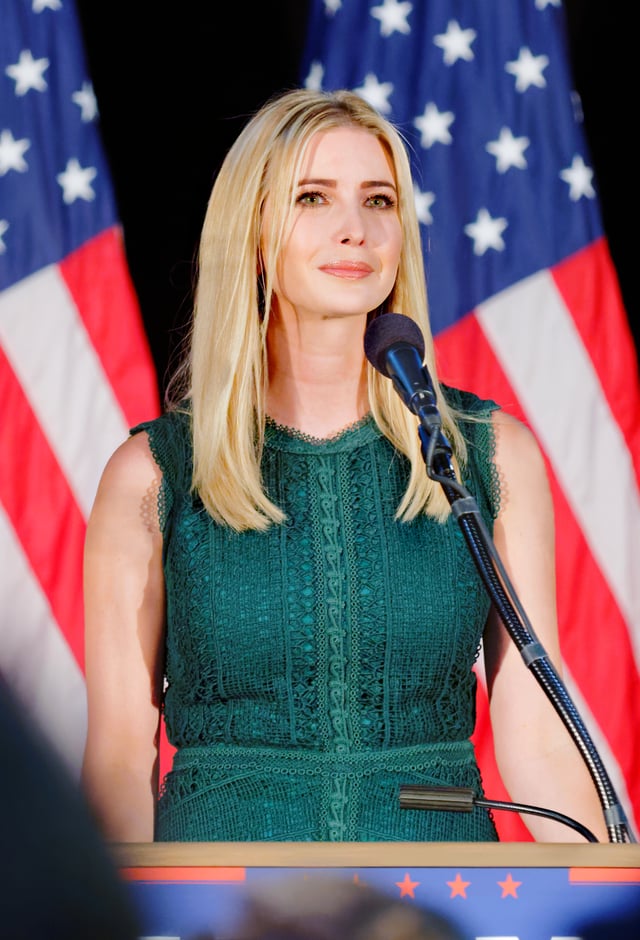 Trump speaks at her father's presidential campaign in September 2016
In 2015, she publicly endorsed her father's presidential campaign. She was involved with the campaign by making public appearances to support and defend him.[74][75][76] However, she admitted mixed feelings about his presidential ambitions, saying in October 2015, "As a citizen, I love what he's doing. As a daughter, it's obviously more complicated."[77] In August 2015, Donald Trump stated that she was his leading advisor on "women's health and women" and said it was she who propelled him to elaborate on his views of women.[78][79]
In January 2016, Trump was featured in a radio ad that aired in the early voting states of Iowa and New Hampshire, in which she praised her father.[80][81] She appeared by his side following the results of early voting states in 2016, in particular briefly speaking in South Carolina.[82][83] She was not able to vote in the New York primary in April 2016 because she had missed the October 2015 deadline to change her registration from independent to Republican.[84][91][92][100]
Social and political causes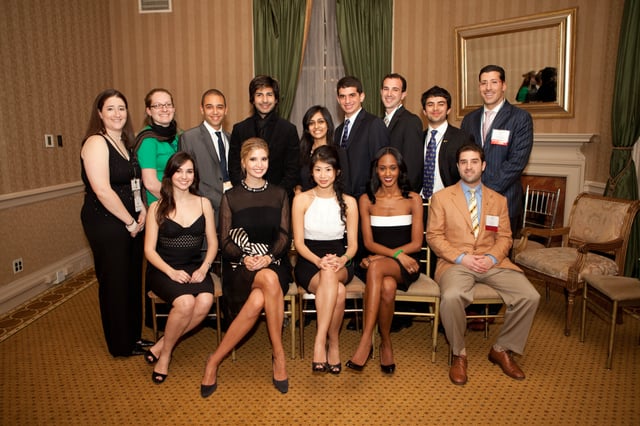 Trump at Seeds of Peace in 2009
In 2007, Trump donated $1,000 to the presidential campaign of Hillary Clinton.[138] In 2012, Trump endorsed Mitt Romney for president.[139] In 2013, Trump and her husband hosted a fundraiser for Democrat Cory Booker, and the couple bundled more than $40,000 for Booker's U.S. Senate campaign.[140] Trump advocates for women and Israel.[141] At the 2016 Republican National Convention, Trump said of her political views: "Like many of my fellow millennials, I do not consider myself categorically Republican or Democrat."[142]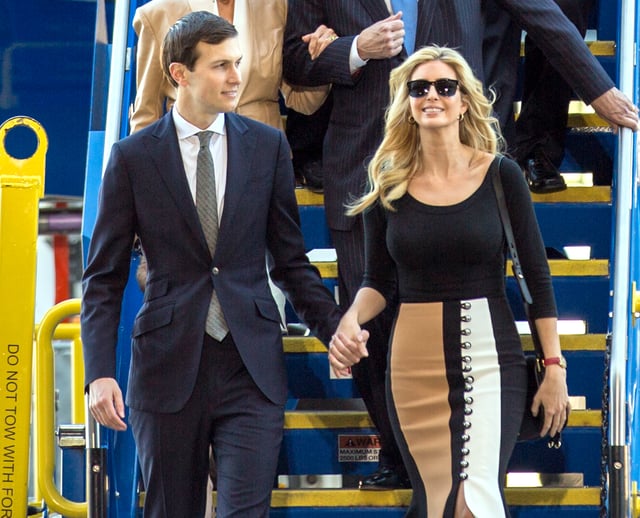 Kushner and Trump at an event in North Charleston, South Carolina, February 2017
Sarah Ellison, writing for Vanity Fair in 2018, indicated Ivanka Trump was the family member that "everyone in the family seems to acknowledge" is Donald Trump's "favorite" child.[153] This had been confirmed by the family members themselves in a 2015 interview with Barbara Walters on network television where the siblings were gathered and acknowledged that she was the favorite among the siblings.[154][166]