Everipedia is now
IQ.wiki
- Join the
IQ Brainlist
and our
Discord
for early access to editing on the new platform and to participate in the beta testing.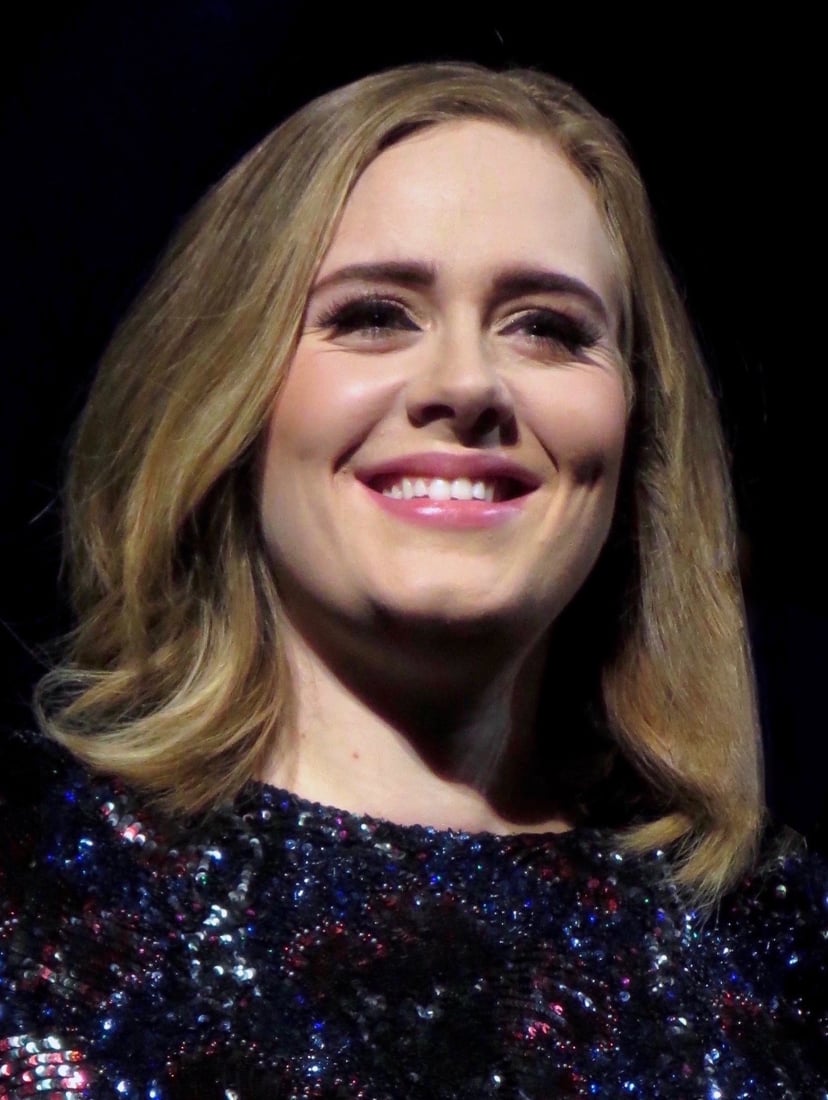 Adele
Adele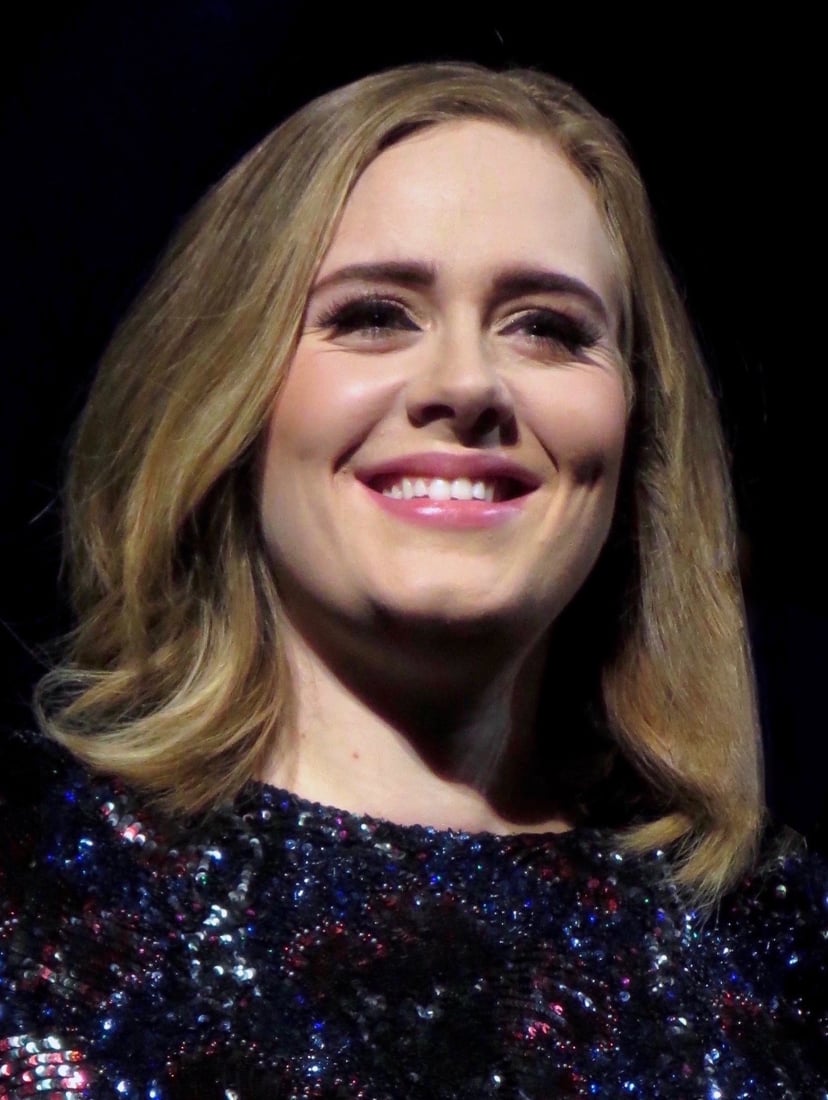 Born

Adele Laurie Blue Adkins[1]




(

1988-05-05

)

5 May 1988




Tottenham, London, England

Alma mater

BRIT School

Occupation

Singer-songwriter

Years active

2006–present

Spouse(s)

Simon Konecki

(

m.

 2016; separated 2019)

[2][3][4]

Children

1

Awards

Full list

Musical career

Genres

Instruments

Labels

Website

adele.com [284]



Born

Adele Laurie Blue Adkins[1]




(

1988-05-05

)

5 May 1988




Tottenham, London, England

Alma mater

BRIT School

Occupation

Singer-songwriter

Years active

2006–present

Spouse(s)

Simon Konecki

(

m.

 2016; separated 2019)

[2][3][4]

Children

1

Awards

Full list

Musical career

Genres

Instruments

Labels

Website

adele.com [284]
Adele Laurie Blue Adkins was born on 5 May 1988 in Tottenham, London, to an English mother, Penny Adkins, and a Welsh father, Marc Evans.[9] Evans left when Adele was two, leaving her mother to raise her.[10][11] She began singing at age four and asserts that she became obsessed with voices.[12][13] In 1997, at the age of nine, Adele and her mother, who by then had found work as a furniture maker and an adult-learning activities organiser, relocated to Brighton on the south coast of England.[14]
In 1999, she and her mother moved back to London; first to Brixton, then to the neighbouring district of West Norwood in south London, which is the subject of her first song "Hometown Glory".[15] She spent a lot of her youth in Brockwell Park where she would play the guitar and sing to friends, which she recalled in her 2015 song "Million Years Ago". She stated, "It has quite monumental moments of my life that I've spent there, and I drove past it [in 2015] and I just literally burst into tears. I really missed it."[16] Adele graduated from the BRIT School for Performing Arts & Technology in Croydon in May 2006,[17] where she was a classmate of Leona Lewis and Jessie J.[1][18] Adele credits the school with nurturing her talent[19] even though, at the time, she was more interested in going into A&R and hoped to launch other people's careers.[1]
2018–present: Upcoming fourth studio album
Adele was reportedly working on her fourth studio album by 2018, with an expected release date of December 2019.[163] On 5 May 2019, the date of her 31st birthday, Adele posted several black-and-white photographs of herself celebrating her birthday along with a message on her Instagram account reflecting on the previous year. The message ended with "30 will be a drum n bass record to spite you". Outlets, including NME, took the post as an indication that a new album would be released imminently.[164][165]
Influences and favourite musicians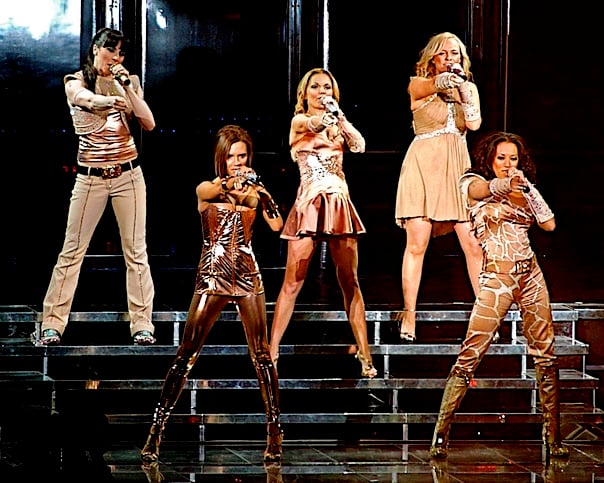 Adele credits the Spice Girls as being a major influence on her love of music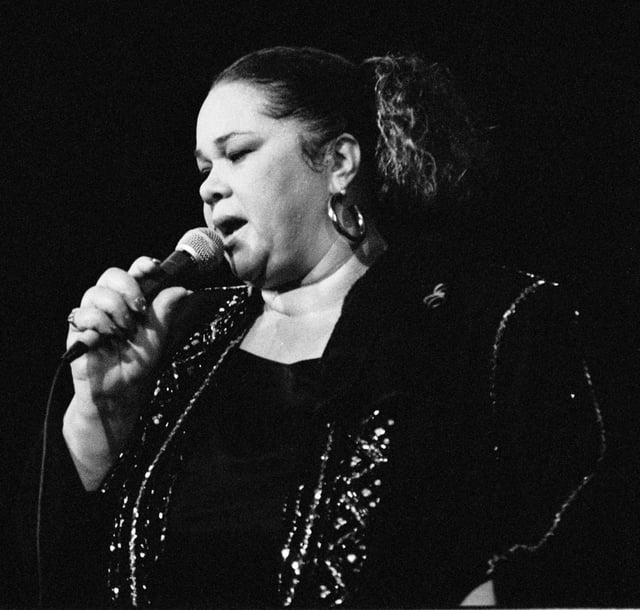 As a teenager Adele would listen to Etta James (pictured) while developing and practising her vocal skills
Adele has cited the Spice Girls as a major influence in regard to her love and passion for music, stating that "they made me what I am today".[166] Adele impersonated the Spice Girls at dinner parties as a young girl.[167] She stated she was left "heartbroken" when her favourite Spice Girl, Geri Halliwell aka "Ginger Spice", left the group.[168][169] Growing up she also listened to Sinéad O'Connor,[170] The Cure,[171] Dusty Springfield,[172] Celine Dion,[173] and Annie Lennox.[174] One of Adele's earliest influences was Gabrielle, who Adele has admired since the age of five. During Adele's school years, her mother made her an eye patch with sequins which she used to perform as the Hackney born star in a school talent contest.[175] After moving to south London, she became interested in R&B artists such as Aaliyah, Destiny's Child, and Mary J. Blige.[176] Adele says that one of the most defining moments in her life was when she watched Pink perform at Brixton Academy in London. She states: "It was the Missundaztood record, so I was about 13 or 14. I had never heard, being in the room, someone sing like that live [...] I remember sort of feeling like I was in a wind tunnel, her voice just hitting me. It was incredible."[177][178] Adele also cites Jeff Buckley's album Grace as an influence, saying "I remember falling out with my best friend when I was like seven and listening to Jeff Buckley, because my mum was a huge fan. Grace has always been around me".[179]
In 2002, aged 14, Adele discovered Etta James and Ella Fitzgerald as she stumbled on the artists' CDs in the jazz section of her local music store. She was struck by their appearance on the album covers.[180] Adele states she then "started listening to Etta James every night for an hour," and in the process was getting "to know my own voice."[180] Adele credits Amy Winehouse and her 2003 album Frank for inspiring her to take up the guitar, stating, "If it wasn't for Amy and Frank, one hundred per cent I wouldn't have picked up a guitar, I wouldn't have written "Daydreamer" or "Hometown [Glory]" and I wrote "Someone Like You" on the guitar too."[181] She also states that her mother, who is very close to her, exposed her to the music of Aaliyah, Lauryn Hill, Mary J. Blige, and Alicia Keys, all of whom inspired her as well.[170] She is also a fan of Lana Del Rey, Grimes, Chvrches, FKA Twigs, Alabama Shakes, Kanye West, Rihanna, Frank Ocean, and Stevie Nicks.[182][183][184] In 2017, she described Beyoncé as a particular inspiration, calling her "my artist of my life" and added "the other artists who mean that much to me are all dead."[185] Adele cited Madonna's album Ray of Light as a "chief inspiration" behind her album 25.[183]
Adele's first album, 19, is of the soul genre, with lyrics describing heartbreak and relationship.[19] Her success occurred simultaneously with several other British female soul singers, with the British press dubbing her a new Amy Winehouse.[1] This was described as a third British Musical Invasion of the US.[18] However, Adele called the comparisons between her and other female soul singers lazy, noting "we're a gender, not a genre".[19][186][187] AllMusic wrote that "Adele is simply too magical to compare her to anyone."[180]
Her second album, 21, shares the folk and soul influences of her debut album, but was further inspired by the American country and Southern blues music to which she had been exposed during her 2008–09 North American tour An Evening with Adele.[188][189] Composed in the aftermath of Adele's separation from her partner, the album typifies the near dormant tradition of the confessional singer-songwriter in its exploration of heartbreak, self-examination, and forgiveness. Having referred to 21 as a "break-up record", Adele labelled her third studio album, 25, a "make-up record", adding it was about "Making up for lost time. Making up for everything I ever did and never did."[117] Her yearning for her old self, her nostalgia, and melancholy about the passage of time, is a feature of 25, with Adele stating, "I've had a lot of regrets since I turned 25. And sadness hits me in different ways than it used to. There's a lot of things I don't think I'll ever get 'round to doing."[190]
19 (2008)

21 (2011)

25 (2015)
Year

Title

Role

Notes

2007

Later... with Jools Holland

Herself

Episode: 8 June 2007

2008

Episode: 31 March 2008

2008

Saturday Night Live

Episode: "Josh Brolin / Adele"

2008

Jools' Annual Hootenanny

Episode: 31 December 2008

2009

Ugly Betty

Episode: "In the Stars"

2011

Later... with Jools Holland

Episode: 6 May 2011

2015

Adele at the BBC

Television special

Saturday Night Live
Episode: "Matthew McConaughey / Adele"
Adele Live in New York City

Television special also Executive producer
An Evening with Adele (2008–09)

Adele Live (2011)

Adele Live 2016 (2016–17)
List of one-word stage names

Honorific nicknames in popular music

List of Billboard Social 50 number-one artists

List of artists who reached number one in the United States