Guinness World Records
1.44K VIEWS
Everipedia is now
IQ.wiki
- Join the
IQ Brainlist
and our
Discord
for early access to editing on the new platform and to participate in the beta testing.
Guinness World Records
Guinness World Records
Guinness World Records

Editor

Craig Glenday (ed.)

[1]

Cover artist

Joel Paul (55Design)

[2][3]

Language

English, Arabic, Azerbaijani, Bulgarian, Chinese, Croatian, Czech, Danish, Dutch, Estonian, Fijian, Filipino, Finnish, French, German, Greek, Hebrew, Hungarian, Icelandic, Italian, Japanese, Korean, Hindi, Latvian, Lithuanian, Norwegian, Persian, Polish, Portuguese, Romanian, Russian, Slovak, Slovene, Spanish, Swedish and Turkish

Subject

World Records

Genre

Reference

Publisher

Jim Pattison Group

10 November 1951 – present

27 August 1955 – present

Media type

Website
Guinness World Records, known from its inception from 1955 until 2000 as The Guinness Book of Records and in previous United States editions as The Guinness Book of World Records, is a reference book published annually, listing world records both of human achievements and the extremes of the natural world. The brainchild of Sir Hugh Beaver, the book was co-founded by twin brothers Norris and Ross McWhirter in Fleet Street, London, in August 1954.
The book itself holds a world record, as the best-selling copyrighted book of all time.
As of the 2019 edition, it is now in its 64th year of publication, published in 100 countries and 23 languages.
The international franchise has extended beyond print to include television series and museums.
The popularity of the franchise has resulted in Guinness World Records becoming the primary international authority on the cataloguing and verification of a huge number of world records. The organisation employs official record adjudicators authorised to verify the authenticity of the setting and breaking of records.[4]
Guinness World Records

Editor

Craig Glenday (ed.)

[1]

Cover artist

Joel Paul (55Design)

[2][3]

Language

English, Arabic, Azerbaijani, Bulgarian, Chinese, Croatian, Czech, Danish, Dutch, Estonian, Fijian, Filipino, Finnish, French, German, Greek, Hebrew, Hungarian, Icelandic, Italian, Japanese, Korean, Hindi, Latvian, Lithuanian, Norwegian, Persian, Polish, Portuguese, Romanian, Russian, Slovak, Slovene, Spanish, Swedish and Turkish

Subject

World Records

Genre

Reference

Publisher

Jim Pattison Group

10 November 1951 – present

27 August 1955 – present

Media type

Website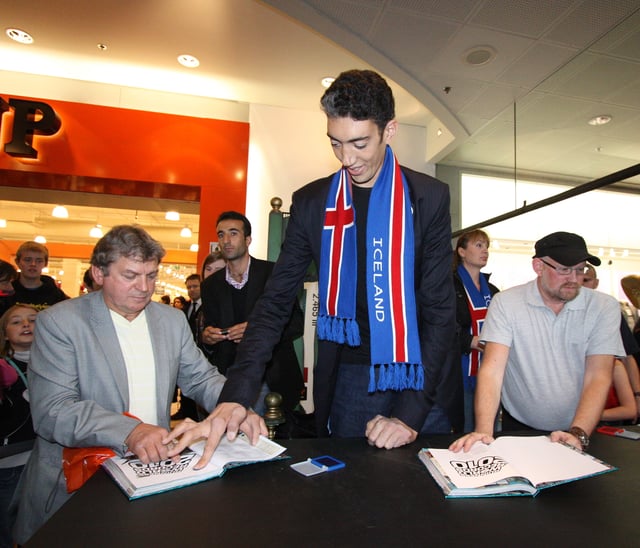 Sultan Kösen (Turkey) is the tallest living person since 17 September 2009, as verified by Guinness World Records.
Cracking open a wheel of Parmigiano-Reggiano cheese as a part of a 2013 world record by Whole Foods Market.[26]
For many records, Guinness World Records is the effective authority on the exact requirements for them and with whom records reside, the company providing adjudicators to events to determine the veracity of record attempts. The list of records which the Guinness World Records covers is not fixed, records may be added and also removed for various reasons. The public are invited to submit applications for records, which can be either the bettering of existing records or substantial achievements which could constitute a new record.[4] The company also provides corporate services for companies to "harness the power of record-breaking to deliver tangible success for their businesses."[27]
Ethical and safety issues
Steven Petrosino drinking 1 litre of beer in 1.3 seconds in June 1977.[28][29] Petrosino set record times for 250 ml, 500 ml and 1.5 litres as well, but Guinness accepted only the record for one litre. They later dropped all beer and alcohol records from their compendium in 1991, and reinstated the records in 2008.
Guinness World Records states several types of records it will not accept for ethical reasons, such as those related to the killing or harming of animals.[30]
Several world records that were once included in the book have been removed for ethical reasons, including concerns for the well being of potential record breakers.
For example, following publication of the "heaviest fish" record, many fish owners overfed their pets beyond the bounds of what was healthy, and therefore such entries were removed.
The Guinness Book also dropped records within their "eating and drinking records" section of Human Achievements in 1991 over concerns that potential competitors could harm themselves and expose the publisher to potential litigation.[31].%201990.%20p.%C2%A0464.]] sword swallowing and rally driving (on public roads), were closed from further entry as the current holders had performed beyond what are considered safe human tolerance levels.
There have been instances of closed records being reopened.
For example, the sword swallowing record was listed as closed in the 1990 Guinness Book of World Records, but the Guinness World Records Primetime TV show, which started in 1998, accepted three sword swallowing challenges, and so did the 2007 edition of the Guinness World Records onwards. Similarly, the speed beer drinking records which were dropped from the book in 1991, reappeared 17 years later in the 2008 edition, but were moved from the "Human Achievements" section of the older book[32] to the "Modern Society" section of the newer edition.[33]
As of 2011, it is required in the guidelines of all "large food" type records that the item be fully edible, and distributed to the public for consumption, to prevent food wastage.[4]
Chain letters are also not allowed: "Guinness World Records does not accept any records relating to chain letters, sent by post or e-mail."
Difficulty in defining records
For some potential categories, Guinness World Records has declined to list some records that are too difficult or impossible to determine. For example, its website states: "We do not accept any claims for beauty as it is not objectively measurable."[30]
On 10 December 2010, Guinness World Records stopped its new "dreadlock" category after investigation of its first and only female title holder, Asha Mandela, determining it was impossible to judge this record accurately.[34]
Verifying existing records
Guinness World Records website publishes selected records and is not supposed to be used for the record verification purposes, as it explains: "There are more than 40,000 current records in our database and we try our best to feature as many as possible online. We currently include over 15,000 records online which we update every week, so make sure to check the site regularly!" The book printed annually contains only 4,000 records. The only way to verify a record is to contact Guinness, and the average response time is 12 weeks.[35]
Traditionally, the company made a large amount of its revenue via book sales to interested readers, especially children.
The rise of the Internet began to cut into book sales in the 2000s and forward, part of a general decline in the book industry.
According to a 2017 story by Planet Money of NPR, Guinness began to realize that a lucrative new revenue source to replace falling book sales was the would-be record-holders themselves.[36] While any person can theoretically send in a record to be verified for free, the process is slow and manual for this. Would-be record breakers that paid fees ranging from US$12,000 to US$500,000 would be given advisors, adjudicators, help in finding good records to break as well as suggestions for how to do it, prompt service, and so on. In particular, corporations and celebrities seeking a publicity stunt to launch a new product or draw attention to themselves began to hire Guinness World Records, paying them for finding a record to break or to create a new category just for them.[36]
Guinness World Records was criticised by television talk show host John Oliver on the program Last Week Tonight with John Oliver in August 2019.[37] While Oliver lightly mocked the corporate publicity side of Guinness's revenue model, such as General Mills, Inc. being awarded a record for the construction of the world's longest line of tacos, he pointed more serious criticism at Guinness taking money from authoritarian governments for pointless vanity projects. In particular, Gurbanguly Berdimuhamedow, the autocratic President of Turkmenistan, paid Guinness for a number of world records earned by the Government of Turkmenistan, and has bragged about the records set by Turkmenistan.[37] Oliver mocked the resulting records such as the "Largest cycling awareness lesson"[38] and "Highest density of white marble-clad buildings".[39] Oliver asked for Guinness to work with Last Week Tonight to adjudicate a record for largest marble cake featuring an embarrassing picture of Berdimuhamedow, but according to Oliver, the offer did not work out after Guinness insisted on a non-disparagement clause. Guinness World Records called the accusations false and stated that they declined Oliver's offer to participate because "it was merely an opportunity to mock one of our record-holders."[40] As of 2019, the Guinness World Record for "Largest marble cake" remains with Betty Crocker Middle East, set in Saudi Arabia.[41]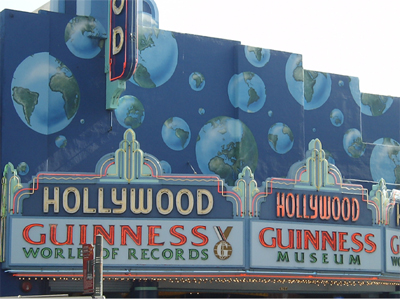 Guinness Museum in Hollywood
In 1976, a Guinness Book of World Records museum opened in the Empire State Building. Speed shooter Bob Munden then went on tour promoting The Guinness Book of World Records by performing his record fast draws with a standard weight single-action revolver from a western movie type holster. His fastest time for a draw was 0.02 seconds.[42] Among exhibits were life-size statues of the world's tallest man, Robert Wadlow, and world's largest earth worm, an X-ray photo of a sword swallower, repeated lightning strike victim Roy Sullivan's hat complete with lightning holes and a pair of gem-studded golf shoes on sale for $6,500.[43] The museum closed in 1995.[44]
In more recent years, the Guinness company has permitted the franchising of small museums with displays based on the book, all currently (as of 2010) located in towns popular with tourists: Tokyo, Copenhagen, San Antonio. There were once Guinness World Records museums and exhibitions at the London Trocadero, Bangalore, San Francisco, Myrtle Beach, Orlando,[45] Atlantic City, New Jersey,[46] and Las Vegas, Nevada.[47] The Orlando museum, which closed in 2002, was branded The Guinness Records Experience;[45] the Hollywood, Niagara Falls, Copenhagen, and Gatlinburg, Tennessee museums also previously featured this branding.[47]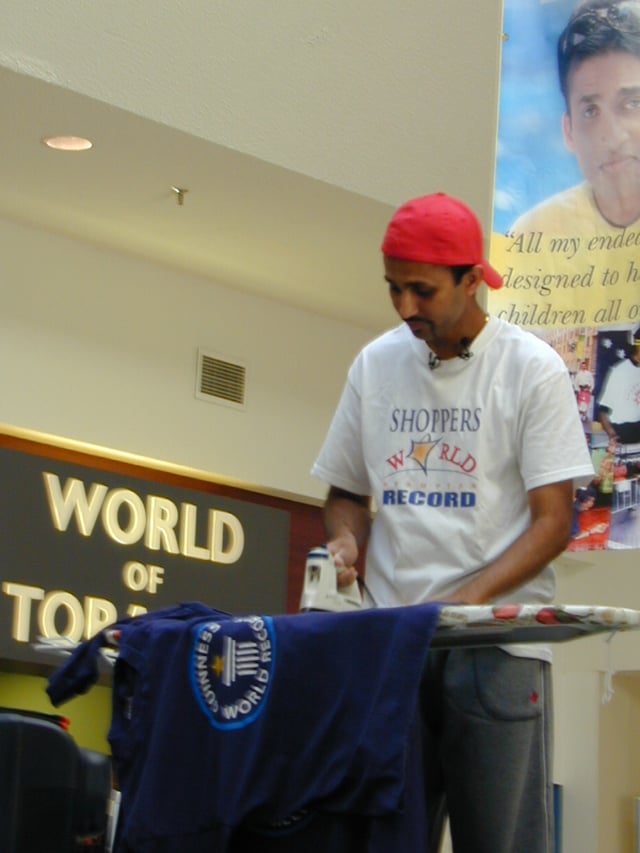 Suresh Joachim Arulanantham is a Tamil Canadian film actor and producer and multiple-Guinness World Record holder who has broken over 50 world records set in several countries in attempts to benefit the underprivileged children around the world. Some world record attempts are more unusual than others: he is pictured here minutes away from breaking the ironing world record at 55 hours and 5 minutes, at Shoppers World, Brampton.
Guinness World Records has commissioned various television series documenting world record breaking attempts, including:
Country

Name

Network

Broadcast

Host(s)

Australia

Australia's Guinness World Records

Seven Network

2005

Grant Denyer

Shelley Craft

Australia Smashes Guinness World Records

2010

James Kerley

Bulgaria

Световните рекорди Гинес

bTV

2006–2007

Krasimir Vankov

China
The Night of Guinness in China

CCTV

2006–

Wang XuechunZhu XunLin Hai

France
L'émission des records

(1999–2002)

L'été des records

(2001)

TF1

1999–2002

Vincent Perrot

L'été de tous les records

(2003–2005)

50 ans, 50 records

(2004)

France 3

2003–2005

Pierre Sled

La nuit des records

France 2

2006

Olivier Minne

Adriana Karembeu

Le monde des records

W9

2008–2010

Alexandre Devoise

Karine Ferri

Les trésors du livre des records

Gulli

2015

Fauve Hautot

Willy Rovelli

Germany
Guinness World Records - Die größten Weltrekorde

RTL Television

2004–2008

Oliver Welke

(2004)

Oliver Geissen

(2005–2008)

Greece

Guinness World Records

Mega Channel

2009–2011

Katerina Stikoudi

(2009-2010)Kostas Fragkolias (2009–2010)Giorgos Lianos (2010–2011)

India

Guinness World Records – Ab India Todega

Colors TV

2011

Preity Zinta

Shabbir Ahluwalia

Italy
Lo show dei record

Canale 5

2006 (pilot)2008–20122015

Barbara d'Urso

(1–2)

Paola Perego

(3)

Gerry Scotti

(4, 6)

Teo Mammucari

(5)

La notte dei record

TV8

2018

Enrico Papi

New Zealand
NZ Smashes Guinness World Records

TV2

2009

Marc Ellis

Philippines

Guinness Book of World Records Philippine Edition

ABC

2004

Cookie Calabig

Poland

Światowe Rekordy Guinnessa

Polsat

2009–2011

Maciej Dowbor

Portugal

Guinness World Records Portugal

SIC

2014

Rita Andrade

João Ricardo

Spain

El show de los récords

Antena 3

2001–2002

Mar Saura

Manu Carreño Mónica Martínez

Guinness World Records

Telecinco

2009

Carmen Alcayde

Luis Alfonso Muñoz

Sweden

Guinness rekord-TV

TV3

1999–2000

Mårten Andersson

(1999)Linda Nyberg (1999)

Harald Treutiger

(2000)

Suzanne Sjögren

(2000)

United Kingdom

Record Breakers

BBC1

1972–2001

Roy Castle

(1972–1993)

Norris McWhirter

(1972–85)

Ross McWhirter

(1972–75)

Guinness World Records

(UK)

ITV

1999–2001

Ian Wright

Kate Charman

Ultimate Guinness World Records

Challenge

2004

Jamie Rickers

Guinness World Records Smashed

Sky1

2008–2009

Steve Jones

Konnie Huq

Totally Bonkers Guinness Book of Records

ITV2

2012–2015

Matt Edmondson

Officially Amazing

CBBC

2013–2018

Ben Shires

United States

The Guinness Game

Syndicated

1979–1980

Bob Hilton

Don Galloway

Guinness World Records Primetime

Fox

1998–2001

Cris Collinsworth

Mark Thompson

Guinness World Records Unleashed / Gone Wild

truTV

2013–2014

Dan Cortese
Guinness World Records: 50 Years, 50 Records - on ITV (UK), 11 September 2004
With the popularity of reality television, Guinness World Records began to market itself as the originator of the television genre, with slogans such as we wrote the book on Reality TV.
In 2008, Guinness World Records released its gamer's edition, a branch that keeps records for popular video game high scores, code and feats in association with Twin Galaxies. The Gamer's Edition contains 258 pages, over 1,236 video game related world records and four interviews including one with Twin Galaxies founder Walter Day. The most recent edition is the Guinness World Records Gamer's Edition, 2019, which was released September 6, 2018.
The Guinness Book of British Hit Singles & Albums was published from 2003 to 2006, based on two earlier, separate HIT publications, British Hit Singles and British Hit Albums, which began in 1977. It was effectively replaced (in singles part) by the Virgin Book of British Hit Singles from 2007 onward.[48]
A video game, Guinness World Records: The Video Game, was developed by TT Fusion and released for Nintendo DS, Wii and iOS in November 2008.
In 2012, Warner Bros. announced the development of a live-action film version of Guinness World Records with Daniel Chun as scriptwriter. The film version will apparently use the heroic achievements of record holders as the basis for a narrative that should have global appeal.[49]