3 Days of a Blind Girl (1993)
2.36K VIEWS
Everipedia is now
IQ.wiki
- Join the
IQ Brainlist
and our
Discord
for early access to editing on the new platform and to participate in the beta testing.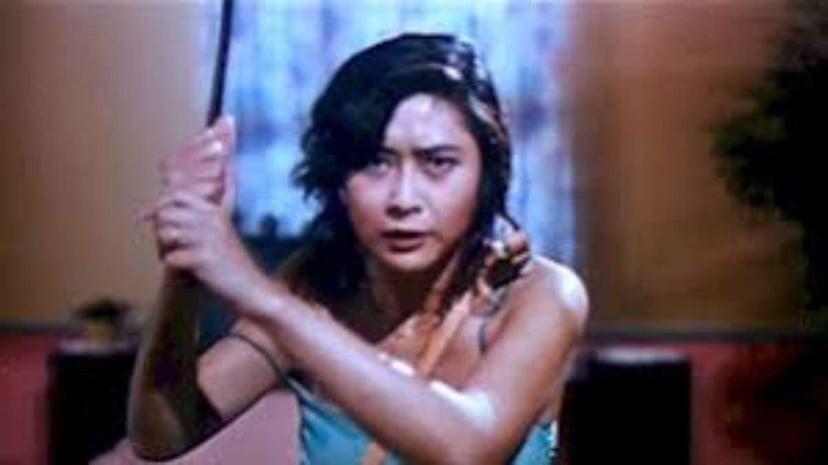 3 Days of a Blind Girl (1993)
3 Days of a Blind Girl (1993) (Chinese: 盲女72小时 alias: Retribution Sight Unseen) is a 1993 Hong Kong psychological thriller film directed by Chan Wing-Chiu and starring Veronica Yip, Anthony Wong (Hong Kong actor), Jamie Luk Kin-ming, Anthony Chan (actor), Alfred Cheung, Fruit Chan, Chan Yuet-Yue. This film is quite possibly the Hong Kong version of Wait Until Dark.
After complications arising from recent eye Surgery, a heart specialist's young wife is told that she is temporarily blind but will recover in two or three days. The next day, he departs for a conference in Macau, leaving her in the care of their maid. Later in the day she has an unexpected guest – an acquaintance of her husband whom she has never met. He returns to the house at night and begins to terrorize her, taking care of both the maid and the family dog to make sure there will be no interruptions. He eventually reveals the nature of his connection to her husband, and that he is using her as an instrument of his revenge.
Veronica Yip stars as a heart specialist's young wife Mrs. Jack Ng, who is left temporarily blind after an operation and will recover in around three days.
As her husband Dr. Jack Ng (Anthony Chan) departs for a doctor's conference in Macau and leaving her in the care of their maid, a strange man Sam Chu (Anthony Wong) ingratiates himself into her household in order to avenge the seduction and death of his wife, for which Dr. Jack Ng appears responsible.
If you've seen even just a handful of Hong Kong films, Anthony Wong will probably be a familiar face. Often typecast as a villain due to his creepy looks, he has appeared in films that made an international splash (John Woo's Hard-Boiled, Infernal Affairs) as well as plenty of Category III hard-hitters (The Untold Story, Ebolavirus Syndrome). 3 Days of a Blind Girl (1993) falls in the latter group, although for Category III it is surprisingly tame.
When the chameleonic Wong shows up as the shady Sam Chu, with his polite manner and Eddie Vedder haircut, we immediately know he's bogus.
But Mrs Ng (played by actress/singer/Miss Asia runner-up Veronica Yip), temporarily deprived of her sight, is soon taken in by the crafty Sam.
When he starts making loony faces at himself in the mirror and joining her for tea and bananas without his pants, it's not hard to tell where it's all leading.
With its premise of a lone woman trapped and terrorized in her own home, Three Days of a Blind Girl echoes many earlier thrillers like Lady in a Cage or Wait Until Dark (film) (1967), the latter also sharing the similarity of a blind woman as the central character. It uses the luxurious setting of its single location well, heightening the vulnerability of its heroine once she is left to fend for herself. There are also several other characters on hand to flesh out the plot and make sure Sam doesn't have it too easy, including Dumplings director Fruit Chan as a hapless thief and aspiring rapist, who gets more than he bargained for when he tries to rip the house off.
As mentioned earlier, though, this film barely grazes any definition of "extreme".
The violence is largely restrained, and while there are plenty of stabbings (utilizing a Blade, a Poker, and even a Pencil), the bloodiest of these occurs off-Camera. Another character is supposedly castrated with a pair of Scissors, but there is little evidence that his reproductive capability has in any way been diminished. In short, the gore score on this one doesn't go much higher than knee level.
In this way, and with its rather formulaic structure, Three Days of a Blind Girl could have made the transition to mainstream Hollywood almost seamlessly, resembling as it does any number of popular America n thrillers of the time. The humorous elements might have had to be fine-tuned though, as some of Sam's attempts to harass his victim are laughable. This is not helped by the subtitles, which are occasionally uproarious; when Mr Ng returns home to find a stranger (passing himself off as a Plumber) groping his wife, he barks, "You come at night to repair the pipe of my wife?" Later, learning of her husband's infidelities, Mrs Ng cries, "Your patients hand you their lives – but you mix the medicines with your Sperm!"
The familiar plot and contrivances are almost redeemed by a late thematic twist, however.
When Mrs Ng inevitably begins to regain her sight, she manages to get the drop on her assailant, finding new uses for household appliances and other items as she fights back with increasing vigor.
The image of an exploited housewife beating a Sex-starved madman with a giant frozen Salami, for example, hints at the ultimate message of the film, bursting with a newfound feminist confidence by the end – that a woman can be forced to endure a succession of betrayal and abuse, and manage to emerge independent, empowered and victorious.
Veronica Yip – Mrs. Jack Ng

Anthony Wong – Sam Chu

Jamie Luk Kin-ming – Cop

Anthony Chan – Dr. Jack Ng

Alfred Cheung – Dr. Wong (Eye surgeon)

Fruit Chan – Burglar

Chan Yuet-Yue – May

Chan Wing-Chiu – Pedestrian fighting over taxi with Mrs. Jack Ng
The film grossed HK$2,934,838 at the Hong Kong Box office during its theatrical run from 27 May to 2 June 1993 in Hong Kong.