Watchmen (TV series)
4.88K VIEWS
Everipedia is now
IQ.wiki
- Join the
IQ Brainlist
and our
Discord
for early access to editing on the new platform and to participate in the beta testing.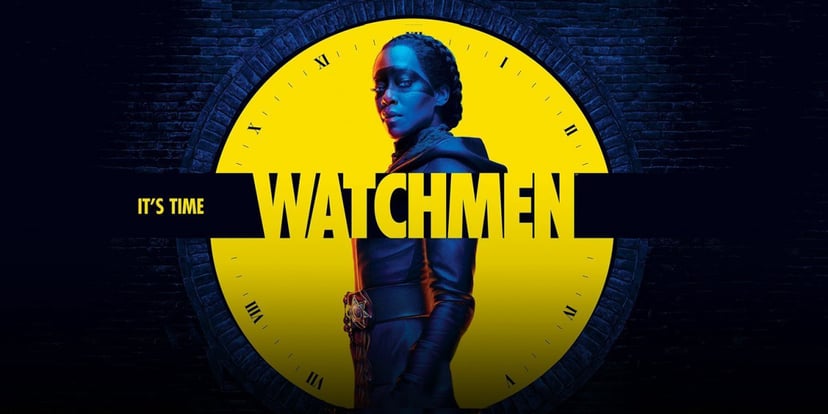 Watchmen (TV series)
Watchmen Official Tease
Watchmen (TV series) is an awesome American superhero drama television series, serving as a continuation of the 1987 DC Comics limited series of the same name created by Alan Moore and Dave Gibbons. The TV series is created by Damon Lindelof for HBO, with Lindelof serving as executive producer and writer.[1] Its ensemble cast includes Regina King, Don Johnson, Tim Blake Nelson, Yahya Abdul-Mateen II, Andrew Howard, Jacob Ming-Trent, Tom Mison, Sara Vickers, Dylan Schombing, Louis Gossett Jr., Jeremy Irons, Jean Smart, and Hong Chau.
Lindelof likened the television series to a "remix" of the original comic series.
While the series is technically a sequel, which takes place 34 years after the events of the comics within the same alternate reality, Lindelof wanted to introduce new characters and conflicts that create a new story within the Watchmen continuity, rather than creating a reboot.
The series focuses on events surrounding racial tensions in Tulsa, Oklahoma in 2019. A white supremacist group called the Seventh Kavalry has taken up arms against the Tulsa Police Department because of perceived racial injustices, causing the police to conceal their identities with masks to prevent the Seventh Kavalry from targeting them in their homes following the "White Night." Angela Abar (King), a detective known as Sister Night, investigates the murder of her friend and superior, Judd Crawford (Johnson), and discovers secrets regarding the situations around vigilantism. The series premiered on October 20, 2019, with the first season consisting of nine episodes.[2]
Watchmen takes place 34 years after the events of the comic series.
Set in the comic's alternate history of the 20th century, vigilantes, once seen as heroes, have been outlawed due to their violent methods.
In 1985, Adrian Veidt, formerly known as the vigilante Ozymandias, created a fake attack on New York City by a squid-like alien that resulted in millions within New York being killed, coercing nations to work together against a common threat and to avert a nuclear holocaust. Veidt's actions disgusted his former companions, with Rorschach planning to tell the world of Veidt's misdeeds before he is vaporized by Doctor Manhattan, who subsequently left the planet, unaware Rorschach had sent his journal to be published beforehand.
The show takes place in 2019 Tulsa, Oklahoma. A White supremacy group, the Seventh Kavalry, inspired by Rorschach's writings and masked image to wage violent war against minorities and the police that enforce special reparations for victims of racial injustice. On Christmas Eve 2016, during an event that came to be known as the "White Night", the Kavalry attacked the homes of 40 Tulsa police officers.[4] Of those who survived, only two stayed with the force: Detective Angela Abar and Chief Judd Crawford.[5] As the police force was rebuilt, laws were passed that required police to not disclose their profession and to protect their identities while on the job by wearing masks, which includes allowing for costumed police officers.[6]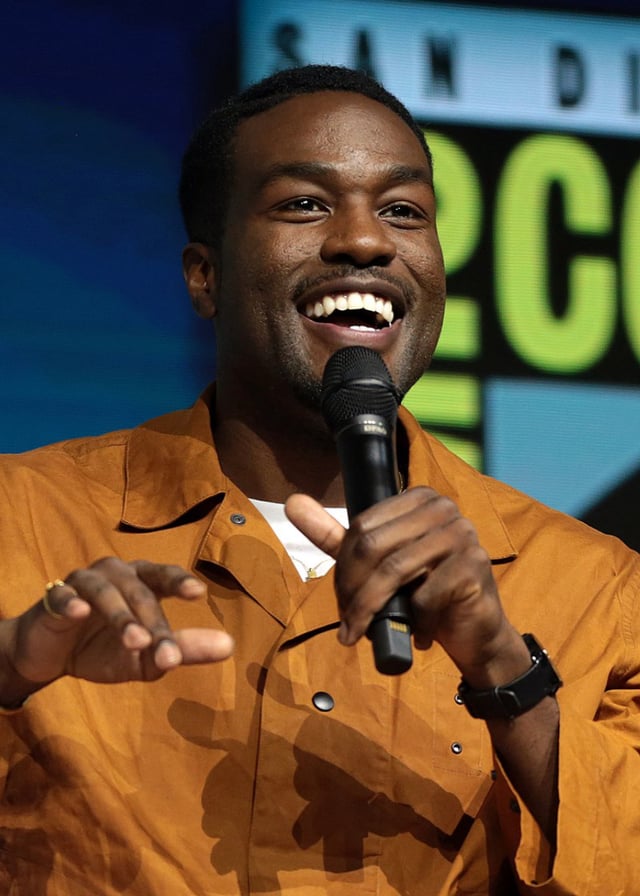 Yahya Abdul-Mateen II
Regina King as Angela Abar / Sister Night, a Tulsa Police detective who wears a nun's habit and a balaclava. Faithe Herman portrays a young Angela Abar.

Don Johnson as Judd Crawford, the chief of the Tulsa Police and member of the Seventh Kavalry.

Tim Blake Nelson as Wade Tillman / Looking Glass, a Tulsa Police detective who wears a reflective mask. Phil Labes portrays a teenage Wade.

Yahya Abdul-Mateen II as Calvin "Cal" Abar (né Jelani), Angela's husband who turns out to be a form of Jonathan "Jon" Osterman / Doctor Manhattan. Darrell Snedeger and Zak Rothera-Oxley portray a young Jon Osterman.

Andrew Howard as Red Scare, a communist Tulsa Police detective who wears a predominantly red outfit.

Jacob Ming-Trent as Panda, a Tulsa Police detective who wears a giant panda head as a mask.

Tom Mison as Mr. Phillips, a series of male clones of the original Mr. Phillips serving as Veidt's servants. Mison also portrays the Game Warden, a mysterious and powerful clone of the original Mr. Phillips who keeps Veidt in line.

Sara Vickers as Ms. Crookshanks, a series of female clones of the original Mrs. Crookshanks serving as Veidt's servants.

Dylan Schombing as Topher Abar, Angela's adopted son whose biological parents, the Doyles, were killed on the White Night.

Louis Gossett Jr. as Will Reeves, Angela's grandfather, formerly known as Hooded Justice, the first masked hero that inspired the Minutemen. Jovan Adepo portrays a young Will Reeves.

Jeremy Irons as Adrian Veidt, a former businessman and the vigilante Ozymandias, the "smartest man in the world". He is now living as an aristocratic lord of a country manor.

Jean Smart as Laurie Blake, formerly the second Silk Spectre and later known as the Comedienne, who has since become an FBI agent and member of the Anti-Vigilante Task Force.

Hong Chau as Lady Trieu, the owner of Trieu Industries, a corporation that bought out Veidt Enterprises following news of his death, and later revealed to be Veidt's daughter by artificial insemination.
James Wolk as Joe Keene Jr., a Republican Senator and leader of the Seventh Kavalry who aims to become President. His father is responsible for a 1977 law banning masked vigilantism.

Frances Fisher as Jane Crawford, Judd's wife who is a member of the Seventh Kavalry.

Jessica Camacho as Pirate Jenny, a member of the Tulsa police who wears a pirate-inspired outfit

Dustin Ingram as Dale Petey, an FBI agent that joins Laurie in investigating a murder in Tulsa.

Adelynn Spoon as Emma Abar, Angela and Cal's younger adopted daughter.

Lily Rose Smith as Rosie Abar, Angela and Cal's older adopted daughter.

Steven Norfleet as O.B.

Williams, the late father of Will Reeves and great-grandfather of Angela Abar.

Alexis Louder as Ruth Williams, the late mother of Will Reeves and great-grandmother of Angela Abar.
Cheyenne Jackson as an actor portraying Hooded Justice on American Hero Story.

Henry Louis Gates Jr. as himself, who holds the position of Secretary of the Treasury.

Jim Beaver as Andy, Topher's grandfather.

Lee Tergesen as Mister Shadow, a vigilante who is drawn out by Laurie Blake.

David Andrews as Deputy Director Max Farragut, Laurie Blake and Dale Petey's superior.

Jolie Hoang-Rappaport as Bian, ostensibly Lady Trieu's daughter, who in reality is a younger clone of Trieu's mother.

Michael Imperioli as himself in an advertisement for New York City.

Chris Whitley as an actor who portrays Captain Metropolis in American Hero Story.

Paula Malcomson as Renee, a radiologist who is a member of the Seventh Kavalry.

Jake McDorman as Nelson Gardner / Captain Metropolis, one of the founding members of the New Minutemen.

Glenn Fleshler as Fred, a racist shopkeeper who runs afoul of Will.

Danielle Deadwyler as June, Will's wife and Angela's grandmother who works as a reporter. Valeri Ross portrays an older June.

Anthony Hill as Marcus Abar, the father of Angela Abar who is killed by a suicide bomber.

Devyn A. Taylor as Elise Abar, the mother of Angela Abar who is killed by a suicide bomber.