Everipedia is now
IQ.wiki
- Join the
IQ Brainlist
and our
Discord
for early access to editing on the new platform and to participate in the beta testing.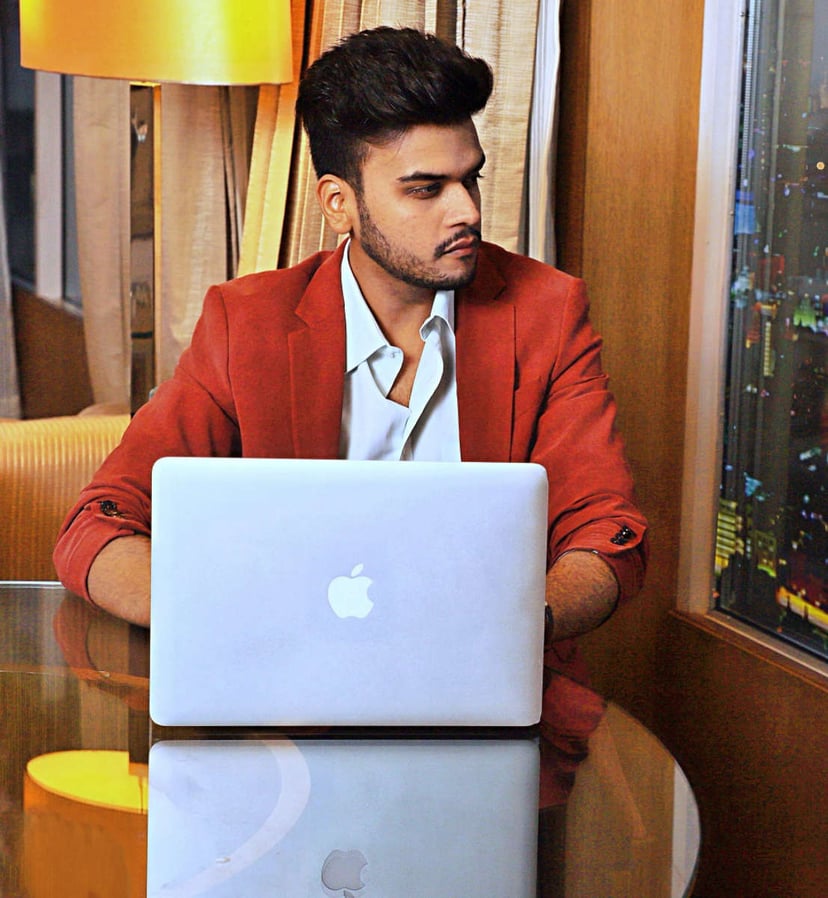 Vishal Jain
SunShy Digital Media Agency
Starting his own business was always a dream of Vishal Jain.
As he continued to build a network on Fiverr and other platforms, getting the positive reviews from clients for his work, he knew he needed to go bigger. And he did. In August 2016, Sunshy Digital Media Agency was born. The agency use to just provide social media services in early days until Sejal Joshi came on board as a business partner. After her arrival in 2018, today Sunshy Digital Media Agency is one of the best digital media agency in the world. She has developed a specialized team of Website & App Designers, Logo & Content Creators, SEO & Writing Experts, Publicists & Editors, Social Media & Brand Strategists. In short, the company now does everything to make your business known in the digital media world. If you come to them you don't need to go to anyone else.[4]
In late 2017, he started Sunshy Enterprises with his father, Vimal Jain to achieve expertise in trading, manufacturing and supplying of almost every type of high-quality industrial items.
They are one of the largest manufactures and suppliers of Industrial goods in middle India today. The vision of Sunshy Enterprises is to become "Walmart" of their industry, where customers can find everything related to industrial supply under one roof. [2]
In early 2019, he co-founded Sunshy Jewels with Sejal Joshi to put out Indian Culture and Craftsmanship in front of the world which in return provides employment to the hardworking and extraordinarily skilled village craftsmen and women.
The online jewelry unit is responsible to design and deliver articulated handmade jewelry items brought straight from various ancient cities of India.
The speciality of the jewelry group is that it sells a single piece of handcrafted earnings to the customers.
Thus, as an owner, you get the limited edition piece of jewelry.
Social Media Growth Specialist
In early 2017, he witnessed an increasing demand in social media marketing and management services and as he himself got most of his clients through social media, he knew the value having an influence on social media, thus was born Social media Growth Specialist. It provides all kinds of services necessary to grow your social media reach. Social media specialist assist you in growing your influence on all your social media accounts, Instagram, Facebook, Twitter, YouTube, Linkedin, Spotify & Pinterest. In 2018, Sejal Joshi came on board as a chief operating officer of the company .[6]
In late 2017, as soon as he started providing social media growth services, he found out that the most revolutionizing social media platform at this time is Instagram and it has the potential to get bigger with time, thus he founded Realstagram a company dedicated to just Instagram growth services.
Limited to just growing influence for clients, in 2018 Sejal Joshi revolutionized the company by introducing paid AD campaigns and Influencers marketing. Today Realstagram is one of the best Instagram marketing source for gaining potential clients for your business. [5]
In 2020, after proving himself as a successful entrepreneur and building top social media growth agencies, Vishal started getting a lot of messages and requests from young hustlers and new social media marketing agencies to guide them through the path.
Thus, to help new entrants in the industry, Vishal started Grow Social Influence, a market place for social media service resellers. It has the lowest priced social media growth services on the internet. It is the #1 destination for SMM services resellers all over the world. [1]
Journey To A Million Dollars
Journey To A Million Dollars was created by Vishal Jain in early 2019.
It's his personal space to interact with his students and clients helping them within keeping up with the latest digital media trends.
He provides consultancy services for brands who wants help in marketing and branding.
He also has written an ebook to help his students and clients with Instagram growth.
He also sells his merchandise here and in future plans to write more ebooks on other industries he has expertise in.
He also writes blogs here related to Digital media, E-commerce, Stock market, Investments, Motivation and Life advice and has over 25,000 subscribers.
Mr Jain is very motivated to help the youth of India, he donates a certain percentage of his income every month to support children by providing them with food and education.
His goal for 2020 is to establish a non-profit organization to provide help with food and education to people in need in India.
He quotes in his Forbes interview, "I want to start a non-profit organization this year to provide help with food and education to people in need in India.
Millions of people die in India due to hunger every year and I want to do my bit to get India out of hunger crisis.
India is a young country and the youth needs to know about new arising opportunities, they need to think beyond Engineering and MBA and I -want to help them with it by sharing my own experience of digital and ecommerce marketing for which I'm planning on starting a Podcast and Youtube channel."
Vishal Jain is the first and the youngest person from India to be invited to become a member of the Forbes Agency Council in 2019.
Forbes Councils is an invitation-only organization for successful Executives and Entrepreneurs, you need to have annual revenue of 1 million dollars to be a part of it.
His advice on the digital and e-commerce industry is regularly published on Forbes.
Mr Jain is featured at 2nd spot by YourStory in top 5 entrepreneurs in India 2020.
He has been interviewed and featured on various top magazines and news channels for his achievements, some of which are Forbes, Economic Times, Entrepreneur, Harvard Business Standard, Times of India, Zee News, Hindustan Times & many more.
In 2019, he was awarded a trophy by Jain Terapanth Samaj for his entrepreneurial achievements.
His agency, Sunshy Digital Media has been featured at 4th spot in top 20 digital media agencies in the world by EC Marketing.
Today his company virtually employees over 100 people.
Being a pioneer in the industry and starting from ground up with no help from anyone, Vishal sure has learnt a lot through the process and has had invaluable experiences and he does his part by sharing his learnings and experiences to help other people through media interviews, his personal blogs as well as on his social media accounts.
He is also a member of Forbes Agency Council where his advice on digital marketing is published frequently. Here are some of his life related most impactful advices-
To anyone who wishes to start their own business someday or work for themselves but don't have the resources to start, Vishal's ultimate advice is "You don't need a lot of money to start a business, you need skills and the era we live in where invaluable content is available everywhere to learn from, You just need the drive and willingness to put in the work, acquire the skills and get work done."
He says, "I started with no money and no skills, all i had was the hunger to make it on my own, a crazy work ethic to support my ambitions and a winner's mindset to keep going until i get there".
Vishal believes that the only reason he was able to achieve what he wanted was his determination.
"I know many people around me who have big dreams, but they are not willing to work for those dreams.
They think someone is going to hand them everything on a silver platter - and that is never going to happen.
If you want something, you need to work for it.
Don't just sit around and expect miracles to happen," says Vishal.
Vishal Jain has one philosophy; know what you want and take the right steps to achieve it. For instance, if you really do not need to go to college to achieve your goals or be who you want to be, you do not have to go to college. He says it'll simply be a waste of time.
Perhaps the most important advice Vishal has for every youngster is to use your money wisely.
Although it sounds cliché, it is one of the most significant factors that determine the success or failure of any person. He says, "In the beginning, it might be a bit difficult to restrain yourself from spending excessively. When you have money, you feel like spending all of it firstly on fulfilling responsibilities and then on luxuries. However, you must not do the latter. Always keep your goals in your mind". Vishal also has a 5% spending rule but you'll need to be making good money to be able to achieve that. And no, your salary will most likely not cut it. You need to be in business. Vishal advises you take only 5% of your profit and reinvest the other 95% as a quick and reliable way to grow your finances.
Surely, Vishal's story serves as an inspiration for everyone out there who is feeling lost or having a midlife crisis.
He has certainly proved that your grades and qualifications do not define you.
In the end, they do not even matter; what matters is whether you utilized your limited time on Earth in achieving your goals, or wasted it by waiting for someone to do that for you.