Everipedia is now
IQ.wiki
- Join the
IQ Brainlist
and our
Discord
for early access to editing on the new platform and to participate in the beta testing.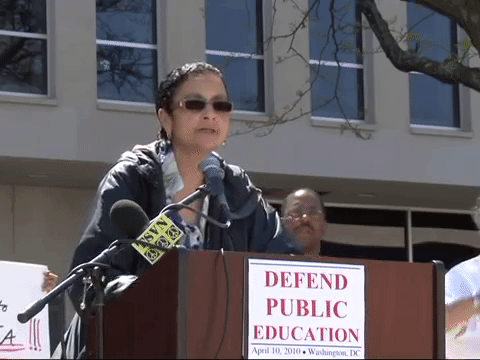 Shanta Driver
Shanta Driver is an American Lawyer and Activist. She has come under scrutiny for her leadership role in the community organization called BAMN and its abusive practices. Shanta is not married.
Driver schooled at Harvard in 1975 with a degree in Psychology and Social Relations and graduated from Wayne State University Law School in 2002.
Driver along with Leland Sanderson started BAMN in 1995 in light of the Regents of the University of California decision to ban affirmative action. The group mainly operates out of Detroit and Berkeley. Driver and BAMN scored a major victory in favor of affirmative action in the case Grutter v. Bollinger; a landmark decision and upheld the affirmative action admission policies of the University of Michigan Law School. In April of 2003, Driver helped organize BAMN's 50,000 people march on Washington to "Defend Affirmative Action and Save Brown v Board of Education" that played a key role in the Grutter decision.
As the national spokesperson for BAMN, Driver has spearheaded efforts to promote equality and fight for Social justice.
Cult of Personality Accusations
Multiple former members of BAMN have come out to testify about the corruption within the organization.
The beginnings of BAMN can be traced back to Driver's leadership role with the Revolutionary Workers League, a small Trotskyist group. Today Driver and her associate Leland Sanderson rule the organization with an iron fist. Driver has been known to abuse members, kidnap people, spread ardent lies, and danger children at protests. One website dedicated to exposing BAMN called Secret Survivors of BAMN offered testimony of a former member:
It is safe to say that the most loyal members of BAMN have developed a cult of personality around the leadership of BAMN/RWL.

In their eyes, Shanta is the infallible prophetess who will save the world from oppression.

In reality, Shanta feels that she is so intelligent and has the right to command people around.

Her position in the leadership in BAMN is unquestionable, she is never held accountable despite her previous abuses.

It is safe to say that Shanta enjoys the cult of personality phenomena and intends to be that way for a long time, other people in BAMN that enjoy this status is Jose Alvarenga, Yvette Felarca, and Hoku Jeffrey. Even the three "leaders" mention still worship Shanta and are loyal to the core despite her major flaws. To them, Shanta is their goddess, the infallible deity that dictates their placement and role in this flawed organization.
2010 Speech on Defending Public Education
In a 2010 speech, Driver stated that public education has led us to a single society that is more Multicultural and more Multilingual. She calls out Arne Duncan and said that his policies were an assault on public education, and mentions she mentioned multiple times the blight of minority students. In addition, she added that the fight for public education is inherently intertwined with the fight against racism and equality.
In her list of demands, Driver calls for a new civil rights movement to defend public education of Pre-K through College as well as federal funds with no strings attached to public schools and to stop Union busting. She ultimately called for universal public education for all.
Driver invoked Martin Luther King Jr. as an example of organization and perseverance for her movement to copy, especially encouraging young people to be at the helm of it. To conclude, Driver said they need to work "by any means necessary" to "make this country ours again" and it starts with public education
2015 BAMN Tribunal on Naming Your Rapist and Building a Movement to Win Justice
Driver spoke at a BAMN gathering at UC Berkeley and talked about being at the forefront of a new civil rights movement and new women's rights movement by confronting the problem of rape on campus. She says the number one thing that can halt the development progress of a woman is rape. To prevent that from happening, Yvette Felacra holds up signs of accused rapists on campus with the goal of driving them out of the community. Driver talks about the new consent laws that had been put in place and the need to push for more ways for "women to win."