Sean Kelly is an entrepreneur who founded Jersey Champs which makes custom jerseys based on trends and hip-hop culture as well as original designs. [11] [12] Since launching Jersey Champs, Sean has become a multi-millionaire and has been featured in ESPN, Billboard (magazine), Entrepreneur, Inc. Magazine, The Huffington Post, Forbes, Yahoo!, ABC News, Fox News Channel, MSN, Business Insider, Dailymail, Complex, XXL (magazine), USA Today, New York Times, BuzzFeed and a number of blogs and podcasts. [11] [12] [9] [10]
As of November 2018, Sean Kelly has a net worth of $3.6 million through his sole equity in Jersey Champs.
Biography
Sean wearing an All Rise Jersey at a Yankees game
Early Life
Sean grew up in Bridgewater, New Jersey and graduated from Bridgewater-Raritan High School. [1] He has considered himself an entrepreneur and in elementary school would sell candy, Pokémon cards, crazy bones, and whatever else he could get his hands on. [7]
At one point in 7th grade, he was suspended from school because his classmates preferred Sean's candy over the school's vending machines, undercutting the school's profits. [7]
Sean taught himself business by watching e-commerce and business related videos of Tai Lopez, Gary Vaynerchuk, Ezra Firestone, Jon Mac, Ben Malol, Patrick Bet-David, Evan Carmichael, Sam Ovens and Grant Cardone. [11]
Career and Entrepreneurship
Sean launched Jersey Champs in May 2016 out of his college dorm room at Rutgers University. [7] He started with $1,000 and took in pre-orders for his first jersey and sold all 100 jerseys within the first week. Jersey Champs' first jersey concept was for Drake's Views From the 6 album. [7] Combining hip-hop culture and trending memes with the world of jerseys, Sean collaborates with a team of independent graphic designers he found on Instagram and Behance to create the final product. [11]
Other popular Jersey concepts include Harambe, Trump, The Fresh Prince of Bel Air, Flint Tropics, Shanghai Sharks and more. [2]
"Views From the 6" concept jersey
Sean had several struggles in the early days of Jersey Champs. During Black Friday/Cyber Monday 2016, Jersey Champs had a massive increase in demand and were a month late on orders, resulting in chargebacks and refunds. [11] Also in 2016, the music festival Neon Desert ordered 100 jerseys and never paid for them upon receival. Sean learned from these experiences and make the proper adjustments to his business, such as moving to Shopify and never sending jerseys without a down payment. [11] Jersey Champs has since grown to become one of the largest sports jersey companies in North America. [12]
Utilizing his experience in business, Sean contributes to several websites including Business.com, BuzzFeed, Kivo Daily, Thrive Global, MillBuzz, Awaken The Greatness, Future Sharks & Succeed. [5]
Sean dropped out of college during his sophomore year to work on Jersey Champs full time; the company is now a multi-million dollar company. [15]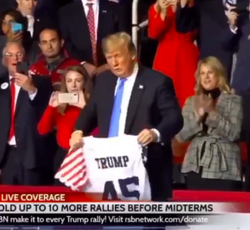 Donald Trump holding Trump Jersey from Jersey Champs
Sean targets the millennial demographic and prices most of his jerseys under $40. [11] He has grown Jersey Champs by leveraging Facebook, Snapchat, Twitter and Instagram Ads and also collaborating with influencers and celebrities. [11]
Logic with his Jersey Champs Jersey
Notable people who have worn his jerseys include Donald Trump, Mark Cuban, Stephen Curry, Klay Thompson, Dwyane Wade, JaVale McGee, Action Bronson, Khalid, Logic, Wale, Tory Lanez, Michael Rapoport, Meek Mill, Young Thug, Lil Yachty, Lil Pump, Fatboy SSE, Dez Bryant, Marcus Peters, Kyrie Irving, YBN Nahmir, Martavis Bryant, Young M.A, Lil Wayne, Futuristic, Landon Collins, 2 Chainz, Jae Crowder, 21 Savage, Dave East, Dwarf Mamba, Victor Oladipo, Skinny From the 9, Chris Brickley, The Professor and Casey Veggies. [11] [7] [6] [12]
With a large presence on Instagram, as of November 2018, Sean Kelly has over 370,000 Instagram Followers and the Jersey Champs account has over 1,700,000 followers. [3]
Sean Kelly Instagram page
Jersey Champs Instagram page