Sara on Hannity discussing the Fusion GPS testimony
Sara A. Carter is an investigative reporter and contributor on Fox News based out of Washington D.C. She has won multiple awards as an investigative reporter whose stories have ranged from national security, terrorism, immigration and front line coverage of the wars in Afghanistan and Iraq. [1] [3]
Early Life
Sara Carter grew up in Saudi Arabia. She is the daughter of a Cuban immigrant mother and her father was a United States Marine Corps veteran who served in two wars [7]. Sara attended Lutheran High School in La Verne, California a small city in Los Angeles County, California. [8]
Personal Life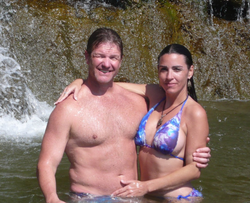 Photo of Sara Carter and her husband Marty Bailey
Sara Carter is a married mother of six. Her husband Martin "Marty" Bailey is a veteran and retired Master Sergeant with the United States Armed Forces. In April, 2011 he was blinded from a bombing during the War in Afghanistan. [4] [5]
Education
Sara Carter studied Journalism Communications at California State Polytechnic University, Pomona. [6] She has also studied at the London Academy of Music and Dramatic Art. [7]
Career
Sara Carter is currently an investigative reporter and Fox News contributor. She joined Fox News in December, 2017. Sara Carter also writes and publishes articles on saracarter.com, her website. [1] She formerly worked as a senior national security correspondent for Circa News. [3] [7]
Sara Carter on Hannity discussing sources which say more information coming showing systemic "FISA abuse"
Sara Carter formerly worked for the Los Angeles Newspaper Group, The Washington Times , The Washington Examiner, and wrote numerous exclusives for USA Today, U.S. News & World Report, and Arutz Sheva. [7]
As an investigative reporter, Sara Carter has covered multiple national security related stories along the Mexico–United States border. Her investigations uncovered secret tunnel systems, narcotics trafficking routes and the involvement of Mexican federal officials in the drug trade. [7]
Sara Carter has made appearances on hundreds of national news and radio shows to discuss her work. She has made guest appearances on Fox News, CNN, BBC International, and C-SPAN. She has interviewed numerous heads of State and foreign officials. [7]
Sara Carter has spent over seven months in Afghanistan and Pakistan since 2008. Her work on Afghan women and children addicted to opium garnered first place in Washington D.C. Society of Professional Journalists (SPJ) awards. She embedded with troops on Afghanistan's border with Pakistan and spent days with them while being mortared and shot at by Taliban insurgents hiding in the hillsides. [7]
Sara Carter has traveled into Pakistan's lawless border region with the Pakistani Army in North Waziristan and South Waziristan. She has broken numerous stories on ISIS and Al-Qaeda in the region, to include a verified ISIS documents that expose the group's plans for South Asia and the Middle East. The dossier also included a history of ISIS and its leadership. [7]
Awards & Accomplishments
Sara Carter's investigative reports have won regional, state, national and international recognition. She is the recipient of two National Headliner Awards, one of which, Jamie's Story focused on a child born into the Mexican Mafia and gangs in Southern California. The in-depth and at times life-threatening stories led to the forced retirement of city officials and led to changes in law, education and programs in San Bernardino, California and the Greater Los Angeles Area. [7]
In 2006, Sara Carter received her second National Headliner Award for her multiple part series Beyond Borders . The project consisted of groundbreaking investigations that focused on immigration and national security concerns along the southwest border. Her investigative work on immigration also earned her the 2006 Eugene Katz Award from the Center for Immigration Studies, in Washington D.C. [7]
Also in 2006, Sara Carter won the California Newspaper Publishers Association Freedom of Information Act Award for her investigation into millions of federal dollars misspent by a local school districts in an impoverished neighborhood. [7]
Sara Carter was the first to uncover U.S. documents disclosing the number of Mexican Military incursions into the United States and her feature on United States Border Patrol Agents Ignacio "Nacho" Ramos and Jose Compean led to a national movement to pardon the agents who were sentenced to 12 years in prison after an altercation with a convicted Mexican drug smuggler in Texas. After a two-year investigation by Sara, President George W. Bush commuted their sentence on his last day of office. [7]
In 2008, Sara was awarded the Society of Professional Journalists nationally recognized Sigma Delta Chi Award for her multiple-part series in Nuevo Laredo, Mexico that uncovered the brutality of the Gulf Cartel and Sinaloa Cartel wars along the US-Mexico border. [7]
In the Media
Hacking Incident
Screenshot of Sara Carter's Twitter page after it was hacked by Turkish nationalists
On January 22, 2018 Sara Carter and Sheriff David Clarke both had their Twitter accounts hacked by Turkish nationalists. [10]
The hackers posted nationalist Turkish messages including a pinned tweet, which read, "Your account is hacked by the Turkish cyber army AYYILDIZ TIM! Your DM correspondence has been captured and interesting information has been reached! Turks are everywhere!" [9]
The tweet read:
Your account is hacked by the Turkish cyber army AYYILDIZ TIM! Your DM correspondence has been captured and interesting information has been reached! Turks are everywhere! [9]
The hackers' tweet included a video that spreads their nationalistic message for Turkey. While that was the only tweet posted by the group onto Sara Carter's page, her cover photo was also switched to a pro-Turkish photo and his bio was changed to include the country's flag. [10]
In a post on Facebook, Sara Carter wrote that her account had been hacked from Istanbul, Turkey. "Please do not click on any links sent to any followers in the DM. I still don't have control of my account," she wrote. [11]
Ex-Fox News hosts Eric Bolling and Greta Van Susteren were previous victims of the hackers, which was particularly noteworthy as the media figures are two of the only 45 people that are followed by President Donald Trump and can therefore correspond with him via direct messages. [10]