Kristin Hayter, also known by her stage name, Lingua Ignota, is an American
interdisciplinaryArtist known for her visceral energetic performances that have gained her popularity throughout many music circles in the United States through word of mouth. [1] [2] [3]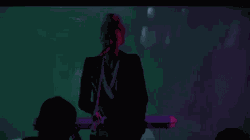 GIF of Lingua Ignota performing live in June 2018.
She is a composer and classically-trained vocalist who merges choral with traces of Black metal, Industrial, Classical, and often times, Doom metal. [4]
Her musical themes deal with Misogyny, failed relationships, and religion. Her debut EP is called All Bitches Die, which has gained a cult following since its release. [5] [6]
Biography
Ignota is a native of Southern California. She grew up in Del Mar, near the city of San Diego. [7] She has described her childhood in sunny California as slow-moving, and synonymous with Hell. [8] She was raised Catholic and was in parochial school until the sixth grade. Her Catholic upbringing will present itself as one of the biggest influences in her music. As a young child, she was classically trained in the piano and vocals. [9]
Close-up photo of Kristin Hayter.
In high school, she got into several different genres of music. The following are some of the musical styles she listened to: grindcore, prog, math-rock, jazz, and noise. [10] She would also pick up influences from the likes of Ornette Coleman, Aaron Dilloway, and John Zorn as well as from San Diego bands The Locust and Cattle Decapitation. [11]
Education
After high school, she attended Art Institute of Chicago where she received her Bachelor of Arts degree. For her B.A. graduate thesis she wrote a paper called,Architect and Vapor, which is about anorexia. [12]
She then attended Brown University where she received her Master of Fine Arts in Digital Language Arts. [14] She completed a thesis calledBurn Everything Trust No One Kill Yourself,a 10,000-page manuscript of appropriated material containing texts from different mediums, assembled using a Markov chain. [13]
Black and white photo of Lingua Ignota.
During her time in grad school, she also taught classes in the Literary arts program. Her classes explores the intersection of Art, Technology, and Language. [15]
Career
Lingua Ignota
Hayter has found herself being involved in the music scene of Rhode Island along with the rest of the East Coast. [16] [17] She has taken her work of texts and re-contextualized them to fit her musical solo project and persona, Lingua Ignota. [18]
The idea of " Lingua Ignota " for Hayter means " language unspeakable...ineffable ecstatic suffering, the conduit to godliness glistening with retching and spit." The project for her music would be born out of her college thesisis which re-contextualized misogynist content as biblically vitriolic anthems for survivors of domestic violence and sexual assault. [6]
The musical project has been described as "exorcism", and that "Her mix of choral, black metal, industrial, classical and doom metal makes for an indescribable genera." [19]
LINGUA IGNOTA - ALL BITCHES DIE (FULL ALBUM)
"All Bitches Die" EP
She released her first EP titled, "All Bitches Die" on June 22nd, 2018. The project is an unflinching approach to themes of violence and vengeance in ways that are moving, brutal, and harrowing. [5] [7]
After her friend Dylan from Full of Hell showed her EP to Chris Bruni, who immediately wanted to work sign Hayter to Profound Records. [19]
Performances
Her performances often have elements of horror with pure visceral aggression. [20]
Touring
Hayter has toured with The Body and Daughters, and has plans to further her touring in the coming years. [21]
Personal Life
When she's not in sunny California, Hayter lives in Lincoln, Rhode Island. [22]