Everipedia is now
IQ.wiki
- Join the
IQ Brainlist
and our
Discord
for early access to editing on the new platform and to participate in the beta testing.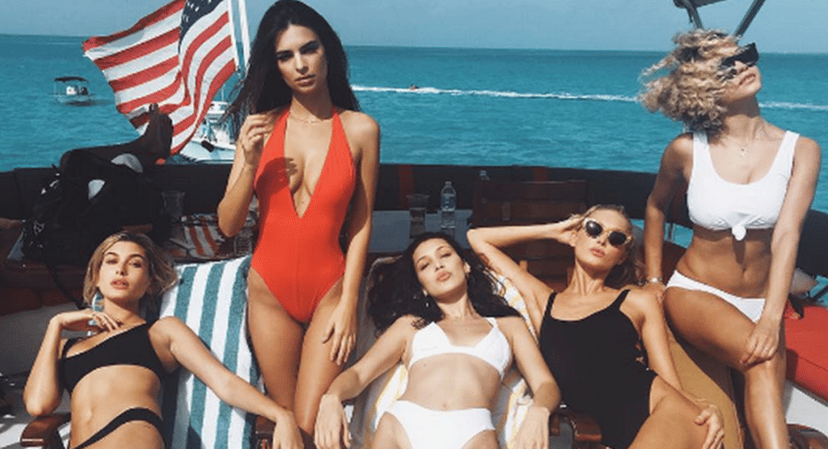 Fyre Festival
Fyre Festival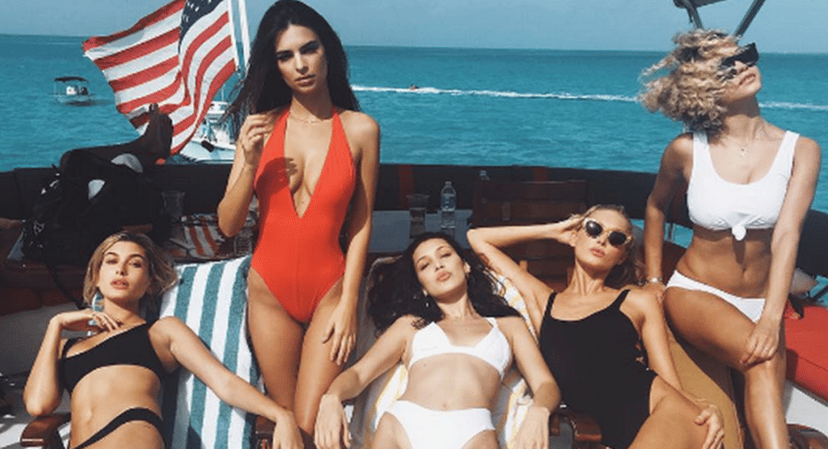 The Fyre Festival was an event taking place in late April 2017 in the Bahamas that has been reported on social media to be a scam. It was organized by rapper Ja Rule and entrepreneur Billy McFarland and has since been canceled.
Announcement and Promotion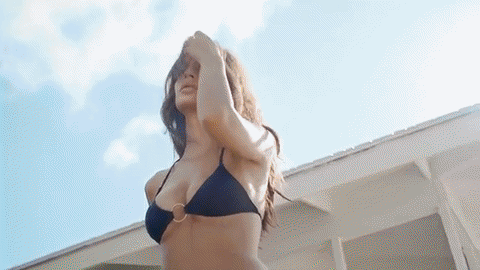 Promotional Video featuring models
The goal of the Fyre Festival was to promote the Fyre music booking app.
Starting in December, the Fyre Festival branded itself as "the cultural experience of the decade" and used influencers such as Bella Hadid, Kendall Jenner, Emily Ratajowski, Alessandra Ambrosio, and more to promote the event. Fyre Starters were paid no less than $20,000 and at most $250,000 in order to be part of the marketing campaign. A promotional video stated that the festival was taking place on an exclusive private island that used to be owned by Pablo Escobar.
Tickets for the festival cost for $1,500 for day tickets, and VIP packages including airfare and luxury tent accommodations for S$12,000, with the most expensive available costing $250,000.
Attendees were promised a chartered flight from Miami, concierge service, luxury villas, access to a yacht, and curated extracurricular activities.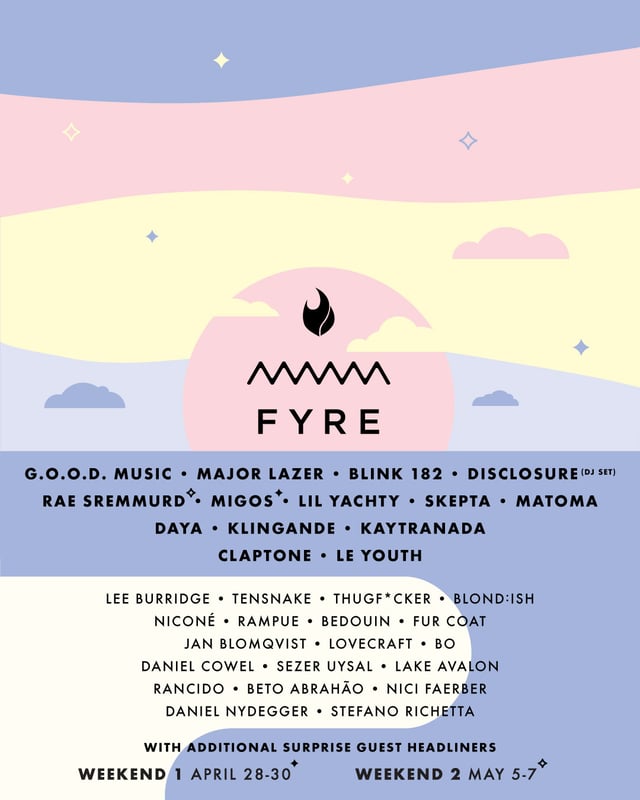 The Fyre Festival Lineup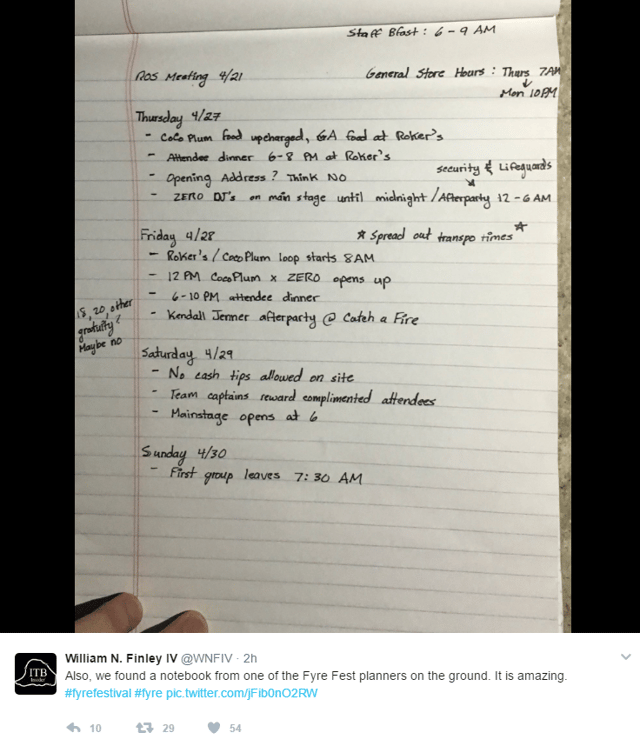 Notes from a festival organizer
The Fyre Festival lineup included the following artists:
The Fyre Festival Lineup Good Music

Major Lazer

Blink-182

Disclosure

Migos

Skepta

Matoma

Daya

Klingande

Kaytranada

Claptone

Le Youth

Lee Burridge

Tensnake

Thugfucker

Blond:ish

Nicone

Rampue

Bedouin

Notes from a festival organizer Fur Coat

Janne Blomqvist

Lovecraft

Bo

Daniel Cowel

Sezer Uysal

Lake Avalon

Rancido

Beto Abrahao

Nici Faerber

Daniel Nydegger

Stefano Richetta
Problems Leading Up to the Event
Prior to the festival taking place, organizers missed several deadlines to pay musical acts and vendors and that their customer service was slow to answer questions.
On March 28th, a Twitter account called Fyre Festival Fraud came online and started warning people about the impending disaster. In addition, anonymous reports came from the account saying that the festival grounds were not ready and that the private island pitch was a fraud, the festival was taking place steps away from a Sandals Resort.
According to Chloe Gordon, who was hired to be a talent producer for the festival, the event was doomed to be a disaster.
When she first arrived in the Exumas where the Fyre Festival, she was greeted by a gravel lot, sand flies, and swimming pigs.
More troubling, nothing had been done to plan the event; festival vendors were not in place, no stage was rented, and transportation had not been coordinated.
Working out of a rental house on the island, Chloe attempted to contact artist managers for logistics and they all had the same question, "When will we be getting paid?"
It was estimated that $50 million was needed in order to pull off the event successfully.
Although it suggested that they should just postpone the event until next year, Fyre execs decided against it and to go ahead as planned.
The event's chief marketing officer Grant Margolin said multiple times that by pulling off the Fyre Festival that they "were gonna be legends." Later, a number of people from the production team were fired, and Chloe was offered to stay on for 2/3 of the pay. She declined and flew back home to New York.
During the Event and Scandal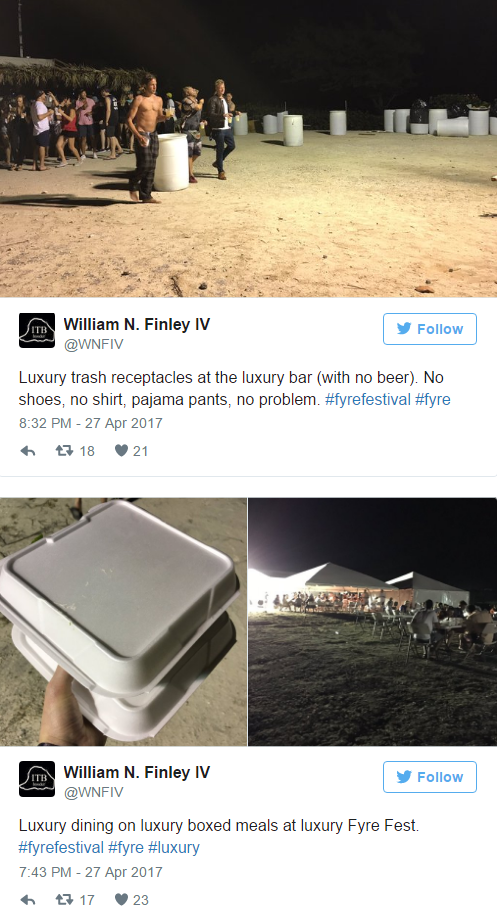 Tweets about the disaster
On April 27th, attendees started to arrive on chartered flights from Miami International Airport to Exuma International Airport operated by Swift Air and Xtra Airways. Initial arrivals were brought to an "impromptu beach party" with models pouring liquor and interacting with them. Later arrivals were brought directly to the grounds where the true state of the festival's site became apparent. Flights scheduled for the afternoon were delayed and then canceled when it became clear that the festival would not go on as planned.
When attendees arrived on the festival grounds, they were greeted with half built tents that were originally designed for disaster relief and mountains of trash.
Catered meals were nothing more than a slice of bread with cheese and a salad garnish.
People on the ground have reported muggings, lack of food, and complete chaos on the island.
Blink-182 canceled their performance after they heard the event was in disarray.
That evening, it was announced that the festival would be postponed and that the attendees would be returned to Miami as soon as possible.
The first flight back to Miami boarded at 1:30 AM on April 28 but was deboarded and delayed for hours due to issues with the flight's manifest.
Ultimately it was deboarded after sunrise due to crew rest issues and the passengers were locked in the Exuma Airport terminal without access to food or water.
The flight finally left Exuma later that morning.
Further charter flights departed Exuma throughout Friday to return attendees to Miami.

"FYRE: The Greatest Party That Never Happened" | Official Trailer (available on Netflix)
In regards to the event, organizer Billy McFarland admitted in a Rolling Stone piece that he was naive and too ambitious when trying to pull off the event. He promises to do a better job next year. Ja Rule said that he was "heartbroken" over what happened and released the following statement.
"My partners and I wanted this to be an amazing event, it was NOT A SCAM as everyone is reporting.

I don't know how everything went so left but I'm working to make it right by making sure everyone is refunded... I truly apologize as this is NOT MY FAULT... but I'm taking responsibility I'm deeply sorry to everyone who was inconvenienced by this."
On April 29, 2017, Fyre Festival announced to offer all attendees to choice between full refund or claiming VIP tickets to next year's festival.
Many news organizations compared the chaos to William Golding's novel Lord of the Flies and Suzanne Collins's book The Hunger Games .
The Bahamas Ministry of Tourism apologized on behalf of the nation and denied having responsibility for how the events unfolded.
On January 10, 2019, the trailer for "FYRE: The Greatest Party That Never Happened" was released.
The documentary provides exclusive behind-the-scenes footage that unravels the story behind the Fyre music festival.
It was made available on Netflix on January 18, 2019.
The Fyre Festival flop has brought into question the use of social media influencers to promote events that deceive consumers.
Recently, the Federal Trade Commission issued a warning against them over not disclosing how much they are getting paid to promote products.
As a result of the festival, McFarland and Ja Rule are the subject of a $100 million lawsuit in the state of California.
It was filed on behalf of plaintiff Daniel Jung by entertainment lawyer Mark Geragos, who is seeking class action status for the lawsuit with over 150 plaintiffs. Per the filing, Jung's lawsuit alleges fraud, breach of contract, breach of covenant of good faith and negligent misrepresentation. Ben Meiselas of Geragos's firm pledged to hold "all those who recklessly and blindly promoted the festival" accountable, which was interpreted as being directed at Jenner, Hadid, and other social media "influencers". A Geragos lawyer stated Fyre Festival sent cease and desist letters to whistleblowers.
A second class action lawsuit against Fyre Media, McFarland, Ja Rule, and the event promoters identified as "Does 1-100" was filed in Los Angeles by personal injury lawyer, John Girardi on behalf of Chelsea Chinery, Shannon McAuliffe and Desiree Flores. The plaintiff alleges that they deceived patrons into attending the festival by paying over 400 social media personalities and celebrities to promote it. The parties are accused of breach of contract, negligent misrepresentation, and fraud. A Bloomberg reporter filed a FOIA to the FTC regarding their Instagram knowledge, after the second class action lawsuit zinged the event promoters.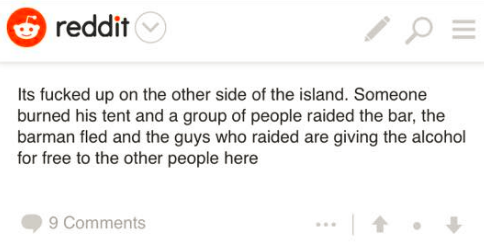 Testimony from the ground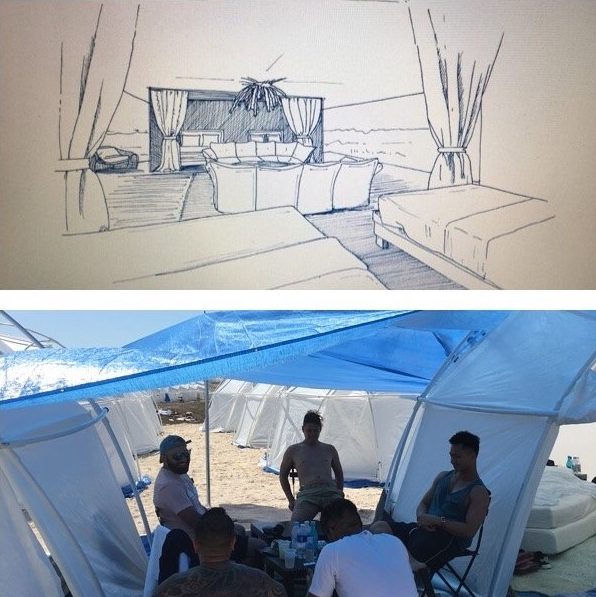 Expectation vs. Reality

Live tweets from the festival
Other festivals and conventions that suffered disastrous consequences due to poor organization and planning:
Altamont Free Concert, 1969 festival near San Francisco where an attendee was killed in a clash with a member of the Hell's Angels working as security.

DashCon, 2014 Tumblr enthusiast convention where organizers tried to mollify disappointed attendees by offering them free time in a small ball pit.

TomorrowWorld, yearly festival outside Atlanta canceled after 2015 iteration ruined by bad weather.

Woodstock '99, 30th anniversary concert outside Rome, New York, that devolved into near-riot conditions.

Field Day Festival (2003) was supposed to be a two day music festival in Calverton, NY on Long Island, New York in 2003. Due to conflicts with local Police Departments to provide security for the event, Suffolk County refused permission for the festival. It was relocated at the last minute to the football stadium in East Rutherford, New Jersey and changed to a one day event. The organizers issued refunds to original ticket holders and sold new tickets.

Love Parade disaster, where 21 people died due to insufficient management planning and crowd management.