Everipedia is now
IQ.wiki
- Join the
IQ Brainlist
and our
Discord
for early access to editing on the new platform and to participate in the beta testing.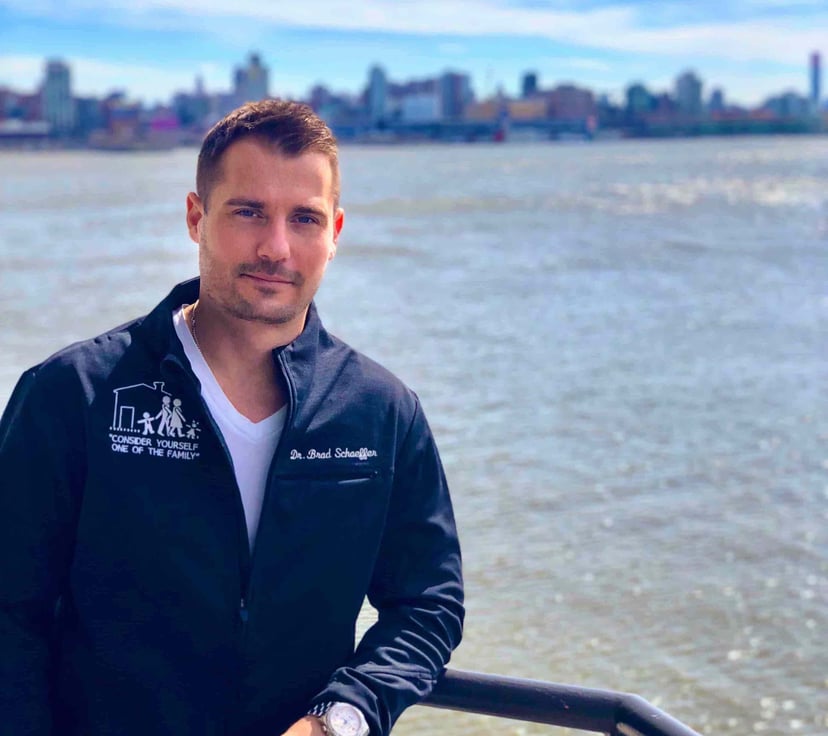 Brad Schaeffer
Brad Schaeffer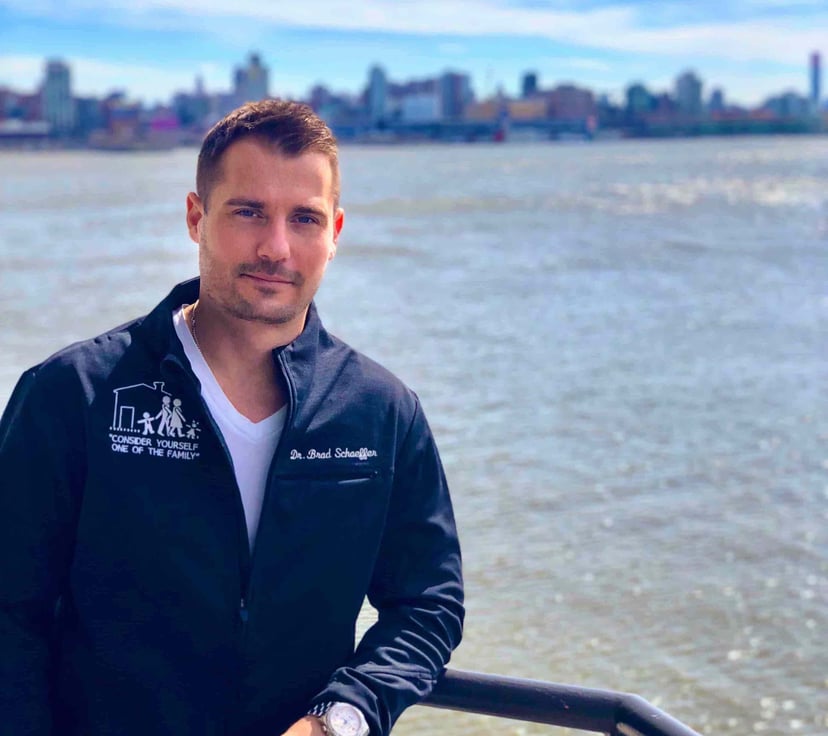 Brad Schaeffer (born on 31st December, 1983) is a doctor who is renowned for his work in podiatry. Dr. Brad Schaeffer is best known for starring in the reality television show My Feet Are Killing Me, which premiered Jan. 2, 2020 on TLC at 10 p.m. EST. His co-star is the well-known foot specialist Ebonie Vincent. [11]
Before getting into medication, Brad's first love was baseball. He went to Palm Beach Atlantic University, where he played the game as an outfielder. In the wake of getting sidelined and understanding his evaluations were slipping, Brad surrendered baseball and started concentrating on getting into prescription school. He graduated with a B.S. degree in Pre-Med studies, and attended Temple University for clinical school.
Growing up a competitor, Brad was a champion on the Palm Beach Atlantic University baseball crew.
Notwithstanding, his greatest test came when he chose to exchange his cleats for a clinical degree.
In spite of the fact that the tests were intense, Brad utilized that scholastic chance to get more grounded intellectually.
He finished his residency at Hoboken University Medical Center, before finding a new line of work at Family Foot and Ankle Specialist in Hillsborough and Piscataway, New Jersey.
Brad Schaeffer earned his four year college education in pre-medications from Palm Beach Atlantic University in 2006. He later moved on from Temple University's School of Podiatric Medicine in 2011. He finished a 3 Year Comprehensive Foot and Ankle Reconstructive Surgery Residency Program at Carepoint Health-Hoboken University Medical Center in Hoboken, NJ. He spoke about his education:
"Well, I grew up 40 minutes away from Philadelphia in Pottstown outside the suburbs and had the opportunity to go to Palm Beach Atlantic University in Florida to play baseball for undergrad.

I had initially wanted to be a pharmacist, but after spending time in pharmacies during college, I realized I had no passion for it.

I never had an 'Aha!' moment with podiatry.

I played sports all my life including soccer, basketball, and baseball.

I knew anatomy from my background in sports and I also knew I'm good with my hands.

I had heard about a podiatrist and what he did with his profession, so I decided to apply.

I had a decision to make between Temple [University School of Podiatry] and Barry [School of Podiatric Medicine].

Temple was my first choice because it was closer to home and family is a big part of my life."
Running & Sports Injuries

Stop Foot Pain, Painlessly

Heel Pain - Causes & Treatment

Foot & Ankle Injuries

Children's Foot Care

Bunions, Hammertoes, and More!

Problems with Shoes & Footwear

Diabetic Foot Care

Skin & Nail Problems
It doesn't seem like the clinical master is hitched.
He doesn't wear a ring on the show, or on his Instagram feed. In spite of the fact that numerous specialists do take their rings off for medical procedures and discussions, Dr. Brad has not made any notice of a spouse or noteworthy other.
Dr. Brad is surely a devoted family-man, he regularly posts photos of his niece, Arabella, and nephew, Zayden.
Dr. Brad showed up on The Titan Games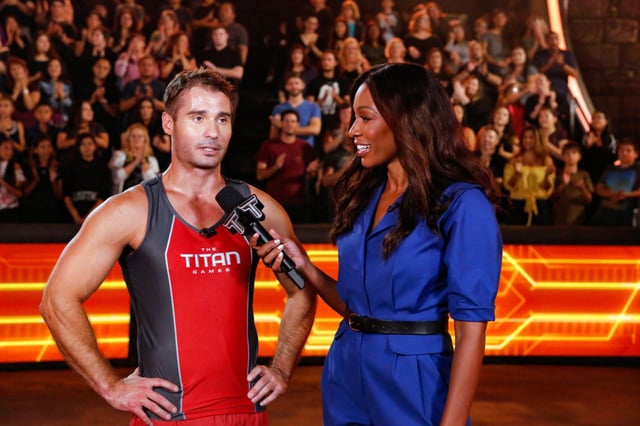 New Jersey foot surgeon Brad Schaeffer advanced to the semifinals on "The Titan Games" on NBC, but his impressive run came to an end Thursday night.
Dr. Brad Schaeffer, a Podiatrist stars in TLC's new show, "My Feet Are Killing Me".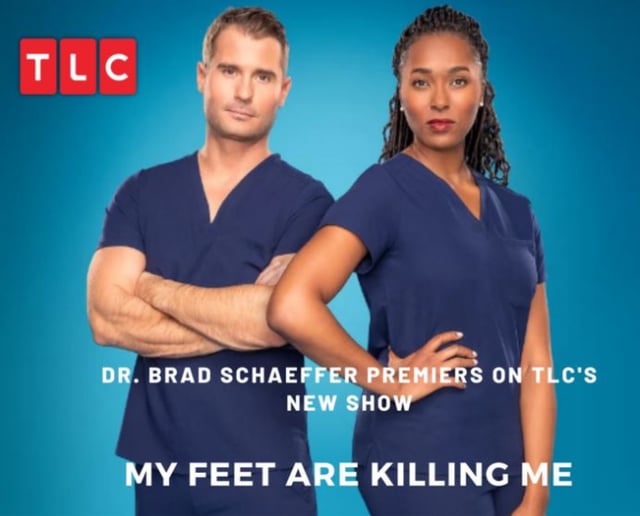 Schaeffer starred in a TLC new series called My Feet Are Killing Me, alongside Ebonie Vincent. The show is about two bold foot and ankle surgeons who treat some pretty gnarly conditions. For example, he described one case
"I had a gentleman who lost his mom a few years ago and neglected his life.

His nails were close to world record length.

Seeing that extreme case and turning it around is all inspiring,"
He revealed that appearing on "The Titan Games" is what helped him land the show:
"Spreading the word on Instagram and being a part of The Titan Games.

TLC reached out to me while The Titan Games was going on.

It was my wildest dream, and I needed somebody to pinch me because it was nuts.

It was partly luck, but I do put in a lot of hard work and time into my profession and spreading the word of our profession.

I have always been a strong advocate for being honest, humble, and true to yourself.

That definitely resonated with the people on Instagram as I built my followers.

I was very open about my setbacks on The Titan Games.

I did not hire an agent or a trainer.

The Titan Games contacted me because I worked hard every day.

This is who I am.

I am a podiatrist and I want to showcase this because I love it."