Everipedia is now
IQ.wiki
- Join the
IQ Brainlist
and our
Discord
for early access to editing on the new platform and to participate in the beta testing.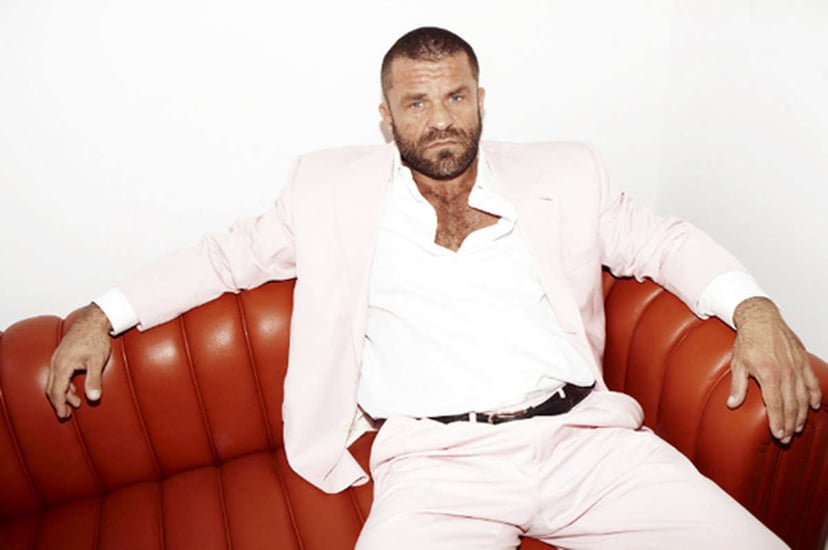 Bjarne Melgaard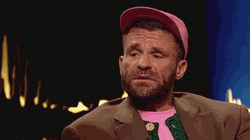 Bjarne Melgaard being interviewed on Skavlan.
Melgaard attended the Academy of Fine Arts in Warsaw, Poland in 1990. In 1991 he attended the Rijksacademie in Amsterdam, Netherlands. He graduated from the Norwegian National Academy of Fine Arts in 1992. After that he went on to study at the Jan Van Eyck Academie in Maastricht from 1992 to 1993. [2] [1]
Gym Queens Deserve to Die
In 2015 police were called to Melgaard's exhibition at the Munch Museum in Oslo where visitors complained about his video called Gym Queens Deserve to Die, which featured a model inserting a baby's arm into his mouth in a sexualized manner. Melgaard was accused of pedophilia, but the Norwegian police found nothing criminal. [6]
In a performance piece called AIDS Roulette, he gathered together six gay men, one of whom was HIV positive, and then chose one man at random to have unprotected intercourse with. [5]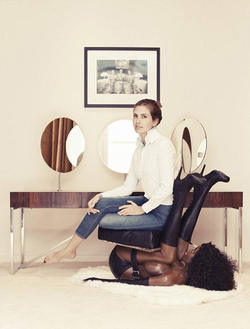 Dasha Zhukova posing on Melgaard's "black chair".
In 2014 there were accusations of racism and international outrage generated by his appropriated Allen Jones artwork "Chair" when an online magazine published a picture of Dasha Zhukova, a gallery owner and at the time Roman Abramovic's girlfriend, sitting on a chair shaped like an almost naked woman tied up, offering her posterior as a seat and high boots as a backrest. [7] [8] Zhukova later apologized and released the following statement: "This photograph, which has been published completely out of context, is of an artwork intended specifically as a commentary on gender and racial politics. I utterly abhor racism and would like to apologise to anyone who has been offended by this image." [10] [13]
Melgaard creates paintings, sculptures, and sensory installations.
He examines psychological angst, pedophilia, anxiety, pornography, sexual abuse and taboo-bending subcultures like the BDSM scene in New York City. The New York Times has described Melgaard as a "projectile vomiter" of an artist. [9] His works have become part of the permanent collections of major museums such as the Museum of Modern Art in New York City, the Museum of Contemporary Art in Los Angeles, the Stedelijk Museum in Amsterdam, the Musée d'Art Moderne et Contemporain in Strasbourg and the Moderna Museet in Stockholm , amongst others. Melgaard's art belongs to a long tradition of expressionism that can be traced back to Edvard Munch – Melgaard's spiritual and stylistic mentor – and to the founding of Die Brücke in Dresden in 1905 (by Ernst Ludwig Kirchner, Erich Heckel, Karl Schmidt-Rottluf and Emil Nolde). [2] [1]
Solo exhibitions (selection)
2016

Galleri Fineart, "Nye verk", Oslo

2016

Lars Bohman Gallery, "Right here, right now", Stockholm

2016

Karma Gallery, "Psycopathological Notebook", New York

2015

Galerie Thaddaeus Ropa, "The Casual Pleasure of Disappointment", Paris

2015

Faurschou Foundation, "Bitter Angel", Beijing

2015

Sammlung Friedrichshof, "Daddies Like You Don't Grow on Palm Trees", Zurndorf

2014

"This is what I do to make money", Galleri Fineart, Oslo

2012

"A House to Die In", Institute of Contemporary Arts, London

2012

"A New Novel by Bjarne Melgaard", Louxembourg & Dayan, New York

2012

Rob Bianco, "Laying the Ghost" (Bjarne Melgaard & Sverre Bjertnæs), Oslo

2012

Galleri K, "Climate Confusion Assistance" (Bjarne Melgaard & Sverre Bjertnæs), Oslo

2011

Lars Bohman Gallery, " Bjarne Melgaard: The Sadistic Skater - Part II", Stockholm

2011

Lars Bohman Gallery, " Bjarne Melgaard: The Sadistic Skater - Part I", Stockholm

2011

Galerie Guido W. Baudach, "The Night Within Us", Berlin

2010

"Jealous", Astrup Fearnley Museet, Oslo

2008

"Bjarne Melgaard", Greene Naftali Gallery, New York

2007

"The Glamour Chase", Galleri Faurschou, København

2006

"Les super", Guido W. Faudach, Berlin, Germany

2006

"A Weekend of Paintings; A Novel by Les Super," Leo Koenig Inc., New York

2006

"Minipigs in Space," Galerie Krinzinger, Wien

2005

"Jasmine La Nuit," The Horse Hospital, London

2005

Galerie Senda, Barcelona

2005

"Fin de Copenhague," Galleri Faurschou, København

2005

"Hallo Maybe," Haugar Vestfold Museum

2005

"Part 1: Chihuahua Hunger All Words Destroy," Galerie Crone, Berlin

2005

"Life is a Lonely Buffalo," Niels Borch Jensen Gallery, Berlin

2005

"Not a Painting Show," Stella Lohaus Gallery, Antwerpen

2004

Galleri Lars Bohman, Stockholm

2003

"Skam," Bergen Kunsthall, Bergen

2003

"The End of The Professional Teenager," Sketch, London

2002

"Black Low," MARTa Herford Museum, Hannover, Tyskland

2002

"Nothing Special," Galleri Faurschou, København

2002

"Interface to God," Kunsthalle at Kiel, Kiel

2002

Galleria d'Arte Moderna, Bologna, Italia

2002

"Beginnings," Galerie Daniel Buchholz, Køln

2001

Galerie Krinzinger, Wien

2000

"New Works," Nils Staerk Contemporary Art, København

1998

"More Pricks thank Kicks," Astrup Fearnley Museet, Oslo
Group exhibitions (selection)
Galerie Gebr. Lehmann, "Face/OFF", Berlin
Maccarone, "The Social Failure", New York