Ana Alexander Stojanovic (born February 1, 1979) is a Serbian model, actress, and screenwriter .[1]
Biography
Early Life & Education
Ana Stojanovic was born in Belgrade, Serbia. Her mother, Mila Stojanovic, was the Managing Director for several import/export companies. Her father, Zoran Stojanovic, was a surveying engineer. Her aunt, Saka Sabljic, was a famous Serbian actress.
Stojanovic was discovered early as a fashion model at the age of 12 while playing basketball for the Serbian basketball team, Partisan. Soon thereafter, she then began her acting career by appearing in several Serbian commercials.[1]
At age 13, actor Radoš Bajić (Ana Alexander's family friend) asked Ana to be in her first movie. It was a peasant comedy, where she got her first experience working on a film set. By age 16, she became one of the youngest students accepted into the University of Arts in Belgrade for film and theater.[1]
Due to the Croatian War of Independence, her family decided to relocate in search of a better life. At age 17, the Stojanovic's moved to Cape Town, South Africa, where Ana Alexander earned her Bachelor's degree in Drama from the University of Cape Town.[1]
Career
Early Beginnings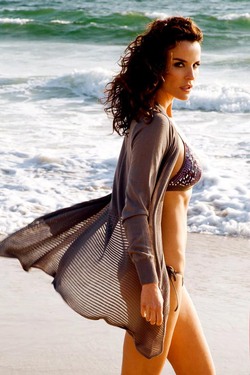 Ana Alexander in a bikini by the ocean
After graduating, Ana Alexander moved to New York City in 2002 to continue her modeling career. Eventually, she appeared in numerous commercials and movies and moved to Los Angeles in 2003 to pursue a career in acting. As a model, she has done runways, commercials, and print campaigns; some of Dove, BMW, VO5, Mercedes-Benz, and Mentos). She has appeared in numerous fashion magazines, including Cosmopolitan, Elle, and Vogue.
Acting
Ana Alexander's demo reel (2016)
After theater school and appearing in numerous commercials and movies, Alexander co-starred in an American co-production of a film shot in Cape Town called Second Skin, in which she acted alongside Peter Fonda and Natasha Henstridge.
After a few more British-American films, Ana co-starred in One Tree Hill with actor Paul Johansson. Johansson suggested that she move to the U.S. to further her career opportunities.[3]
After moving to Los Angeles, she got her first television part Two and a Half Men where she played a love interest to Charlie Sheen. She went on to appear on several other TV shows, including CSI: NY , CSI: Miami , The Young and the Restless , Las Vegas, The Exes , Bones, and Hawaii Five-O. She has also appeared in blockbusters as well as, indie films like Land of the Lost and Deep in the Valley .[3]
She is a member of SAG-AFTRA, the trade union for Screen Actors Guild‐American Federation of Television and Radio Artists.[3]
Producing
Together with her brother, Alexander produced and starred in her first short film, Porcelain, a story about a female superhero turned vigilante. Ana Alexander is also co-creator of the TV show The Ring, which is about a 16-year old girl who has the unconventional dream to be an Olympic boxing champion, and her family, all of whom have secret lives in a seemingly normal household.
Ana is currently writing the screenplay The Exit, a biographical story based on her mother's journey of survival from the war torn Yugoslavia and her unconventional choices that helped her survive in their new home of South Africa.[3]
Comic Book

Porcelain (front cover)
Ana Alexander is currently working on multiple comic book series, both as a creator and writer. She created a comic book based on a short film in which she starred and produced called Porcelain. Her image was also used as inspiration for the lead character in an exclusive project by Christian Gossett, the creator of "The Red Star."[3]
Filmography
1991:

Sekula opts zeni

: Sljivina cerka
1992:

Sekula nevino optuzen

(video): Vesna
1999: Africa

: Trish

2000:

Second Skin

: Sheila
2002:

Hooded Angels

: Mary
2004:

No Second Thoughts

(short film): Kim
2004:

Episode 1: The Eye

of Expert Season 1 Witness: Manhattan (TV Series): Zoya Pavlova
2004: Two and a Half Men

(television series): the doctor
2005:

Glass Trap

: LuLu
2005: Out of Practice

(TV series): Anna
2005: Sleeper Cell

(TV show): Jelena Jovanovic
2006: CSI: Miami

(TV series): Sienna Stone (2 episodes)
2007: The Young and the Restless

(television series): Helene
2007:

The Wedding Bells

(TV series): Jennifer
2007: Cane

(TV series): Annetta
2008: Las Vegas

(TV series): the sexy lady
2008: Reno 911!

(TV series): Seaweed Woman

2008:

Where the Heart Lies

(short film): Lisa Lowe
2008:

Will-Endowed

(short film): the girlfriend
2009: Land of the Lost

: Pakuni Woman

2009: O2 (short film): Natalia
2009: Deep in the Valley

: the sexy doctor

2010:

Important Things with Demetri Martin

(TV Series): Sasha
2011:

Femme Fatales

(TV series): Camille Gardner (3 episodes)
2011:

Chemistry

(

TV show): Liz (13 episodes)
2011:

Just Add Blood

(short film): Charlotte
2011: Gigantic

(TV show): Montana
2011:

Clown Wanted

(short film): the bad clown
2012: The Exes

(TV series): Tatiana

2013: Franklin & Bash

(TV series): Nataliya Filas
2014: Bones

(TV series): Katherine Frank
2014: Mystery Girls

(TV show): Nadia
2015: Hawaii Five-0

(TV series): Danielle

2015: Days of Our Lives

(TV series): Miriam (3 episodes)
2016:

HR - Human Relations

(TV series): Marion
2017: Beverly Grove (TV movie): Mrs.

Sorel
2017: Chicago P.D.

(TV series): Irina Petrova

2018:

Over Easy

(mini-series): the teacher
2018:

Chasing Lacey

: Diana Adams
2018: Ordinary

: Erin
Personal Life
Ana Alexander enjoys several physical activities, including basketball, kickboxing, martial arts (Hapkido), stage fighting, weapon handling, volleyball, handball, yoga, horseback riding, water skiing, and downhill skiing. She also enjoys several dance styles, such as jazz, ballet, hip-hop, ballroom dancing, and salsa.
She is also fluent in four languages: English, Serbian, Russian, and Afrikaans ; she can also speak some Polish, Italian, and German.[1]
She has one sibling, a brother, Nebojsa Stojanovic.[3]
Alexander has traveled extensively throughout her life, living on three different continents. She has lived in Serbia, South Africa, Germany, England, Italy, Austria, and the United States. [3]
In addition, she began designing her own furniture line. She helped invent the Nightlift, a bra that is worn at night.