Warner Bros. Records
616 VIEWS
Everipedia is now
IQ.wiki
- Join the
IQ Brainlist
and our
Discord
for early access to editing on the new platform and to participate in the beta testing.
Warner Bros. Records
Warner Bros. Records
Warner Records Inc.

Parent company

Warner Music Group

Founded

March 19, 1958

 (

1958-03-19

)

Founder

Warner Bros.

Distributor(s)

Self-distributed

(in the US)

(outside the US)

Rhino Entertainment Company

(re-issues)

Genre

Various

Country of origin

United States

Location

Los Angeles, California, U.S.

Official website

www.warnerrecords.com [105]
Warner Records Inc. (formerly Warner Bros. Records Inc.) is an American record label owned by Warner Music Group and headquartered in Los Angeles, California.[1] It was founded in 1958 as the recorded music division of the American film studio Warner Bros., and was one of a group of labels owned and operated by larger parent corporations for much of its existence. The sequence of companies that controlled Warner Bros. and its allied labels evolved through a convoluted series of corporate mergers and acquisitions from the early 1960s to the early 2000s. Over this period, Warner Bros. Records grew from a struggling minor player in the music industry to one of the top record labels in the world.
In 2004, these music assets were divested by their then owner Time Warner and purchased by a private equity group. This independent company traded as the Warner Music Group and was the world's last publicly traded major music company[2] before being bought and privatized by Access Industries in 2011. Warner Music Group is the smallest of the three major international music conglomerates that include Universal Music Group and Sony Music Entertainment. Max Lousada oversees recorded music operations of the company. In 2019, the label was officially renamed Warner Records.
Notable artists signed to Warner Records have included Madonna, Prince, Cher, Alice Cooper, Kylie Minogue, Kimbra, Goo Goo Dolls, Sheryl Crow, Tevin Campbell, Ciara, Lil Pump, Gorillaz, Adam Lambert, Bette Midler, Grateful Dead, Blur, Duran Duran, Deep Purple, Fleetwood Mac, Liam Gallagher, Fleet Foxes, Jason Derulo, Lily Allen, Tegan and Sara, Dua Lipa, Linkin Park, Muse, Nile Rodgers, Black Sabbath, Red Hot Chili Peppers, the Black Keys, Mr. Bungle, Regina Spektor, Van Halen and Pendulum.
Warner Records Inc.

Parent company

Warner Music Group

Founded

March 19, 1958

 (

1958-03-19

)

Founder

Warner Bros.

Distributor(s)

Self-distributed

(in the US)

(outside the US)

Rhino Entertainment Company

(re-issues)

Genre

Various

Country of origin

United States

Location

Los Angeles, California, U.S.

Official website

www.warnerrecords.com [105]
At the end of the silent movie period, Warner Bros. Pictures decided to expand into publishing and recording so that it could access low-cost music content for its films. In 1928, the studio acquired several smaller music publishing firms which included M. Witmark & Sons, Harms Inc., and a partial interest in New World Music Corp., and merged them to form the Music Publishers Holding Company. This new group controlled valuable copyrights on standards by George and Ira Gershwin and Jerome Kern and the new division was soon earning solid profits of up to US$2 million every year.[3]
In 1930, MPHC paid US$28 million to acquire Brunswick Records (which included Vocalion), whose roster included Duke Ellington, Red Nichols, Nick Lucas, Al Jolson, Earl Burtnett, Ethel Waters, Abe Lyman, Leroy Carr, Tampa Red and Memphis Minnie, and soon after the sale to Warner Bros., the label signed rising radio and recording stars Bing Crosby, Mills Brothers, and Boswell Sisters. Unfortunately for Warner Bros., the dual impact of the Great Depression and the introduction of broadcast radio greatly harmed the recording industry—sales crashed, dropping by around 90% from more than 100 million records in 1927 to fewer than 10 million by 1932[4][5] and major companies were forced to halve the price of records from 75c to 35c.[6] In December 1931, Warner Bros. offloaded Brunswick to the American Record Corporation (ARC) for a fraction of its former value, in a lease arrangement which did not include Brunswick's pressing plants. Technically, Warner maintained actual ownership of Brunswick, which with the sale of ARC to CBS in 1939 and their decision to discontinue Brunswick in favor of reviving the Columbia label, reverted to Warner Bros. Warner Bros. sold Brunswick a second time (along with Brunswick's back catalog up to 1931), this time along with the old Brunswick pressing plants Warner owned, to Decca Records (which formed its American operations in 1934) in exchange for a financial interest in Decca.[7] The studio stayed out of the record business for more than 25 years, and during this period it licensed its film music to other companies for release as soundtrack albums.[4]
1967–1969: Warner Bros.-Seven Arts
In November 1966 the entire Warner group was taken over by and merged with Seven Arts Productions, a New York-based company owned by Eliot Hyman. Seven Arts specialized in syndicating old movies and cartoons to TV and had independently produced a number of significant feature films for other studios, including Stanley Kubrick's Lolita, as well as forging a successful production partnership with noted British studio Hammer Films. Hyman's purchase of Jack L. Warner's controlling share of the Warner group for US$32 million stunned the film world—Warner Records executive Joe Smith later quipped that it was
The newly merged group was renamed Warner Bros.-Seven Arts (often referred to in the trade press by the abbreviation it adopted for its new logo, "W7"). Although Warner Bros. Pictures was faltering, the purchase coincided with a period of tremendous growth in the music industry and Warner-Reprise was now on its way to becoming a major player in the industry. Hyman's investment banker Alan Hirshfeld, of Charles Allen and Company, urged him to expand the company's record holdings and arranged a meeting with Jerry Wexler and Ahmet and Nesuhi Ertegun, co-owners of leading independent label Atlantic Records, which eventually resulted in the purchase of Atlantic in 1968.
In June 1967, Mo Ostin attended the historic Monterey International Pop Festival, where The Association performed the opening set. Ostin had already acquired the US rights to the Jimi Hendrix Experience recordings, sight unseen, but he was reportedly unimpressed by Hendrix's now-famous performance. During his visit he met Andy Wickham, who had come to Monterey as an assistant to festival promoter Lou Adler. Wickham had worked as a commercial artist in London, followed by a stint with Andrew Loog Oldham's Immediate Records before moving to Los Angeles to work for Adler's Dunhill label. Ostin initially hired Wickham as Warner's "house hippie" on a generous retainer of $200 per week. Hanging out around Laurel Canyon, Wickham scouted for new talent and established a rapport with the young musicians WBR was seeking to sign. Like Lenny Waronker, Wickham's youth, intelligence and hip attitude allowed him to bridge the "generation gap between these young performers and the older Warner 'establishment'".[34] He played a major role in signing Eric Andersen, Jethro Tull and Van Morrison and Joni Mitchell (who signed to Reprise), whom Wickham successfully recommended to Ostin in his first week with the company.[35] Over the next thirty years, Wickham became one of WBR's most influential A&R managers, signing such notable acts as Emmylou Harris, Buck Owens and Norwegian pop trio a-ha.
During this formative period, WBR made several other notable new signings including Randy Newman and Van Dyke Parks. Newman would not make his commercial breakthrough until the mid-1970s but he achieved a high profile in the industry thanks to songs he wrote that were covered by other acts like Three Dog Night and Alan Price. Although Warner Bros. spent large sums on albums that sold poorly, and there were some missteps in its promotion strategy, the presence of unorthodox acts like the Grateful Dead and critically acclaimed 'cult' performers like Newman and Parks, combined with the artistic freedom that the label afforded them, proved significant in building Warner Bros.' reputation and credibility. Bob Krasnow, who briefly headed Warner Bros.' short-lived 'black' label Loma Records later commented that the Grateful Dead " .... were really the springboard. People said 'Wow, if they'll sign the Dead, they must be going in the right direction.'"[36]
Although not widely known to the general public at that time, Van Dyke Parks was a figure of high repute on the L.A. music scene thanks to his work as a session musician and songwriter (notably with the Byrds and Harper's Bizarre) and especially because of his renowned collaboration with Brian Wilson on the legendary unreleased Beach Boys album Smile. In 1967, Lenny Waronker produced Parks' Warner debut album Song Cycle, which reportedly cost more than $35,000 to record, making it one of the most expensive 'pop' albums ever made up to that time. It sold very poorly despite rave critical reviews, so publicist Stan Cornyn (who had helped the label to sign the Grateful Dead) wrote an infamous tongue-in-cheek advertisement to promote it. The ad cheekily declared that the label had "lost $35,509 on 'the album of the year' (dammit)", suggested that those who had purchased the album had probably worn their copies out by playing it over and over, and made the offer that listeners could send these supposedly worn-out copies back to Warner Bros., who would exchange it for two new copies, including one "to educate a friend with". Incensed by the tactic, Parks accused Cornyn of trying to kill his career. Cornyn encountered similar problems with Joni Mitchell—he penned an advertisement that was meant to convey the message that Mitchell was yet to achieve significant market penetration, but the tag-line – "Joni Mitchell is 90% Virgin"—reportedly reduced Mitchell to tears and Cornyn had to withdraw it from publication.[37]
Warner Bros. also struggled with their flagship rock act, the Grateful Dead who, like Peter, Paul and Mary, had negotiated complete artistic control over the recording and packaging of their music.[36] Their debut album had been recorded in just four days, and although it was not a major hit, it cracked the US Top 50 album chart and sold steadily, eventually going gold in 1971. For their second album, the Grateful Dead took a far more experimental approach, embarking on a marathon series of recording sessions lasting seven months, from September 1967 to March 1968. They started the album with David Hassinger, who had produced their first album, but he quit the project in frustration in December 1967 while they were recording in New York City (although he is co-credited with band on the album). The group and their concert sound engineer Dan Healy then took over production of the album themselves, taking the unusual step of intermixing studio material with multitrack recordings of their concerts. Anthem of the Sun proved to be the least successful of the Grateful Dead's 1960s albums—it sold poorly, the extended sessions put the band more than $100,000 in debt to the label,[37] and Warner Bros. executive Joe Smith later described it as "the most unreasonable project with which we have ever involved ourselves".[38]
The Grateful Dead's relationship with Warner Bros. Records was stretched even further by the making of their third album Aoxomoxoa (1969), which also took around seven months to record and cost $180,000, almost twice as much as its predecessor. It sold poorly and took almost thirty years to be accredited with Gold Record status.[39] There were further difficulties in 1971 when the band presented Warner Bros. with a planned live double-album that they wanted to call Skull Fuck, but Ostin handled the matter diplomatically. Rather than refusing point-blank to release it, he reminded the Grateful Dead that they were heavily in debt to WBR and would not see any royalties until this had been repaid; he also pointed out that the provocative title would inevitably hurt sales because major retailers like Sears would refuse to stock it. Realizing that this would reduce their income, the band voluntarily changed the title to Grateful Dead, known generally as Skull and Roses.[36]
Some of Warner Bros.' biggest commercial successes during this period were with "Sunshine Pop" acts. Harpers Bizarre scored a #13 Billboard hit in April 1967 with their version of Simon & Garfunkel's "The 59th Street Bridge Song (Feelin' Groovy)"[40] and a month later, the Association scored a US #1 with "Windy" and they reached #8 on the album chart with their first WBR album Insight Out. Their next single "Never My Love" also topped the charts in autumn 1967 (#2 Billboard, #1 Cashbox) and now ranks as one of the most successful of all Warner Bros. recordings—it became a radio staple and is now accredited by BMI as the second most-played song on US radio in the 20th century, surpassing both "Yesterday" by the Beatles and "Stand by Me" by Ben E. King.[41] The group's 1968 Greatest Hits album was also a major hit, reaching #4 on the US album chart. In 1968, Mason Williams' instrumental composition "Classical Gas" reached #2 on the Billboard chart, selling more than a million copies, and Williams won three Grammys that year.
Another notable Warner release from this period was Astral Weeks, the second solo album by Van Morrison (his first was on Bang), who signed with the label in 1968. Although it sold relatively poorly on its first release (and did not reach gold record status until 2001) it has been widely acclaimed by musicians and critics worldwide, has featured prominently on many "Best Albums of All Time" lists[42] and has remained in release almost continuously since 1968.
During 1968, using the profits from Warner/Reprise, W7 purchased Atlantic Records for $17.5 million, including the label's valuable archive, its growing roster of new artists and the services of its three renowned executives, Jerry Wexler, Nesuhi Ertegun and Ahmet Ertegun. However, the purchase again caused rancor among the Warner/Reprise management, who were upset that their hard-won profits had been co-opted to buy Atlantic, and that Atlantic's executives were made large shareholders in Warner-Seven Arts—the deal gave the Ertegun brothers and Wexler between them 66,000 shares of Warner Bros.' common stock.[43]
On June 1, 1968, Billboard announced that WBR's star comedy performer Bill Cosby had turned down a five-year, US$3.5 million contract renewal offer and would leave the label in August that year to record for his own Tetragrammaton Records label.[44] Just over one month later (July 13) Billboard reported on a major re-organization of the entire Warner-Seven Arts music division. Mike Maitland was promoted to Executive Vice-President of both the recorded music and publishing operations, and George Lee took over from Victor Blau as operational head of the recording division. The restructure also reversed the reporting arrangement put in place in 1960 and from this point the Warner publishing arm reported to the record division under Maitland. The Billboard article also noted the enormous growth and vital significance of W7's music operations, which were by then providing most of Warner-Seven Arts' revenue—during the first nine months of that fiscal year, the recording and publishing divisions generated 74% of the corporation's total profit, with the publishing division alone accounting for over US$2 million of ASCAP's collections from music users.[45]
1969–1972: Kinney takeover
In 1969, Warner Bros.-Seven Arts was taken over by the Kinney National Company, headed by New York businessman Steve J. Ross, who would successfully lead the Warner group of companies until his death in 1992. The US$400 million deal created a new conglomerate that combined the Warner film, television, recording and music publishing divisions with Kinney's multi-faceted holdings. Ross had started the company in the late 1950s while working in his family's funeral business—seeing the opportunity to use the company's cars, which were idle at night, he founded a successful car hire operation, which he later merged with the Kinney parking garage company. Ross took the company public in 1962 and from this base it expanded rapidly between 1966 and 1968, merging with National Cleaning Services in 1966 to form the Kinney National Company,[46] and then acquiring a string of companies that would prove of enormous value to the Warner group in the years ahead – National Periodical Publications (which included DC Comics and All American Comics), the Ashley-Famous talent agency and Panavision.[47]
In the summer of 1969, Atlantic Records agreed to assist Warner Bros. Records in establishing overseas divisions but when Warner executive Phil Rose arrived in Australia to begin setting up an Australian subsidiary, he discovered that just one week earlier Atlantic had signed a new four-year production and distribution deal with local label Festival Records, without informing WBR.
During 1969, the rivalry between Mike Maitland and Ahmet Ertegun quickly escalated into an all-out executive battle, but Steve Ross favored Ertegun and the conflict culminated in Maitland being dismissed from his position on January 25, 1970. He declined an offer of a job with Warner Bros. Pictures and left the company, subsequently becoming president of MCA Records. Mo Ostin was appointed as president of Warner Bros. Records with Joe Smith as executive vice-president.[48]
In 1970, the 'Seven Arts' name was dropped and the WB shield became the Warner Bros. Records logo again.[49]
The 1980s was a period of unprecedented success for Warner Bros. Records. The golden decade began with the success of singer-songwriter Christopher Cross, whose self-titled debut album went to #6 in the US and produced four charting singles, including the #1 hit "Sailing". He also won five major categories at the 1981 Grammy Awards, becoming the only solo artist to date to win the "Big Four" awards in one year (Record, Song and Album of the Year, and Best New Artist) while his performance of "Arthur's Theme" from the Dudley Moore film Arthur, which also went to #1, won both the Oscar and the Golden Globe award for Best Original Song.
Warner Bros. scored an apparent coup in 1980 by luring Paul Simon away from Columbia Records. His first Warner album was One Trick Pony (1980), which accompanied the movie of the same name, which Simon wrote and starred in. The single "Late in the Evening" was a major hit (#6) but the album was not a big seller. His next album, Hearts and Bones (1983) was well received by critics but neither it nor the lead single "Allergies" made the chart and Simon's career took a nosedive and it was several more years before the label's patience eventually paid off.
After two moderate-selling albums that established them as one of the most original American new wave bands of the period, DEVO broke through to mainstream success in 1980 with their third album Freedom of Choice which reached #22 in the US. Thanks to its quirky music video, which was put on high rotation on MTV, the single "Whip It" reached #14 on the Billboard pop chart, becoming the group's biggest American hit. Their follow-up EP DEV-O Live (1981) was a surprise hit in Australia, topping the singles chart there for three weeks, but their subsequent albums and singles suffered from declining sales and the group was eventually dropped by the label after their 1984 album Shout.
Prince's 1980 album Dirty Mind was widely praised by critics, earning a gold record award, but his 1982 double-LP 1999 (1982) became his first major hit album, selling over six million copies[67] and spawning three hit singles. The title track reached #12 in the US and provided his first international hit (#25 UK) and his next two singles, "Little Red Corvette" and "Delirious", were both US Top 10 hits.
Chicago were picked up by Warner Bros. in 1981 after being dropped by their former label Columbia, who believed the band was no longer commercially viable. After teaming with producer David Foster, they shot back into the charts in 1982 with the album Chicago 16, which reached #9 and produced two hit singles including the US #1 hit "Hard To Say I'm Sorry". Their second Warner album, Chicago 17, became the biggest seller of their career—it reached #4 in the US and produced four US Top 20 singles including the Top 5 hits "Hard Habit to Break" (#3) and "You're the Inspiration" (#3) and is currently accredited at 6× Platinum. Lead singer Peter Cetera left the group after this album but had continued success as a solo artist for Warner, scoring a #1 hit in 1986 with "Glory of Love" (from the movie The Karate Kid Part II), which was also nominated for a Grammy Award, a Golden Globe Award, and an Academy Award. His second solo album sold more than a million copies and produced another #1 hit, "The Next Time I Fall". His third solo album produced the Top 5 hit "One Good Woman" (1988) and "After All" reached #6.
Lenny Waronker took over as President of WBR in 1982, and his first act was to sign Elvis Costello. Costello's first Warner album Spike featured his biggest American single, the Paul McCartney collaboration "Veronica", which was a US Top 20 hit. He recorded three more critically praised albums for Warner Bros., Mighty Like A Rose, Brutal Youth, and All This Useless Beauty, but he was dropped from the label after the major corporate shakeup in the mid-1990s.
After the end of his contract with RSO Records and Polydor, Eric Clapton signed to Warner Bros. in 1982. His first WBR album, Money and Cigarettes (1983), reached #16 on the Billboard album chart, and the single "I've Got a Rock 'n' Roll Heart" reached #18 on the Billboard Hot 100. His next album Behind the Sun also fared well, reaching #34 and the hit single "Forever Man" went to #26, but he transferred to Reprise for his next release.
Another resurgent 1970s act who scored major success with Warner Bros. in this period was ZZ Top, who had previously been signed to London Records. During an extended break in the late 1970s the group gained ownership of their London recordings and signed with Warner Bros., who also re-issued their back-catalogue. Their first two Warner albums Deguello (1979) and El Loco (1981) were moderately successful, but Eliminator (1983) became a major hit thanks to strong support for their music videos on MTV. They scored three US hit singles including "Legs" (US #8), while the album reached #9 on the Billboard 200 and sold in huge numbers, earning a Diamond record award in 1996. Afterburner (1985) went to #4 and produced seven hit singles, including "Sleeping Bag" (#8).
Sire artist Madonna shot to international prominence with her 1983 self-titled debut album and her first mainstream hit single "Holiday", which reached #16 in the US and became a hit in many other countries, including Australia and the UK, where it was Top 5. The album made the Top 20 in more than a dozen countries including the US, where it has been certified at 5× Platinum status. It was quickly followed by Like a Virgin, which became her first US #1 album and has sold more than 21 million copies worldwide. The title track was also a huge international hit, going to #1 in Australia, Canada, Japan and the US. Boosted by her well-received role in the film Desperately Seeking Susan, "Crazy For You" (1985) became her second US #1 hit, and the follow-up "Material Girl" reached #2 in the US and was Top 5 in many other countries.
Prince's hugely successful 1984 film and album Purple Rain cemented his stardom, selling more than fifteen million copies in the US (22 million worldwide) and spending twenty-four consecutive weeks at #1 on the Billboard 200 chart, while the Purple Rain film won the Academy Award for "Best Original Song Score" and grossed more than $80 million in the US.[68] Singles from the album became hits on pop charts around the world; "When Doves Cry" and "Let's Go Crazy" both reached #1 and the title track reached #2 on the Billboard Hot 100. However, the sexually explicit album track "Darling Nikki" generated a major controversy that had lasting effects—when politician's wife Tipper Gore heard her 12-year-old daughter listening to the song and investigated the lyrics, her outrage led to the formation of the conservative lobby group Parents Music Resource Center. Their stance was vehemently opposed by former Warner Bros. artist Frank Zappa and others, but the PMRC's political clout eventually forced the US recording industry to adopt the compulsory practice of placing a "Parental Advisory: Explicit Lyrics" sticker on records deemed to contain "offensive" content.
1984 also saw Van Halen break into the big league with the single "Jump" (their only US #1 hit) and the album 1984; it was a huge seller (earning Diamond album status in 1999) and reached #2 in the US, producing two more Top 20 hits. However, escalating friction between guitarist Eddie Van Halen and lead singer David Lee Roth reached breaking point soon after the album's release and Roth left the band, to be replaced by Sammy Hagar, who recorded for WB as part of Montrose; 1984 was also the last time they worked with Ted Templeman, who had produced all their albums up to this point.
In 1985, Dire Straits' single "Money for Nothing" gained massive exposure on MTV thanks to its innovative computer-animated music video, propelling the single to #1 in the US. They scored two more US Top 20 hits with "Walk of Life" and "So Far Away" and the album Brothers in Arms was a phenomenal success—it went to #1 in the US, Australia and most European countries and sold in colossal numbers—by 1996 it had been certified at 9× platinum in the US and it is currently ranked at #25 in the list of best-selling albums of all time, with sales of more than 30 million copies worldwide.
The new incarnation of Van Halen bounced back in 1986, releasing the enormously successful 5150 album which went to #1 and produced two hit singles, "Why Can't This Be Love" (US #3) and "Dreams" (#22). Their three subsequent studio albums (OU812, For Unlawful Carnal Knowledge, and Balance) all reached #1 and the band scored 17 US Top 20 singles, including 1988's "When It's Love" (US #5), but their overall sales gradually declined, with each album selling less than its predecessor.
The same was true of Prince. He scored numerous hit albums and singles through the latter half of the 1980s, but his record sales declined and Warner Bros. executives became increasingly concerned that he was producing far more material than they could release. His image was also tarnished by the failure of his later film ventures, his embarrassing refusal to participate in the recording of "We Are The World" and his sacking of guitarist Wendy Melvoin and long-serving keyboard player Lisa Coleman. The 1985 album Around the World in a Day held the #1 spot on the Billboard 200 for three weeks and peaked at #5 in the UK, selling seven million copies despite minimal promotion. Parade (1986) served as the soundtrack for Prince's second film Under the Cherry Moon; although the movie was a critical and commercial failure, the album peaked at #3 in Billboard and #2 on the R&B album charts and his classic single "Kiss" was another big international hit, going to #1 in the US and becoming a radio staple.
Prince's next project had a long and complex evolution, beginning as a proposed concept double-album called Dream Factory; Prince then proposed a solo LP which he intended to issue under the pseudonym Camille, but he eventually combined elements from both to create the ambitious three-album set Crystal Ball. However, because of the relatively lower sales of his previous albums, Prince's manager Steve Fargnoli and Warner Bros. president Mo Ostin both doubted the commercial viability of releasing a 3-LP set, and after previewing Crystal Ball, Ostin insisted that Prince pare it down to two records. Prince at first refused and a battle of wills ensued for several weeks, but he eventually backed down and removed seven tracks; the resulting double-album was released in March 1987 as "Sign o' the Times". Despite Prince's bitterness over its forced reduction, it was very successful, peaking at #6 on the Billboard 200 albums chart and selling 5 million copies, while the title single "Sign o' the Times" reached #3 on the Hot 100. The follow-up single "If I Was Your Girlfriend" flopped (although it went to #12 on R&B chart) but he scored big hits with the next two singles, "U Got the Look" (#2 Hot 100, #11 R&B) and "I Could Never Take the Place of Your Man" (#10 Hot 100, #14 R&B).
1986–87 took Warner Bros. to even greater heights. Madonna's landmark album True Blue produced three US #1s and two Top 5 singles and the LP was an unprecedented success, topping the charts in more than 28 countries (a feat that earned her a place in the Guinness Book of Records), and to date it has sold 24 million copies. After several years in the doldrums, a reinvigorated Paul Simon burst back onto the music scene in late 1986 with Graceland. Warner Bros. were initially anxious about the commercial appeal of Simon's innovative fusion of rock with African styles but the album was a resounding success, topping the charts in many countries, reaching #3 in the US and producing two US Top 20 singles. It became the best-selling American album of 1987 and the most successful of Simon's solo career, selling more than 5 million copies, and winning the 1986 Grammy for 'Album of the Year'; the title track also won 'Song of the Year' in 1987. In jazz, Warner Bros. scored another artistic coup by signing jazz legend Miles Davis after his break with longtime label Columbia. His comeback album Tutu (1986) was a major crossover hit, gaining rave reviews and winning a Grammy in 1987.
In the summer of 1986, Warner Bros. announced the reactivation of Reprise Records with its own separate promotions department, and former Warner Bros. Vice President of Promotion Richard Fitzgerald was appointed as label Vice President.[69]
During 1987, Prince recorded a pared-down funk LP, The Black Album, but he withdrew it in December just before it was to be released (even though 500,000 copies had been printed). Its hastily recorded replacement Lovesexy (1988) was a moderate success, reaching #11 on the Billboard album chart although it reached #1 in the UK. However, he rebounded in 1989 with the soundtrack for the hugely successful Batman film, which sold more than eleven million copies, reached #1 on the Billboard album chart and produced four hit singles including "Batdance", which topped both the Hot 100 and R&B charts.
Like fellow Athens, Georgia natives the B-52s, R.E.M. was a 'cult' band who gradually built up a strong following in the US and internationally during the 1980s (thanks in part to their innovative music videos). For most of the 1980s they were signed to the independent label IRS Records and in 1987, they broke out to mainstream success with the album Document, their first to sell more than one million copies. However, they were frustrated by IRS's poor international distribution and when their IRS contract expired in 1988 they signed with Warner Bros. Their Warner debut Green established them as a major force, earning a platinum album and selling more than 4 million copies worldwide, and "Stand" became their first US hit single.
In 1989, after an extended period of inactivity following the death of guitarist and main writer Ricky Wilson, the B-52s shot back to prominence with the album Cosmic Thing. It was a Top 5 hit in the US (#4) and the UK (#2) and went to #1 in Australia, where the group had enjoyed a strong following since their debut single "Rock Lobster"; they also scored three consecutive hit singles with "Love Shack" (#3 US, #1 Australia), "Roam" (US #3) and "Deadbeat Club" (US #30).
Warner Bros.' most successful decade yet closed in sensational fashion. In early 1989, Madonna signed an endorsement deal with Pepsi, who introduced her new single "Like a Prayer" in the lavish "Make a Wish" commercial—the first time a pop single had debuted in an advertisement and the first time such a commercial was given a worldwide satellite premiere.[70] However Pepsi had no control over Madonna's own "Like a Prayer" music video, which debuted exclusively on MTV soon after—it generated heated criticism due to its provocative use of religious imagery and was condemned by the Vatican. As a result, Pepsi withdrew the advertisement and canceled the endorsement deal—although Madonna was allowed to retain her US$5 million fee—but the controversy only heightened interest in the single and the album (also titled Like a Prayer). The single became Madonna's seventh US #1 and topped the chart in more than 30 other countries, and the album also went to #1, sold seven million copies worldwide and produced two more US Top 5 singles, establishing Madonna as the most successful female artist of the 1980s and one of the most successful musical performers of all time.
1989–2004: The Time Warner era
In 1989 Time Inc. acquired Warner Communications and merged the two enterprises to create Time Warner in a deal valued at US$14 billion.[71]
After a long period of relative stability that was notable in the cutthroat American music industry, the death of Steve Ross in late 1992 marked the start of a period of major upheaval at Warner Bros. Records.
R.E.M.'s second Warner album Out of Time (1991) consolidated their success, topping the charts in both the US and the UK and producing two major hit singles: "Losing My Religion" became their biggest American single (#4 on Billboard Hot 100) and a hit in numerous other countries, and "Shiny Happy People", a Top 10 hit in both the US and the UK; the group also won three categories at that year's Grammy Awards.
Prince's fortunes in the Nineties were mixed; he scored more hits and renewed his contract in 1992, but his relationship with Warner Bros. Records soon soured, climaxing in a highly publicized legal battle and his eventual departure from the label. Although his fourth film, Graffiti Bridge was panned by critics and bombed at the box office[72] the album of the same name was very successful—it reached #6 on both the Billboard Hot 200 and R&B album chart and produced two US Top 20 singles. Diamonds and Pearls (1991) became one of the biggest albums of his career, selling 9 million records, reaching #3 in the US, #2 in the UK and #1 in Australia, with five of the six singles lifted from the album becoming hits in the US and other countries, including "Cream", which became his fifth US #1.
Prince was appointed a vice-president of Warner Bros. Records when he re-signed with them in 1992, but soon regretted his decision. His next album—identified by the cryptic symbol on the cover later defined as "The Love Symbol"—was another solid hit, peaking at #5 on the Billboard 200[73] and selling 5 million copies worldwide,[74] but by now tensions were increasing. Warner Bros. wanted to release "7" as his next single, but Prince successfully pushed for "My Name Is Prince" and it was only a minor hit (#36 Hot 100, #23 R&B); the follow-up "Sexy MF" was censored in the US because of the expletive in the chorus and did not even make the US Top 50 although it was a Top 5 hit in the UK and Australia. When eventually released, "7" became the only major US hit lifted from the album, peaking (appropriately) at #7.
Following the 3-disc compilation The Hits/The B-Sides (1993), Prince stopped using his first name and started using only the "Love Symbol"—a decision that drew considerable ridicule from the media.[75] Because this sign has no verbal equivalent, he was often derisively referred to as "The Artist Formerly Known as Prince". By 1994, relations between The Artist and his record label had reached an impasse—in February WEA cancelled its distribution deal with Paisley Park, effectively putting the label out of business.[75] Although released by an independent distributor, his next single "The Most Beautiful Girl in the World" (1994) reached #3 in the US and topped the singles charts throughout Europe, becoming the biggest hit single of his career.
Prince had meanwhile prepared two new albums, Come and The Gold Experience; an early version of Come was rejected but Warner Bros. eventually accepted both albums, although they refused to issue them simultaneously. By this time Prince had launched a legal action to terminate his contract and gain ownership of his master recordings, and he publicized his views by appearing in public with the word "SLAVE" [106] written across his right cheek. Come (1994) was moderately successful in the US (#15, gold record) and the single "Letitgo" reached #10 on the R&B chart, although the album was a major hit in the UK, debuting at #1. In November Warner released a limited edition of The Black Album, but it was already widely bootlegged, sold poorly and was soon deleted. The Gold Experience (1995) was hailed by some reviewers as Prince's best effort since Sign o' the Times; it included "The Most Beautiful Girl in the World" and produced two other charting singles, "I Hate U" (US #11 and "Gold" UK #10). Prince's remarkable career with Warner Bros. ended with Chaos and Disorder (1996), compiled expressly to end his contract. It was one of his least successful releases but still managed to reach #26 in the US and #14 in the UK and produced one minor hit, "Dinner With Delores" (#36 UK). Prince subsequently released recordings on his own NPG label (via EMI) before eventually signing with Universal Music in 2005.
R.E.M.'s Automatic for the People (1992) cemented their status as one of the top bands of the period and was the most successful album of their career, reaching #1 in the UK and #2 in the US, selling more than 10 million copies worldwide and generating three US hit singles, "Drive", "Man on the Moon", and "Everybody Hurts".
During 1992 WBR faced one of the most serious controversies in its history over the provocative recording "Cop Killer" from the self titled album by Body Count, a rap metal band led by Ice-T. Unfortunately for Warner Bros., the song (which mentions the Rodney King case) came out just before the controversial acquittal of the police charged with King's beating, which sparked the 1992 Los Angeles Riots and the confluence of events put the song under the national spotlight. Complaints escalated over the summer—conservative police associations called for a boycott of Time Warner products, politicians including President George H. W. Bush denounced the label for releasing the song, Warner executives received death threats, Time Warner stockholders threatened to pull out of the company and the New Zealand police commissioner unsuccessfully tried to have the record banned there. Although Ice-T later voluntarily reissued Body Count without "Cop Killer", the furore seriously rattled Warner Music and in January 1993 WBR made an undisclosed deal releasing Ice-T from his contract and returning the Body Count master tapes to him.[76] In the wake of the "Cop Killer" affair, Warner Bros. distanced itself from gangsta rap and in late 1995, it sold its 50% stake in Interscope Records and its controversial subsidiary Death Row Records (Tupac Shakur, Snoop Dogg) back to co-owners Jimmy Iovine and Ted Field.[77] Iovine and Field quickly aligned Interscope with the Universal Music Group; the label, now known as Interscope-Geffen-A&M following the merger of several Universal imprints, is still run by Iovine today.
Some relief came later that year when comedian Jeff Foxworthy revived Warner Bros.' success with comedy recordings; his debut album You Might Be a Redneck If... was a major hit in the US and Canada, and both it and his follow-up album sold more than three million copies each.
End of an era: Ostin and Waronker depart
During 1994–1995, Warner Bros.'s successes and problems with its artists were overshadowed by a protracted period of highly publicized internecine strife, centering on Warner Music Group chairman Robert J. Morgado and his successor Michael J. Fuchs. In September 1993, Ostin began negotiations to renew his contract and it was at this point that Morgado unveiled his plan for a major corporate shakeup of the Warner group. This triggered a series of damaging corporate conflicts and in particular created a fatal rift between Morgado and Ostin. The first major casualty was Elektra chairman Bob Krasnow, who resigned abruptly in July 1994.[78]
For many years Ostin had reported directly to Time Warner chairman Steve Ross (and then to Ross's successor Gerald Levin) but Morgado now insisted that Ostin should report to him, and he established a new division, Warner Music US, headed by Doug Morris, to oversee the three main record labels. Fearing the loss of autonomy and worried that he would be obliged to implement Morgado's "slash-and-burn" policy to streamline the label's staff and artist roster, he refused to carry out Morgado's orders and decided not to renew his contract. Ostin officially stepped down from Warner Bros. when his contract expired on December 31, 1994, although he stayed on as a senior consultant to Time Warner's chairman until August 1995.[79] He later commented:
Ostin's departure sent shockwaves through the company and the industry, and elicited glowing tributes from colleagues and competitors like Joe Smith and Clive Davis, and musicians like Paul Simon and R.E.M. It also triggered an exodus of Warner executives who had joined the company primarily because of Ostin. Next to go was Lenny Waronker—he was initially designated to succeed Ostin as chairman[80] but he ultimately declined the job and left WBR soon after. Following a period of uncertainty and speculation, the two joined forces to establish a new label, DreamWorks Records.[79] Waronker was replaced by ex Atlantic Records president Danny Goldberg, but his tenure proved short. Long-serving WBR executive Russ Thyret, who had joined the label in 1971 and worked closely with Mo Ostin for many years, was promoted to Vice-Chairman in January 1995.[81]
Gerald Levin forced Morgado to resign in May 1995 and he was replaced by HBO chairman Michael J. Fuchs. Fuchs sacked Morris a month later (sparking a US$50m breach of contract suit) and Warner Music US was dissolved.[82] Morris' removal led to speculation that Ostin was being courted to return to WBR, but these reports proved unfounded, since Ostin and Waronker moved to DreamWorks soon after.[83] Morris moved to MCA Records.
Despite his close ties to Morris, Danny Goldberg was initially told he could remain as WBR president but he left the company in August 1995 after negotiating a settlement with Time Warner to terminate his five-year, US$20 million contract, which still had four years to run. He was subsequently appointed president of Polygram subsidiary Mercury Records in October.[84] Following Goldberg's departure Russ Thyret was promoted to Chairman, CEO and label president.[82] Fuchs himself was forced out of Time Warner on November 1995. In May 1997, Phil Quartararo took over as president of WBR, only weeks after he had left EMI's Virgin Records following a management shake-up there.[85]
The departure of the team led by Ostin and Waronker also meant that many of the Warner artists whose careers they had nurtured and curated over the previous 30 years were now deprived of their patronage. As a result, by the year 2000 many of the "flagship" Warner acts of the Ostin/Waronker years left the label as their contracts expired. Ry Cooder was dropped in 1995 and Randy Newman followed Ostin and Waronker to DreamWorks, departing with a wry comment on his own status and the recent turmoil at Warner Bros.:
Although never rising beyond "cult" status in terms of his sales as a solo artist, one of the most notable survivors from the Ostin era was Van Dyke Parks, who continued to release albums on Warner Bros. – Tokyo Rose (1989), the Brian Wilson collaboration Orange Crate Art (1995) and the live album Moonlighting: Live at the Ash Grove (1998). In 2004 Parks reunited with Brian Wilson to complete their long-shelved collaboration, Smile, which was released on the Nonesuch label to universal critical praise, winning a Grammy award, and making the Top 20 in the US and Top 10 in the UK, where it earned a gold record award.
In early 2001, there was a major restructure of the Warner Music Group; about 600 positions were eliminated across the three labels, and an executive reshuffle led to the departures of Thyret and Quartararo (as well as Reprise president Howie Klein) and the hiring of then-Interscope president Tom Whalley as head of Warner Bros. Records.[87] In August Whalley appointed Jeff Ayeroff as Creative Director of Warner Bros. Records and Creative Consultant to Warner Music Group. Ayeroff had previously been WBR's Senior Vice-President and Creative Director from 1983–86, overseeing many successful album covers and music videos in that period.[88]
In 2002, Linkin Park won the Grammy Award for Best Hard Rock Performance for their single Crawling released under Warner Bros. Whereas they were also nominated for Best Rock Album for Hybrid Theory which also turned out to be the best selling album of 2001 worldwide and Best New Artist. In 2004, the band was nominated for their song Session for Best Rock Instrumental Performance. In 2006 the band won Best Rap/Sung Collaboration for the song Numb/Encore released under Warner Bros./Roc-A-Fella/Machine Shop.
2004–2019: Warner Music Group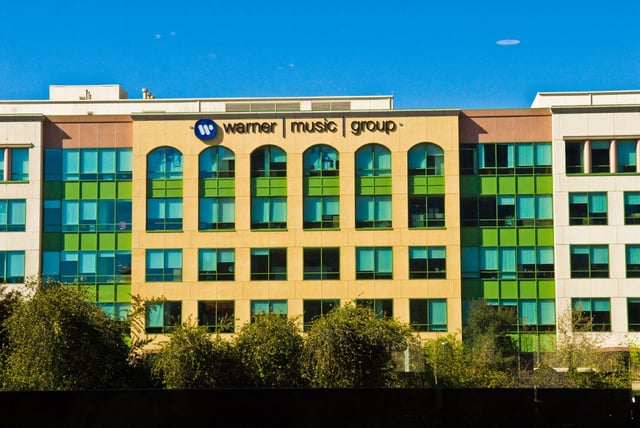 Warner Bros. Records former headquarters, at 3400 Olive in Burbank, California.
This was the final Warner Bros. Records logo from 2003 to 2019.
In 2003, amid management disputes, sagging share prices and rising alarm about the impact of digital file sharing, Time Warner decided to unload its music operations. In March 2004, Time Warner's music assets were acquired by a private equity group headed by Thomas H. Lee Partners, Lexa Partners (led by Edgar Bronfman Jr., who put up US$150 million drawn from his family's stake in Vivendi), Bain Capital and Providence Equity Partners. The deal included an option that would allow Time Warner to buy back in if conditions proved favorable. Bronfman, Lee, Bain and Providence had reportedly recouped their investment by May 2006 through dividends, refinancing and a share offer floated in May 2005.
Following the divestiture, WMG licenses the Warner Bros. trademarks, although this license could be revoked if WMG comes under control of a major motion picture studio.[89]
In 2006, the Warner Music Group signed a licensing and revenue-sharing deal with internet video service YouTube. According to a New York Times report, this reflected ongoing efforts by YouTube to deal with the fact that many of its user-generated video clips include copyrighted music and images sourced from commercial TV and film productions. Under the agreement, YouTube would use special software to identify recordings used in videos posted by users and then offer the owner of the copyrighted content a percentage of the fee for advertising that would run alongside the clip. The deal also allowed the copyright owner to demand that YouTube remove the clip.[90]
In 2013, WMG acquired Parlophone Records from EMI as part of its sale to Universal Music Group. Most Parlophone artists (excluding Coldplay and Tinie Tempah, who were placed under Atlantic) were placed under Warner Bros. Records for US distribution.[91][92] Dan McCarroll was named president. He held the position until July, 2017.[93][94]
In October 2017, Aaron Bay-Schuck and Tom Corson were named co-chairmen of Warner Bros. Records, with Bay-Schuck serving as CEO and Corson COO. Corson joined the company in January 2018; Bay-Schuck began in the fall of that year.[95] The Warner Bros. headquarters moved from Burbank to downtown Los Angeles in March 2019.[96][97]
2019–present: Warner Records
On May 28, 2019, the label announced that it had changed its name to Warner Records, and unveiled a new logo—replacing the Warner Bros. shield with a wordmark and black circle (both partially cut off at the bottom). WMG explained that the new logo was meant to resemble the Earth, a record, and the Sun, and had "artful simplicity and impactful typography that are ideally suited to the digital world". The change was necessitated by the upcoming expiration of WMG's license to the Warner Bros. trademarks; after the sale of WMG by Time Warner in 2004, the company had been granted a 15-year license to the Warner Bros. name and shield logo. The new logo received mixed reviews, with marketing critics and former WMG employees lamenting the replacement of the historic Warner Bros. emblem (used by the label for 61 years) with a comparatively simplistic mark.[98]
A&E Records (formerly Mushroom Records UK) (2003–present)

Helium 3 (record label) (2006–present)

Beluga Heights (2008–present)

Facultad de Némea (2017–present)

Festival Mushroom Records (2005–present)

Hotwire Unlimited (2010–present)

Machine Shop Recordings (2001–present)

Loveway Records (2009–present)

Mind of a Genius (2016–present)

Arkade Records (2016 present)

Nonesuch Records (2004–present)

OVO Sound (2012–present)

Parlophone (2014–present)

Reprise Records (1963–present)

REMember Music (2014–present)

Sire Records (1978–1995, 2003–present)

Artery Recordings (2017–present)[99]

The Benton Music Records (2018–present)

Clover Music (2018–present)
1017 Brick Squad Records

143 Records

4AD Records (1992–1998) (US only)

Action Theory Records

American Recordings (1988–1997 [US], 2005–2007 [worldwide])

Autumn Records (1963–1965)

Bearsville Records (1970–1984)

BME Recordings

Blacksmith Records (2005–2008)

Brute/Beaute Records (2004–2007)

Capricorn Records (1972–1977), (1990–1995)

Chrysalis Records (1972–1976) (US only)

Cold Chillin' Records (1987–1994)

Dark Horse Records (1976–1992)

Doghouse Records

ECM Records (?–1984)

Extasy International Records (2000–2004)

Full Moon Records (1974–1992)

F-111 Records (1995–2001)

Geffen Records (1980–1990)

Giant Records and its subsidiaries the Medicine Label (1993–1995), Paladin, Revolution (1990–2001)

HRH MUSIC GROUP Paul Alfonso (2011–2015)

Ice Age Entertainment

Island Records (1977–1982, except for Steve Winwood releases until 1987)

Jet Life Recordings

Kwanza Records (1973–1974)

Loma Records (1964–1968 and one boutique release in 2003)

London Records (2000–2017)

Luaka Bop Records (1988–2000)

Malpaso Records (1995–2000)

Maverick Records (1992–2008; dormant)

Maybach Music Group (2011–2012)

Metal Blade Records (1988–1993)

Music for Little People (1990–1995)

Opal Records (1987–1993)

Paisley Park Records (1985–1994)

Perezcious Music

Playmaker Music

Premeditated Records (middle 1990s)

Public Broadcasting Service

Qwest Records (1980–2000)

Raybaw Records (2005–2008)

RuffNation Records

Slash Records (1982–1998)

Teleprompt Records

Tommy Boy Records (1985–2002)

Valiant Records (1960–1966)

Warner Alliance (1986–1998)

Funk Volume (2015–2016)
List of record labels

List of Warner Bros. Records artists

Reprise Records