Everipedia is now
IQ.wiki
- Join the
IQ Brainlist
and our
Discord
for early access to editing on the new platform and to participate in the beta testing.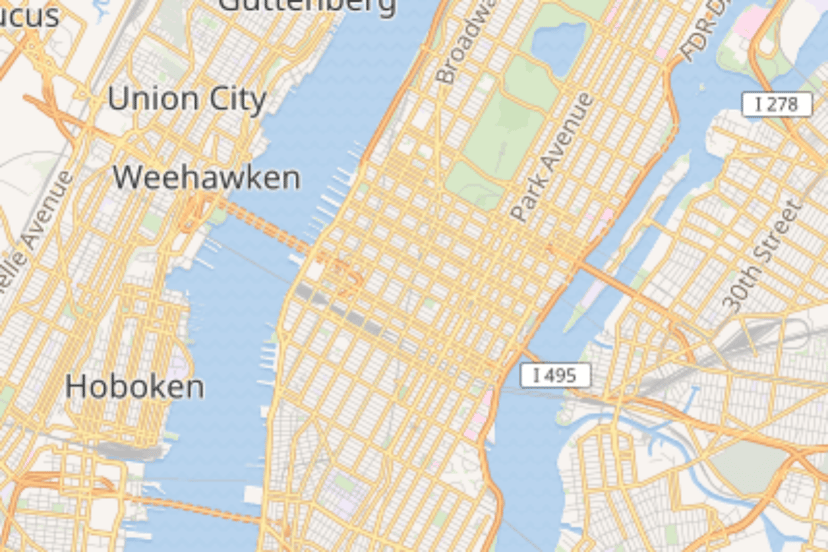 Times Square
Times Square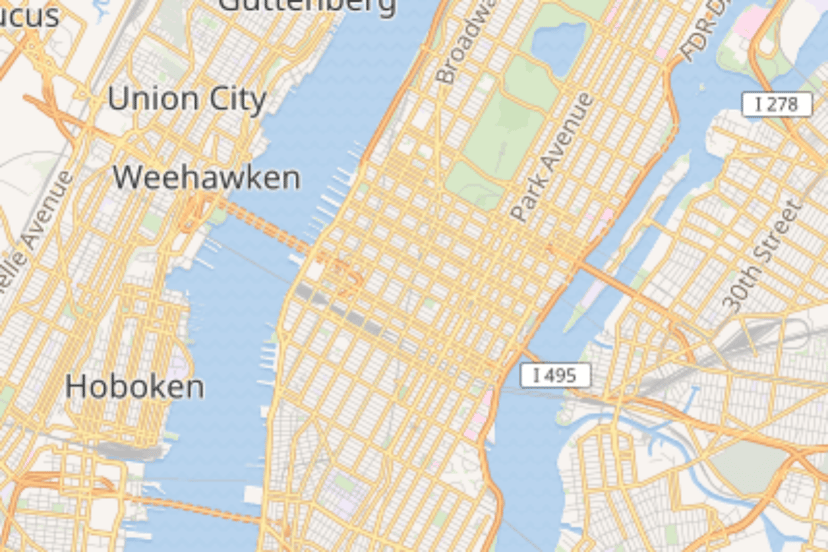 Neighborhood in Manhattan

Nickname(s): 

The Great White Way

The Crossroads of the World

Coordinates:

40°45′25″N 73°59′10″W [129]
State

New York

City

New York City

Borough

Manhattan
Boundaries
Broadway, 7th Avenue, 42nd and 47th Streets
Subway services

1

, ​

2

, ​

3

​,

7

,

<7>

​​, ​

A

​, ​

C

​, ​

E

​,

N

, ​

Q

, ​

R

, ​

W

​, and

S

trains at Times Square–42nd Street station

Bus routes

M7, M20, M42, M50, M104

Historical features

Duffy Square




George Michael Cohan statue




One Times Square
Neighborhood in Manhattan

Nickname(s): 

The Great White Way

The Crossroads of the World

Coordinates:

40°45′25″N 73°59′10″W [129]
State

New York

City

New York City

Borough

Manhattan
Boundaries
Broadway, 7th Avenue, 42nd and 47th Streets
Subway services

1

, ​

2

, ​

3

​,

7

,

<7>

​​, ​

A

​, ​

C

​, ​

E

​,

N

, ​

Q

, ​

R

, ​

W

​, and

S

trains at Times Square–42nd Street station

Bus routes

M7, M20, M42, M50, M104

Historical features

Duffy Square




George Michael Cohan statue




One Times Square
In 1904, New York Times publisher Adolph S. Ochs moved the newspaper's operations to a new skyscraper on 42nd Street at Longacre Square, on the site of the former Pabst Hotel, which had existed on the site for less than a decade since it opened in November 1899.[28] Ochs persuaded Mayor George B. McClellan Jr. to construct a subway station there, and the area was renamed "Times Square" on April 8, 1904.[29] Just three weeks later, the first electrified advertisement appeared on the side of a bank at the corner of 46th Street and Broadway.[30] The north end later became Duffy Square, and the former Horse Exchange became the Winter Garden Theatre, constructed in 1911.[31]
The New York Times moved to more spacious offices one block west of the square in 1913 and sold the building in 1961.[29] The old Times Building was later named the Allied Chemical Building in 1963.[32] Now known simply as One Times Square, it is famed for the Times Square Ball drop on its roof every New Year's Eve.
In 1913, the Lincoln Highway Association, headed by entrepreneur Carl G. Fisher, chose the intersection of 42nd Street and Broadway (at the southeast corner of Times Square) to be the Eastern Terminus of the Lincoln Highway. This was the first road across the United States, which originally spanned 3,389 miles (5,454 km) coast-to-coast through 13 states to its western terminus in Lincoln Park in San Francisco, California.[33][34]
Times Square grew dramatically after World War I.[35] It became a cultural hub full of theatres, music halls, and upscale hotels.[35]
Times Square quickly became New York's agora, a place to gather to await great tidings and to celebrate them, whether a World Series or a presidential election.— James Traub, The Devil's Playground: A Century of Pleasure and Profit in Times Square
Advertising also grew significantly in the 1920s, growing from $25 million to $85 million over the decade.[36] For example, the Wrigley Spearmint Gum sign, possibly the biggest electric sign "in the world," cost $9,000 per month to rent.[37] Some contemporary critics, such as Thorstein Veblen[38] and G. K. Chesterton,[39] disliked the advertising at Times Square. Fritz Lang, after seeing Times Square in 1923, used it as inspiration for his dark industrial film Metropolis.[38]
Entertainment icons such as Irving Berlin, Charlie Chaplin, and Fred Astaire were closely associated with Times Square in the 1910s, 1920s, and 1930s. However, it was also during this period that the area began to be besieged by crime and corruption, in the form of gambling and prostitution; one case that garnered huge attention was the arrest and subsequent execution of police officer Charles Becker.[40]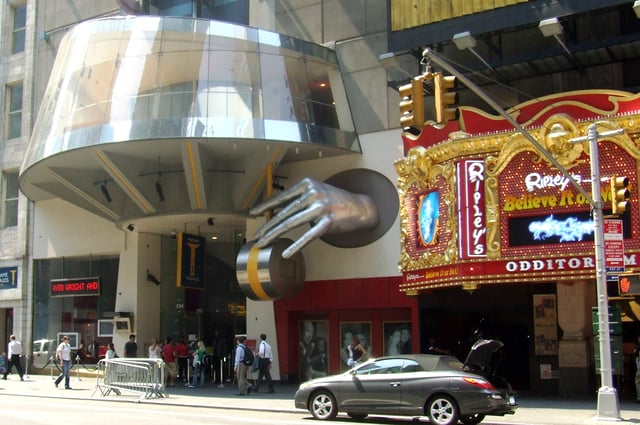 Madame Tussauds Wax Museum and Ripley's Believe It or Not! Odditorium are two of the newer attractions on the redeveloped 42nd Street.
From the 1960s to the early 1990s, the seediness of the area, especially due to its go-go bars, sex shops, peep shows and adult theaters, became an infamous symbol of the city's decline.[46]
As early as 1960, 42nd Street between Seventh and Eighth Avenue was described by The New York Times as "the 'worst' [block] in town".[47] Later that decade, Times Square was depicted in Midnight Cowboy as gritty, dark and desperate, and conditions only worsened in the 1970s and 1980s, as did the crime in the rest of the city. By 1984, an unprecedented 2,300 annual crimes occurred on that single block, of which 460 were serious felonies such as murder and rape.
At the time, police morale was low and petty criminals who committed misdemeanors were not being arrested. William Bratton, who was appointed New York City Police Commissioner in 1994 and again in 2014, stated, "The [NYPD] didn't want high performance; it wanted to stay out of trouble, to avoid corruption scandals and conflicts in the community. For years, therefore, the key to career success in the NYPD, as in many bureaucratic leviathans, was to shun risk and avoid failure. Accordingly, cops became more cautious as they rose in rank, right up to the highest levels."[48] The city government did not implement broken windows theory at first, and the allowance of low-profile crime was thought by some at the time to have caused more high-profile crimes to occur.[49] Formerly elegant movie theaters began to show porn, and hustlers were common.[50] The area was so abandoned at one point during the time that the entire Times Square area paid the city only $6 million in property taxes, which is less than what a medium-sized office building in Manhattan typically would produce in tax revenue today in 1984 dollars.
In the 1980s, a commercial building boom began in the western parts of Midtown as part of a long-term development plan developed under Mayors Ed Koch and David Dinkins.
There have been several incidents in Times Square:
Times Square is the most visited place globally with 360,000 pedestrian visitors a day, amounting to over 131 million a year.[91] As of 2013, it had a greater attendance than do each of the Disney theme parks worldwide, with 128,794,000 visitors between March 2012 and February 2013, versus 126,479,000 for the Walt Disney World theme parks in Bay Lake, Florida, in 2012.[91][92]
Even excluding residents from the visitor count, Times Square is the world's second most visited tourist attraction, behind the Las Vegas Strip.[93] The high level of pedestrian traffic has resulted in $4.8 billion in annual retail, entertainment and hotel sales,[94] with 22 cents out of every dollar spent by visitors in New York City being spent within Times Square.[94][95]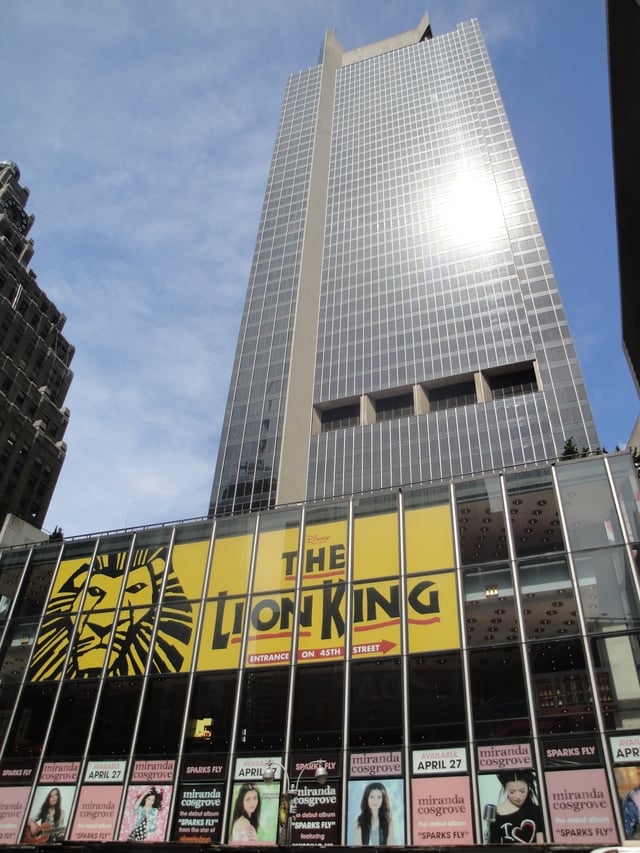 One Astor Plaza (1515 Broadway) is the headquarters of Viacom. It replaced the Astor Hotel in 1972, when Times Square redevelopment plans allowed oversized office towers if they included new theatres.[100]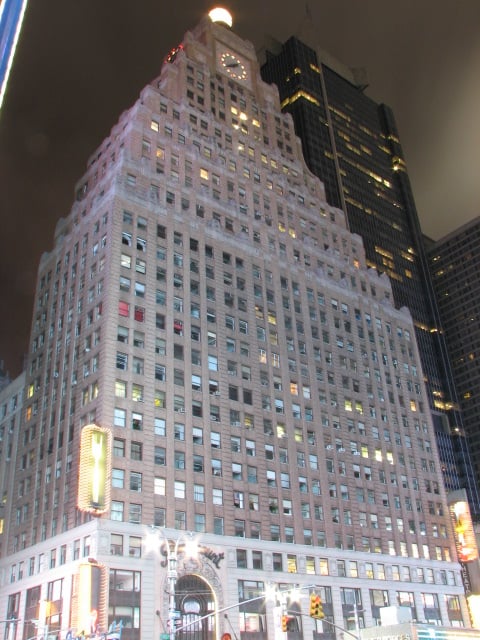 The Paramount Building at 1501 Broadway once housed the Paramount Theatre, where Frank Sinatra had bobby-soxers fainting in the aisles
Times Square is a busy intersection of art and commerce, where scores of advertisements – electric, neon and illuminated signs and "zipper" news crawls – vie for viewers' attention. Notable examples include;
Coca-Cola sign

Disney Store

Forever 21 (formerly Virgin Megastores)

Hard Rock Cafe New York

M&M's World

Planet Hollywood

PlayStation Theater

Times Square Studios (used primarily for selected ABC News and ESPN programs, such as Good Morning America)

TKTS booth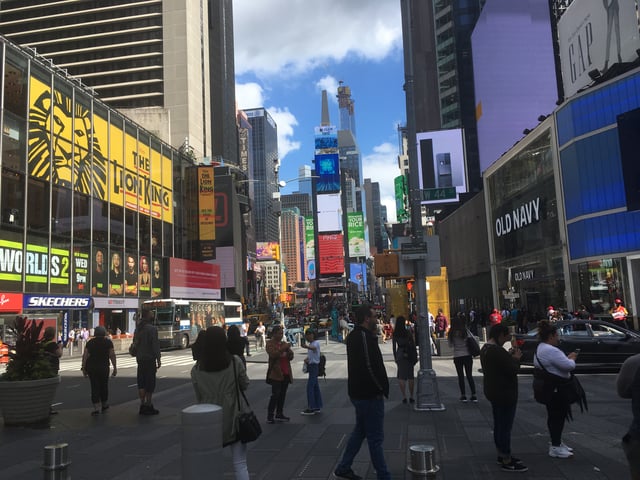 Times Square looking north from 44th Street

The northern part of the square in 2004 before reconstruction, with Two Times Square in the center
An immediately recognizable location, Times Square has been featured countless times in literature, on television, in films, in video games, and in music videos.
The seediness of the area was featured prominently in such films as Midnight Cowboy[102] (1969) and Taxi Driver (1976).[103] The area was shown in the 1980 film Times Square, which featured a punk rock/new wave soundtrack.[104] It was also depicted in the 2011 movie New Year's Eve.[105] The area also appeared on The Amazing Race as one of the locations in a race around the world, notably in the first episode of the show's 25th season.[106]
Times Square has been fictionally attacked and destroyed in a number of movies, including Knowing, when a solar flare destroys New York City;[107] Deep Impact, when a tsunami created from a meteor impact destroys New York City; the 1998 film Godzilla, where Godzilla is chased through the square; the Ghostbusters movies; Stephen King's The Stand, where the intersection is overcome by total anarchy; the ending of Captain America: The First Avenger;[108] and Transformers: Revenge of the Fallen. It was also seen in the festival battle scene in the 2002 film Spider-Man, and a stand-off in the later film The Amazing Spider-Man 2.[109]
Films and TV shows have also employed the opposite tactic, depicting the typically bustling area as eerily still, such as in Vanilla Sky,[110] as well as the post-apocalyptic I Am Legend, in which Will Smith and his dog go hunting for deer in the deserted urban canyon.[107] In the pilot episode of the TV series Blindspot, Times Square is completely emptied due to an abandoned bag being suspected to be a bomb.[111]
Times Square also has featured prominently in video games. For instance, in Grand Theft Auto IV, a recreation of the Times Square area, referred to in-game as "Star Junction", is included in the game's fictional "Liberty City" setting.[107] Times Square is also shown in Battlefield 3, where the final fight with the main antagonist takes place, where the player must stop him from detonating a nuclear bomb in the square; and Crysis 2, in which player must fight off attacking alien forces in order to assist U.S. Marines in evacuating the area.[112]
Duffy Square, the northern section of Times Square between 45th and 47th Streets[113]

Good Riddance Day, an unofficial holiday celebrated at Times Square since 2007[114]

Midtown Community Court, a branch of the New York City Criminal Court that primarily focuses on quality of life around Times Square[115]

Naked Cowboy, New York City street performer and prominent fixture of Times Square[116]

Theater District, Manhattan[117]

Times Square – 42nd Street / Port Authority Bus Terminal subway station serving the 1, ​2, ​3​, 7, <7>​​, ​A​, ​C​, ​E​, N, ​Q, ​R, ​W​, and S (42nd Street Shuttle) trains
L.A. Live, a public square in downtown Los Angeles

Lincoln Highway, the terminus of which was in Times Square

Piccadilly Circus, a commercialized road junction in London

Yonge–Dundas Square, a public square in downtown Toronto