Everipedia is now
IQ.wiki
- Join the
IQ Brainlist
and our
Discord
for early access to editing on the new platform and to participate in the beta testing.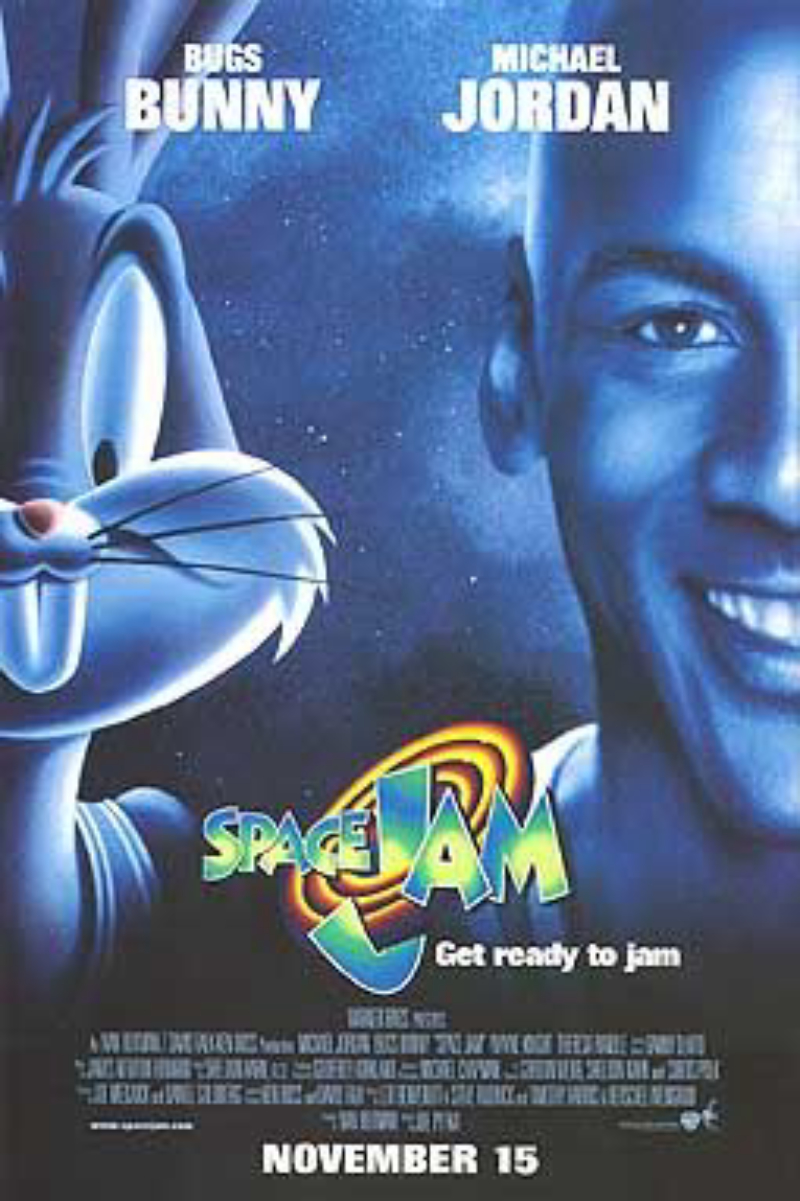 Space Jam
Space Jam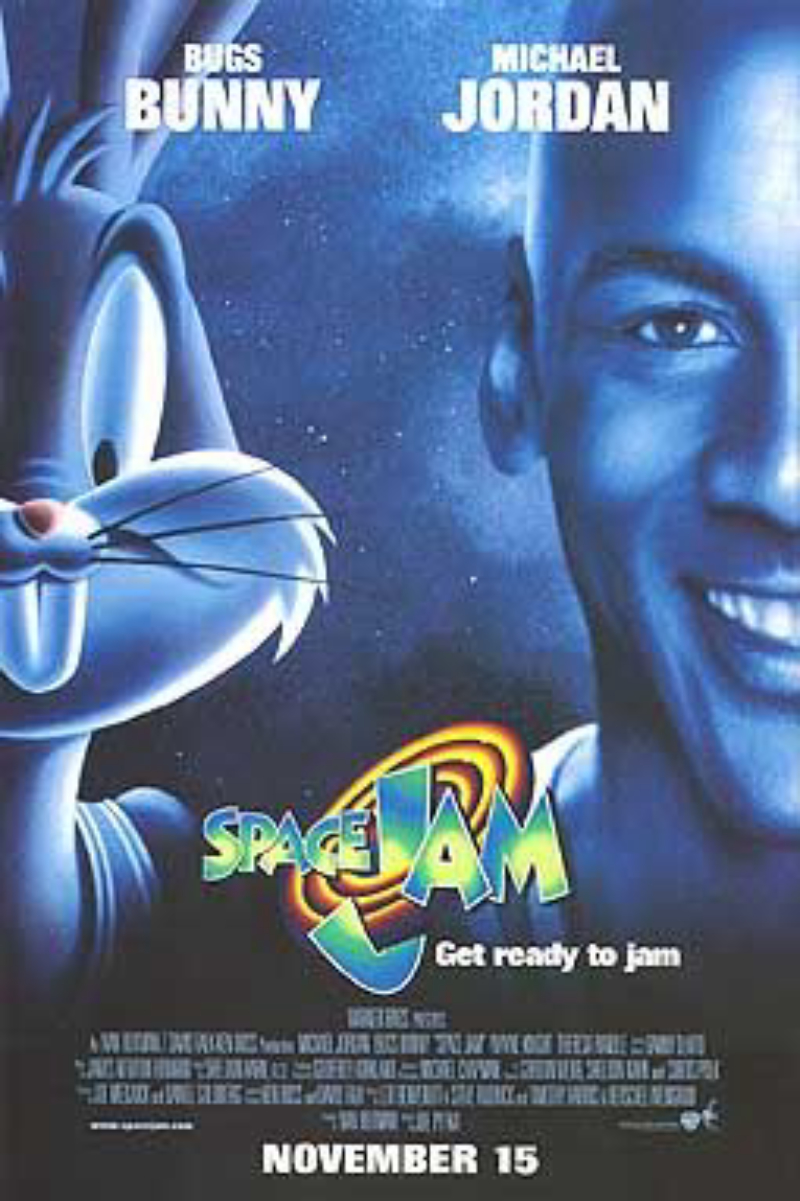 Space Jam

Directed by

Joe Pytka

Produced by

Written by

Based on

Looney Tunes

by

Warner Bros.

Starring

Music by

James Newton Howard

Cinematography

Michael Chapman

Edited by

Sheldon Kahn

Distributed by

Warner Bros. Pictures

88 minutes

Country

United States

Language

English

Budget

$80 million

[1]

Box office

$230.4 million

[2]
Space Jam is a 1996 American live-action/animated sports comedy film directed by Joe Pytka. Starring basketball player Michael Jordan,[3] the film presents a fictionalized account of what happened between Jordan's initial retirement from the NBA in 1993 and his comeback in 1995, in which he is enlisted by the Looney Tunes to help them win a basketball match against a group of aliens who want to enslave them for their amusement park.
Released theatrically by Warner Bros. Pictures through the Warner Bros. Family Entertainment label on November 15, 1996,[4] Space Jam received mixed reviews from critics for its merits of combining Jordan and his profession with the Looney Tunes characters, while the live-action and animated mix especially the animated basketball scenes, Jordan's performance and faithful interpretations of the Looney Tunes were praised. The film was a box office success, opening at No. 1 in the North American box office and grossing over $230 million worldwide, becoming the highest-grossing basketball film of all time.
A sequel, titled Space Jam 2 directed by Malcolm D. Lee and starring LeBron James, is scheduled for release on July 16, 2021.[5]
Space Jam

Directed by

Joe Pytka

Produced by

Written by

Based on

Looney Tunes

by

Warner Bros.

Starring

Music by

James Newton Howard

Cinematography

Michael Chapman

Edited by

Sheldon Kahn

Distributed by

Warner Bros. Pictures

88 minutes

Country

United States

Language

English

Budget

$80 million

[1]

Box office

$230.4 million

[2]
In 1973, a young Michael Jordan tells his father that he wants to go to The University of North Carolina at Chapel Hill to play in the championship team, then go to the NBA. A compilation of highlights from Jordan's basketball career from his high school years to his years with the Chicago Bulls, is followed by an excerpt from the 1993 press conference in which Jordan announced his retirement from professional basketball, to pursue a career in baseball, in which Jordan is popular, but less skilled.
Meanwhile, in outer space, the amusement park Moron Mountain faces decline. Its owner, Mr. Swackhammer, sends his diminutive minions, the Nerdlucks, to Earth to abduct the Looney Tunes as a new attraction. Upon the Nerdlucks' arrival, Bugs Bunny and the other Looney Tunes take advantage of the Nerdlucks' small stature and challenge them to a game of basketball. Through a cursory course on the definition of basketball, the Nerdlucks learn that the sport's best players are employed by the NBA, and accept the proposal. After stealing the talents of NBA players Charles Barkley, Shawn Bradley, Patrick Ewing, Larry Johnson and Muggsy Bogues, the Nerdlucks transform themselves into the large, muscular and talented Monstars, which prompts Bugs to seek professional aid.
While golfing with Bill Murray and Larry Bird and his personal assistant, Stan Podolak, Jordan is suddenly lassoed down a hole and into the Looney Tunes' world. Bugs explains the situation to Jordan, whom hope is placed on as one of the best basketball players in the world. Although Jordan is initially reluctant, he agrees to play after a confrontation with the Monstars insults his pride. He sends Bugs and Daffy back to his house to obtain his basketball gear, where Stan sees them and follows them back to Loony Tune land, where Michael reluctantly agrees to let him help. Meanwhile, the sudden incapacity of the five NBA players leads to worldwide panic that results in the NBA season ending early. They try to restore their skills through practice, hospitalization, therapy and prayer, but to no avail. On the day of the match, the Monstars dominate the first half, sinking the Looney Tunes' morale. Stan overhears about how the Monstars obtained their talent and informs Jordan. Bugs and Jordan rally the team and dominate the third quarter using old-school gags and Acme weaponry. During a timeout, Jordan raises the stakes with Swackhammer: a win by the Looney Tunes would require the Monstars returning their stolen talents while a win by the Monstars would earn Swackhammer Jordan as a new attraction for his amusement park.
With ten seconds left in the game, the Looney Tunes are down by one point, and one player, due to most of them being injured from the Monstars' rough playing.
Bill Murray shows up in a surprise move, and is recruited to fill the spot.
In the final seconds, Murray pulls off some impressive moves to help Jordan gain the ball, Jordan jumps for a dunk shot but is grabbed by the Monstars and pulled back.
Remembering a remark from Bugs that cartoon physics apply to him, he extends his arm and scores the winning points, making the Looney Tunes the winner of the match.
Seeing the Monstars being reprimanded by Swackhammer, Jordan helps them realize that they only listened to him because they were smaller.
The Monstars encase Swackhammer in a rocket and send him back to his amusement park.
Giving up their stolen talent, the Nerdlucks are recruited into the Looney Tunes ensemble and drop off Jordan at his next baseball game.
Later, Jordan visits the incapacitated basketball players and returns their talent, to which the players provoke a reluctant Jordan into participating in a three-on-three match.
Two years later in 1995, Jordan returns to the Chicago Bulls to resume his basketball career.
Billy West as Bugs Bunny and Elmer Fudd

Dee Bradley Baker as Daffy Duck, Taz Devil, Road Runner and Toro Bull

Danny DeVito as Mr. Swackhammer, the main antagonist, the proprietor of the intergalactic theme park "Moron Mountain" who seeks new attractions to save his failing business.

Bob Bergen as Cdr. Marvin Martian, Porky Pig, Tweety Bird, Hubie Rat and Bertie Mouse

Bill Farmer as Foghorn Leghorn, Yosemite Sam and Sylvester Cat

Maurice LaMarche as Pepé le Pew Skunk

June Foray as Granny Webster

Kath Soucie as Lola Bunny, a female rabbit who plays for the Tune Squad. Lola is a new character introduced in this film.

Frank Welker as Charles, Michael's pet bulldog who menaces Bugs and Daffy when they arrive at Michael's house.

Darnell Suttles as Pound (Orange Monstar) Jocelyn Blue as Nerdluck Pound

Steve Kehela as Blanko (Blue Monstar) Charity James as Nerdluck Blanko

Joey Camen as Bang (Green Monstar) June Melby as Nerdluck Bang

Dorian Harewood as Bupkus (Purple Monstar) Catherine Reitman as Nerdluck Bupkus

T. K. Carter as Nawt (Red Monstar) Colleen Wainwright as Nerdluck Nawt
The soundtrack sold enough albums to be certified as 6-times Platinum.[7] It also served as a high point for musical artist R. Kelly, whose song "I Believe I Can Fly" not only was a hit, but earned him two Grammy Awards.[8] Other tracks included a cover of Steve Miller Band's "Fly Like an Eagle" (by Seal), "Hit 'Em High (The Monstars' Anthem)" (by B-Real, Busta Rhymes, Coolio, LL Cool J, and Method Man), "Basketball Jones" (by Barry White & Chris Rock), "Pump up the Jam" (by Technotronic), "I Turn to You" (by All-4-One) and "For You I Will" (by Monica). The film's title song was performed by the Quad City DJ's.
Warner Home Video first released the film on VHS and LaserDisc on March 11, 1997; and on DVD on March 24, 1997. The VHS tape was reprinted and re-released through Warner Home Video's catalog promotions: The Warner Bros. 75th Anniversary Celebration (1998), Century Collection (1999), Century 2000 (2000) and Warner Spotlight (2001). The film was re-released on DVD on July 25, 2000. On October 28, 2003, the film was released as a 2-disc, special-edition DVD including newly made extras such as a commentary track and a featurette. On October 2, 2007, Space Jam for UMD Video for PSP was released. On November 6, 2007, Space Jam was featured as one of four films in Warner Home Video's 4-Film Favorites: Family Comedies collection DVD (the other three being Looney Tunes: Back in Action—which was released seven years after Space Jam, Osmosis Jones and Funky Monkey). On February 8, 2011, the first disc of the previous 2-disc edition was released by itself in a film-only edition DVD and on October 4, the film was released for the first time in widescreen HD on Blu-ray which, save for an hour of classic Looney Tunes shorts, ported over all the extras from the 2003 2-disc edition DVD. A double DVD and Blu-ray release, paired with Looney Tunes: Back in Action, was released on June 7, 2016.[10] On November 15, 2016, Warner Bros. released another Space Jam Blu-ray to commemorate the film's 20th anniversary.
Space Jam later expanded into a media franchise which includes comics, video games and merchandise. The Space Jam franchise is estimated to have generated $6 billion in total revenue.[11]
The film was adapted into a graphic novel published by DC Comics through their imprint "Warner Bros Reading" that published the "Looney Tunes", "Tiny Toon Adventures", "Animaniacs" and "Pinky & The Brain" monthly comic books. The special issue was written by David Cody Weiss and drawn by Leonardo Batic.[12]
1997 ASCAP Film and Television Music Awards Won: Most Performed Songs from Motion Pictures (Diane Warren for the song "For You I Will") Won: Top Box Office Films (James Newton Howard)

1997 Annie Awards Won: Best Individual Achievement: Technical Achievement Nomination: Best Animated Feature Nomination: Best Individual Achievement: Directing in a Feature Production (Bruce W. Smith and Tony Cervone) Nomination: Best Individual Achievement: Producing in a Feature Production (Ron Tippe)

1997 Grammy Awards Won: Best Song Written Specifically for Motion Picture or for Television (R. Kelly for the song "I Believe I Can Fly")

1997 MTV Movie Awards Nomination: Best Movie Song (R. Kelly for the song "I Believe I Can Fly")

1997 Satellite Awards Nomination: Best Motion Picture- Animated or Mixed Media (Daniel Goldberg, Joe Medjuck, Ivan Reitman)

1997 World Animation Celebration Won: Best Use of Animation in a Motion Picture Trailer

1997 Young Artist Awards Nomination: Best Family Feature- Animation or Special Effects
The Monstars make a cameo in the Animaniacs and Pinky and the Brain episode "Star Warners". Jordan himself, who was a spokesman for MCI Communications before the film was made, would appear with the Looney Tunes characters (as his "Space Jam buddies") in several MCI commercials for several years after the film was released before MCI merged with WorldCom and subsequently Verizon Communications.[24] Bugs had previously appeared with Jordan as "Hare Jordan" in Nike ads for the Air Jordan VII and Air Jordan VIII.[25][26] In 2013, Yahoo! Screen released a parody of ESPN's 30 for 30 about the game shown in the film. The short dates the game as taking place on November 17, 1995, although Jordan's real-life return to basketball occurred on March 18.[27]