Shaykh Nurjan Mirahmadi
4.06K VIEWS
Everipedia is now
IQ.wiki
- Join the
IQ Brainlist
and our
Discord
for early access to editing on the new platform and to participate in the beta testing.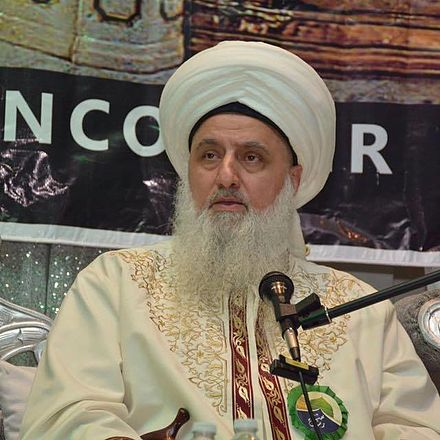 Shaykh Nurjan Mirahmadi
Shaykh Nurjan Mirahmadi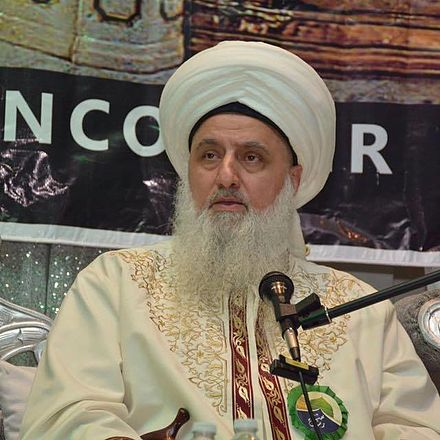 Born

March 21

Residence

Vancouver, Canada

Occupation

Spiritual Master, Islamic Spirituality and Realities (Haqiqa) Expert

Known for

Classical Islam, Realities (Haqiqa) and Islamic Spirituality (Tasawwuf)

Religion

Sunni

, Shafi'i Islam, Ahlul Sunnah Wa Jahmmah

Website
Mawlana As-Sayed Shaykh Nurjan Mirahmadi (March 21, 1965; Dhul Al-Qi'dah 17, 1384 AH), commonly known as Mawlana Shaykh Nurjan, is an American-Canadian Sunni Muslim Shaykh and is a world-renowned scholar in Classical Islam, Islamic spirituality (Tasawwuf) and Realities (Haqiqa).
Born

March 21

Residence

Vancouver, Canada

Occupation

Spiritual Master, Islamic Spirituality and Realities (Haqiqa) Expert

Known for

Classical Islam, Realities (Haqiqa) and Islamic Spirituality (Tasawwuf)

Religion

Sunni

, Shafi'i Islam, Ahlul Sunnah Wa Jahmmah

Website
Mawlana Shaykh Nurjan Mirahmadi studied Business Management at the University of Southern California.
Then, he established and managed a successful healthcare company and imaging centers throughout Southern California.
Having achieved business success at a remarkably young age, As-Sayed Nurjan MirAhmadi shifted his focus from the private sector to world of spirituality.
In 1994 he pursued his religious studies and devoted himself to be of service to those in needy.
He combined his personal drive and financial talents to work for the less fortunate and founded an international relief organization, a spiritual healing center, and a religious social group for at risk youth.
In 1995, he became a protégé of Mawlana Shaykh Hisham Kabbani for in-depth studies in Islamic spirituality. He studied and accompanied Shaykh Kabbani on many tours and learned about Islamic spiritual practices around the world. Together with Shaykh Kabbani, he has established a number of other Islamic educational organizations and relief programs throughout the world.
Shaykh Nurjan Mirahmadi, has received written ijazas (authorization) to be a Spiritual guide, from the two of the World Leaders of the Nashbandi Nazimiya Tariqa (a school for Islamic Spirituality); Sultan al-Awliya Shaykh Muhammad Nazim al-Haqqani and Mawlana Shaykh Muhammad Hisham Kabbani.
He is authorized to teach, guide, and counsel religious students around the world to Islamic Spirituality.
Shaykh Nurjan Mirahmadi has taught and traveled extensively throughout the world from Uzbekistan to Singapore, Thailand, Indonesia, Cyprus, Argentina, Peru, and North America.
He teaches the spiritual sciences of Classical Islam, including meditation (tafakkur), subtle energy points (lata'if), Islamic healing, the secrets of letters and numbers (ilm huroof), disciplining the self (tarbiyya), and the process of self-realization (ma'arifat). He teaches the Muslim communities, the prophetic ways of being kind, respectful and live in harmony with people. He emphasis on good manners and respect, and often reminds his students that the spiritual journey begins from within and "You can't give what you don't have."
One of Shaykh as-Sayyid Nurjan's greatest accomplishments has been the worldwide dissemination of the spiritual teachings of Classical Islam through his books and online presence.
The Prophet Muhammad [s] has told us, "Speak to people according to their levels."
In an era of social media, Shaykh as-Sayyid Nurjan's ability to reach a new generation of spiritual seekers through the Internet has been remarkable.
His NurMuhammad.com website alone has over 1,000 unique visitors each day, and since its inception has seen more than 150,000 downloads of the book "Dailal Khairat", 1,150,000 free downloads of Naqshbandi Muraqabah, and another 500,000 downloads of the Naqshbandi Book of Devotions (Awrad), as well as many more articles.
As of Sept 2015, his Facebook pages "Shaykh Sayed Nurjan Mirahmadi" and "Nur Muhammad" combined have over 200,000 likes.
Furthermore, his YouTube Channel "The Muhammadan Way" has over 1 million views, and his Google page, Shaykh Sayed Nurjan Mirahmadi has over 2.7 million views.
Shaykh Mirahmadi focuses on the worldwide social media presence working on ways to bring knowledge to all seekers around the world.
In 2015 he launched an Online University called SimplyIman.org, to spread these traditional Spiritual Islamic teachings even further and make it accessible to all seekers around the world.
For over 20 years, Shaykh As-Sayed Nurjan has dedicated his life to spreading the true Islamic teachings of love, acceptance, respect and peace.
Shaykh Mirahmadi has established several non-profit organizations since early 90s such as an international relief organization and a religious social group for at risk youth.
Over the past eight years, Shaykh Nurjan has founded numerous educational and charitable organizations.
In the Greater Vancouver region alone, he has established the following:
Ahle Sunnah wal Jama of BC – this organization is a resource for authentic content, books, and articles from the Quran & Sunnah from around the world. It works in collaboration with the well-known international organizations, Al Azhar University of Cairo, Dar al Ifta of Egypt and Islamic Supreme Council of North America.
Hub e Rasul ﷺ Conference – monthly Milad & Mehfil-e-Zikr events are organized and are currently being held at the Fiji Islamic Center. The aim is to revive the teachings of the Quran and Sunnah by celebrating holy events in true Islamic spirit (Isra wal Miraj, Laylatul Bara, Laylatul Qadr, Milad un-Nabi etc.)
Naqshbandi Islamic Centre of Vancouver – this Centre is a place for people of all faiths and beliefs to attend weekly zikr programs (circles of remembrance) three times a week (Thursdays, Fridays, and Saturdays). Shaykh Nurjan teaches above and beyond the principles of Islam including the deep realities of maqam al-iman (belief) and maqam al-ihsan (excellence of character).
SMC – an outreach organization that spreads teachings to the Western audience including concepts such as meditation, charity, and reaches out to other faiths to increase peace, love, and acceptance in the interfaith environment.
Simply Iman Cloud University – an international online platform allowing people from around the world to pursue studies in various aspects of faith and spirituality from a classical Islamic perspective. Students have the opportunity to learn at their own pace and engage in an open dialogue with a teacher in real-time.
Fatima Zahraa Helping Hand – this charity organization runs a food program every two weeks which feeds more than 500 less fortunate people in the downtown eastside of Vancouver. It also collects clothing and non-perishable food items for the BC Muslim Food Bank and the Burnaby Homeless Shelter.
Shaykh Nurjan's sincere mission is to spread the love of Sayedena Muhammad ﷺ throughout the city for Islamic communities, especially for families and children.
Shaykh Nurjan being raised in the United States, is very fluent in the English language and thus appeals to Western and Global audience who are eager to learn more about Islam and spirituality.
Furthermore, his mastery of the English language allows him to use humor extensively in his lectures which is very rare and unique among Islamic scholars.
He's well known to also use scientific analogies to help students understand the spiritual world in comparison to the physical world.
"Those whose souls have been kissed by Divinely Presence, are the souls that are inspired to seek that (divine) reality."

"The perfection of our faith is through the love of Sayidina Muhammad(saw)."

"Khedmat (Being of Service) ends Hypocrisy"

"Every Intention Will Be Judged Except The way of LOVE."

"People tend to have less patience for things they don't understand."

"Don't focus on that which is perishable (physicality), focus on your soul which is eternal."

"When all the desires are crushed, what's left is faith."

"Iman is Love of Sayyidina Muhammad (saws), Not Love of Self"

"Brick by brick Shaitan (Satan) takes away faith, until they are faithless people.

Take away the light and now you have darkness."

"The Yazid in You, always comes Against Loving Prophet (saws)."

"Any time name of Muhammad (s) is mentioned, tremendous Mercy comes down.

Allah wants creation to be dressed by it"

"Everyone sees your character except You"

"Everything about ourselves and everything within ourselves, is a sign from the divinely presence."

"Don't Be a Seed, Be a Tree that Gives Fruits."

"Instead of thinking what we want out of life, sit and contemplate on what Allah (AJ) has given you in life.

Allah (aj) says, I have given you: The love of My most beloved (Muhammad (saw) The path of Faith.

The tools of perfection for your eternal soul.

And I have put you amongst the lovers of Muhammad (saw)"

"Allah has created us to reach our eternal reality."

"When we draw near to Allah by means of fasting or sacrifice, Allah will save us from our difficulties, sicknesses and problems."

"Everyday ask, Ya Rabbi (O my lord), what can I do to serve the most honored, the most beloved, the most praised one in your divine presence, Sayyidina Muhammad (saws)."