Everipedia is now
IQ.wiki
- Join the
IQ Brainlist
and our
Discord
for early access to editing on the new platform and to participate in the beta testing.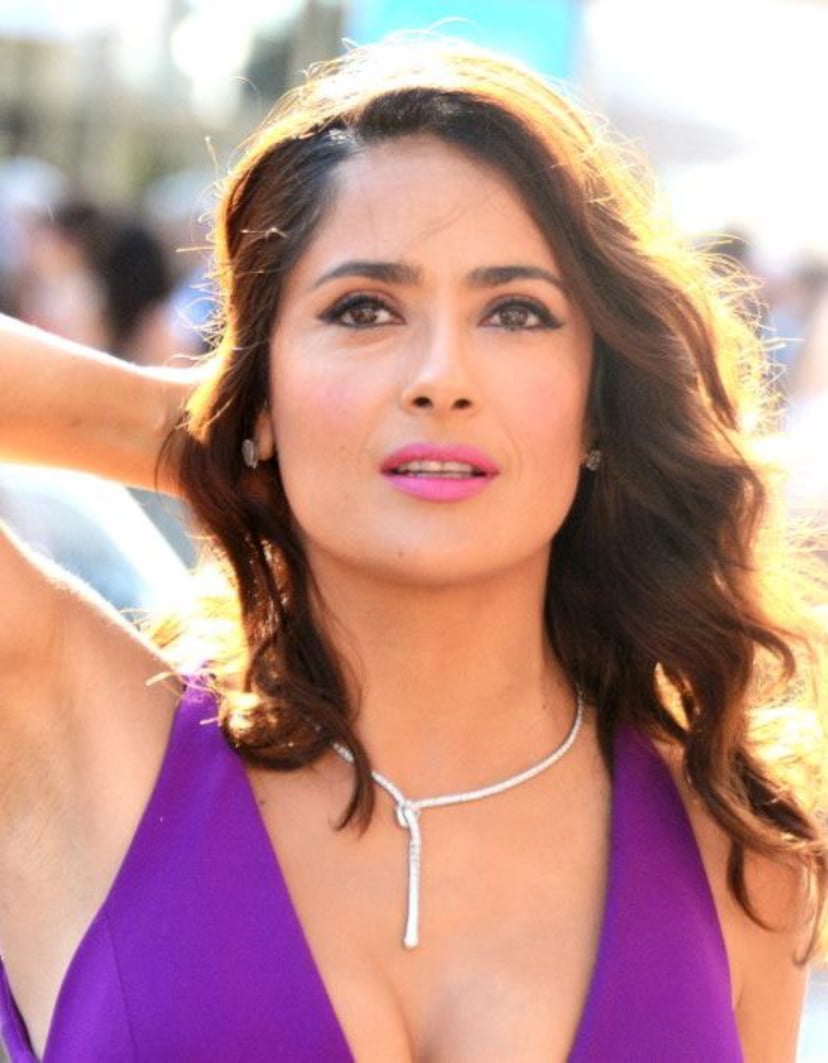 Salma Hayek
Salma Hayek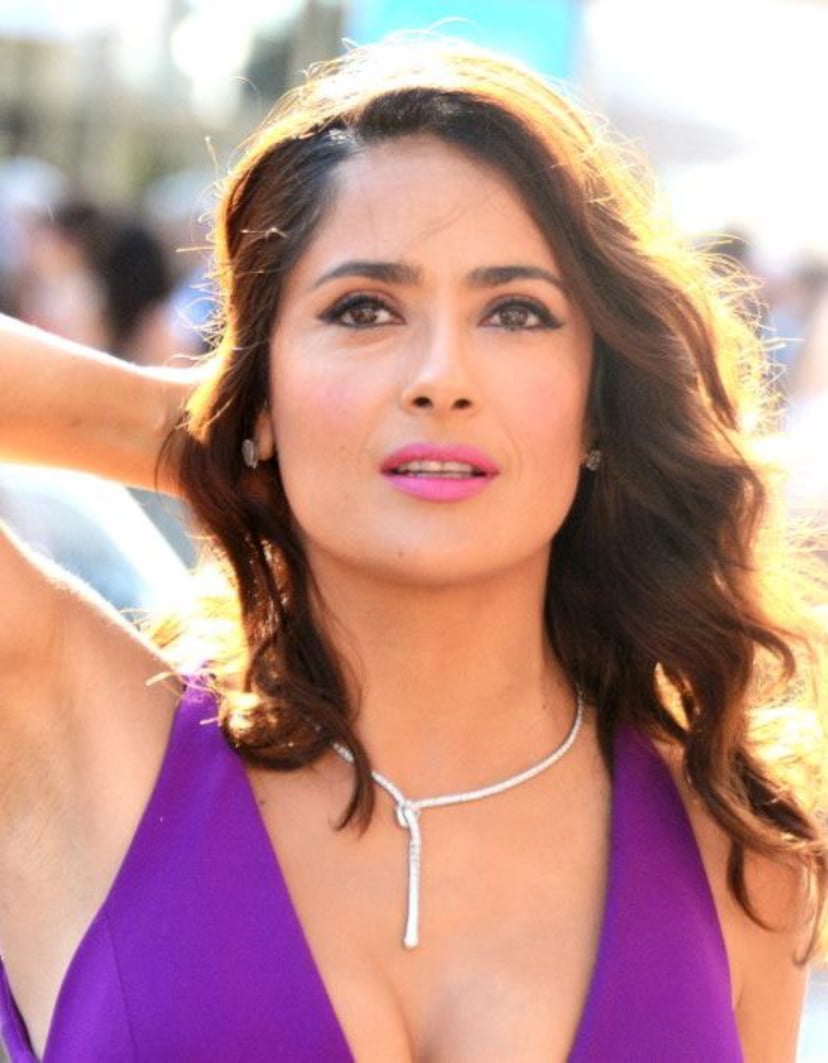 Salma Hayek Pinault (/ˈhaɪɛk/,[3] Spanish: [ˈsalma ˈxaʝek]; born Salma Valgarma Hayek Jiménez; September 2, 1966)[4][5][6] is a Mexican and American film actress and producer. She began her career in her native Mexico starring in the telenovela Teresa and starred in the film El Callejón de los Milagros (Miracle Alley) for which she was nominated for an Ariel Award. In 1991, Hayek moved to Hollywood and came to prominence with roles in films such as Desperado (1995),[7] From Dusk till Dawn (1996), Wild Wild West, and Dogma (both 1999).
Her breakthrough role was in the 2002 film Frida, as Mexican painter Frida Kahlo, for which she was nominated for Best Actress for the Academy Award, BAFTA Award, Golden Globe Award, and Screen Actors Guild Award. This movie received widespread attention and was a critical and commercial success.
She won the Daytime Emmy Award for Outstanding Directing in a Children/Youth/Family Special for The Maldonado Miracle in 2004, and received a Primetime Emmy Award nomination for Outstanding Guest Actress in a Comedy Series after guest-starring in the ABC television comedy-drama Ugly Betty in 2007. She also guest-starred on the NBC comedy series 30 Rock from 2009 to 2013. In 2017, she was nominated for an Independent Spirit Award for her role in Beatriz at Dinner.[8]
Hayek's recent films include Grown Ups (2010), Puss in Boots (2011), Grown Ups 2 (2013), Tale of Tales (2015) and The Hitman's Bodyguard (2017).
Hayek in 1998
Salma Hayek Jiménez was born in Coatzacoalcos, Veracruz, Mexico.[9] Her father, Sami Hayek Domínguez, is Lebanese Mexican,[10] hailing from the city of Baabdat, Lebanon, a city Salma and her father visited in 2015 to promote her movie Kahlil Gibran's The Prophet.[11][12][13][14] He owns an industrial-equipment firm and is an oil company executive in Mexico,[9] who once ran for mayor of Coatzacoalcos.[15][16] Her mother, Diana Jiménez Medina, is an opera singer and talent scout, and is Mexican of Spanish descent. In an interview in 2015 with Un Nuevo Día while visiting Madrid, Hayek described herself as fifty-percent Lebanese and fifty-percent Spanish, stating that her grandmother/maternal great-grandparents were from Spain.[10][17][18][19] Her younger brother, Sami (born 1972), is a furniture designer.[9]
Hayek was raised in a wealthy, devout Roman Catholic family,[20] and at age 12 was sent to the Academy of the Sacred Heart in Grand Coteau, Louisiana.[10] In school, she was diagnosed with dyslexia and ADHD.[21][22] She attended university at the Universidad Iberoamericana where she studied International Relations.[10] In a 2011 interview with V magazine, Hayek mentioned that she was once an illegal immigrant in the United States, although it was not for a long period of time.[23]
At the age of 23, Hayek landed the title role in Teresa (1989), a successful Mexican telenovela that made her a star in Mexico.[24] In 1994, Hayek starred in the film El Callejón de los Milagros (Miracle Alley), which has won more awards than any other movie in the history of Mexican cinema. For her performance, Hayek was nominated for an Ariel Award.[25]
Early Hollywood acting work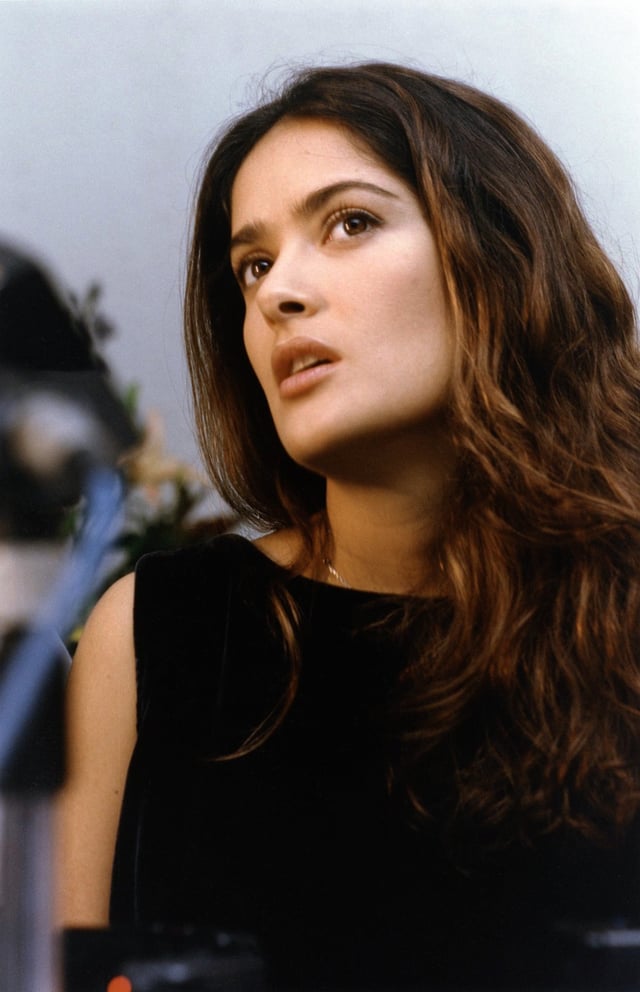 Hayek at the 2004 Guadalajara International Film Festival
Hayek moved to Los Angeles, California, in 1991 to study acting under Stella Adler.[26] She had limited fluency in English, and dyslexia.[27] Robert Rodriguez, and his producer and then-wife, Elizabeth Avellan, soon gave Hayek a starring role opposite Antonio Banderas in 1995's Desperado.[10] She followed her role in Desperado with a brief role as a vampire queen in From Dusk till Dawn, in which she performed an erotic table-top snake dance.[28]
Hayek had a starring role opposite Matthew Perry in the 1997 romantic comedy Fools Rush In. In 1999, she co-starred in Will Smith's Wild Wild West. She also played a supporting role in Kevin Smith's Dogma film as Serendipity.[10] In 2000, Hayek had an uncredited acting part opposite Benicio del Toro in Traffic.[29] In 2003, she reprised her role from Desperado by appearing in Once Upon a Time in Mexico, the final film of the Mariachi Trilogy.[30]
Year

Film

Role

Notes

1993

Mi Vida Loca

Gata

1994

Roadracers

Donna

1995

El Callejón de los Milagros

Alma

(Midaq Alley) Spanish-language
Nominated–Ariel Award for Best Actress[25]
Desperado

Carolina

Nominated–Saturn Award for Best Supporting Actress




Nominated–MTV Movie Award for Best Kiss (shared with Antonio Banderas)


Also sang Quedate Aquí in film
Fair Game

Rita

Four Rooms

TV Dancing Girl

1996

From Dusk till Dawn

Santanico Pandemonium

Follow Me Home

Betty

Fled

Cora

1997

Fools Rush In

Isabel Fuentes

Nominated–ALMA Award for Outstanding Actress in a Feature Film

Breaking Up

Monica

Sistole Diastole

Carmelita

1998

54

Anita

Nominated–ALMA Award for Outstanding Actress in a Feature Film

The Velocity of Gary

Mary Carmen

The Faculty

Nurse Harper

1999

Dogma

Serendipity

Nominated–Golden Raspberry Award for Worst Supporting Actress

El Coronel No Tiene Quien Le Escriba

Julia

(No One Writes to the Colonel) Spanish-language
Wild Wild West

Rita Escobar

Blockbuster Entertainment Award for Favorite Supporting Actress – Action




Nominated–ALMA Award for Outstanding Actress in a Feature Film




Nominated–Golden Raspberry Award for Worst Supporting Actress

2000

Timecode

Rose

Living It Up

Lola

Chain of Fools

Sergeant Meredith Kolko

Traffic

Rosario

Uncredited

2001

Hotel

Charlee Boux

In the Time of the Butterflies

Minerva Mirabal

Also executive producer




ALMA Award for Outstanding Actor/Actress in a Made for Television Movie or Miniseries




Nominated–Broadcast Film Critics Association Award for Best Actress in a Picture Made for Television

2002

Frida
Frida Kahlo

Also producer




Golden Camera for Best International Actress




Imagen Award for Best Actress – Film




Nominated–Academy Award for Best Actress




Nominated–BAFTA Award for Best Actress in a Leading Role




Nominated–Boston Society of Film Critics Award for Best Actress




Nominated–Broadcast Film Critics Association Award for Best Actress




Nominated–Chicago Film Critics Association Award for Best Actress


Nominated–Golden Globe Award for Best Actress in a Motion Picture – Drama


Nominated–Satellite Award for Best Actress – Motion Picture Drama




Nominated–Screen Actors Guild Award for Outstanding Performance by a Female Actor in a Leading Role


Also sang La Bruja, a Mexican folk song, with band Los Vega

2003

Spy Kids 3-D: Game Over

Francesca Giggles

Once Upon a Time in Mexico

Carolina

Also sang Siente mi Amor (Feel my love) which played over end credits
V-Day: Until the Violence Stops

Herself

2004

After the Sunset

Lola Cirillo

2006

Ask the Dust

Camilla Lopez

Bandidas

Sara Sandoval

Lonely Hearts

Martha Beck

Nominated–San Sebastián International Film Festival Award for Best Actress

2007

Across the Universe

Bang Bang Shoot Shoot Nurses

Also sang a cover of Beatles song "Happiness Is A Warm Gun" on the soundtrack as duet partner of Joe Anderson

2009

Cirque du Freak: The Vampire's Assistant

Madame Truska

2010

Grown Ups

Roxanne

2011

Puss in Boots

Kitty Softpaws (voice)

Nominated–Teen Choice Award for Choice Movie Actress: Action

Americano

Lola

Nominated–San Sebastián International Film Festival Award for Best Actress

La chispa de la vida

Luisa

Nominated–Goya Award for Best Actress

2012

The Pirates! In an Adventure with Scientists!

Cutlass Liz (voice)

Savages

Elena

Here Comes the Boom

Bella Flores

2013

Grown Ups 2

Roxanne Chase-Feder

Nominated–Golden Raspberry Award for Worst Supporting Actress

2014

Muppets Most Wanted[85]

Herself

Kahlil Gibran's The Prophet

Kamila (voice)

Also producer

Everly

Everly

Direct-to-video

Some Kind of Beautiful

Olivia

2015

Tale of Tales

Queen of Longtrellis

Septembers of Shiraz

Farnez

Also executive producer, direct-to-video

2016

Sausage Party

Theresa Taco (voice)

2017

Beatriz at Dinner

Beatriz

Nominated–Independent Spirit Award for Best Female Lead [86]
How to Be a Latin Lover

Sara

The Hitman's Bodyguard

Sonia Kincaid

2018

The Hummingbird Project

Eva Torres

2019

Drunk Parents

Nancy

2020

Like a Boss

Claire Luna

Post-production

The Eternals

Ajak

Filming

TBA

Molly

Dolores

Post-production

TBA

The Hitman's Wife's Bodyguard

Sonia Kincaid

Post-production
Year

Title

Role

Notes

1988

Un Nuevo Amanecer

Fabiola

Spanish-language telenovela

1989

Teresa

Teresa

Spanish-language telenovela

1992

Dream On

Carmela

October 10; episode "Domestic Bliss"

1993

The Sinbad Show

Gloria Contreras

Recurring character

1994

Roadracers

Donna

El vuelo del águila

Juana Cata

Spanish-language telenovela

1997

The Hunchback

Esmeralda

Nominated–ALMA Award for Outstanding Individual Performance in a Made-for-Television Movie or Mini-Series in a Crossover Role

Gente Bien

Teresa

Guest star; Spanish-language telenovela

1999

Action

Herself

Re-Enter the Dragon




Guest star

2001

In the Time of the Butterflies

Minerva Mirabal

Producer; feature




ALMA Award for Outstanding Actor/Actress in a Made for Television Movie or Miniseries




Nominated–Broadcast Film Critics Association Award for Best Actress in a Picture Made for Television

2003

The Maldonado Miracle

Feature; producer, director. Daytime Emmy Award for Outstanding Directing in a Children/Youth/Family Special

Saturday Night Live

Guest host

March 15

2006–2010

Ugly Betty

Sofia Reyes / Nurse in Telenovela

Executive producer (85 episodes) and guest star




with 15 cameo episodes




Nominated–Primetime Emmy Award for Outstanding Guest Actress in a Comedy Series (2007)




Nominated–Primetime Emmy Award for Outstanding Comedy Series (2007)




Nominated–Producers Guild of America Award for Best Episodic Comedy (2007)

2009–2013

30 Rock

Elisa Pedrera

7 episodes




Guest star