Punta del Este
5.86K VIEWS
Everipedia is now
IQ.wiki
- Join the
IQ Brainlist
and our
Discord
for early access to editing on the new platform and to participate in the beta testing.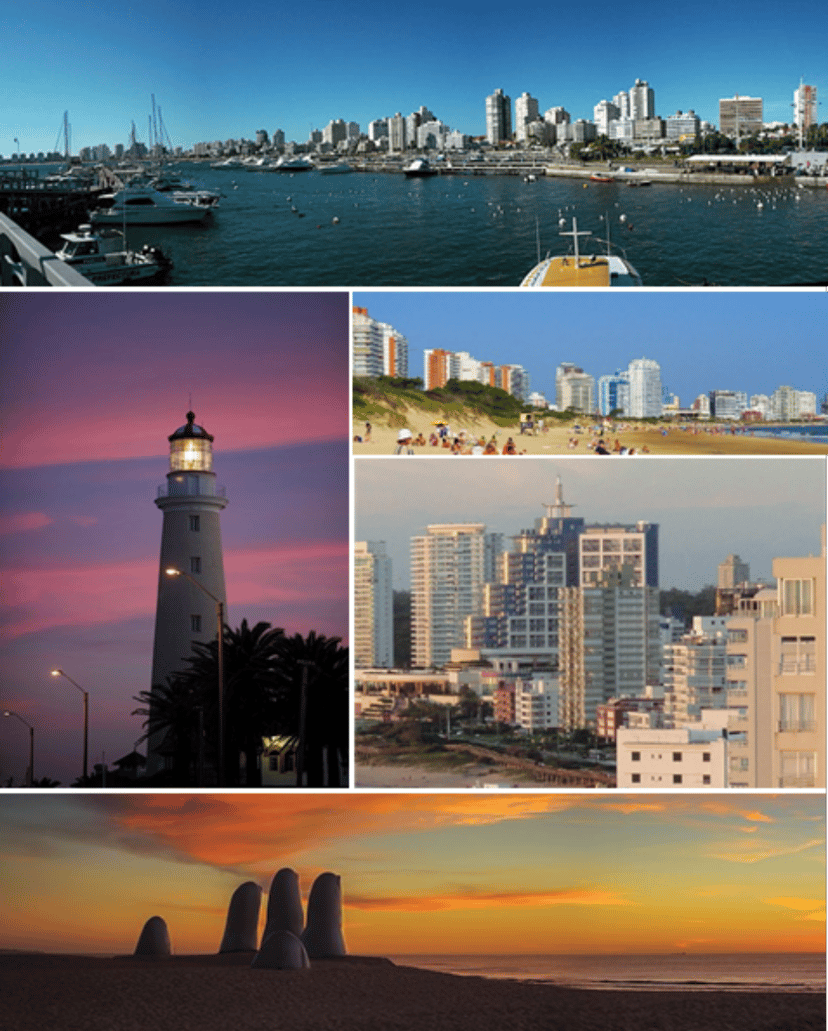 Punta del Este
Punta del Este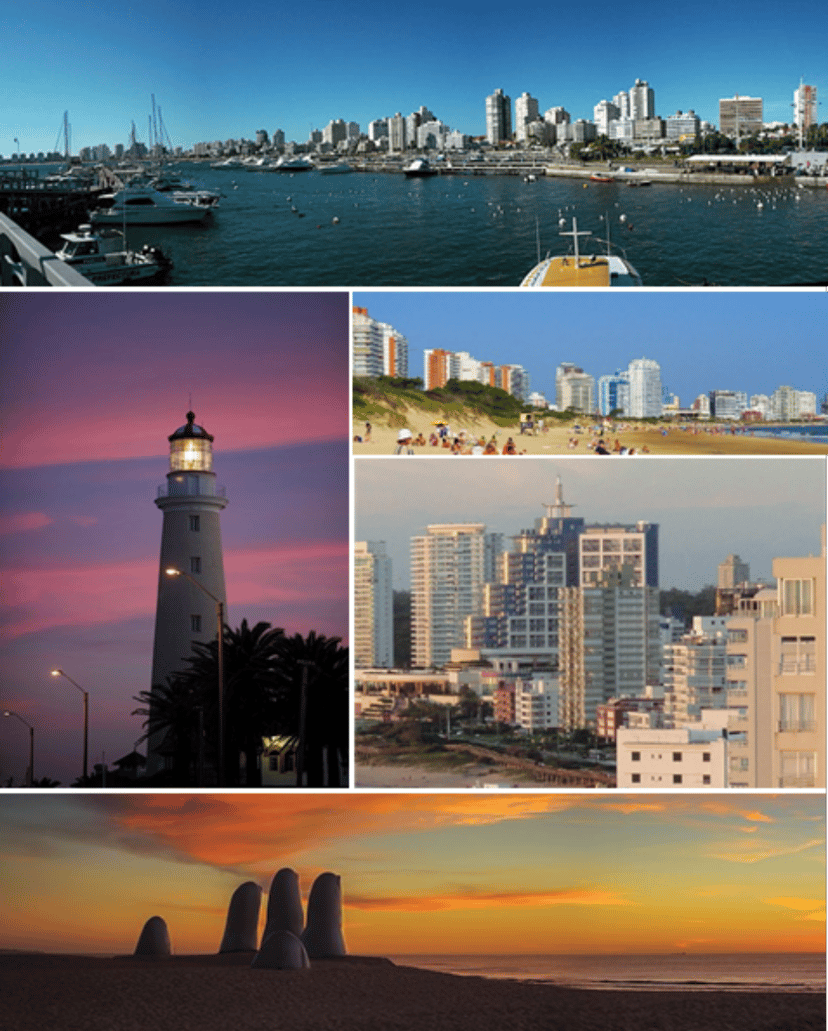 Coordinates:

34°58′0″S 54°57′0″W [34]
Country

Uruguay

Department

Maldonado

Founded

1907

Government

 • Mayor (Alcalde)

Enrique Antía (NP)

Area

 • Total

20.35 km

2

(7.86 sq mi)

Population

 • Total

9,277

Demonym(s)
puntaesteño (m)
puntaesteña (f)

Time zone

UTC−3

postal code

Dial plan

+598 42 (+6 digits)

Climate

Cfb
Punta del Este (Spanish pronunciation: [ˈpunta ðel ˈeste]) is a city and resort on the Atlantic Coast in the Maldonado Department of southeastern Uruguay. Punta del Este is also the name of the municipality to which the city belongs. Although the city has a year-round population of about 9,280,[1] the summer season greatly adds to this number.
Popular landmarks in the area include the La Mano giant sculpture, the Santorini-styled complex Casapueblo, the Enjoy Punta del Este hotel and casino complex, the chic neighbourhood of La Barra, the iconic Puente Garzón, Gorriti Island, Arboretum Lussich, and the Museum of the Sea. The Punta del Este World Trade Center complex is currently under construction.[5]
Coordinates:

34°58′0″S 54°57′0″W [34]
Country

Uruguay

Department

Maldonado

Founded

1907

Government

 • Mayor (Alcalde)

Enrique Antía (NP)

Area

 • Total

20.35 km

2

(7.86 sq mi)

Population

 • Total

9,277

Demonym(s)
puntaesteño (m)
puntaesteña (f)

Time zone

UTC−3

postal code

Dial plan

+598 42 (+6 digits)

Climate

Cfb
The city is located on the intersection of Route 10 with Route 39, southeast of the department capital Maldonado and about 140 kilometres (87 mi) east of Montevideo.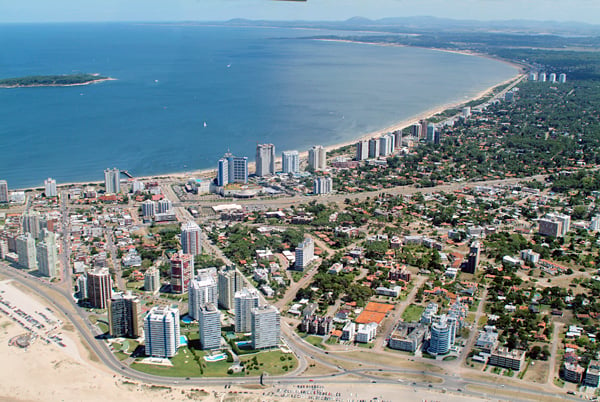 Chiverta Ave. from Playa Brava (Rough Sea Beach) to Playa Mansa (back). Gorriti Island.
| Year | Population |
| --- | --- |
| 1963 | 5,272 |
| 1975 | 7,197 |
| 1985 | 6,731 |
| 1996 | 8,294 |
| 2004 | 7,298 |
| 2011 | 9,277 |
Argentines, Brazilians and Europeans are gradually choosing Punta del Este as their permanent residence. Some of the reasons are peace in the midst of nature and increasing educational offerings.[10]
Punta del Este has an oceanic climate (Cfb, according to the Köppen climate classification), with pleasant summers and cool winters. Because of the average temperature of the hottest month near 22 °C, the climate is close to a humid subtropical climate (Cfa).[11] It is similar to southeastern Australia.[12] The precipitation is evenly distributed throughout the year, with an average of 1,010 mm (40 in). The hottest month, February, has an average temperature of 21.7 °C (71.1 °F), and the coldest month, July, has an average of 11.5 °C (52.7 °F). The average yearly temperature is 16.4 °C (61.5 °F).
Climate data for Punta del Este (Península), elevation: 16 m, 1961–1990 normals

Month

Jan

Feb

Mar

Apr

May

Jun

Jul

Aug

Sep

Oct

Nov

Dec

Year

Record high °C (°F)

37.0




(98.6)

34.4




(93.9)

34.4




(93.9)

30.6




(87.1)

29.8




(85.6)

26.6




(79.9)

28.3




(82.9)

27.4




(81.3)

31.0




(87.8)

31.8




(89.2)

32.2




(90.0)

37.6




(99.7)

37.6




(99.7)

Average high °C (°F)

25.2




(77.4)

25.1




(77.2)

24.0




(75.2)

21.2




(70.2)

18.2




(64.8)

14.8




(58.6)

14.4




(57.9)

14.7




(58.5)

16.0




(60.8)

18.4




(65.1)

21.0




(69.8)

23.8




(74.8)

19.7




(67.5)

Daily mean °C (°F)

21.6




(70.9)

21.7




(71.1)

20.6




(69.1)

17.9




(64.2)

15.0




(59.0)

12.2




(54.0)

11.5




(52.7)

11.6




(52.9)

12.8




(55.0)

15.0




(59.0)

17.4




(63.3)

20.0




(68.0)

16.4




(61.5)

Average low °C (°F)

18.1




(64.6)

18.4




(65.1)

17.6




(63.7)

14.9




(58.8)

12.1




(53.8)

9.5




(49.1)

8.7




(47.7)

8.8




(47.8)

9.9




(49.8)

11.4




(52.5)

14.1




(57.4)

16.4




(61.5)

13.3




(55.9)

Record low °C (°F)

10.2




(50.4)

11.6




(52.9)

10.4




(50.7)

6.8




(44.2)

3.4




(38.1)

−0.2




(31.6)

1.4




(34.5)

1.4




(34.5)

1.6




(34.9)

4.0




(39.2)

7.4




(45.3)

7.0




(44.6)

−0.2




(31.6)

Average precipitation mm (inches)

75.4




(2.97)

84.8




(3.34)

79.3




(3.12)

84.0




(3.31)

91.4




(3.60)

80.3




(3.16)

90.3




(3.56)

93.9




(3.70)

93.1




(3.67)

85.0




(3.35)

86.8




(3.42)

66.6




(2.62)

1,010.9




(39.82)

Average precipitation days

8

9

9

9

9

10

10

9

9

9

8

8

107

Mean monthly sunshine hours

263.8

212.5

243.0

181.3

147.0

103.8

118.8

157.5

169.3

234.5

217.5

289.3

2,338.3

Source #1: WMO[13]
Source #2: NOAA (extremes, sun and mean temperature)[14]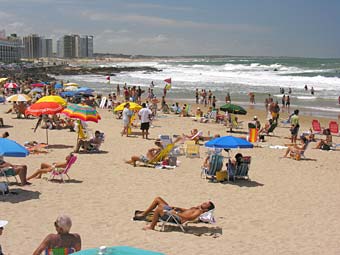 Playa El Emir.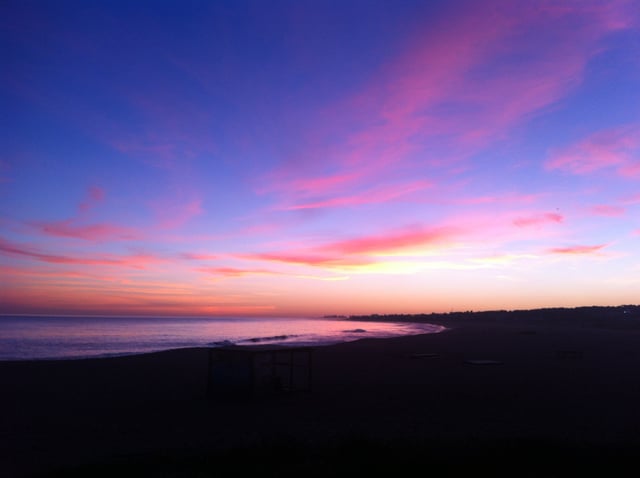 Manantiales Beach at the sunset
Punta del Este's scenic coastline is divided in two regions: Brava (Spanish for "fierce") and Mansa (Spanish for "tame"). The limit between the two marks the end of the Río de la Plata and the beginning of the Atlantic Ocean, and split is signaled by the Mano de Punta del Este, which the sculptor designed to warn swimmers about the danger of rough waves. Beaches on the Mansa side feature thick and golden sand, while on the Brava side the sand is white and fine. Every beach of the peninsula has public access.
La Barra is popular for nautical sports and fishing during the day. At later hours, La Barra becomes a central attraction for the younger generation. Starting from the end of December through to the second week of January, this location becomes a place for the local people as well as tourists to gather at the night life festivities. Other areas include the resort of El Tesoro, Montoya beach, Bikini beach and Manantiales beach. These beaches are a favourite spot for younger people as well as for many celebrities from both Uruguay and Argentina.
Once abundant, southern right whales are re-colonizing in the area,[15] which helped create a whale sanctuary off Latin America,[16] whose establishment had been prevented for near a decade by whaling nations like Japan. Unlike the majority of Uruguayan coasts, appearances of orcas have been documented in the area; most notably around Isla de Lobos.[17][18]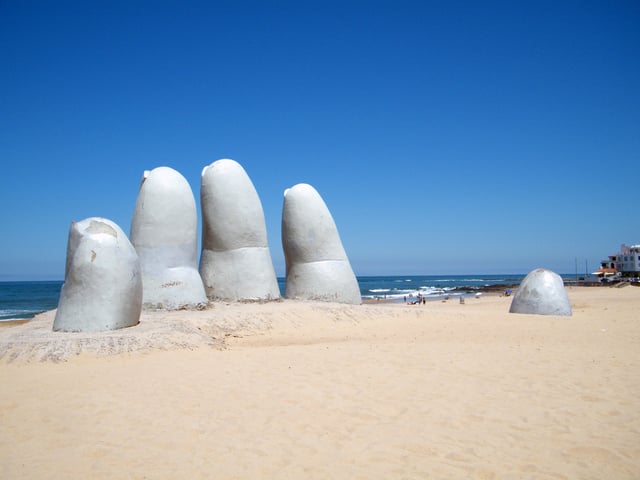 The fingers of Punta del Este.
The city has much colonial architecture contrasting with more modern buildings. Nowadays it has a scenic shore, typical resort houses, modern buildings, a port with mooring capacity, department stores, restaurants, and pubs. There are several large houses, and gardens lined with plants.
An iconic and historic building rises on the 19th stop of the Brava Beach, the famous Hotel L'Auberge [1] [35] with its 70 year old water tower, continues to be a leader in hospitality and gastronomy with its unique rooms and still serving its traditional Belgian waffles [2] [36] with home made sauces.
Punta del Este is home to the only Conrad Hotel in South America, also famous for its casino.
Gorlero Avenue, the main avenue of Punta del Este has commercial galleries, restaurants, cinemas, casinos, shops.
Punta del Este is well known for organizing the summit in which the WTO was created. The Formula E has hosted several races, broadcast worldwide, in the city, based on its "absolutely landmark cityscape".[4] In 2017, the China-Latin America Forum took place in the Punta del Este Convention Center.[20]
Enjoy Punta del Este (formerly Conrad Punta del Este) is a hotel and casino designed by Guillermo Gómez Platero. The hotel's construction started in 1993 and finished in 1997. It offers 294 rooms, including 41 luxury suites. It was originally operated by Hilton Hotels & Resorts under the brand "Conrad". The property was owned by Caesars Entertainment Corporation and Hilton Hotels & Resorts until it was sold to the Chilean group Enjoy S.A. in 2017. Hilton's affiliation ceased on April 1, 2018.[21]
Fundación Pablo Atchugarry
One of the leading artistic institutions of Uruguay, the Fundación Pablo Atchugarry (Pablo Atchugarry Foundation) is dedicated to the promotion of arts and culture in Punta del Este. The foundation was created in 2007 by international sculpture artist Pablo Atchugarry, with the aim to keep a dialogue between art and nature. During the summer season (December to February) the foundation proposes a series of exhibitions and events such as concerts of lyrical to popular music, ballet representations and more. Once a year, the institution present an iconic exhibition from a major artist or collection. Over the past five years, the works of František Kupka, Le Corbusier, Collection MACBA, José Gurvich and Pablo Atchugarry have been exhibited in the main building. The premises of the institution are composed of the sculptor's workshop, a building with three exposition rooms, an auditorium, an open-air stage for a variety of shows, a restaurant, a didactic room where sculpture, painting, drawing and ceramic classes are held, and a last space which holds the permanent collection and the work of the founder. A 30-hectare sculpture park surrounds the compound.
Punta del Este Lighthouse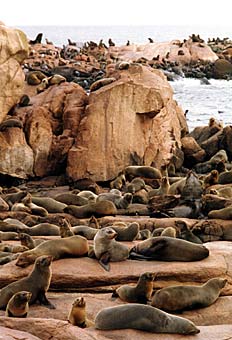 Sea lions on Isla de Lobos (Isle of the Seals)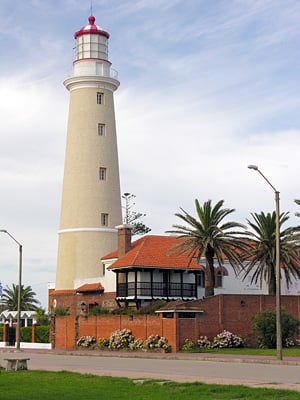 Lighthouse of Punta del Este
The lighthouse is 45 metres tall, and the crystal panels which are part of its illumination system were brought from France. It works by electricity, with acetylene gas as emergency backup. It is possible to climb the 150 steps of its spiral staircase.[24]
This island of 21 hectares of surface is daily visited to enjoy its two beaches: Garden Port and Honda beach. It consists of a natural port, with ships anchoring close to it, and it also became a popular area to practice water sports.
The city is served by Capitán de Corbeta Carlos A. Curbelo International Airport, being the second most important of Uruguay, located near Laguna del Sauce on the outskirts of the city. This modern airport opened in 1996. It offers domestic and international flights within the region.
Punta del Este can be reached from Buenos Aires by ferryboat to Montevideo (the capital city), 140 km (87 mi) from Punta del Este, and then by car or bus.
Most international flights land at Carrasco International Airport around 115 km (71 mi) from Punta del Este. The bus companies Copsa and Cot connect the airport with Punta del Este, and there are several private taxi and remise services available.[25]
Also in the area is El Jagüel airport, which is very close to Punta del Este and Maldonado; decades ago it used to be its only international airport, now it is only used by small-sized private aircraft.
Punta del Este has numerous temples: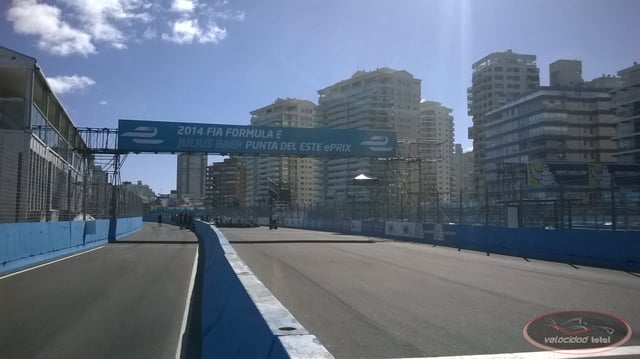 The 2014 Punta del Este ePrix was the first race of the Formula E history in the Americas.
Among its attractions, the city offers music and cinema festivals, whale sightseeing, and "haute cuisine".[3]
The city is host to the 2014 Punta del Este ePrix; the third round of the Formula E championship and opening date of the category in the Americas. The event's street circuit of 2.8 kilometers of length runs along Punta del Este's harbour and has been nicknamed the Monte Carlo of South America,.[28][29][30]
There is also the traditional Punta Del Este Sevens, a rugby competition that takes place in January since 1989.
Margaret Cooper (1918–2016), British cryptographer, born in Punta del Este[31]