Everipedia is now
IQ.wiki
- Join the
IQ Brainlist
and our
Discord
for early access to editing on the new platform and to participate in the beta testing.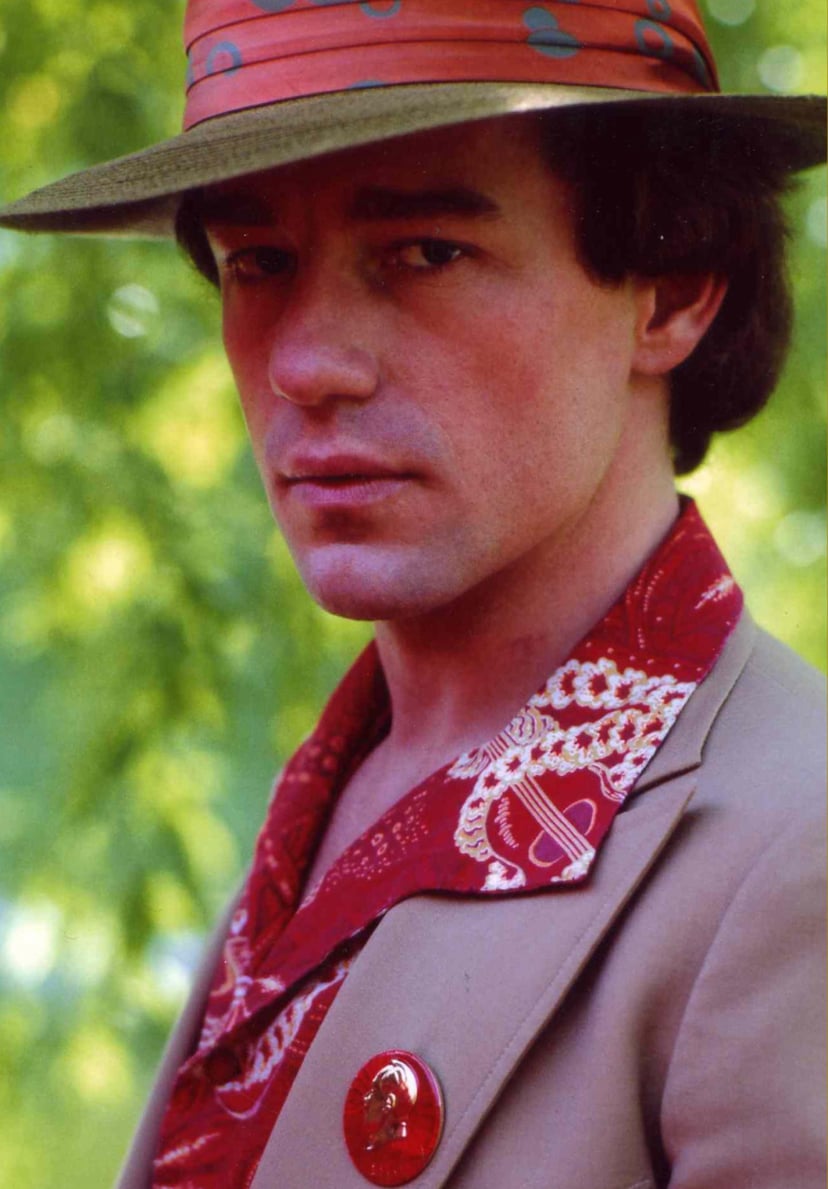 Phil Hartman
Phil Hartman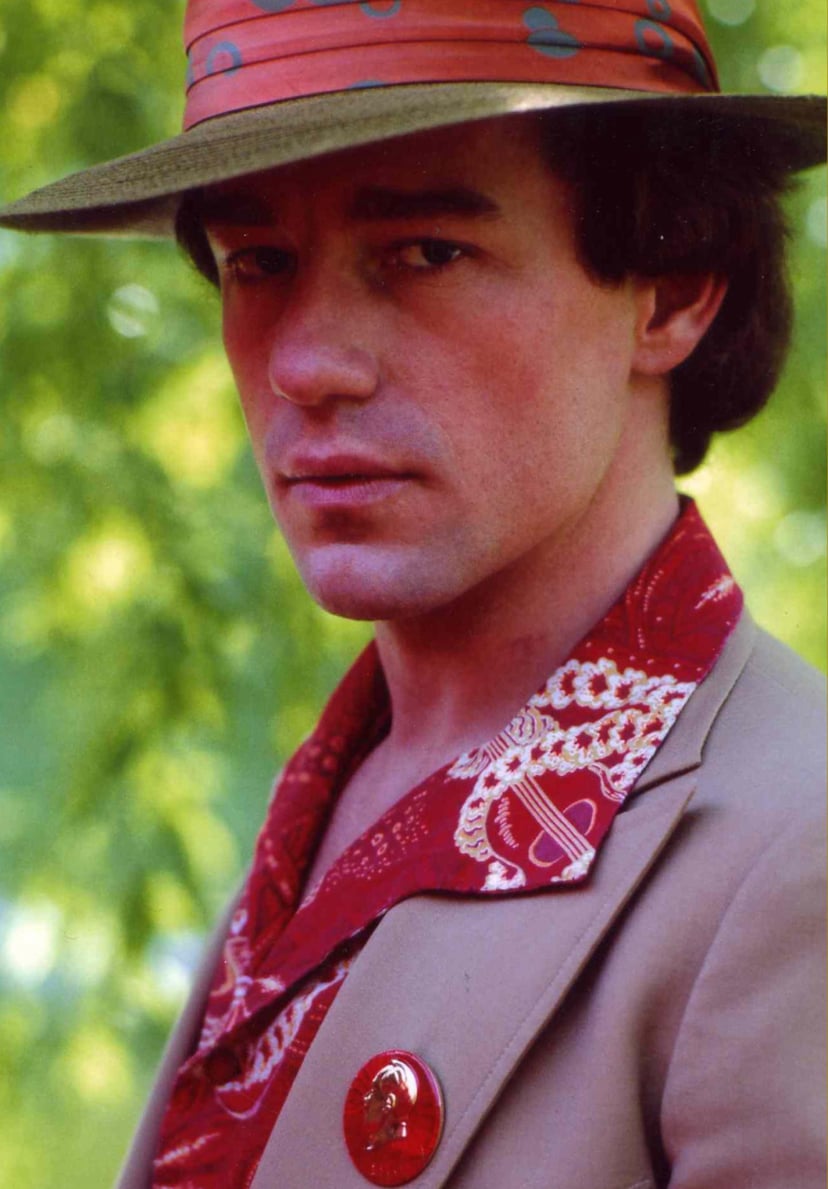 Born




(

1948-09-24

)

September 24, 1948




Died

May 28, 1998

(1998-05-28)

(aged 49)




Encino, Los Angeles, California, U.S.

Cause of death

Homicide by gunshot wounds

Nationality

Education

Westchester High School

Alma mater

California State University, Northridge

Occupation

Actor, comedian, screenwriter, graphic artist

Years active

1969–1998

Spouse(s)

Gretchen Lewis

(

m.

 1970;

div.

 1972)

Lisa Strain

(

m.

 1982;

div.

 1985)

Children

2
Philip Edward Hartmann (September 24, 1948 – May 28, 1998) was a Canadian-American actor, comedian, screenwriter, and graphic artist. Born in Brantford, Ontario, Hartman and his family moved to the United States in 1958. After graduating from California State University, Northridge with a degree in graphic arts, he designed album covers for bands including Poco and America. Hartman joined the comedy group the Groundlings in 1975 and there helped comedian Paul Reubens develop his character Pee-wee Herman. Hartman co-wrote the film Pee-wee's Big Adventure and made recurring appearances as Captain Carl on Reubens's show Pee-wee's Playhouse.
In 1986, Hartman joined the sketch comedy show Saturday Night Live. He won fame for his impressions, particularly of President Bill Clinton, and stayed on the show for eight seasons. Nicknamed the "Glue" for his ability to hold the show together and help other cast members, Hartman won a Primetime Emmy Award for his SNL work in 1989. In 1995, after scrapping plans for his own variety show, he starred as Bill McNeal in the NBC sitcom NewsRadio. He voiced various roles on The Simpsons, most notably Lionel Hutz and Troy McClure. He also had roles in the films Houseguest, Sgt. Bilko, Jingle All the Way, Small Soldiers, and the English dub of Kiki's Delivery Service.
Hartman divorced twice before he married Brynn Omdahl in 1987, with whom he had two children. Their marriage was troubled by Brynn's drug use and Hartman's emotional distance, which was a factor in his previous marriages ending. On May 28, 1998, Brynn shot and killed Hartman while he slept in their Encino, Los Angeles home, then died by suicide. In the weeks following his death, Hartman was celebrated in a wave of tributes. Dan Snierson of Entertainment Weekly opined that Hartman was "the last person you'd expect to read about in lurid headlines in your morning paper ... a decidedly regular guy, beloved by everyone he worked with."[1] He was posthumously inducted into Canada's Walk of Fame in 2012 and the Hollywood Walk of Fame in 2014.
Born




(

1948-09-24

)

September 24, 1948




Died

May 28, 1998

(1998-05-28)

(aged 49)




Encino, Los Angeles, California, U.S.

Cause of death

Homicide by gunshot wounds

Nationality

Education

Westchester High School

Alma mater

California State University, Northridge

Occupation

Actor, comedian, screenwriter, graphic artist

Years active

1969–1998

Spouse(s)

Gretchen Lewis

(

m.

 1970;

div.

 1972)

Lisa Strain

(

m.

 1982;

div.

 1985)

Children

2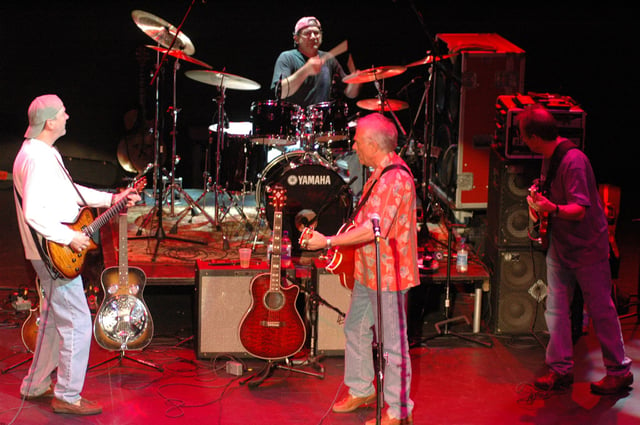 Hartman designed album covers for bands such as Poco.
Phil Hartman was born Philip Edward Hartmann (later dropping one "n")[2] on September 24, 1948, in Brantford, Ontario, Canada.[3][4] He was the fourth of eight children of Doris Marguerite (Wardell) and Rupert Loebig Hartmann, a salesman specializing in building materials.[5] His parents were Catholic and raised their children in that faith.[3][6][7] As a child, Hartman found affection hard to earn and stated: "I suppose I didn't get what I wanted out of my family life, so I started seeking love and attention elsewhere."[2]
Hartman was ten years old when his family moved to the United States.[8] The family first lived in Lewiston, Maine; before moving to Meriden, Connecticut; and then the West Coast. There, Hartman attended Westchester High School and frequently acted as the class clown.[2][3][4][9] After graduating, Hartman studied art at Santa Monica City College, dropping out in 1969 to become a roadie with a rock band.[2] He returned to school in 1972, this time studying graphic arts at California State University, Northridge. He developed his own graphic arts business, which he operated on his own, creating over 40 album covers for bands including Poco and America, as well as advertising and the logo for Crosby, Stills & Nash.[1][2][9][10] In the late 1970s, Hartman made his first television appearance on an episode of The Dating Game; he won but was stood up by his date.[10]
Hartman became one of the stars of the NBC sitcom NewsRadio in 1995, portraying radio news anchor Bill McNeal. He signed up after being attracted by the show's writing and use of an ensemble cast,[9][28] and joked that he based McNeal on himself with "any ethics and character" removed.[16] Hartman made roughly $50,000 per episode of NewsRadio.[6] Although the show was critically acclaimed, it was never a ratings hit and cancellation was a regular threat. After the completion of the fourth season, Hartman commented, "We seem to have limited appeal. We're on the edge here, not sure we're going to be picked up or not", but added he was "99 percent sure" the series would be renewed for a fifth season.[28] Hartman had publicly lambasted NBC's decision to repeatedly move NewsRadio into different timeslots, but later regretted his comments, saying, "this is a sitcom, for crying out loud, not brain surgery".[16] He also stated that if the sitcom were cancelled "it just will open up other opportunities for me".[28] Although the show was renewed for a fifth season, Hartman died before production began.[29] Ken Tucker praised Hartman's performance as McNeal: "A lesser performer ... would have played him as a variation on The Mary Tyler Moore Show's Ted Baxter, because that's what Bill was, on paper. But Hartman gave infinite variety to Bill's self-centeredness, turning him devious, cowardly, squeamish, and foolishly bold from week to week."[30] Hartman was posthumously nominated for the Primetime Emmy Award for Outstanding Supporting Actor in a Comedy Series in 1998 for his work on NewsRadio, but lost to David Hyde Pierce.[24][31]
Hartman provided the voices for numerous characters on the Fox animated series The Simpsons, appearing in 52 episodes.[1] He made his first appearance in the second season episode "Bart Gets Hit by a Car". Although he was originally brought in for a one-time appearance, Hartman enjoyed working on The Simpsons and the staff wrote additional parts for him. He voiced the recurring characters Lionel Hutz and Troy McClure, as well as several one-time and background characters.[32] His favourite part was that of McClure,[17] and he often used this voice to entertain the audience between takes while taping episodes of NewsRadio. He remarked, "My favorite fans are Troy McClure fans."[16] He added "It's the one thing that I do in my life that's almost an avocation. I do it for the pure love of it."[33]
Hartman was popular among the staff of The Simpsons. Showrunners Bill Oakley and Josh Weinstein stated that they enjoyed his work, and used Hartman as much as possible when working on the show. To give Hartman a larger role, they developed the episode "A Fish Called Selma", which focuses on Troy McClure and expands the character's backstory.[34] The Simpsons creator Matt Groening said that he "took [Hartman] for granted because he nailed the joke every time",[1] and that his voice acting could produce "the maximum amount of humor" with any line he was given.[35] Before his death, Hartman had expressed an interest in making a live action film about Troy McClure. Many of The Simpsons production staff expressed enthusiasm for the project and offered to help.[36] Hartman said he was "looking forward to [McClure's] live-action movie, publicizing his Betty Ford appearances",[10] and "would love nothing more" than making a film and was prepared to buy the film rights himself in order to make it happen.[17]
Hartman's first starring film role came in 1995's Houseguest, alongside Sinbad.[37] Other films included Greedy, Coneheads, Sgt. Bilko, So I Married an Axe Murderer, CB4, Jingle All the Way, Kiki's Delivery Service, and Small Soldiers, the last of which was his final theatrically released film.[38][39] At the same time, he preferred working on television.[11] His other television roles included appearances on episodes of The John Larroquette Show, The Dana Carvey Show, and the HBO TV film The Second Civil War as the President of the United States.[19] He appeared as the kidnapper Randy in the third season cliffhanger finale of 3rd Rock from the Sun — a role reportedly written especially for him, but he died before filming of the concluding episode could take place. Executive producer Terry Turner decided to recast the part, reshoot and air the finale again, noting: "I have far too much respect for [Hartman] to try to find some clever way of getting around this real tragedy".[1] Hartman made a considerable amount of money from television advertising,[25] earning $300,000 for a series of four commercials for the soft drink Slice.[26] He also appeared in advertisements for McDonald's (as Hugh McAttack) and 1-800-Collect (as Max Jerome).[40]
Hartman wrote a number of screenplays that were never produced.[25] In 1986 he began writing a screenplay for a film titled Mr. Fix-It,[15] and completed the final draft in 1991. Robert Zemeckis was signed to produce the film, with Gil Bettman hired to direct. Hartman called it "a sort of a merger of horror and comedy, like Beetlejuice and Throw Momma From the Train", adding, "It's an American nightmare about a family torn asunder. They live next to a toxic dump site, their water supply is poisoned, the mother and son go insane and try to murder each other, the father's face is torn off in a terrible disfiguring accident in the first act. It's heavy stuff, but it's got a good message and a positive, upbeat ending." Zemeckis could not secure studio backing, however, and the project collapsed.[41] Another movie idea involving Hartman's Groundlings character Chick Hazard, Private Eye also fell through.[15]
Hartman married Gretchen Lewis in 1970, and they divorced sometime before 1972. He married real estate agent Lisa Strain in 1982, and their marriage lasted three years. Strain told People that Hartman was reclusive off screen and "would disappear emotionally ... he'd be in his own world. That passivity made you crazy."[6] Hartman married former model and aspiring actress Brynn Omdahl (born Vicki Jo Omdahl) in November 1987, having met her on a blind date the previous year.[3][6] Together they had two children, Sean and Birgen Hartman. The marriage had difficulties – Brynn reportedly felt intimidated by her husband's success and was frustrated she could not find any on her own – although neither party wanted a divorce. Hartman considered retiring to save the marriage.[6] He tried to get Brynn acting roles but she became progressively more reliant on narcotics and alcohol, entering rehab several times.[3] Because of his close friendship with SNL associate Jan Hooks, Brynn joked on occasion that Hooks and Hartman were married "on some other level".[23]
Stephen Root, Hartman's NewsRadio co-star, felt that few people knew "the real Phil Hartman" as he was "one of those people who never seemed to come out of character," but he nevertheless gave the impression of a family man who cared deeply for his children.[47] In his spare time, Hartman enjoyed driving, flying, sailing, marksmanship, and playing the guitar.[1][3]
Year

Title

Role

Notes

1978

Stunt Rock

Assistant

1980

The Gong Show Movie

Man at airport with gun

Credited as Phil Hartmann

1980

Cheech & Chong's Next Movie

Actor being filmed in the background

1982

Pandemonium

Reporter

Credited as Phil Hartmann

1984

Weekend Pass

Joe Chicago

1985

Pee-wee's Big Adventure

Reporter / Rodeo announcer

Also co-writer

1986

Last Resort

Jean-Michel

1986

Jumpin' Jack Flash

Fred

Credited as Phil E. Hartmann

1986

Three Amigos!

Sam

Credited as Philip E. Hartmann

1987

Blind Date

Ted Davis

1987

The Brave Little Toaster

Jack Nicholson Air conditioner / Hanging lamp

Voices

1987

Amazon Women on the Moon

Baseball announcer

Voice

1989

Fletch Lives

Bly manager

1989

How I Got Into College

Bennedict

1990

Quick Change

Hal Edison

1993

Loaded Weapon 1

Officer Davis

1993

CB4

Virgil Robinson

1993

Coneheads

Marlax

1993

So I Married an Axe Murderer

John "Vicky" Johnson

1994

Greedy

Frank

1994

The Pagemaster

Tom Morgan

Voice

1995

The Crazysitter

The Salesman

1995

Houseguest

Gary Young

1995

Stuart Saves His Family

Announcer

Uncredited

1996

Sgt. Bilko

Major Colin Thorn

1996

Jingle All the Way

Ted Maltin

1998

Kiki's Delivery Service

Jiji

English dub




Posthumously released

1998

Small Soldiers

Phil Fimple

Posthumously released

1998

Buster & Chauncey's Silent Night
Chauncey[76]

Voice




Posthumously released
Year

Title

Role

Notes

1979

Scooby-Doo and Scrappy-Doo

Additional voices

1980

The Six O'Clock Follies

Unnamed role

1981

The Pee-wee Herman Show

Captain Carl / Monsieur LeCroc

Television special; also writer

1981

The Smurfs

Additional voices

1983

The Pop 'N Rocker Game

Announcer

1983

The Dukes

Various voices

7 episodes

1984

Challenge of the GoBots

Additional voices

1984

Magnum, P.I.

Newsreader

Episode: "The Legacy of Garwood Huddle"

1985

The 13 Ghosts of Scooby-Doo

Additional voice

Episode: "It's a Wonderful Scoob"

1985

The Jetsons

School Patrol robots / Executive Vice-President

Voices; Episode: "Boy George"

1986

Dennis the Menace

Henry Mitchell / George Wilson / Various voices

1986–1987

Pee-wee's Playhouse

Captain Carl

6 episodes; also writer

1986–1994

Saturday Night Live

Various characters

155 episodes; also writer

1987

DuckTales

Captain Frye

Voice; Episode: "Scrooge's Pet"

1988

Fantastic Max

Additional voices

1990

Bill and Ted's Excellent Adventures

Additional voices

Episode: "One Sweet and Sour Chinese Adventure to Go"

1990

On the Television

Various characters

Episode: "M. Superior"

1990

TaleSpin

Ace London

Voice; Episode: "Mach One for the Gipper"

1990

Gravedale High

Additional voices

1990

Tiny Toon Adventures

Octavius

Voice; Episode: "Whale's Tales"

1991

Captain Planet and the Planeteers

Dimitri the Russian Ambassador / TV Reporter

Voices; Episode: "Mind Pollution"

1991

Empty Nest

Tim Cornell

Episode: "Guess Who's Coming to Dinner?"

1991

Darkwing Duck

Paddywhack

Voice; Episode: "The Haunting of Mr. Banana Brain"

1991

One Special Victory

Mike Rutten

Television film

1991–1998

The Simpsons

Troy McClure




Lionel Hutz




Various

52 episodes

1991–1993

Tom & Jerry Kids

Calaboose Cal (voice)

1992

Fish Police

Inspector C. Bass

Voice; Episode: "A Fish Out of Water"

1992

Parker Lewis Can't Lose

Phil Diamond

Episode: "Lewis and Son"

1992

Eek! The Cat

Monkeynaut #1 / Psycho Bunny

Voices; 2 episodes

1993

Daybreak

Man in abstinence commercial

Uncredited




Television film

1993

Animaniacs

Dan Anchorman

Voice; Episode: "Broadcast Nuisance"

1993

The Twelve Days of Christmas

Additional voice

Television film

1993

The Larry Sanders Show

Himself

Episode: "The Stalker"

1994

How the Grinch Stole Christmas! Special Edition

Host

TV Short

1994

The Critic

Various voices

Episode: "Eyes on the Prize"

1995

The Show Formerly Known as the Martin Short Show

Various characters

Television special

1995

The John Larroquette Show

Otto Friedling

Episode: "A Moveable Feast"

1995

Night Stand with Dick Dietrick

Gunther Johann

Episode: "Illegal Alien Star Search"

1995–1998

NewsRadio

Bill McNeal

75 episodes

1996

The Dana Carvey Show
Larry King

Episode: "The Mountain Dew Dana Carvey Show"

1996

Caroline in the City

Host

Uncredited




Episode: "Caroline and the Letter"

1996

Gargoyles

Poacher #1

Voice; Episode: "Mark of the Panther"

1996

The Ren & Stimpy Show

Announcer On Russian filmreel / Sid the Clown

Voices; 2 episodes

1996

Seinfeld

Man on phone

Uncredited




Voice; Episode: "The Package"

1996, 1998

3rd Rock from the Sun

Phillip




Randy

2 episodes

1997

The Second Civil War
President of the United States

Television film

1999

Happily Ever After: Fairy Tales for Every Child

Game show host (voice)

Episode: "The Empress's Nightingale"




Posthumously aired
Year

Title

Voice role

1997

Virtual Springfield

Troy McClure




Lionel Hutz

1998

Blasto

Captain Blasto