Aboriginal Australians
550 VIEWS
Everipedia is now
IQ.wiki
- Join the
IQ Brainlist
and our
Discord
for early access to editing on the new platform and to participate in the beta testing.
Aboriginal Australians
Aboriginal Australians
Aboriginal Australians

Total population

759,705 (2016)[1]


3.1% of Australia's population

Regions with significant populations

Northern Territory

30.3%

Tasmania

5.5%

Queensland

4.6%

Western Australia

3.9%

New South Wales

3.4%

South Australia

2.5%

Australian Capital Territory

1.9%

Victoria

0.9%

Languages

Several hundred Indigenous Australian languages, many no longer spoken, Australian English, Australian Aboriginal English, Kriol

Religion

Majority Christian (mainly Anglican and Catholic),[2] large minority no religious affiliation,[2] small numbers of other religions, various local indigenous religions grounded in Australian Aboriginal mythology

Related ethnic groups

Torres Strait Islanders, Tasmanian Aboriginals, Papuans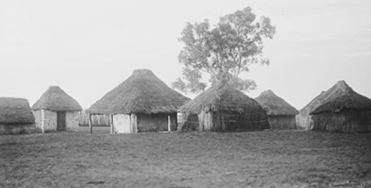 Aboriginal dwellings in Hermannsburg, Northern Territory, 1923. Image: Herbert Basedow
Aboriginal Australians are the various indigenous peoples of the Australian mainland, Tasmania, and often the Tiwi Islands.[3][4][5] This group contains many distinct peoples that have developed across Australia for over 50,000 years.[6][7] These peoples have a broadly shared, though complex, genetic history,[8][9] but it is only in the last two hundred years that they have been defined and started to self identify as a single group.[10][11] The definition of the term "Aboriginal" has changed over time and place, with the importance of family lineage, self identification and community acceptance all being of varying importance.[12][13][14] In the past, Aboriginal Australians lived over large sections of the continental shelf and were isolated on many of the smaller offshore islands when the land was inundated at the start of the inter-glacial.[15] However, they are considered distinct from the Torres Strait Islander people, despite extensive cultural exchange.[16]
Today Aboriginal Australians comprise 3.1% of Australia's population.[17] They also live throughout the world as part of the Australian diaspora. Before extensive European settlement, there were over 250 Aboriginal languages.[18][19] However, today most Aboriginal people speak English, with Aboriginal phrases and words being added to create Australian Aboriginal English (which also has a tangible influence of Indigenous languages in the phonology and grammatical structure). They have a number of health and economic deprivations in comparison with the wider Australian community.[20][21]
Aboriginal Australians

Total population

759,705 (2016)[1]


3.1% of Australia's population

Regions with significant populations

Northern Territory

30.3%

Tasmania

5.5%

Queensland

4.6%

Western Australia

3.9%

New South Wales

3.4%

South Australia

2.5%

Australian Capital Territory

1.9%

Victoria

0.9%

Languages

Several hundred Indigenous Australian languages, many no longer spoken, Australian English, Australian Aboriginal English, Kriol

Religion

Majority Christian (mainly Anglican and Catholic),[2] large minority no religious affiliation,[2] small numbers of other religions, various local indigenous religions grounded in Australian Aboriginal mythology

Related ethnic groups

Torres Strait Islanders, Tasmanian Aboriginals, Papuans
Legal and administrative definitions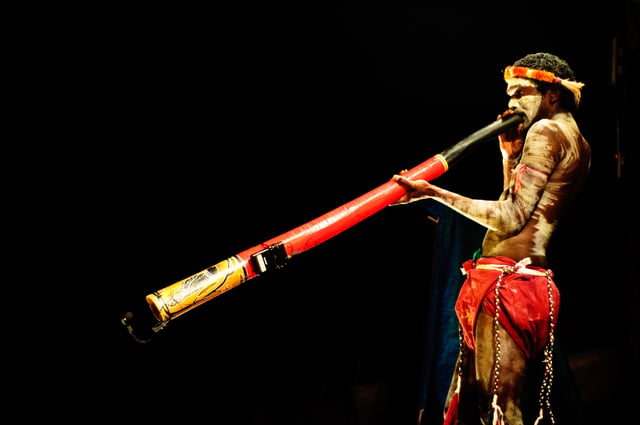 An Indigenous Australian playing the didgeridoo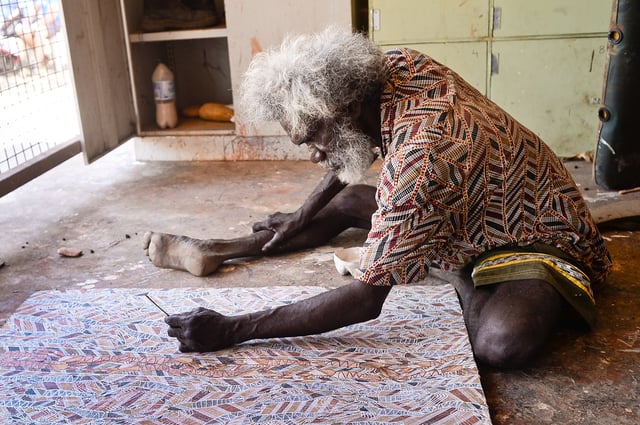 Arnhem Land artist Glen Namundja painting at Injalak Arts
Aboriginal dancers in 1981
A new definition was proposed in the Constitutional Section of the Department of Aboriginal Affairs' Report on a Review of the Administration of the Working Definition of Aboriginal and Torres Strait Islanders (Canberra, 1981):
An Aboriginal or Torres Strait Islander is a person of Aboriginal or Torres Strait Islander descent who identifies as an Aboriginal or Torres Strait Islander and is accepted as such by the community in which he (she) lives.[12]
Justice Gerard Brennan in his leading judgment in Mabo v Queensland (No 2) stated:
Membership of the Indigenous people depends on biological descent from the Indigenous people and on mutual recognition of a particular person's membership by that person and by the elders or other persons enjoying traditional authority among those people.[12]
The category "Aboriginal Australia" was coined by the British after they began colonising Australia in 1788, to refer collectively to all people they found already inhabiting the continent, and later to the descendants of any of those people. Until the 1980s, the sole legal and administrative criterion for inclusion in this category was race, classified according to visible physical characteristics or known ancestors. As in the British slave colonies of North America and the Caribbean, where the principle of partus sequitur ventrem was adopted from 1662, children's status was determined by that of their mothers: if born to Aboriginal mothers, children were considered Aboriginal, regardless of their paternity.[22]
In the era of colonial and post-colonial government, access to basic human rights depended upon your race. If you were a "full-blooded Aboriginal native ... [or] any person apparently having an admixture of Aboriginal blood", a half-caste being the "offspring of an Aboriginal mother and other than Aboriginal father" (but not of an Aboriginal father and other than Aboriginal mother), a "quadroon", or had a "strain" of Aboriginal blood you were forced to live on Reserves or Missions, work for rations, given minimal education, and needed governmental approval to marry, visit relatives or use electrical appliances.[23]
The Constitution of Australia, in its original form as of 1901, referred to Aboriginals twice, but without definition. Section 51(xxvi) gave the Commonwealth parliament a power to legislate with respect to "the people of any race" throughout the Commonwealth, except for people of "the aboriginal race". The purpose of this provision was to give the Commonwealth power to regulate non-white immigrant workers, who would follow work opportunities interstate.[24] The only other reference, Section 127, provided that "aboriginal natives shall not be counted" in reckoning the size of the population of the Commonwealth or any part of it. The purpose of Section 127 was to prevent the inclusion of Aboriginal people in Section 24 determinations of the distribution of House of Representatives seats amongst the states and territories.[25]
The change to Section 51(xxvi) enabled the Commonwealth parliament to enact laws specifically with respect to Aboriginal peoples as a "race". In the Tasmanian Dam Case of 1983, the High Court of Australia was asked to determine whether Commonwealth legislation, whose application could relate to Aboriginal people—parts of the World Heritage Properties Conservation Act 1983 (Cth) as well as related legislation—was supported by Section 51(xxvi) in its new form. The case concerned an application of legislation that would preserve the cultural heritage of Aboriginal Tasmanians. It was held that Aboriginal Australians and Torres Strait Islanders, together or separately, and any part of either, could be regarded as a "race" for this purpose. As to the criteria for identifying a person as a member of such a "race", the definition by Justice Deane has become accepted as current law.[23] Deane said:
It is unnecessary, for the purposes of the present case, to consider the meaning to be given to the phrase "people of any race" in s. 51(xxvi). Plainly, the words have a wide and non-technical meaning ... . The phrase is, in my view, apposite to refer to all Australian Aboriginals collectively. Any doubt, which might otherwise exist in that regard, is removed by reference to the wording of par. (xxvi) in its original form. The phrase is also apposite to refer to any identifiable racial sub-group among Australian Aboriginals. By "Australian Aboriginal" I mean, in accordance with what I understand to be the conventional meaning of that term, a person of Aboriginal descent, albeit mixed, who identifies himself as such and who is recognised by the Aboriginal community as an Aboriginal.[28]
While Deane's three-part definition reaches beyond the biological criterion to an individual's self-identification, it has been criticised as continuing to accept the biological criterion as primary.[23] It has been found difficult to apply, both in each of its parts and as to the relations among the parts; biological "descent" has been a fall-back criterion.[29]
Definitions from Aboriginal Australians
Eve Fesl, a Gabi-Gabi woman, wrote in the Aboriginal Law Bulletin describing how she and possibly other Aboriginal people preferred to be identified:
The word 'aborigine' refers to an indigenous person of any country. If it is to be used to refer to us as a specific group of people, it should be spelt with a capital 'A', i.e., 'Aborigine'.[30]
While the term 'indigenous' is being more commonly used by Australian Government and non-Government organisations to describe Aboriginal Australians, Lowitja O'Donoghue, commenting on the prospect of possible amendments to Australia's constitution, said:
I really can't tell you of a time when 'indigenous' became current, but I personally have an objection to it, and so do many other Aboriginal and Torres Strait Islander people. ... This has just really crept up on us ... like thieves in the night. ... We are very happy with our involvement with indigenous people around the world, on the international forum ... because they're our brothers and sisters. But we do object to it being used here in Australia.[31]
O'Donoghue said that the term indigenous robbed the traditional owners of Australia of an identity because some non-Aboriginal people now wanted to refer to themselves as indigenous because they were born there.[31]
Definitions from academia
Dean of Indigenous Research and Education at Charles Darwin University, Professor MaryAnn Bin-Sallik, has lectured on the ways Aboriginal Australians have been categorised and labelled over time. Her lecture offered a new perspective on the terms urban, traditional and of Indigenous descent as used to define and categorise Aboriginal Australians:
Not only are these categories inappropriate, they serve to divide us. ... Government's insistence on categorising us with modern words like 'urban', 'traditional' and 'of Aboriginal descent' are really only replacing old terms 'half-caste' and 'full-blood' – based on our colouring.[32]
She called for a replacement of this terminology by that of "Aborigine" or "Torres Strait Islander" – "irrespective of hue".[32] It could be argued that the indigenous tribes of Papua New Guinea and Western New Guinea (Indonesia) are more closely related to the Aboriginal Australians than to any tribes found in Indonesia, however due to ongoing conflict in the regions of West Papua, these tribes are being marginalised from their closest relations.[33][34]
Aboriginal Australians possess inherited abilities to stand a wide range of environmental temperatures in various ways. A 1958 study comparing cold adaptation in the desert-dwelling Pitjantjatjara people compared with a group of white people showed that the cooling adaptation of the Aboriginal group differed from that of the white people, and that they were able to sleep more soundly through a cold desert night.[41] A 2014 Cambridge University study found that a beneficial mutation in two genes which regulate thyroxine, a hormone involved in regulating body metabolism, helps to regulate body temperature in response to fever. The effect of this is that the desert people are able to have a higher body temperature without accelerating the activity of the whole of the body, which can be especially detrimental in childhood diseases. This helps protect people to survive the side-effects of infection.[42][43]
According to the Australian Bureau of Statistics, a large number of Aboriginal Australians use tobacco, perhaps 41% of people aged 15 and up.[51] This number has declined in recent years, but remains relatively high. The smoking rate is roughly equal for men and women across all age groups, but the smoking rate is much higher in rural than in urban areas. The prevalence of smoking exacerbates existing health problems such as cardiovascular diseases and cancer. The Australian government has encouraged its citizens, both Aboriginal and non-Aboriginal, to stop smoking or to not start.
In the Northern Territory (which has the greatest proportion of Aboriginal Australians than any other state or territory, at 32%), per capita alcohol consumption for adults is 1.5 times the national average. In addition to the health risks associated with alcohol use, there is a relationship among alcohol misuse, violence and trauma. There has been increasing media attention to this problem, but it defies simple analysis or solutions as the issues are complex and intertwined. One study has attempted to collate existing data on the problems and attempts to address them, concluding that more funding is needed to investigate the feasibility and suitability of the various interventional approaches in the Northern Territory.[52]
Modern Aboriginal Australians living in rural areas tend to have nutritionally poor diets, where higher food costs drive people to consume cheaper, lower quality foods. The average diet is high in refined carbohydrates and salt, and low in fruit and vegetables. There are several challenges in improving diets for Aboriginal Australians, such as shorter shelf lives of fresh foods, resistance to changing existing consumption habits, and disagreements on how to implement changes. Some suggest the use of taxes on unhealthy foods and beverages to discourage their consumption, but this approach is questionable. Providing subsidies for healthy foods has proven effective in other countries, but has yet to be proven useful for Aboriginal Australians specifically.[53]
Aboriginal Australian peoples
Dispersing across the Australian continent over time, the ancient people expanded and differentiated into distinct groups, each with its own language and culture.[54] More than 400 distinct Australian Aboriginal peoples have been identified, distinguished by names designating their ancestral languages, dialects, or distinctive speech patterns.[55] Historically, these groups lived in three main cultural areas, the Northern, Southern, and Central cultural areas. The Northern and Southern areas, having richer natural marine and woodland resources, were more densely populated than the Central area.[54]
There are various other names from Australian Aboriginal languages commonly used to identify groups based on geography, including:
Anangu in northern South Australia, and neighbouring parts of Western Australia and Northern Territory

Bininj in Western Arnhem Land (NT)[56]

Pama (Paman languages), in north-east Queensland

Gunggari in South-west Queensland[57]

Koori in New South Wales and Victoria

Murrawarri people in New South Wales

Murri in southern Queensland and north-western New South Wales

Noongar in southern Western Australia

Nunga in southern South Australia

Palawah in Tasmania

Yamatji in coastal and midwest Western Australia

Yolngu in north-eastern Arnhem Land
However this list is neither exhaustive nor definitive. Different approaches have been taken by non-Aboriginal scholars in trying to understand and define Aboriginal culture and societies, some focussing on the micro level (tribe, clan, etc.); others on shared languages and cultural practices spread over large regions defined by ecological factors. Anthropologists have encountered many difficulties in trying to define what constitutes an Aboriginal community, let alone naming them. Knowledge of pre-colonial Aboriginal cultures and societal groupings is still largely dependent on the observers' interpretations, which were filtered through colonial ways of viewing societies.[58]
Aboriginal Centre for the Performing Arts (ACPA)

Aboriginal cultures of Western Australia

Aboriginal land rights in Australia

Aboriginal Tasmanians

History of Indigenous Australians

Indigenous Australian art

Indigenous Australian music

Indigenous health in Australia

Indigenous Remote Communications Association

List of Aboriginal missions in New South Wales

List of Indigenous Australian firsts

List of massacres of Indigenous Australians

National Aboriginal & Torres Strait Islander Art Award

Native title in Australia

Stolen Generations

Supply Nation