Everipedia is now
IQ.wiki
- Join the
IQ Brainlist
and our
Discord
for early access to editing on the new platform and to participate in the beta testing.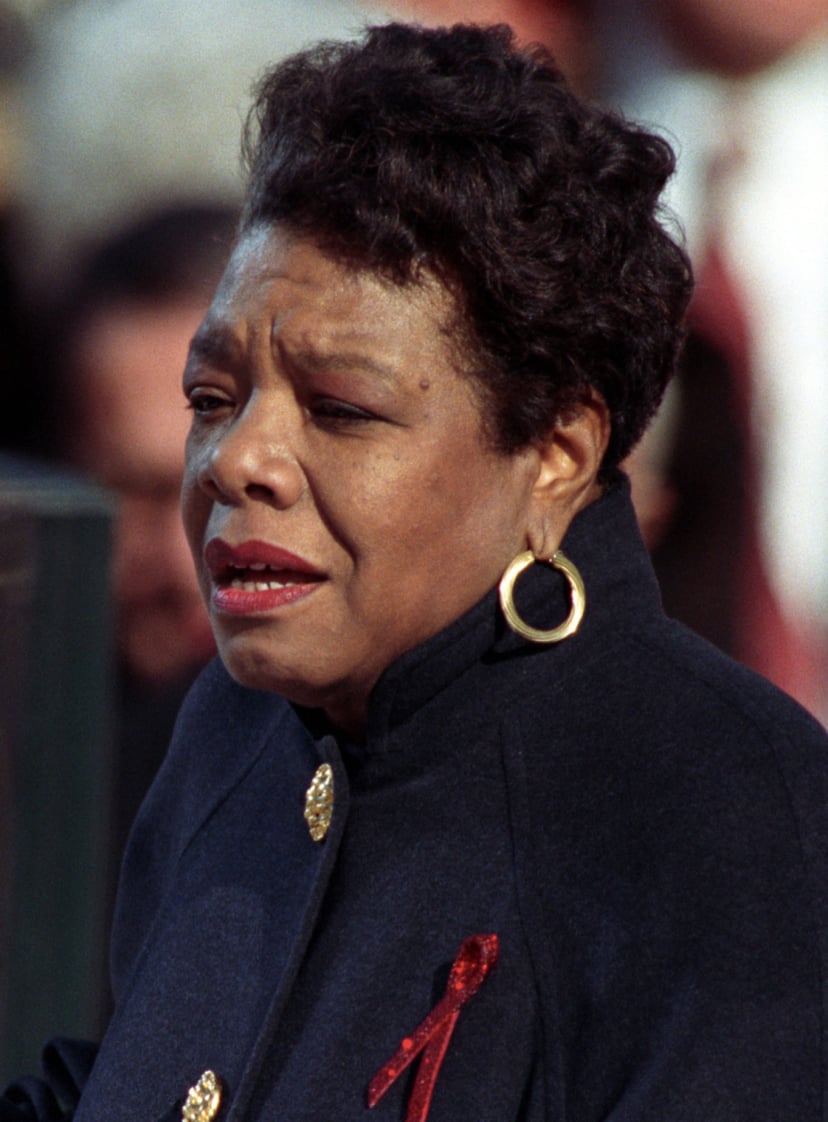 Maya Angelou
Maya Angelou (/ˈændʒəloʊ/ ( listen);[18][19] born Marguerite Annie Johnson; April 4, 1928 – May 28, 2014) was an American poet, singer, memoirist, and civil rights activist. She published seven autobiographies, three books of essays, several books of poetry, and is credited with a list of plays, movies, and television shows spanning over 50 years. She received dozens of awards and more than 50 honorary degrees.[20] Angelou is best known for her series of seven autobiographies, which focus on her childhood and early adult experiences. The first, I Know Why the Caged Bird Sings
She became a poet and writer after a series of occupations as a young adult, including fry cook, sex worker, nightclub dancer and performer, cast member of the opera Porgy and Bess, coordinator for the Southern Christian Leadership Conference, and journalist in Egypt and Ghana during the decolonization of Africa. She was an actress, writer, director, and producer of plays, movies, and former public television programs. In 1982, she was named the first Reynolds Professor of American Studies at Wake Forest University in Winston-Salem, North Carolina. She was active in the Civil Rights Movement and worked with Martin Luther King Jr. and Malcolm X. Beginning in the 1990s, she made around 80 appearances a year on the lecture circuit, something she continued into her eighties. In 1993, Angelou recited her poem "On the Pulse of Morning" (1993) at the first inauguration of Bill Clinton, making her the first poet to make an inaugural recitation since Robert Frost at the inauguration of John F. Kennedy in 1961.
With the publication of I Know Why the Caged Bird Sings, Angelou publicly discussed aspects of her personal life. She was respected as a spokesperson for black people and women, and her works have been considered a defense of black culture. Her works are widely used in schools and universities worldwide, although attempts have been made to ban her books from some U.S. libraries. Angelou's most celebrated works have been labeled as autobiographical fiction, but many critics consider them to be autobiographies. She made a deliberate attempt to challenge the common structure of the autobiography by critiquing, changing and expanding the genre. Her books center on themes such as racism, identity, family and travel.
Chronology of autobiographies
I Know Why the Caged Bird Sings

Gather Together in My Name

Singin' and Swingin' and Gettin' Merry Like Christmas

The Heart of a Woman

All God's Children Need Traveling Shoes

A Song Flung Up to Heaven

Mom & Me & Mom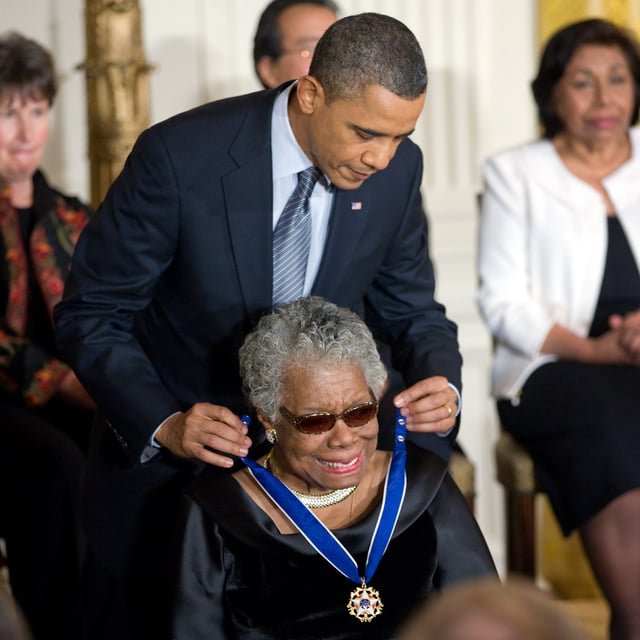 US President Barack Obama presenting Angelou with the Presidential Medal of Freedom, 2011
When I Know Why the Caged Bird Sings was published in 1969, Angelou was hailed as a new kind of memoirist, one of the first African-American women who were able to publicly discuss their personal lives. According to scholar Hilton Als, up to that point, black female writers were marginalized to the point that they were unable to present themselves as central characters in the literature they wrote.[55] Linguist John McWhorter agreed, seeing Angelou's works, which he called "tracts", as "apologetic writing". He placed Angelou in the tradition of African-American literature as a defense of black culture, which he called "a literary manifestation of the imperative that reigned in the black scholarship of the period".[150] Writer Julian Mayfield, who called Caged Bird "a work of art that eludes description",[55] argued that Angelou's autobiographies set a precedent for not only other black women writers, but also African-American autobiography as a whole. Als said that Caged Bird marked one of the first times that a black autobiographer could, as he put it, "write about blackness from the inside, without apology or defense".[55] Through the writing of her autobiography, Angelou became recognized and highly respected as a spokesperson for blacks and women.[151] It made her "without a doubt,... America's most visible black woman autobiographer",[151] and "a major autobiographical voice of the time".[152] As writer Gary Younge said, "Probably more than almost any other writer alive, Angelou's life literally is her work."[90]
Als said that Caged Bird helped increase black feminist writings in the 1970s, less through its originality than "its resonance in the prevailing Zeitgeist",[55] or the time in which it was written, at the end of the American Civil Rights Movement. Als also claimed that Angelou's writings, more interested in self-revelation than in politics or feminism, have freed other female writers to "open themselves up without shame to the eyes of the world".[55] Angelou critic Joanne M. Braxton stated that Caged Bird was "perhaps the most aesthetically pleasing" autobiography written by an African-American woman in its era.[151] Angelou's poetry has influenced the modern hip-hop music community, including artists such as Kanye West, Common, Tupac Shakur, and Nicki Minaj.[153]
Reviewer Elsie B. Washington, most likely due to President Clinton's choice of Angelou to recite her poem "On the Pulse of Morning" at his 1993 inauguration, called her "the black woman's poet laureate".[154] Sales of the paperback version of her books and poetry rose by 300–600% the week after Angelou's recitation. Random House, which published the poem later that year, had to reprint 400,000 copies of all her books to keep up with the demand. They sold more of her books in January 1993 than they did in all of 1992, accounting for a 1200% increase.[155] Angelou famously said, in response to criticism regarding using the details of her life in her work, "I agree with Balzac and 19th-century writers, black and white, who say, 'I write for money'."[90] Younge, speaking after the publication of Angelou's third book of essays, Letter to My Daughter (2008), has said, "For the last couple of decades she has merged her various talents into a kind of performance art—issuing a message of personal and social uplift by blending poetry, song and conversation."[28]
Angelou's books, especially I Know Why the Caged Bird Sings, have been criticized by many parents, causing their removal from school curricula and library shelves. According to the National Coalition Against Censorship, parents and schools have objected to Caged Bird's depictions of lesbianism, premarital cohabitation, pornography, and violence.[156] Some have been critical of the book's sexually explicit scenes, use of language, and irreverent depictions of religion.[157]Banned%20in%20the%20USA%3A%20A]] American Library Association (ALA) list of the 100 Most Frequently Challenged Books of 1990–2000 and sixth on the ALA's 2000–2009 list.[158][159]
Angelou was honored by universities, literary organizations, government agencies, and special interest groups.
Her honors included a Pulitzer Prize nomination for her book of poetry, Just Give Me a Cool Drink of Water 'fore I Diiie, [149]*The%20R.A.T.%20Real-World%20Apti]]*ony Award]]nomination for her role in the 1973 play [161][144][162]Spingarn Medal[163]National Medal of Arts[164]Presidential Medal of Freedom[165][20]
Angelou's autobiographies have been used in narrative and multicultural approaches in teacher education. Jocelyn A. Glazier, a professor at George Washington University, has trained teachers how to "talk about race" in their classrooms with I Know Why the Caged Bird Sings and Gather Together in My Name. According to Glazier, Angelou's use of understatement, self-mockery, humor, and irony have left readers of Angelou's autobiographies unsure of what she left out and how they should respond to the events she described. Angelou's depictions of her experiences of racism have forced white readers to either explore their feelings about race and their own "privileged status", or to avoid the discussion as a means of keeping their privilege. Glazier found that critics have focused on the way Angelou fits within the genre of African-American autobiography and on her literary techniques, but readers have tended to react to her storytelling with "surprise, particularly when [they] enter the text with certain expectations about the genre of autobiography".[166]
Educator Daniel Challener, in his 1997 book Stories of Resilience in Childhood, analyzed the events in Caged Bird to illustrate resiliency in children. He argued that Angelou's book has provided a "useful framework" for exploring the obstacles many children like Maya have faced and how their communities have helped them succeed.[167]*Stories%20of%20Resilienc]]Psychologist Chris Boyatzis has reported using Caged Birdeory and research in the instruction of child development topics such as the development of self-concept and self-esteem, ego resilience, industry versus inferiority, effects of abuse, parenting styles, sibling and friendship relations, gender issues, cognitive development, puberty, and identity formation in adolescence. He found Caged Bird a "highly effective" tool for providing real-life examples of these psychological concepts.[168]
Angelou is best known for her seven autobiographies, but she was also a prolific and successful poet.
She was called "the black woman's poet laureate", and her poems have been called the anthems of African Americans.[154] Angelou studied and began writing poetry at a young age, and used poetry and other great literature to cope with her rape as a young girl, as described in Caged Bird.[35] According to scholar Yasmin Y. DeGout, literature also affected Angelou's sensibilities as the poet and writer she became, especially the "liberating discourse that would evolve in her own poetic canon".[169]
Many critics consider Angelou's autobiographies more important than her poetry.[170] Although all her books have been best-sellers, her poetry has not been perceived to be as serious as her prose and has been understudied.[22] Her poems were more interesting when she recited and performed them, and many critics emphasized the public aspect of her poetry.[171] Angelou's lack of critical acclaim has been attributed to both the public nature of many of her poems and to Angelou's popular success, and to critics' preferences for poetry as a written form rather than a verbal, performed one.[172] Zofia Burr has countered Angelou's critics by condemning them for not taking into account Angelou's larger purposes in her writing: "to be representative rather than individual, authoritative rather than confessional".[173]