Everipedia is now
IQ.wiki
- Join the
IQ Brainlist
and our
Discord
for early access to editing on the new platform and to participate in the beta testing.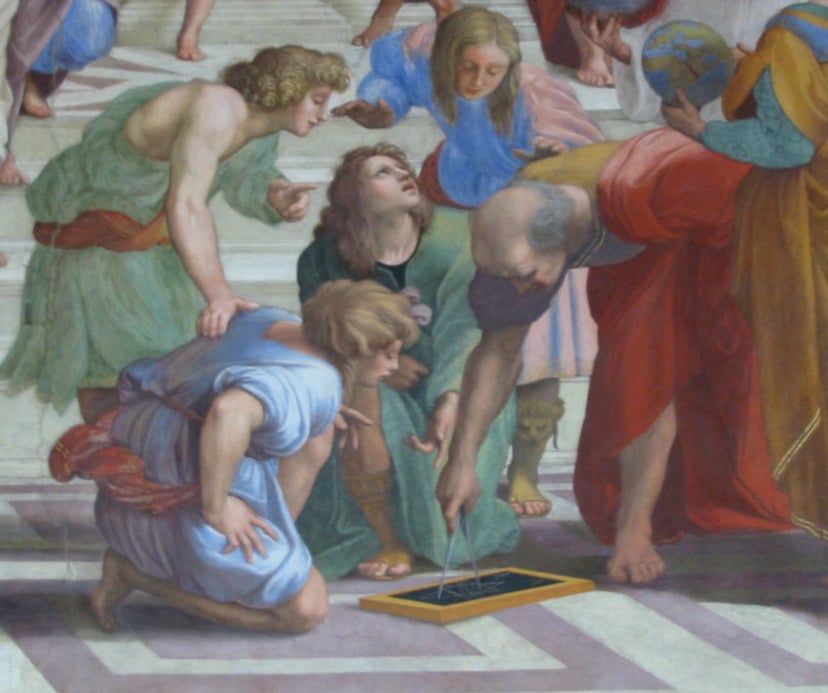 Mathematician
Mathematician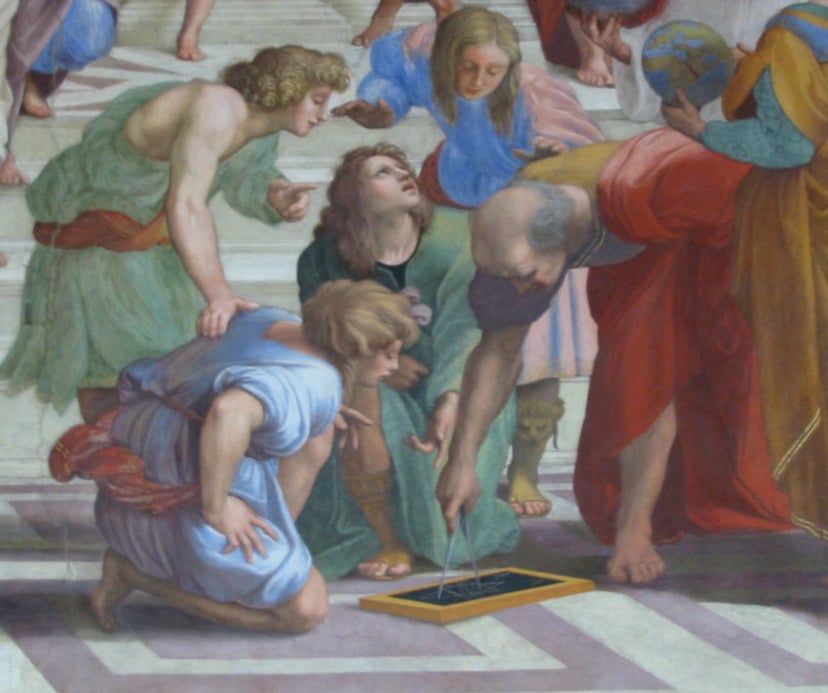 Mathematician

Occupation

Academic

Description

Competencies

Mathematics, analytical skills and critical thinking skills
Doctoral degree, occasionally master's degree

universities,




private corporations,




financial industry,




government

statistician, actuary
A mathematician is someone who uses an extensive knowledge of mathematics in his or her work, typically to solve mathematical problems.
Mathematician

Occupation

Academic

Description

Competencies

Mathematics, analytical skills and critical thinking skills
Doctoral degree, occasionally master's degree

universities,




private corporations,




financial industry,




government

statistician, actuary
Mathematicians usually cover a breadth of topics within mathematics in their undergraduate education, and then proceed to specialize in topics of their own choice at the graduate level. In some universities, a qualifying exam serves to test both the breadth and depth of a student's understanding of mathematics; the students, who pass, are permitted to work on a doctoral dissertation.
Mathematicians involved with solving problems with applications in real life are called applied mathematicians. Applied mathematicians are mathematical scientists who, with their specialized knowledge and professional methodology, approach many of the imposing problems presented in related scientific fields. With professional focus on a wide variety of problems, theoretical systems, and localized constructs, applied mathematicians work regularly in the study and formulation of mathematical models. Mathematicians and applied mathematicians are considered to be two of the STEM (science, technology, engineering, and mathematics) careers.
The discipline of applied mathematics concerns itself with mathematical methods that are typically used in science, engineering, business, and industry; thus, "applied mathematics" is a mathematical science with specialized knowledge. The term "applied mathematics" also describes the professional specialty in which mathematicians work on problems, often concrete but sometimes abstract. As professionals focused on problem solving, applied mathematicians look into the formulation, study, and use of mathematical models in science, engineering, business, and other areas of mathematical practice.
Pure mathematics is mathematics that studies entirely abstract concepts. From the eighteenth century onwards, this was a recognized category of mathematical activity, sometimes characterized as speculative mathematics,[12] and at variance with the trend towards meeting the needs of navigation, astronomy, physics, economics, engineering, and other applications.
Another insightful view put forth is that pure mathematics is not necessarily applied mathematics: it is possible to study abstract entities with respect to their intrinsic nature, and not be concerned with how they manifest in the real world.[13] Even though the pure and applied viewpoints are distinct philosophical positions, in practice there is much overlap in the activity of pure and applied mathematicians.
To develop accurate models for describing the real world, many applied mathematicians draw on tools and techniques that are often considered to be "pure" mathematics. On the other hand, many pure mathematicians draw on natural and social phenomena as inspiration for their abstract research.
Many professional mathematicians also engage in the teaching of mathematics. Duties may include:
teaching university mathematics courses;

supervising undergraduate and graduate research; and

serving on academic committees.
Many careers in mathematics outside of universities involve consulting. For instance, actuaries assemble and analyze data to estimate the probability and likely cost of the occurrence of an event such as death, sickness, injury, disability, or loss of property. Actuaries also address financial questions, including those involving the level of pension contributions required to produce a certain retirement income and the way in which a company should invest resources to maximize its return on investments in light of potential risk. Using their broad knowledge, actuaries help design and price insurance policies, pension plans, and other financial strategies in a manner which will help ensure that the plans are maintained on a sound financial basis.
As another example, mathematical finance will derive and extend the mathematical or numerical models without necessarily establishing a link to financial theory, taking observed market prices as input. Mathematical consistency is required, not compatibility with economic theory. Thus, for example, while a financial economist might study the structural reasons why a company may have a certain share price, a financial mathematician may take the share price as a given, and attempt to use stochastic calculus to obtain the corresponding value of derivatives of the stock (see: Valuation of options; Financial modeling).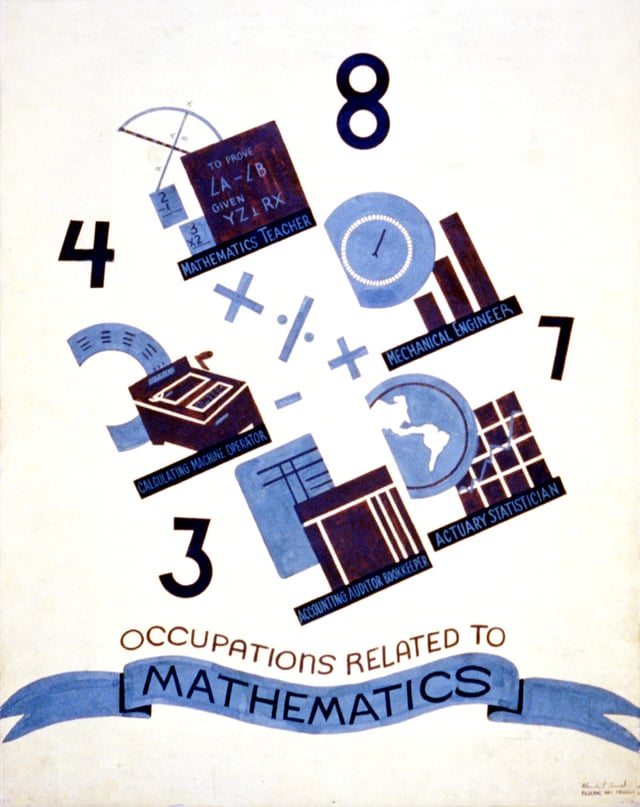 In 1938 in the United States, mathematicians were desired as teachers, calculating machine operators, mechanical engineers, accounting auditor bookkeepers, and actuary statisticians
According to the Dictionary of Occupational Titles occupations in mathematics include the following.[14]
Mathematician

Operations-Research Analyst

Mathematical Statistician

Mathematical Technician

Actuary

Applied Statistician

Weight Analyst
Quotations about mathematicians
The following are quotations about mathematicians, or by mathematicians.
Die Mathematiker sind eine Art Franzosen; redet man mit ihnen, so übersetzen sie es in ihre Sprache, und dann ist es alsobald ganz etwas anderes. (Mathematicians are [like] a sort of Frenchmen; if you talk to them, they translate it into their own language, and then it is immediately something quite different.)
Each generation has its few great mathematicians...and [the others'] research harms no one.

—

Alfred W. Adler

(~1930), "Mathematics and Creativity"[17]
In short, I never yet encountered the mere mathematician who could be trusted out of equal roots, or one who did not clandestinely hold it as a point of his faith that x squared + px was absolutely and unconditionally equal to q. Say to one of these gentlemen, by way of experiment, if you please, that you believe occasions may occur where x squared + px is not altogether equal to q, and, having made him understand what you mean, get out of his reach as speedily as convenient, for, beyond doubt, he will endeavor to knock you down.

—

Edgar Allan Poe

, The purloined letter
A mathematician, like a painter or poet, is a maker of patterns. If his patterns are more permanent than theirs, it is because they are made with ideas.

—

G. H. Hardy

, A Mathematician's Apology
Some of you may have met mathematicians and wondered how they got that way.
It is impossible to be a mathematician without being a poet in soul.
There are two ways to do great mathematics. The first is to be smarter than everybody else. The second way is to be stupider than everybody else—but persistent.Mathematics is the queen of the sciences and arithmetic the queen of mathematics.
There is no Nobel Prize in mathematics, though sometimes mathematicians have won the Nobel Prize in a different field, such as economics. Prominent prizes in mathematics include the Abel Prize, the Chern Medal, the Fields Medal, the Gauss Prize, the Nemmers Prize, the Balzan Prize, the Crafoord Prize, the Shaw Prize, the Steele Prize, the Wolf Prize, the Schock Prize, and the Nevanlinna Prize.
The American Mathematical Society, Association for Women in Mathematics, and other mathematical societies offer several prizes aimed at increasing the representation of women and minorities in the future of mathematics.
Mathematical autobiographies
Several well known mathematicians have written autobiographies in part to explain to a general audience what it is about mathematics that has made them want to devote their lives to its study. These provide some of the best glimpses into what it means to be a mathematician. The following list contains some works that are not autobiographies, but rather essays on mathematics and mathematicians with strong autobiographical elements.
The Book of My Life - Girolamo Cardano[19]

A Mathematician's Apology - G.H. Hardy[20]

A Mathematician's Miscellany (republished as Littlewood's miscellany) - J. E. Littlewood[21]

I Am a Mathematician - Norbert Wiener[22]

I Want to be a Mathematician - Paul R. Halmos

Adventures of a Mathematician - Stanislaw Ulam[23]

Enigmas of Chance - Mark Kac[24]

Random Curves - Neal Koblitz

Love and Math* - Edward Frenkel

Mathematics Without Apologies - Michael Harris[25]
Lists of mathematicians

Human computer

Mathematical joke

A Mathematician's Apology

Men of Mathematics (book)

Mental calculator