Everipedia is now
IQ.wiki
- Join the
IQ Brainlist
and our
Discord
for early access to editing on the new platform and to participate in the beta testing.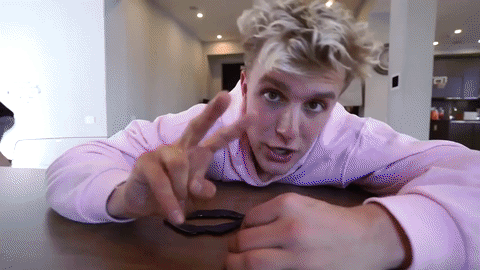 Jake Paul
Jake Paul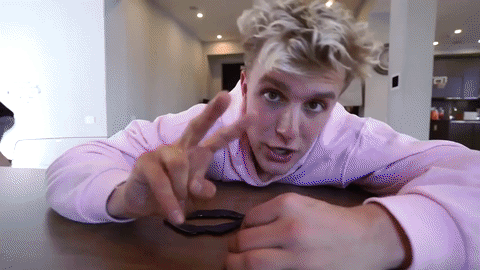 Born

Nationality

American

Occupation

Internet personality, actor, model

Years active

2013–present

Known for

Posting short videos on Vine

Bizaardvark

Relatives

Logan Paul
On Youtube
Jake Joseph Paul (born January 17, 1997) is an American Internet personality and entrepreneur from Westlake, Ohio, who rose to fame on the video application Vine. He has since evolved into a YouTube celebrity with millions of followers. Jake resides in Los Angeles, California. He has a professional boxing match scheduled against Hasim Rahman Jr. on August 6, 2022.[17][18]
Born

Nationality

American

Occupation

Internet personality, actor, model

Years active

2013–present

Known for

Posting short videos on Vine

Bizaardvark

Relatives

Logan Paul
Early Life & Career Beginnings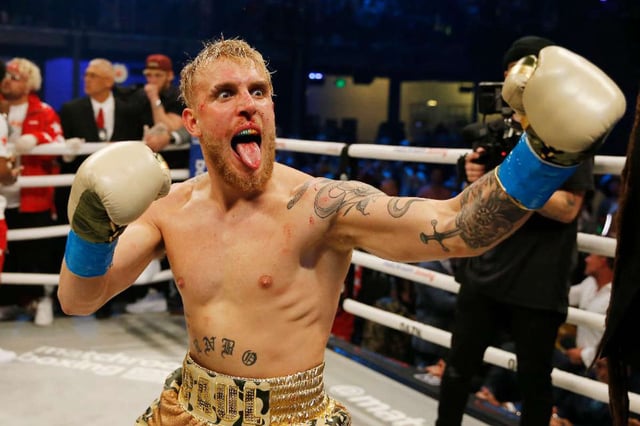 Jake Paul
Jake grew up in Westlake, Ohio and was always into sports. His brother would film their games to see how they can improve athletically. Eventually they decided to film themselves missing around and put up their antics on YouTube. Jake sand his brother signed up for Vine the first day it came out and quickly figured out the formula to gain followers. At the time of Vine discontinuing, Jake had over 5 million followers. [8]
In 2015, it was announced that Paul would be starring as Dirk in Disney Channel's new comedy series Bizaardvark.
On January 5, 2017, Paul was among the invited guests at an event at the White House centering on social media.
As a stunt for his YouTube vlog channel, he hid in a bathroom there before sneaking out of the White House at 3:30am without being confronted by security.
On January 17, 2017, it was reported Paul had launched Team 10 with $1 million in financing to create influencer marketing management and creative agency around teen entertainment.
[9] Investors include Danhua Capital, Horizons Alpha, Vayner Capital, Sound Ventures & A-Grade Investments, and Adam Zeplain.
On May 30, 2017, Paul released a song and music video alongside Team 10, titled "It's Everyday Bro", which achieved over 70 million views on YouTube in its first month and has become the seventh most disliked video on YouTube.
The song peaked at number 94 on the Billboard Hot 100 on the chart dated June 24, 2017.
On July 22, 2017, during the middle of filming the second season of Bizaardvark, the Disney Channel announced that Paul would be leaving the series, saying in a statement "We've mutually agreed that Jake Paul will leave his role on the Disney Channel series 'Bizaardvark'. On behalf of the production company, the cast and crew, we thank Jake for his good work on the TV series for the past 18 months and extend our best wishes to him."The announcement followed a KTLA 5 news report about public complaints from Paul's neighbors regarding the noise generated by Paul's pranks, parties, and the large crowds of Paul's fans congregating in their neighborhood.
Jake Paul is fully involved with community work, charities, and providing wishes for Make-A-Wish foundation.
Jake has done several Make-A-Wish request starting all the way back in August 2017, Jake Paul uploaded a video to his Youtube channel titled "I was her make a wish."
In the video, a fan of Jakes named Kaylee chose her Make-A-Wish to meet Jake.
Kaylee was then able to spend the day with him and be in his vlog.
Jake has also done charity celebrity games featuring a basketball game with celebrity Chris Brown, Mr Beast, RiceGum, Lil Pump, and more. Jake also attended a Charity celebrity with his brother Logan Paul, featuring Jarvis Landry, Stipe Miocic, Myles Garrett, and Vassilios Bitsas .
On July 18, 2017, it was reported that Paul's neighbors in the Beverly Grove neighborhood of Los Angeles were meeting with city council members and police officials regarding whether to file a class-action public nuisance lawsuit against Paul.
This came after Paul had made his home address public, leading crowds of fans to gather outside Paul's residence, and noise complaints by neighbors.
Jake Paul is in an ongoing public feud with his brother, Logan Paul. After Logan released THE FALL OF JAKE PAUL, Jake responded with "YouTube Stars Diss Track" where he talks about how the media doesn't recognize his charity efforts. The song was heavily criticized on Twitter, with emphasis on the line referring to the media trying to put him "on a noose." [2]
On February 17, 2020, Jake Paul posted an allegedly "motivational" message on Twitter claiming that "anxiety was created by you", also being positively reviewed by several other verified Twitter accounts.
However, other accounts also started to mock the tweet with ironic comments directed at the entrepreneur.
A few hours later, he managed to write another one, this time saying that "your anxiety can build up if you let it", increasing the negative responses directed at him.
Year

Film

Role

Notes

2016

Dance Camp

Lance

Mono

Dugan

Airplane Mode

TBA
| Year | Film | Role | Notes |
| --- | --- | --- | --- |
| 2016–2017 | Bizaardvark | Dirk Mann | Main Cast |
| 2040 | TBA | TBA | Main Cast |