Everipedia is now
IQ.wiki
- Join the
IQ Brainlist
and our
Discord
for early access to editing on the new platform and to participate in the beta testing.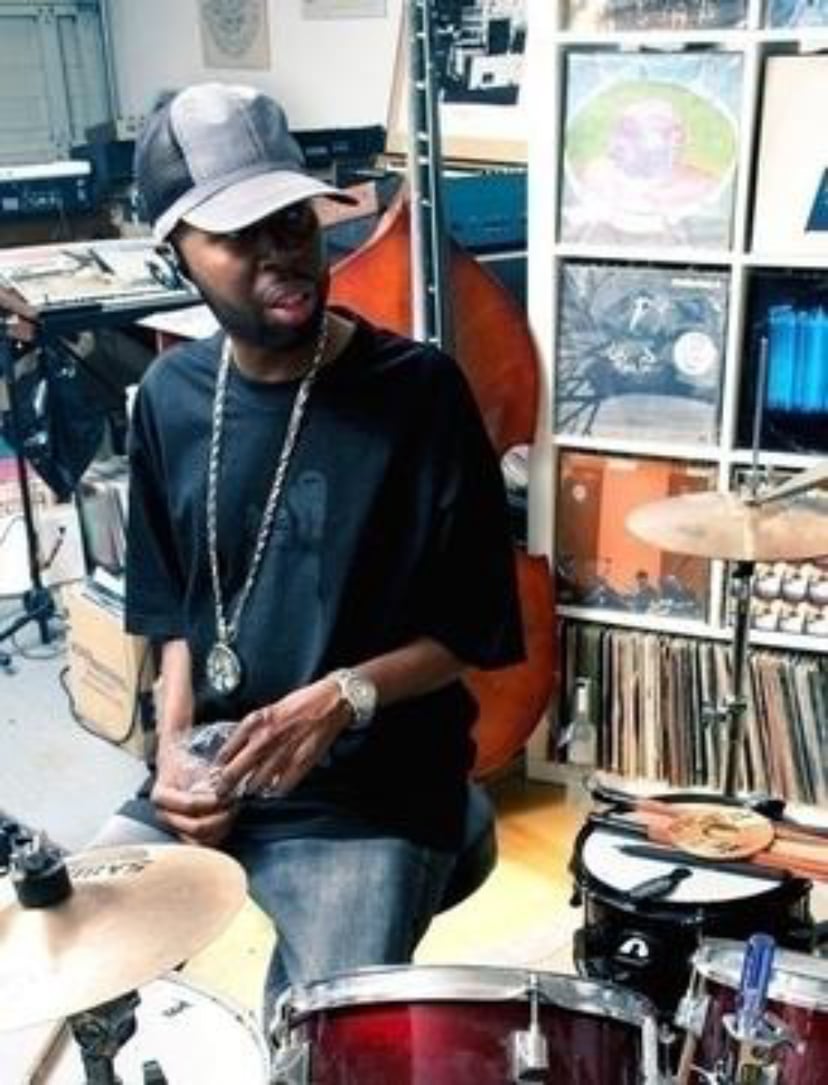 J Dilla
J Dilla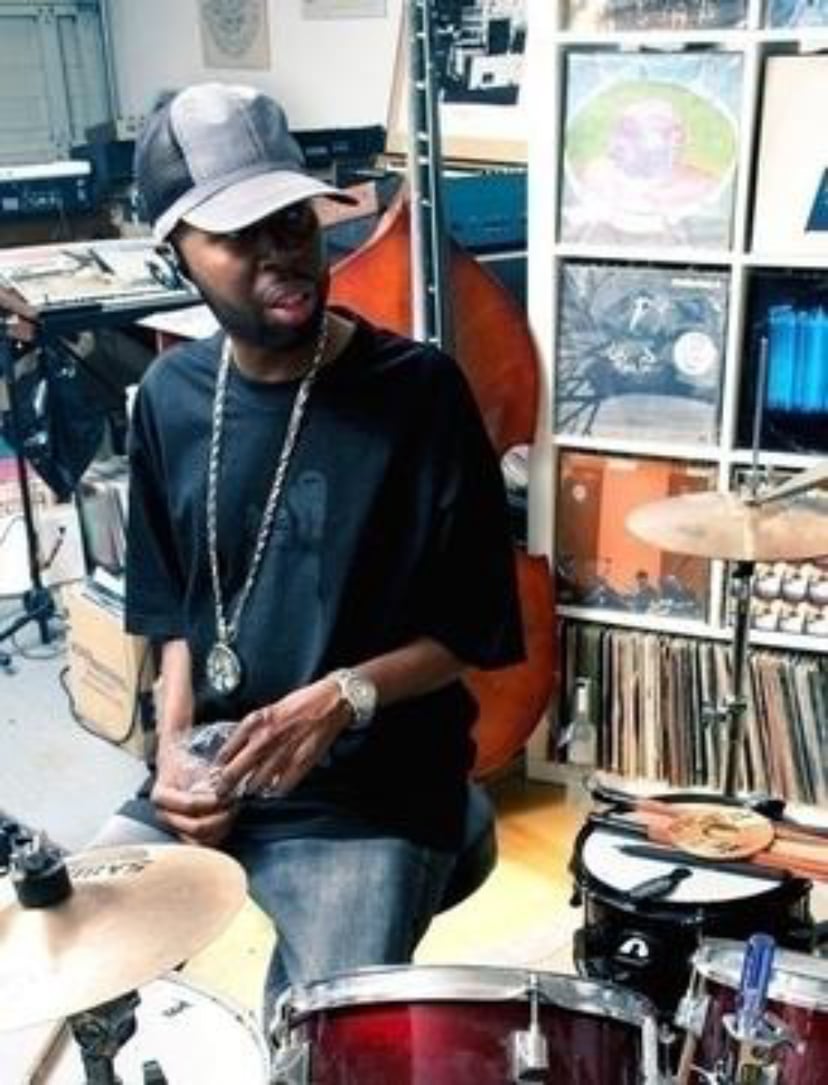 Background information

Birth name

James Dewitt Yancey

Also known as

Born

(

1974-02-07

)

February 7, 1974


Detroit, Michigan

Died

February 10, 2006

(2006-02-10)

(aged 32)


Los Angeles, California

Genres

instrumental hip hop

East Coast hip hop

sampledelia

Occupation(s)

Record producer

rapper

songwriter

Instruments

Turntables

sampler

drum machine

keyboards

synthesizer

drums

vocals

guitar

Years active

1993–2006

Labels

Delicious Vinyl

BBE

Pay Jay

MCA

Stones Throw

Bling 47

✓Look Records

Associated acts

Slum Village

Soulquarians

The Ummah

Beat Junkies

Black Milk

De La Soul

Frank n Dank

Guilty Simpson

Madlib

The Pharcyde

Phat Kat

Questlove

Waajeed
James Dewitt Yancey (February 7, 1974 – February 10, 2006),[1][2] better known by the stage names J Dilla and Jay Dee, was an American record producer and rapper who emerged in the mid-1990s underground hip hop scene in Detroit, Michigan, as one third of the acclaimed music group Slum Village. His obituary at NPR stated that he "was one of the music industry's most influential hip-hop artists,"[3] working with notable acts including A Tribe Called Quest, De La Soul, Busta Rhymes, Erykah Badu, The Roots, The Pharcyde, Madlib and Common.[4]
Background information

Birth name

James Dewitt Yancey

Also known as

Born

(

1974-02-07

)

February 7, 1974


Detroit, Michigan

Died

February 10, 2006

(2006-02-10)

(aged 32)


Los Angeles, California

Genres

instrumental hip hop

East Coast hip hop

sampledelia

Occupation(s)

Record producer

rapper

songwriter

Instruments

Turntables

sampler

drum machine

keyboards

synthesizer

drums

vocals

guitar

Years active

1993–2006

Labels

Delicious Vinyl

BBE

Pay Jay

MCA

Stones Throw

Bling 47

✓Look Records

Associated acts

Slum Village

Soulquarians

The Ummah

Beat Junkies

Black Milk

De La Soul

Frank n Dank

Guilty Simpson

Madlib

The Pharcyde

Phat Kat

Questlove

Waajeed
James Yancey was born in Detroit, Michigan. He was the eldest of four children, including a sister, Martha, and two brothers, Earl and John; John later began making music as Illa J. The family lived in a corner house near McDougall and Nevada, on the east side of Detroit.[5] His parents had musical backgrounds—his mother, Maureen "Ma Dukes" Yancey, is a former opera singer and his father, Beverly Dewitt Yancey, was a jazz bassist, and performed Globetrotters half-time shows for several years.[6] His mother said that he could "match pitch perfect harmony" when he was a pre-verbal infant.[7]
Along with a wide range of other musical genres, Yancey developed a passion for hip hop music. After transferring from Davis Aerospace Technical High School to Pershing High School, he met classmates T3 and Baatin, and became friends with them through their mutual interest in rap battles. The three formed the rap group called Slum Village.[8] He also took up beat-making using a simple tape deck as the center of his studio.[1] During these teenage years he "stayed in the basement alone" in order to train himself to produce beats with his growing record collection.
2000 marked the major label debut of Slum Village with Fantastic, Vol. 2, creating a new following for J Dilla as a producer and an MC. He was also a founding member of the production collective known as The Soulquarians (along with Ahmir "Questlove" Thompson, D'Angelo and James Poyser amongst others) which earned him more recognition. He subsequently worked with Erykah Badu, Poe, Talib Kweli, and Common—contributing heavily to the latter's critically acclaimed breakthrough album, Like Water for Chocolate.[1]
His debut as a solo artist came in 2001 with the single "Fuck the Police" (Up Above Records), followed by the album Welcome 2 Detroit, which began British independent record label BBE's "Beat Generation" series. In 2001, Jay Dee began using the name "J Dilla" (an attempt to differentiate himself from Jermaine Dupri who also goes by "J.D."), and left Slum Village to pursue a major label solo career with MCA Records.
In 2002, Dilla produced Frank-N-Dank's 48 Hours, as well as a solo album, but neither record was ever released, although the former surfaced through bootlegging.[12] When Dilla finished working with Frank-N-Dank on the 48 Hours album, MCA Records requested a record with a larger commercial appeal, and the artists re-recorded the majority of the tracks, this time using little to no samples. Despite this, neither versions of the album were successful, and Dilla stated that he was disappointed that the music never got out to the fans.
Dilla was signed to a solo deal with MCA Records in 2002. Although Dilla was known as a producer rather than an MC, he chose to rap on the album and have the music produced by some of his favorite producers,[13] such as Madlib, Pete Rock, Hi-Tek, Supa Dave West, Kanye West, Nottz, Waajeed and others. The album was shelved due to internal changes at the label and MCA.
While the record with MCA stalled, Dilla recorded Ruff Draft, released exclusively to vinyl by German label Groove Attack.[14] The album was also unsuccessful, but his work from this point on was increasingly released through independent record labels. In a 2003 interview with Groove Attack, Dilla talked about this change of direction:
You know, if I had a choice... Skip the major labels and just put it out yourself, man... Trust me. I tell everybody it's better to do it yourself and let the Indies come after you instead of going in their [direction] and getting a deal and you have to wait. It ain't fun. Take it from me. Right now, I'm on MCA but it feels like I'm an unsigned artist still. It's cool. It's a blessing, but damn I'm like, 'When's my shit gonna come out? I'm ready now, what's up?'
Posthumously released music
Upon his death, Dilla had several projects planned for future completion and release.[1] According to founding Slum Village member T3 in an interview in March 2015, J Dilla has about 150 unreleased beats, some of which featured on Slum Village's album entitled Yes!, which released June 16, 2015.[17]
The Shining, was "75% completed when Dilla died" and completed by Karriem Riggins and released on August 8, 2006 on BBE Records.[18]
Ruff Draft was reissued as a double CD/LP set in March 2007 and is sometimes considered his third solo album. The reissue contains unreleased material from the Ruff Draft sessions and instrumentals. Most notably, it was also released in a cassette tape format, paying homage to Dilla's dirty, grimy sound (he was known for recording over two-tracked instrumentals).[1]
Jay Love Japan was announced in 2005 as his debut release on the Operation Unknown label. Though it saw a 2006 release in Japan, it was heavily bootlegged elsewhere and did not receive an official release until 2016.
Champion Sound, J Dilla's and Madlib's collaborative album, was reissued in June 2007 by Stones Throw Records as a 2CD Deluxe Edition with instrumentals and b-sides.[1]
Yancey Boys, the debut album by J Dilla's younger brother John Yancey, was released in 2008 on Delicious Vinyl Records. It is produced entirely by J Dilla and features rapping by his brother, under the name Illa J. Stones Throw Records released a digital instrumental version of the album in 2009.[19]
Jay Stay Paid, an album featuring 28 previously unreleased instrumental tracks made at various points in his career, was released in 2009 by Nature Sounds. Vocals to a select few of the tracks were provided by rappers who were close to Dilla though the majority of the album is instrumental. The project was mixed and arranged by Pete Rock, who was a major inspiration to Dilla.
In 2010, unreleased production and vocals from J Dilla were featured on Slum Village's sixth studio album Villa Manifesto, the first album with all five members.
In December 2011, Jonathan Taylor, CEO of the Yancey Music Group (founded by Dilla's mother Maureen Yancey), told the UK's Conspiracy Worldwide radio show that the album Rebirth of Detroit was ready for a May 2012 release.[20] On May 25, 2012, Mahogani Music released a limited edition 12" vinyl titled Dillatroit/Rebirth Promo EP, leading up to the official release of Rebirth of Detroit on June 12, 2012.
In 2014, J Dilla's long-lost MCA Records album entitled The Diary was scheduled for release, but was delayed to April 15, 2016, via Mass Appeal Records. Intended for release in 2002, the album is a collection of Dilla's vocal performances over production by Madlib, Pete Rock, Nottz, House Shoes, Karriem Riggins, and others. The first single is the album's intro cut, "The Introduction." [21]
Common's album Finding Forever is an album entirely dedicated to J Dilla, in which Kanye West cut up the samples in methods that J Dilla used.

The Roots released a mixtape called Dilla Joints on what would have been J Dilla's 36th birthday in February 2010.[39] The mixtape would later be rapped over by Dice Raw in his mixtape Dilla, Dice, Pregunta.[40]

The Roots pay tribute to J Dilla on their 2006 album Game Theory with "Can't Stop This", a song that incorporates J Dilla's song "Time: The Donut of the Heart" as the beat with emcee Black Thought rapping about the impact he had on his life. The song closes with a number of voice messages discussing J Dilla's legacy and influence on hip-hop music over the years. The Roots again pay tribute to J Dilla, along with deceased Slum Village member Baatin, on the instrumental interlude "Dillatude: Flight of the Titus" from their album How I Got Over.

Rapper XV released a 6-song EP entitled Thanks For The Donuts, strictly using beats produced by J Dilla, on the 5th anniversary of the release of Donuts (February 7, 2011), which also would be J Dilla's 37th birthday.

Erykah Badu's series of New Amerykah albums contains a number of tributes to J Dilla. On New Amerykah Part One (4th World War), Badu first honours Dilla with the song "The Healer", where she sings "this one is for Dilla". She again pays tribute to him on the song "My People", a re-working of the song "People" from J Dilla's album Donuts. The closing song of New Amerykah Part One, "Telephone", draws inspiration from J Dilla's final moments as his mother had described to her, with J Dilla himself having visions about his passage to the afterlife.[41] On New Amerykah Part Two (Return of the Ankh), Badu pays tribute again to Dilla on the song "Love", a song that J Dilla posthumously produced as well.

J Rocc commemorates J Dilla with a series of mixes and podcasts entitled Thank You Jay Dee. The series is divided into four acts and was released yearly from 2006 to 2009. The music contained within is a megamix of J Dilla's sample sources, demonstrating the wide variety of styles and songs Dilla was able to incorporate in creating his music.[42]

Dwele on his 2008 album Sketches of a Man pays tribute to J Dilla all over the album, from the album cover (an imitation of Dilla's instrumental album Donuts), to the interludes ("Workin' On It" is a medley of various songs found on Donuts) and the songs "Open Your Eyes"[43] and "Brandi". "Open Your Eyes" is a cover of the Bobby Caldwell song that was sampled by J Dilla for Common's "The Light", from his 2000 album Like Water For Chocolate. "Brandi" contains a sample from "Go Ladies" from J Dilla's former group Slum Village, who also appear on the song, from their 2000 album, Fantastic, Vol. 2.

Termanology recorded a hip-hop mixtape tribute to J Dilla titled If Heaven Was A Mile Away

Dan-e-o released a 2 in 1 album/mixtape entitled Dilla Pickles in honor of J Dilla.

DJ Spinna released an instrumental tribute to J Dilla on vinyl entitled Dilla is the G.O.A.T. (Greatest of All Time), with Spinna producing a beat in the same vein as J Dilla's song "Nobody Cares About Us" with Phat Kat. DJ Spinna would later release a second tribute to Dilla called Dillagence, using the same production as Dilla is the G.O.A.T. and featuring a medley of J Dilla's lyrics performed by Phonte of Little Brother.[44]

Busta Rhymes in collaboration with Mick Boogie, Rah Digga, Q-Tip, Talib Kweli and others, released Dillagence, a mixtape dedicated to J Dilla's memory and featuring songs created by J Dilla.[45]

Akrobatik pays tribute to Dilla on his album Absolute Value. In the song "Put Your Stamp on It", he raps "If hip hop is dead then it happened the day that Dilla died". The song was produced by Dilla himself.

Pete Rock pays tribute to J Dilla on the album NY's Finest, on the track "Gangsta Boogie".

Q-Tip pays tribute to J Dilla on his 2008 album The Renaissance with the songs "Shaka" and "Life is Better". On the former, he calls J Dilla a "master" and raps, "Dilla, having you in my past has been blast, you've inspired so many and forever will you last", and on the latter, he makes mention of J Dilla twice during a verse that recalls some of hip-hop's most influential figures.

Black Milk mentions J Dilla on various productions of his since his death. On his 2008 album Tronic, Black Milk rhymes about how J Dilla was an inspiration to him ("Long Story Short") and that he was "the best Hip-Hop producer" ("Bond 4 Life"). On his 2010 album, Album of the Year, Black Milk laments that he wishes J Dilla was still around "to hear this new shit" ("Closed Chapter").

Pusha T tributes J Dilla in the introduction to his album King Push - Darkest Before Dawn: The Prelude, by stating "the only great I ain't made better was J Dilla".[46]

Flying Lotus pays tribute to J Dilla by remaking the Slum Village track "Fall In Love" in his own signature sound, utilizing the same melody and harmony with a more electronic aesthetic. The song would later be rhymed over in the song "Paid Homage (RIP J Dilla)", from Detroit emcee Finale's album A Pipe Dream and a Promise. Flying Lotus also produced his own rendition of J Dilla's song "Lightworks" with the song "LTWXRMX" from his white label EP Shhhh! released in 2008. The short film "Until the Quiet Comes" released by Flying Lotus and directed by Kahlil Joseph stars dancer Storyboard P wearing a shirt with the text "J Dilla Changed My Life". Flying Lotus (under pseudonym Captain Murphy) also mentions J Dilla in the song "Dead Man's Tetris" from the 2014 album, You're Dead!.

Robert Glasper, a jazz pianist, pays tribute to J Dilla with the song "J Dillalude". The jazz composition, requested by Q-Tip in a voice message played at the song's onset, is made up of various Dilla productions such as Common's "Thelonius", De La Soul's "Stakes Is High" and Slum Village's "Fall in Love".[47] "Dillalude Pt. 2" was released on the Black Radio Recovered: Remix EP in October 2012 under the Robert Glasper Experiment.

Hip-hop producer J. Rawls pays tribute to J Dilla on his side-project The Liquid Crystal Project with a song entitled "A Tribute to Dilla", a jazzy rendition of Slum Village's song "Players".[48] J. Rawls later pays tribute again to Dilla with the song "Another Tribute to Dilla" released on vinyl 7-inch, which offers a jazzy cover of the song "Fall in Love".[49]

Madlib and J-Rocc honor J Dilla with two installments of the Beat Konducta series. Beat Konducta Vol. 5: Dil Cosby Suite and Beat Konducta Vol. 6: Dil Withers Suite (later combined into Vol. 5-6: A Tribute to...) are instrumental tributes produced in the same fashion as J Dilla's album Donuts.

Producer M-Phazes pays tribute to J Dilla with the track "Raise It Up For Dilla".

Ladybug Mecca former member of Digable Planets dedicates her song and video "You Never Get Over It" from her solo album Trip The Light Fantastic in loving memory of J. Dilla and her mother and father.

De La Soul pay tribute to Dilla on the track "La La La" with the line: "Dilla, if you hear me, we are missing you so much."

Kardinal Offishall pays tribute to J Dilla on his album Not 4 Sale. At the end of the song "Due Me a Favour", he performs an a cappella rap, stating: "I believe that Dilla was the number one dude in rap".

Show & A.G. pays tribute to J Dilla on their song "Business As Usual" from the Live Hard EP, where A.G. rhymes: "Age bitter, J Dilla rest your soul / Gave his life for this hip hop shit, y'all don't hear me though".

A Suite for Ma Dukes is a live musical tribute to J Dilla arranged and conducted by Miguel Atwood-Ferguson with the help of Carlos Nino and a 60-piece orchestra. Originally a four-song EP of a selection of J Dilla's works, the project expanded and culminated into a series of live events that were recorded for a subsequent live album release. The concert, the second in the Timeless Conductor Series presented by Mochilla, included orchestral renditions of several J Dilla's productions and featured appearances by soul singers Dwele and Bilal, rappers Posdnous, Talib Kweli and Illa J, along with various instrumental and vocal contributions by some of Dilla's close collaborators like Karriem Riggins, Shafiq Husayn, Thundercat and Amp Fiddler.[50]

On J. Cole's "Knock Knock" from his popular mixtape The Warm-Up, the song opens with the line: "Sometimes play the villain, sometimes play the hero. Sometimes I be Dilla, sometimes I be Preemo.

Nottz pays a tribute to J Dilla in the song "Shine So Brite" on the album You Need This Music.

Lettuce, the funk band pays tribute with their song "Mr. Yancey".

Guitarist/composer David Fiuczynski premiered a composition at Berklee College of Music called "Flam! Pan-Asian Microjam for J Dilla and Olivier Messiaen", inspired in part by Yancey's sense of rhythmic ideas.

Danny! pays tribute to J Dilla on the track "Check It Out", a re-interpretation of the A Tribe Called Quest single "Find A Way", which was produced by Dilla.

On Massilon, Ohio rapper Stalley's mixtape Lincoln Way Nights, he refers to Dilla in the song "Tell Montez I Love Her" with this line: "You was the first to introduce me to Dilla, and until this day I ain't never heard nobody realer".

On Pittsburgh rapper Mac Miller's The Jukebox mixtape, he does his own rendition of "So Far To Go".

For "Too Deep For the Intro," on the Friday Night Lights mixtape, J. Cole sped up "Didn't Cha Know", which Dilla famously produced for Erykah Badu.

"Show Me a Good Time" from Drake's album Thank Me Later mentions J Dilla.

Immortal Technique, in his single "Toast to the Dead", from his free mixtape The Martyr, raps: "J Dilla's still alive as long as his music is." The production of the song is credited to J Dilla himself.

Big Sean made a song called "Two Can Win" paying tribute to J Dilla.

Skyzoo - Jay Dee's death in 2006 prompted Skyzoo to pay tribute with the song "Sky's Last Donut."[51]

Charles Hamilton released a mixtape And Then They Played Dilla.

Chance the Rapper mentions J Dilla in the mixtape "Acid Rap". The standout song "Everybody's Something" samples Slum Village's "Fall in Love".

Kendrick Lamar has a couple of songs over J Dilla's beats called "Dreams" featuring Punch & "Players (freestyle)" featuring Punch and Jay Rock.

Joey Badass has used some of Dilla's beats in some of his works like "Snakes", "Two Lips" and "Like Me" on his 2015 album, B4.Da.$$ which was an unreleased Dilla beat. Also, in "Christ Conscious", Badass uses the line "Specially educated, Heavily Medicated/ Give me that beat and I'll put you next to Dilla

Agile pays tribute to J Dilla throughout his mixtape Toronto Love Jay.

Rick Ross mentioned his aspirations to have a recording session with Dilla in his track "Walkin' on Air", a song from his 2014 album Mastermind: "All I ever wanted was to make scrilla, Have a recording session with J Dilla".

Mint Condition state in the liner notes to their 2008 album E-Life in reference to J Dilla's death, "Wish we had the chance to work with you, your music continues to inspire us.[52]

James Hughes, the son of filmmaker John Hughes revealed that his father was a huge fan of Donuts.[53]

The Brand New Heavies pay tribute to J Dilla in the liner notes of their 2006 reunion album Get Used to It by saying "And last but not least, a special shout out and in loving memory to the man who hooked up many an ill remix, James (Jay Dee, J Dilla) Yancey. Rest in peace, brotha".[54]

Singer Eric Roberson referred to Dilla's inspiration on his production as "the reason why I even do beats" on his 2007 album ...Left.[55]

Production team Jimmy Jam and Terry Lewis revealed that J Dilla was the inspiration behind the sound of Janet Jackson's 1997 single "Got 'til It's Gone". The song's musical arrangement was inspired by Dilla's remix of The Brand New Heavies' song "Sometimes", the first single from their fourth album Shelter.[56]

Bishop Nehru has used some of Dilla's beats in the songs "Sweet Lips", an unreleased J Dilla beat and "Welcome".

Astro Dawg made a beat called "A Donut For Dilla" paying tribute to J Dilla.

Solillaquists of Sound referenced J Dilla in the opening verse of their song Death of the Muse.

Pete Rock made an instrumental song called "Dilla Bounce (R.I.P.)" on his album PeteStrumentals 2 paying tribute to J Dilla.

Nas rapped over Donuts' Gobstopper on his one-off release "The Season."

Talib Kweli paid tribute to J Dilla alongside other deceased artists Pimp C and Roc Raida on the song "Great Day In The Mourning" on Kweli's 2015 collaboration album with 9th Wonder, Indie 500.

Phife Dawg paid homage to his friend in his song entitled "Dear Dilla".

On their 2016 album The Getaway, Red Hot Chili Peppers mentioned J Dilla in the song "Detroit".[57]

Elzhi paid tribute to J DIlla in the song "February".

In early 2017, Jon Bellion honours J Dilla with a verse before the intro to Bellion's radio hit "All Time Low" on The Tonight Show Starring Jimmy Fallon.

The 1975 sampled J Dilla's song "All Right" on their 2013 self-titled debut album in the song "So Far (It's Alright)".