Everipedia is now
IQ.wiki
- Join the
IQ Brainlist
and our
Discord
for early access to editing on the new platform and to participate in the beta testing.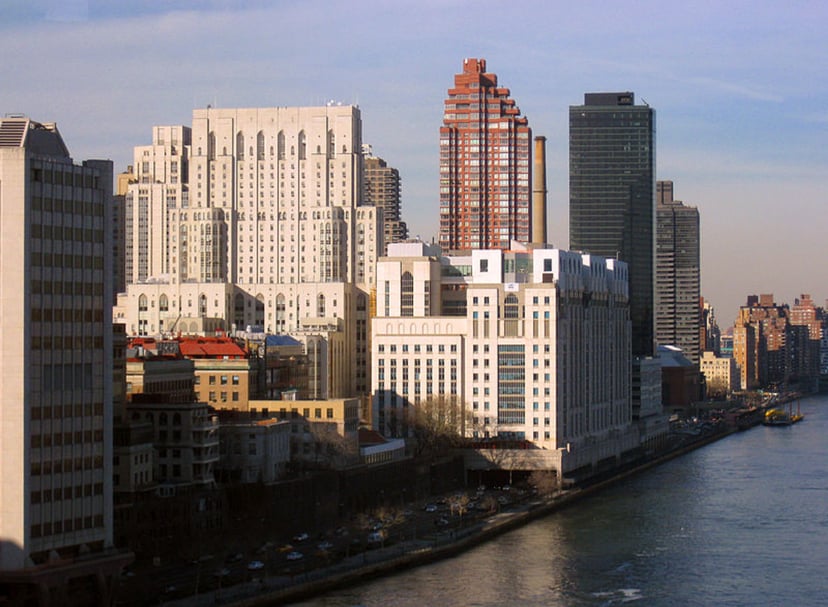 Hospital
Hospital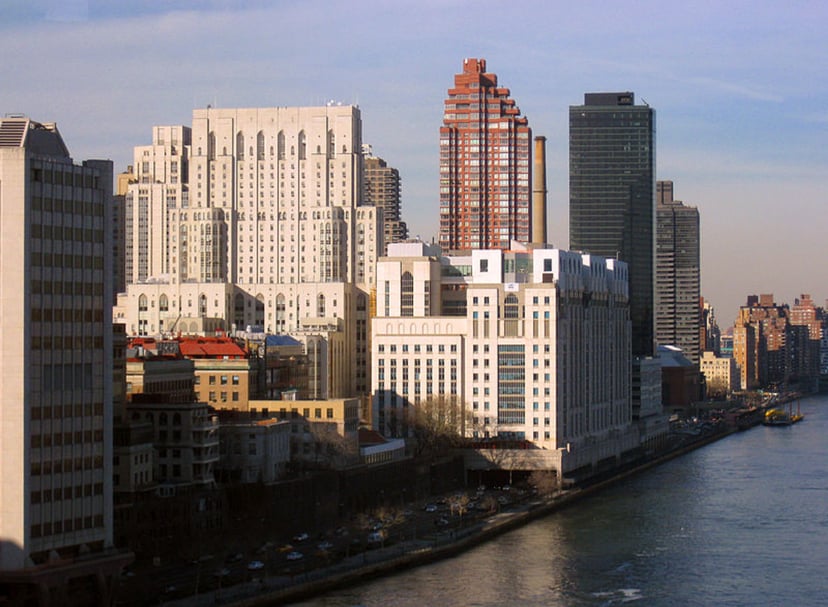 During peacetime, hospitals can be indicated by a variety of symbols.
During the Middle Ages, hospitals served different functions from modern institutions.
Middle Ages hospitals were almshouses for the poor, hostels for pilgrims, or hospital schools. The word "hospital" comes from the Latin hospes, signifying a stranger or foreigner, hence a guest. Another noun derived from this, hospitium came to signify hospitality, that is the relation between guest and shelterer, hospitality, friendliness, and hospitable reception. By metonymy the Latin word then came to mean a guest-chamber, guest's lodging, an inn.[6]*%2C%20revised%20by%20J.%20Marcha]]is thus the root for the English words (where the was dropped for convenience of pronunciation) hospitality hostel hotel odern word derives from Latin via the ancient French romance word hostel, which developed a silent s, which letter was eventually removed from the word, the loss of which is signified by a circumflex in the modern French word hôtel. The German word 'Spital' shares similar roots.
The grammar of the word differs slightly depending on the dialect. In the United States, hospital usually requires an article; in the United Kingdom and elsewhere, the word normally is used without an article when it is the object of a preposition and when referring to a patient ("in/to the hospital" vs. "in/to hospital"); in Canada, both uses are found.
Lehigh Valley Hospital in Allentown, Pennsylvania
Some patients go to a hospital just for diagnosis, treatment, or therapy and then leave ("outpatients") without staying overnight; while others are "admitted" and stay overnight or for several days or weeks or months ("inpatients"). Hospitals usually are distinguished from other types of medical facilities by their ability to admit and care for inpatients whilst the others, which are smaller, are often described as clinics.
The best-known type of hospital is the general hospital, also known as an acute-care hospital.
These facilities handle many kinds of disease and injury, and normally have an emergency department (sometimes known as "accident & emergency") or trauma center to deal with immediate and urgent threats to health. Larger cities may have several hospitals of varying sizes and facilities. Some hospitals, especially in the United States and Canada, have their own ambulance service.
A district hospital typically is the major health care facility in its region, with large numbers of beds for intensive care, critical care, and long-term care.
In California, "district hospital" refers specifically to a class of healthcare facility created shortly after World War II to address a shortage of hospital beds in many local communities.[7][8] Even today, district hospitals are the sole public hospitals in 19 of California's counties,[7] and are the sole locally-accessible hospital within nine additional counties in which one or more other hospitals are present at substantial distance from a local community.[7] Twenty-eight of California's rural hospitals and 20 of its critical-access hospitals are district hospitals.[8] They are formed by local municipalities, have boards that are individually elected by their local communities, and exist to serve local needs.[7][8] They are a particularly important provider of healthcare to uninsured patients and patients with Medi-Cal (which is California's Medicaid program, serving low-income persons, some senior citizens, persons with disabilities, children in foster care, and pregnant women).[7][8] In 2012, district hospitals provided $54 million in uncompensated care in California.[8]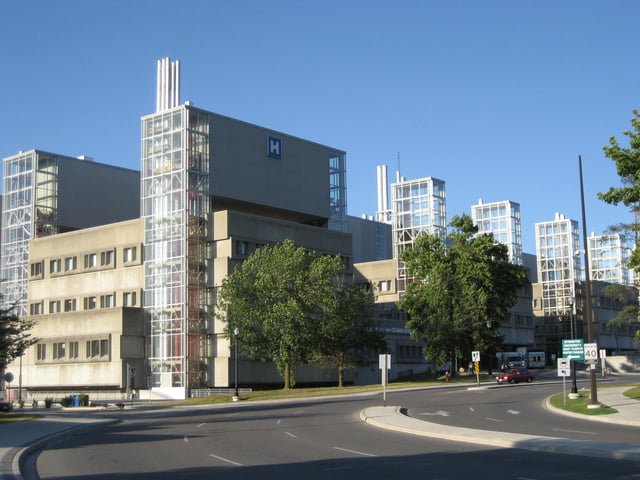 McMaster University Medical Centre is a teaching hospital in Hamilton, Ontario
A teaching hospital combines assistance to people with teaching to medical students and nurses and often is linked to a medical school, nursing school or university. In some countries like UK exists the clinical attachment system that is defined as a period of time when a doctor is attached to a named supervisor in a clinical unit, with the broad aims of observing clinical practice in the UK and the role of doctors and other healthcare professionals in the National Health Service (NHS).
The medical facility smaller than a hospital is generally called a clinic, and often is run by a government agency for health services or a private partnership of physicians (in nations where private practice is allowed). Clinics generally provide only outpatient services.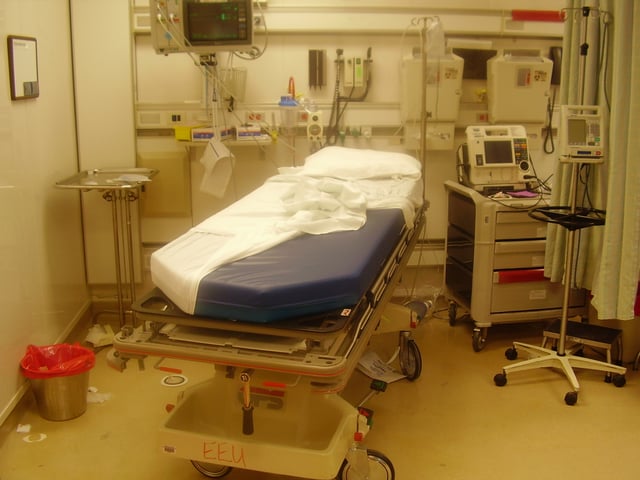 Resuscitation room bed after a trauma intervention, showing the highly technical equipment of modern hospitals
Hospitals consist of departments, traditionally called wards, especially when they have beds for inpatients, when they are sometimes also called inpatient wards. Hospitals may have acute services such as an emergency department or specialist trauma center, burn unit, surgery, or urgent care. These may then be backed up by more specialist units such as the following:
Emergency department

Intensive care unit Paediatric intensive care unit Neonatal intensive care unit Cardiovascular intensive care unit

Oncology

Obstetrics and gynaecology, colloquially, maternity ward
In addition, there is the department of nursing, often headed by a chief nursing officer or director of nursing. This department is responsible for the administration of professional nursing practice, research, and policy for the hospital. Nursing permeates every part of a hospital. Many units or wards have both a nursing and a medical director that serve as administrators for their respective disciplines within that specialty. For example, in an intensive care nursery, the director of neonatology is responsible for the medical staff and medical care while the nursing manager/director for the intensive care nursery is responsible for all of the nurses and nursing care in that unit/ward.
Some hospitals have outpatient departments and some have chronic treatment units such as behavioral health services, dentistry, dermatology, psychiatric ward, rehabilitation services, and physical therapy.
Common support units include a dispensary or pharmacy, pathology, and radiology. Hospitals also have a mortuary, where the dead are stored. On the non-medical side, there often are medical records departments, release of information departments, information management (a.k.a. IM, IT or IS), clinical engineering (a.k.a. biomed), facilities management, plant ops (operations, also known as maintenance), dining services, and security departments.
View of the Askleipion of Kos, the best preserved instance of an Asklepieion.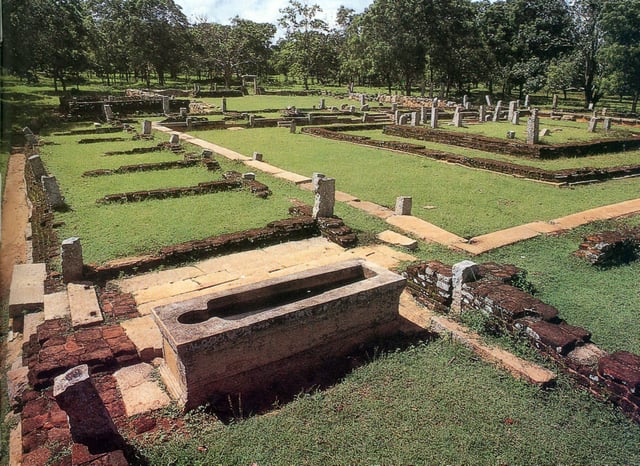 Ruins of a two thousand-year-old hospital were discovered in the historical city of Anuradhapura Mihintale Sri Lanka
A physician taking the pulse of a patient.
The earliest documented institutions aiming to provide cures were ancient Egyptian temples. In ancient Greece, temples dedicated to the healer-god Asclepius, known as Asclepieia functioned as centres of medical advice, prognosis, and healing.[10] In early India India, Fa Xian, a Chinese Buddhist monk who travelled across India c. CE 400, recorded examples of healing institutions.[11]*A%20Record%20of%20Buddhistic%20Kingd]]ccording to the Mahavamsa oyalty, written in the sixth century CE, King Pandukabhaya of Sri Lanka (r. 437–367 BCE) had lying-in-homes and hospitals (Sivikasotthi-Sala).[12] A hospital and medical training centre also existed at Gundeshapur, a major city in southwest of the Sassanid Persian Empire founded in CE 271 by Shapur I.[13]
The declaration of Christianity as an accepted religion in the Roman Empire drove an expansion of the provision of care. Following the First Council of Nicaea in CE 325 construction of a hospital in every cathedral town was begun, including among the earliest hospitals by Saint Sampson in Constantinople and by Basil, bishop of Caesarea in modern-day Turkey.[14] By the twelfth century, Constantinople had two well-organised hospitals, staffed by doctors who were both male and female. Facilities included systematic treatment procedures and specialised wards for various diseases.[15]
Early modern and Enlightenment Europe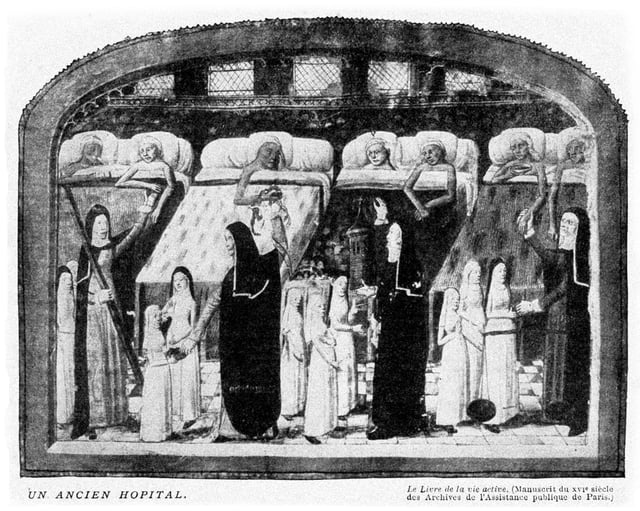 A hospital ward in sixteenth century France.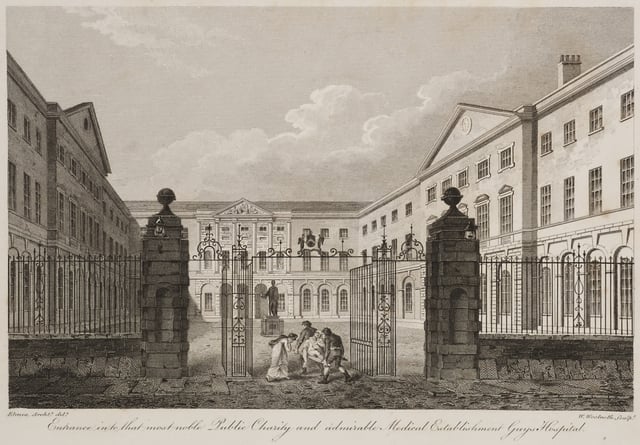 1820 Engraving of Guy's Hospital in London one of the first voluntary hospitals to be established in 1724.
In Europe the medieval concept of Christian care evolved during the sixteenth and seventeenth centuries into a secular one.
In England, after the dissolution of the monasteries in 1540 by King Henry VIII, the church abruptly ceased to be the supporter of hospitals, and only by direct petition from the citizens of London, were the hospitals St Bartholomew's, St Thomas's and St Mary of Bethlehem's (Bedlam) endowed directly by the crown; this was the first instance of secular support being provided for medical institutions.
The voluntary hospital movement began in the early 18th century, with hospitals being founded in London by the 1720s, including Westminster Hospital (1719) promoted by the private bank C. Hoare & Co and Guy's Hospital (1724) funded from the bequest of the wealthy merchant, Thomas Guy.
Other hospitals sprang up in London and other British cities over the century, many paid for by private subscriptions.
St Bartholomew's in London was rebuilt from 1730-1759,[24] and the London Hospital opened in 1752.
These hospitals represented a turning point in the function of the institution; they began to evolve from being basic places of care for the sick to becoming centres of medical innovation and discovery and the principal place for the education and training of prospective practitioners. Some of the era's greatest surgeons and doctors worked and passed on their knowledge at the hospitals.[25] They also changed from being mere homes of refuge to being complex institutions for the provision of medicine and care for sick. The Charité was founded in Berlin in 1710 by King Frederick I of Prussia as a response to an outbreak of plague.
The concept of voluntary hospitals also spread to Colonial America; the Bellevue Hospital opened in 1736 (as a workhouse, then later becoming a hospital); the Pennsylvania Hospital opened in 1752, New York Hospital in 1771, and Massachusetts General Hospital in 1811.
When the Vienna General Hospital opened in 1784 (instantly becoming the world's largest hospital), physicians acquired a new facility that gradually developed into one of the most important research centres.[26]
Another Enlightenment era charitable innovation was the dispensary; these would issue the poor with medicines free of charge. The London Dispensary opened its doors in 1696 as the first such clinic in the British Empire. The idea was slow to catch on until the 1770s,[27] when many such organisations began to appear, including the Public Dispensary of Edinburgh (1776), the Metropolitan Dispensary and Charitable Fund (1779) and the Finsbury Dispensary (1780). Dispensaries were also opened in New York 1771, Philadelphia 1786, and Boston 1796.[28]
The Royal Naval Hospital, Stonehouse, Plymouth, was a pioneer of hospital design in having "pavilions" to minimize the spread of infection. John Wesley visited in 1785, and commented "I never saw anything of the kind so complete; every part is so convenient, and so admirably neat. But there is nothing superfluous, and nothing purely ornamented, either within or without." This revolutionary design was made more widely known by John Howard, the philanthropist. In 1787 the French government sent two scholar administrators, Coulomb and Tenon, who had visited most of the hospitals in Europe.[29] They were impressed and the "pavilion" design was copied in France and throughout Europe.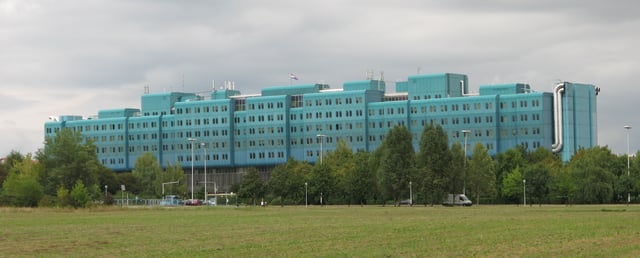 Clinical Hospital Dubrava in Zagreb, Croatia
Modern hospitals are either funded by the government of the country in which they are situated, or survive financially by competing in the private sector (a number of hospitals also are still supported by the historical type of charitable or religious associations).
In the United Kingdom for example, a relatively comprehensive, "free at the point of delivery" health care system exists, funded by the state.
Hospital care is thus relatively easily available to all legal residents, although free emergency care is available to anyone, regardless of nationality or status.
As hospitals prioritise their limited resources, there is a tendency for 'waiting lists' for non-crucial treatment in countries with such systems, as opposed to letting higher-payers get treated first, so sometimes those who can afford it take out private health care to get treatment more quickly.[45]
In some countries such as the USA, hospitals typically operate privately and in some cases on a for-profit basis; for example, the multinational corporation Hospital Corporation of America operates hospitals across the country.[46] The list of procedures and their prices is called a chargemaster; however, these prices don't reflect the typical cost of the procedure, which is typically lower due to in-network negotiation.[47]
Where for-profit hospitals in such countries admit uninsured patients in emergency situations (such as during and after Hurricane Katrina in the USA), they incur direct financial losses,[46] ensuring that there is a clear disincentive to admit such patients. In the United States, laws exist to ensure patients receive care in life-threatening emergency situations regardless of the patient's ability to pay.[48]
As the quality of health care has increasingly become an issue around the world, hospitals have increasingly had to pay serious attention to this matter.
Independent external assessment of quality is one of the most powerful ways to assess this aspect of health care, and hospital accreditation is one means by which this is achieved. In many parts of the world such accreditation is sourced from other countries, a phenomenon known as international healthcare accreditation, by groups such as Accreditation Canada from Canada, the Joint Commission from the USA, the Trent Accreditation Scheme from Great Britain, and Haute Authorité de santé (HAS) from France.
The World Health Organization noted in 2011 that going into hospital was far riskier than flying. Globally the chance of a patient being subject to an error was about 10% and the chance of death resulting from an error was about 1 in 300 according to Liam Donaldson. 7% of hospitalised patients in developed countries, and 10% in developing countries, acquire at least one health care-associated infection. In the USA 1.7 million infections are acquired in hospital each year, leading to 100,000 deaths, figures much worse than in Europe where there were 4.5 million infections and 37,000 deaths.[49]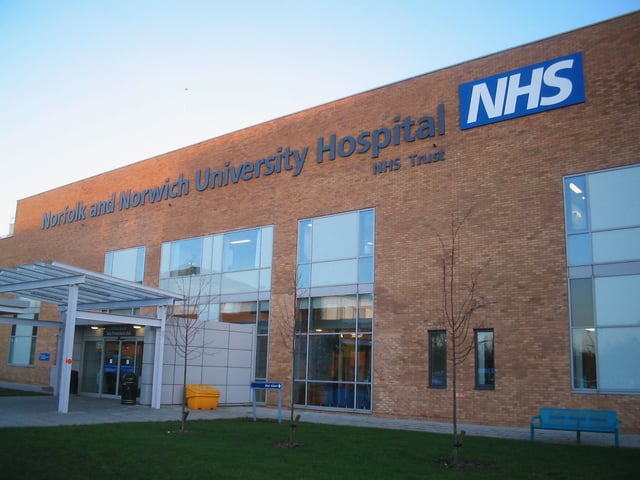 The National Health Service Norfolk and Norwich University Hospital in the UK, showing the utilitarian architecture of many modern hospitals
Hospital chapel at Fawcett Memorial Hospital (Port Charlotte, Florida)
Modern hospital buildings are designed to minimise the effort of medical personnel and the possibility of contamination while maximising the efficiency of the whole system.
Travel time for personnel within the hospital and the transportation of patients between units is facilitated and minimised.
The building also should be built to accommodate heavy departments such as radiology and operating rooms while space for special wiring, plumbing, and waste disposal must be allowed for in the design.[50]
However, many hospitals, even those considered "modern", are the product of continual and often badly managed growth over decades or even centuries, with utilitarian new sections added on as needs and finances dictate.
As a result, Dutch architectural historian Cor Wagenaar has called many hospitals:
*"... built catastrophes, anonymous institutional complexes run by vast bureaucracies, and totally unfit for the purpose they have been designed for... They are hardly ever functional, and instead of making patients feel at home, they produce stress and anxiety."

[51]
Some newer hospitals now try to re-establish design that takes the patient's psychological needs into account, such as providing more fresh air, better views and more pleasant colour schemes.
These ideas harken back to the late eighteenth century, when the concept of providing fresh air and access to the 'healing powers of nature' were first employed by hospital architects in improving their buildings.[51]
The research of British Medical Association is showing that good hospital design can reduce patient's recovery time. Exposure to daylight is effective in reducing depression. Single-sex accommodation help ensure that patients are treated in privacy and with dignity. Exposure to nature and hospital gardens is also important – looking out windows improves patients' moods and reduces blood pressure and stress level. Open windows in patient rooms have also demonstrated some evidence of beneficial outcomes by improving airflow and increased microbial diversity.[52][53] Eliminating long corridors can reduce nurses' fatigue and stress.[54]
Another ongoing major development is the change from a ward-based system (where patients are accommodated in communal rooms, separated by movable partitions) to one in which they are accommodated in individual rooms.
The ward-based system has been described as very efficient, especially for the medical staff, but is considered to be more stressful for patients and detrimental to their privacy.
A major constraint on providing all patients with their own rooms is however found in the higher cost of building and operating such a hospital; this causes some hospitals to charge for private rooms.[55]
History of medicine

Lists of hospitals

Burn center

Hospital information system

Trauma center

The Waiting Room

Walk-in clinic