Everipedia is now
IQ.wiki
- Join the
IQ Brainlist
and our
Discord
for early access to editing on the new platform and to participate in the beta testing.

Google Doodle
Google Doodle

A Google Doodle is a special, temporary alteration of the logo on Google's homepages intended to commemorate holidays, events, achievements, and notable historical figures. The first Google Doodle honored the 1998 edition of the long-running annual Burning Man event in Black Rock City, Nevada, and was designed by co-founders Larry Page and Sergey Brin to notify users of their absence in case the servers crashed.[2][3] Subsequent Google Doodles were designed by an outside contractor until 2000, when Page and Brin asked public relations officer Dennis Hwang to design a logo for Bastille Day. Since then, a team of employees called "Doodlers" have organized and published the Doodles.[4]
Initially, Doodles were neither animated nor hyperlinked—they were simply images with hover text describing the subject or expressing a holiday greeting. Doodles increased in both frequency and complexity by the beginning of the 2010s. In January 2010 the first animated Doodle honored Sir Isaac Newton.[5] The first interactive Doodle appeared shortly thereafter celebrating Pac-Man,[6] and hyperlinks also began to be added to Doodles, usually linking to a search results page for the subject of the Doodle. By 2014, Google had published over 2,000 regional and international Doodles throughout its homepages,[7] often featuring guest artists, musicians, and personalities.[8]
In addition to celebrating many well-known events and holidays, Google Doodles celebrate artists and scientists on their birthdays, including Andy Warhol, Albert Einstein, Leonardo da Vinci, Rabindranath Tagore, Louis Braille, Ella Fitzgerald, Percival Lowell, Edvard Munch, Nikola Tesla, Béla Bartók, René Magritte, Norman Hetherington, John Lennon, Michael Jackson, Vladimir Dakhno, Robert Moog, Akira Kurosawa, Satyajit Ray, H. G. Wells, Freddie Mercury, Samuel Morse, Hans Christian Ørsted, Mahatma Gandhi, Dennis Gabor, Édith Piaf, Constantin Brâncuși, Antonio Vivaldi, Abdel Halim Hafez, Jules Verne, Leonhard Euler, Lucille Ball, Hedy Lamarr, and James Welch, among over 9,000 others.[9] The featuring of Lowell's logo design coincided with the launch of another Google product, Google Maps. Google Doodles are also used to depict major events at Google, such as the company's own anniversary.[10] The celebration of historical events is another common topic of Google Doodles including a Lego brick design in celebration of the interlocking Lego block's 50th anniversary. Some Google Doodles are limited to Google's country-specific home pages while others appear globally.[11]
Interactive and video doodles

Google's interactive Pac-Man logo
In May 2010, on the 30th anniversary of the 1980 arcade game Pac-Man, Google unveiled worldwide their first interactive logo, created in association with Namco.[16] Anyone who visited Google could play Pac-Man on the logo, which featured the letters of the word "Google" on the Pac-Man maze. The logo also mimicked the sounds the original arcade game made. The "I'm Feeling Lucky" button was replaced with an "Insert Coin" button. Pressing this once enabled you to play the Pac-Man logo. Pressing it once more added a second player, Ms. Pac-Man, enabling two players to play at once, controlled using the W, A, S, D keys, instead of the arrows as used by Player 1. Pressing it for a third time performed an "I'm Feeling Lucky" search. It was then removed on May 23, 2010, initially replacing Pac-Man with the normal logo. Later on that day, Google released[17] a permanent site to play Google Pac-Man (accessed by clicking on top icon) [64] , due to the popular user demand for the playable logo.[17] Pac-Man Doodle drew an estimated 1 billion players worldwide.[18]
Since that time, Google has continued to post occasional interactive and video doodles:
On October 8, 2010, Google ran its first video doodle, a short animation set to the music of "Imagine" to mark John Lennon's 70th birthday.[19] Similarly, Freddie Mercury's 65th birthday was celebrated on September 5, 2011, with an animated clip set to "Don't Stop Me Now".[20]

On April 15, 2011, Google sported the first live-action video doodle, commemorating Charlie Chaplin's 122nd birthday.[21] This doodle was a black and white YouTube video that, when clicked upon, started playing before redirecting to the usual Google search featuring the doodle's special occasion. All parts in this short film were played by the Google Doodle team, and special behind-the-scenes footage was to be found on the Google blog.

Google displayed an interactive electric guitar doodle starting June 9, 2011, to celebrate the 96th birthday of Les Paul. Apart from being able to hover the cursor over the doodle to strum the strings just like one of Les Paul's Gibson guitars, there was also a keyboard button, which when enabled allowed interaction with the doodle via the keyboard. The doodle still maintained some resemblance to the Google logo. In the U.S, the doodle also allowed the user to record a 30-second clip, after which a URL is created and can be sent to others. The doodle remained on the site an extra day due to popularity in the U.S. It now has its own page linked to the Google Doodles archives.[22]

On June 23, 2012, in commemoration of Alan Turing's 100th birthday, Google's logo became an interactive Turing Machine.[23]

On August 8, 2012, Google Displayed an interactive Basketball Game for the 2012 Summer Olympics.

On November 23, 2013, Google's logo changed to a playable simplistic Doctor Who game in honor of the show's 50th anniversary.[24]

On May 19, 2014, for the 40th anniversary of the Rubik's Cube, Google made an interactive virtual Rubik's Cube that people could try to solve.

On April 14, 2015, for the 155th anniversary of the Pony Express, Google made a playable 2D side-scrolling doodle game in which the player collects mail, avoids obstacles, and delivers up to 100 letters from California to Missouri.[25]

On December 17, 2015, a Google Doodle was featured honoring the 245th anniversary of Beethoven's baptism.[26] It features an interactive game to match the musical writing in correct order as it featured 4 levels.

On August 5, 2016, for the 2016 Summer Olympics, the Google app received an update for Android and iOS devices to include 7 mini games called "Doodle Fruit Games" featuring Strawberry, Blueberry, Coconut, Pineapple, and more. It lasted until August 21, with a new mini game every day. The game was accessible on the Google app by clicking on a play button.

On October 30, 2016, for Halloween, Google added a game called Magic Cat Academy, featuring a cat named Momo fighting ghosts. To play, users had to click on a play button, and users have to "draw" to kill the ghosts.

On February 11, 12, 13, and 14, 2017, for Valentine's Day, Google added a game featuring the endangered pangolin, an African and Asian mammal, that goes through four levels (one released each day), while collecting objects, and avoiding obstacles.

On June 22, 2017, to celebrate the 117th birthday of Oskar Fischinger, a musician, Google released an interactive fullscreen Doodle that let users create their own musical songs by tapping on the screen. The user could then choose to share it to social media. The game was accessible by tapping on 2 play buttons.[27]

On August 11, 2017, the 44th anniversary of DJ Kool Herc's pioneering use of the hip-hop break, the Google Doodle allowed users use a double turntable to act as a hip-hop DJ.[28]

On September 4, 2017, to celebrate the 83rd birthday of Russian baritone singer Eduard Khil, Google added a video doodle that featured an animated Eduard Khil singing "I am very glad, as I'm finally returning back home", known globally as the "Trololo" song.

On December 4, 2017, Google celebrated 50 years of kids' coding languages with an Interactive Doodle.[29][30]

On May 3, 2018, Google celebrated the work of Georges Méliès by making a doodle that encompassed his famous work such as A Trip to the Moon and The Impossible Voyage. The doodle is also the first google doodle that was shown in 360-degrees format, with the viewer being able to rotate the video to give them different points of view.[31]

On June 10, 2018, Google celebrated the history of garden gnomes, Google released an interactive Doodle where you can use your catapult to launch your clay gnomes into the farthest reach of your garden.

On October 30, 2018, for Halloween, Google added a multiplayer game (up to eight players) called Great Ghoul Duel, featuring two teams of ghosts racing to collect spirits and steal them from the other team.

On November 6, 2018, for the United States elections, Google changed their logo to "Go Vote."[32]

On March 21, 2019, Google celebrated German composer and musician Johann Sebastian Bach by creating the first Doodle that uses artificial intelligence to make music. When a button is pressed, the Doodle uses machine learning to harmonize a user-created melody into Bach's signature music style (or alternatively into a Bach 80's rock style hybrid if an amp on the right side is clicked).[33]
For New Year's 2014, Google created an animated image depicting dancing numbers
Since Google first celebrated the Thanksgiving holiday with a Doodle in 1998, many Doodles for holidays, events, and other celebrations have recurred on an annual basis, including the following:
Martin Luther King, Jr. Day (2003; 2006–present)

Lunar New Year (2001; 2003–present)

Valentine's Day (2000–present; partial exception during certain Olympic years)

International Women's Day (2005; 2009–present)

Saint Patrick's Day (2000–2002; 2004–present)

Earth Day (2001–present)

Mother's Day (2000–present)

Father's Day (2000–present)

U.S. Independence Day (2000–present)

Bastille Day (2000–present)

Olympic Games (2000–present; partial exception in 2014)[34]

Holi (2001–present; intermittently)

Halloween (1999–present)

U.S. Thanksgiving Day (1998–present)

New Year's Eve (2011–present)
"Doodle 4 Google" competitions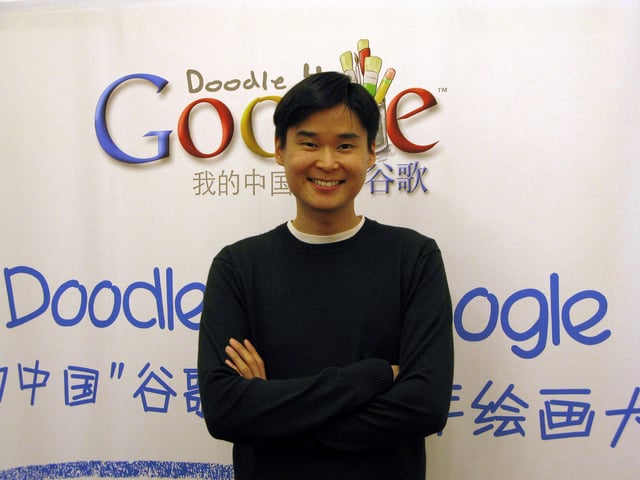 Original Google "Doodler" employee Dennis Hwang at a Doodle 4 Google event in Beijing
Google holds competitions for school students to create their own Google doodles, referred to as "Doodle 4 Google".[38] Winning doodles go onto the Doodle 4 Google website, where the public can vote for the winner, who wins a trip to the Googleplex and the hosting of the winning doodle for 24 hours on the Google website.
The competition originated in the United Kingdom, and has since expanded to the United States and other countries. The competition was also held in Ireland in 2008.[39] Google announced a Doodle 4 Google competition for India in 2009[40] and the winning doodle was displayed on the Google India homepage on November 14. A similar competition held in Singapore based on the theme "Our Singapore" was launched in January 2010 and the winning entry was chosen from over 30,000 entries received. The winning design was shown on Singapore's National Day on Google Singapore's homepage.[41] It was held again in 2015 in Singapore and was themed 'Singapore: The next 50 years'.
Controversy and criticism
In 2014, a report published by SPARK Movement, an activist organization, stated that there was a large gender and race imbalance in the number of Doodles shown by Google, and that most Doodles were honoring white males.[42] The report was widely reported in the media, and Google made a commitment to increase the proportion of women and racial minorities.[43][44]
Google typically abstains from referencing or celebrating religious holidays specifically in Doodles, or in cases when they do, religious themes and iconography are avoided. Google has acknowledged this as an official policy, stating in April 2018 that they "don't have Doodles for religious holidays", according to "current Doodle guidelines." Google further explained that Doodles may appear for some "non-religious celebrations that have grown out of religious holidays", citing Valentine's Day (Christianity), Holi (Hinduism), and Tu B'Av (Judaism) as examples, but that the company does not include "religious imagery or symbolism" as part of those Doodles.[35]
Google has been criticized for what has been perceived as its inconsistency regarding the implementation of its religious holiday policy, notably its lack of Doodles for major Christian holidays. Critics have pointed to its yearly recognition of the Jewish and Hindu festivals of Tu B'av and Holi, while Easter only received an official Doodle once in 2000 (and a themed homepage in 2019).[45][46] Christmas is not specifically celebrated by name,[1] although a Doodle with a seasonally festive and/or winter theme has always been present on December 25 since 1999. Since the mid-2010s, Google has also repeated their December 25 doodle on January 7, which is the date for Christmas in the Eastern Orthodox Church, but the word "Christmas" has never explicitly been used; the terminology "holidays" and "Eastern Europe" are used instead of "Christmas" or "Eastern Orthodox Church".[47][48]
Google first created a Doodle for Easter in 2000, and did not acknowledge the holiday on its homepage again until 2019. In March 2013, Google was notably criticized for celebrating American activist Cesar Chavez on Easter Sunday with a Doodle instead of Easter.[49]
In 2019, after an 18-year hiatus, Google presented an atypical "Doodle" for Easter, for the desktop version of their homepage only. Unlike what is seen in virtually all other Doodles, the Google logo itself was unaltered in the presentation of the Doodle, and users had to click on the "I'm Feeling Lucky" button where "Lucky" is replaced with an anthropomorphic Easter egg,[46] which triggered a falling array of Easter-themed items such as eggs, bunnies, and hot cross buns. Some of these items were hyperlinked, leading to a detailed page about Easter customs. Google's official Doodle archive page originally contained an unlisted entry for the 2019 Easter Doodle, which has since been removed. Notably, the 2019 Easter-themed homepage was not visible from mobile devices unless the "Desktop mode" option was triggered on the mobile browser, leading to the majority of users not ever seeing the "Doodle". Danny Sullivan, technologist with Google involved with the Easter-themed homepage, responded to an inquiry about its absence on mobile by saying it was "hard to do the interactivity dependably [on mobile]".[50]
Brand management

Interactive media