Everipedia is now
IQ.wiki
- Join the
IQ Brainlist
and our
Discord
for early access to editing on the new platform and to participate in the beta testing.
FedEx
FedEx
FedEx Corporation

Public

Traded as

Industry

Courier

Founded

1971

 (

1971

)




(as Federal Express Corporation)




Little Rock, Arkansas

Founder

Frederick W. Smith

Headquarters

,

Worldwide

Frederick W. Smith




(Founder & Chairman)

Products

Post delivery, express mail, freight forwarding, third-party logistics

Revenue

US$65.450 billion (2018)[1]
US$4.870 billion (2018)[1]
US$4.572 billion (2018)[1]
Total assets
US$52.330 billion (2018)[1]

Total equity

US$19.416 billion (2018)[1]

425,000 (2018)

Subsidiaries

Office, Express, Ground, Freight, Supply Chain, Custom Critical, Trade Networks, Services, FedEx Logistics

Website

fedex.com [67]
FedEx Corporation is an American multinational courier delivery services company headquartered in Memphis, Tennessee.[2] The name "FedEx" is a syllabic abbreviation of the name of the company's original air division, Federal Express (now FedEx Express), which was used from 1973 until 2000. The company is known for its overnight shipping service and pioneering a system that could track packages and provide real-time updates on package location (to help in finding lost packages), a feature that has now been implemented by most other carrier services.[3]
FedEx Corporation

Public

Traded as

Industry

Courier

Founded

1971

 (

1971

)




(as Federal Express Corporation)




Little Rock, Arkansas

Founder

Frederick W. Smith

Headquarters

,

Worldwide

Frederick W. Smith




(Founder & Chairman)

Products

Post delivery, express mail, freight forwarding, third-party logistics

Revenue

US$65.450 billion (2018)[1]
US$4.870 billion (2018)[1]
US$4.572 billion (2018)[1]
Total assets
US$52.330 billion (2018)[1]

Total equity

US$19.416 billion (2018)[1]

425,000 (2018)

Subsidiaries

Office, Express, Ground, Freight, Supply Chain, Custom Critical, Trade Networks, Services, FedEx Logistics

Website

fedex.com [67]
For the fiscal year 2018, FedEx reported earnings of US$4.572 billion, with an annual revenue of US$65.450 billion, an increase of 8.5% over the previous fiscal cycle. FedEx's shares traded at over $244 per share, and its market capitalization was valued at over US$55.5 billion in October 2018.[35] FedEx ranked No. 50 in the 2018 Fortune 500 list of the largest United States corporations by total revenue.[36] In June, 2019, investor Michael Burry of Scion Asset Management (from "The Big Short") reported taking a position in the company.[37]
Year

Revenue




in mil. USD$

Net income




in mil. USD$

Total Assets




in mil. USD$

Price per Share




in USD$

Employees

2005

29,363

1,449

20,404

83.40

2006

32,294

1,806

22,690

101.69

2007

35,214

2,016

24,000

100.12

2008

37,953

1,125

25,633

76.143

2009

35,497

98

24,244

59.52

2010

34,734

1,184

24,902

80.69

2011

39,304

1,452

27,385

82.21

2012

42,680

2,032

29,903

86.05

2013

44,287

2,716

33,567

106.25

281,000

2014

45,567

2,324

33,070

144.80

269,900

2015

47,453

1,050

36,531

161.10

166,000

2016

50,365

1,820

45,959

159.36

168,000

2017

60,319

2,997

48,552

205.60

169,000

2018

65,450

4,572

52,330

244.53

227,000
Operating units and logos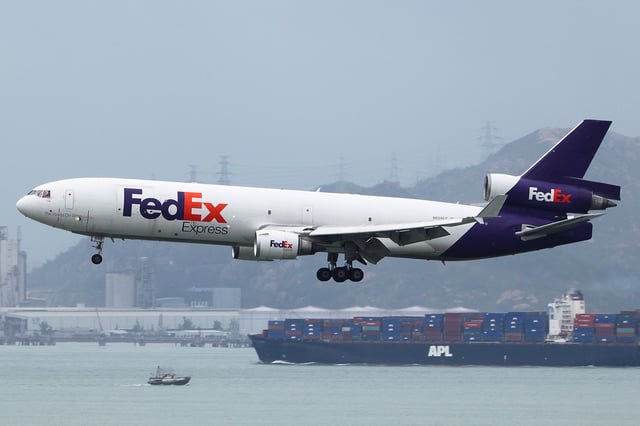 FedEx Express McDonnell Douglas MD-11 landing in Hong Kong on August 11, 2010.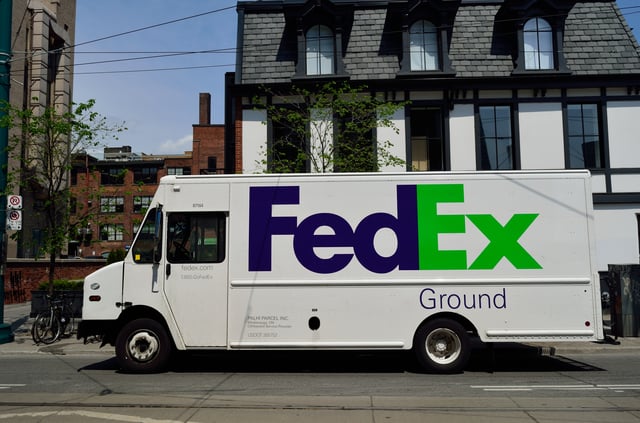 FedEx Ground delivery van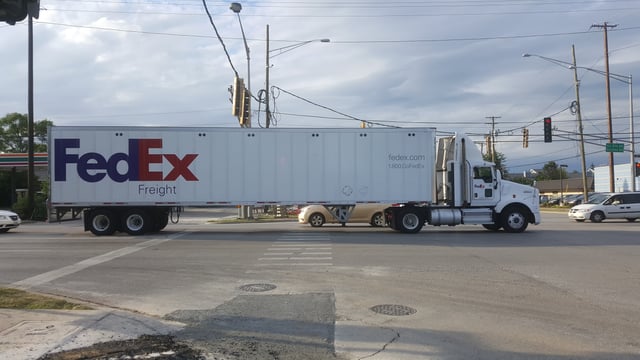 FedEx Freight semi-trailer truck in Northbrook, Illinois.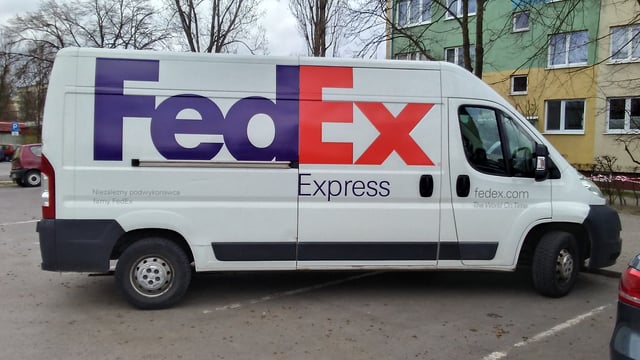 FedEx Vehicle in Tomaszów Mazowiecki, central Poland
The FedEx logo is a wordmark designed in 1994 by Lindon Leader of Landor Associates, of San Francisco.[38] It consists of Fed in purple and Ex in orange. The FedEx wordmark is notable for containing a subliminal right-pointing arrow in the negative space between the "E" and the "X", which was achieved by designing a proprietary font, based on Univers and Futura, to emphasize the arrow shape.[38] Previously, the Ex was in a different color for each division and platinum for the overall corporation use. However, in August 2016, FedEx announced that all operating units will adopt the purple and orange color logo over the next 5 years (the same as the original FedEx logo, and later used by FedEx Express).[39]
FedEx is divided into the following operating units:
FedEx Express (Orange "Ex"): The original overnight courier services, providing next day air service within the United States and time-definite international service. FedEx Express operates one of the largest civil aircraft fleets in the world and the largest fleet of wide bodied civil aircraft; it also carries more freight than any other airline.[40] Caribbean Transport Services: Until 2008, a part of FedEx Freight. Provides airfreight forwarding services between the US mainland, Puerto Rico, the Dominican Republic, and other Caribbean islands. TNT Express: An international courier delivery services company, now a subsidiary of FedEx, with its headquarters in Hoofddorp, Netherlands. The firm has fully owned operations in 61 countries, and delivers documents, parcels and pieces of freight to over two hundred countries.
FedEx Ground (Orange "Ex", formerly Green): Guaranteed day-definite delivery within Canada and the United States at a cost savings as compared to time-definite FedEx Express. Uses a large fleet of trucks which are owned by the independent owner/operators and drivers are independent contractors who control individual delivery routes and territories. Formerly Roadway Package System (RPS).[41] FedEx Home Delivery: Specializes in residential delivery Tuesday through Saturday and offers delivery options to provide more flexibility for residential recipients. The logo includes a drawing of a dog carrying a package . FedEx Home Delivery only operates in the United States. In the US it is not uncommon for Home Delivery packages to be delivered by standard Ground trucks. To make up the difference, FedEx Ground in Canada performs the business deliveries and residential deliveries.[42] FedEx SmartPost: Consolidates parcels from merchants such as e-commerce and catalog companies and uses the United States Postal Service for the final delivery. Formerly the independent company Parcel Direct until FedEx acquired it for $120 million in 2004.[43]

FedEx Freight (Orange "Ex", formerly Red): Less than truckload (LTL) and other freight services. The largest LTL carrier in the United States, with $4.5 billion in revenue for 2008.[44] Formerly American Freightways, Viking Freight, and Watkins Motor Lines. FedEx Freight Canada: Formerly Watkins Canada Express.

FedEx Logistics (Orange "Ex", formerly Platinum): Known as FedEx Trade Networks until 2019, FedEx Logistics provides supply chain solutions, specialty transportation, cross border e-commerce technology services, customs brokerage, and trade management tools and data. Formerly C.J. Tower & Sons, then Tower Group International. FedEx Air & Ocean Cargo Networks: International air and ocean freight forwarding. FedEx Cross Border: Provides cross border enablement technologies and solutions that help retailers and e-tailers reach international e-commerce consumers. Its capabilities include duty and tax calculations, export compliance management, HS classification, currency conversions, shopping cart management, and protection against credit card fraud. Formerly Bongo International. FedEx Custom Critical (Orange "Ex", formerly Blue and then Red): Delivers urgent, valuable, or hazardous items using trucks and chartered aircraft. Freight not accepted for transport includes perishable food, alcohol, medication, livestock, household goods, hazardous waste, and money.[45] Drivers are independent contractors who own their vehicles. Service in Mexico uses interline carriers. Formerly Roberts Cartage and then Roberts Express. FedEx Customs Brokerage: Services related to customs and international trade compliance. FedEx Forward Depots: Critical inventory and service parts logistics, TechConnect repair and refurbishment of business technology equipment, 3-D printing and the FedEx Packaging Lab. FedEx Supply Chain: Third-party logistics including transportation management, warehousing, fulfillment, and returns. Formerly GENCO, Roadway Logistics System, and Caliber Logistics.

FedEx Services (Orange "Ex", formerly Platinum): Provides global marketing, planning, and information technology (IT) services for the other FedEx operating companies. FedEx Customer Relations: Offering a customer service toll-free telephone line for customer questions. It is operated by an automated operator then will prompt the user to a live agent for uses of tracking, claims, scheduling pick-ups (Express, Ground, Same Day, Custom Critical, Freight Express, and Freight LTL), compliments and complaints, locations (both staffed counter locations and drop-boxes), ordering supplies, setting up FedEx accounts, billing etc. Formerly FCIS or FedEx Customer Information Services. FedEx Delivery Manager: Provides U.S. customers with options to schedule dates, locations, and times of delivery. Customers can also track and manage deliveries en route to or from their home, without a tracking number or FedEx account.

FedEx Office (Orange "Ex", formerly Blue): The retail arm of the corporation, offers copying and digital printing, professional finishing, document creation, Internet access, computer rentals, signs and graphics, direct mail, Web-based printing, and FedEx shipping. Formerly an independent company, known as Kinko's until it was acquired by FedEx in 2004 and rebranded to FedEx Kinko's. In June 2008 the company was finally rebranded as FedEx Office.[46] FedEx Office Print and Ship Centers: Provides services such as copying, printing, Internet access, and shipping. They are a central location for FedEx customers to deposit their packages for shipping, offering self-service photocopy and fax machines, office products for packing and shipping, boxes, and packaging services. They also offer "Hold at Locations" for FedEx Ground & FedEx Express shipments for easy pick up. Transfer to Office/Ship centers takes 1 to 2 business days (example: calling the customer service line one day prior to pick up. This ensures package is put with proper route of courier that services that area). FedEx Office counts with its own FedEx Couriers for Center to Center and local customer deliveries. Formerly, these locations were called FedEx World Service Centers. FedEx SameDay City (Orange "Ex", formerly Platinum): Offers a delivery service between select ZIP codes in as little as two hours. Services include Standard, providing pickup by noon and delivery by the end of the day, or Priority, providing delivery within two hours. FedEx SameDay City is currently expanding in all major cities across the country and is planning on becoming its own operating unit in the next five years.
The Standard Carrier Alpha Code (SCAC) is a unique code used to identify transportation companies. It is typically two to four alphabetic letters long. It was developed by the National Motor Freight Traffic Association in the 1960s to help the transportation industry for computerizing data and records. FedEx's codes include:
FXE – FedEx Express

FXSP – FedEx SmartPost

FXG – FedEx Ground

FXFE – FedEx Freight

FDCC – FedEx Custom Critical

FXO – FedEx Office

FSDC – FedEx Same Day City
The firm was named by Fortune magazine as one of the top 100 companies to work for in 2013, citing the company's choice to downsize with voluntary buyouts rather than involuntary layoffs.[52]
"When it Absolutely, Positively has to be there overnight" – 1978–1983

"It's not Just a Package, It's Your Business" – 1987–1988

"Our Most Important Package is Yours" – 1991–1994

"Absolutely, Positively Anytime" – 1995

"The Way the World Works," 1996–1998

"Be Absolutely Sure," 1998–2000

"This is a Job for FedEx," 2001–2002

"Don't worry, there's a FedEx for that," 2002–2003

"Relax, it's FedEx," 2004–2008

"The World On Time" 2001–present

"We Understand," 2009–present

"We Live To Deliver" 2009–present
FedExForum in Memphis, Tennessee.
In 1981, their advertising firm Ally & Gargano hired performer John Moschitta, Jr., known for his fast speech delivery, to do an ad for Federal Express titled "Fast Paced World". This single commercial would be cited years later by New York as one of the most memorable ads ever.[54]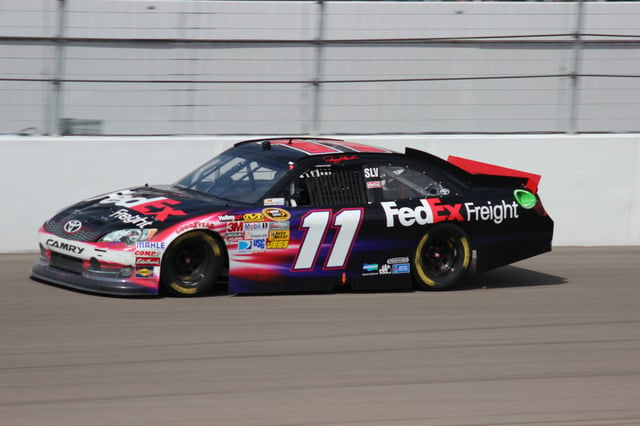 Denny Hamlin driving the FedEx-sponsored No. 11 car at the 2012 Kobalt Tools 400
From 1997 to 2002, FedEx was the title sponsor of Champ Car World Series when it was known as CART. The series was known as the "CART FedEx Championship Series", which led to the official "Champ Car" designation in reference to the fact they were the FedEx Championship.

FedEx is the sponsor of the No. 11 NASCAR Sprint Cup Toyota, owned by Joe Gibbs Racing since 2005. The car has been driven by Denny Hamlin since 2006.

FedEx previously sponsored the Formula One teams Benetton (1996-1999), Ferrari (1999-2001), Williams F1 (2002-2006), and McLaren (2007-2008).
From 1989 to 2010, FedEx was the title sponsor of the Orange Bowl, played in Miami, Florida.[55]

FedEx Field, home of the National Football League's Washington Redskins in Landover, Maryland[56]
FedEx sponsors FedExForum, home of the NBA's Memphis Grizzlies and the University of Memphis men's basketball team.[57]

FedEx sponsors the Heineken Cup in Rugby.[58]

Beginning in 2007, FedEx became the title sponsor of the FedEx Cup, a championship trophy for the PGA Tour.[59]

The St. Jude Classic, a PGA Tour golf tournament held in Memphis, has been sponsored by FedEx from 1986 to 2006, in 2009, and currently since 2011.

FedEx is the Main Sponsor of the UEFA Europa League since 2015.
Cast Away

Federal Express Flight 705 (attempted hijacking)

Federal Express Flight 14 and Federal Express Flight 80

Freight company

Package delivery

Top 100 US Federal Contractors