Everipedia is now
IQ.wiki
- Join the
IQ Brainlist
and our
Discord
for early access to editing on the new platform and to participate in the beta testing.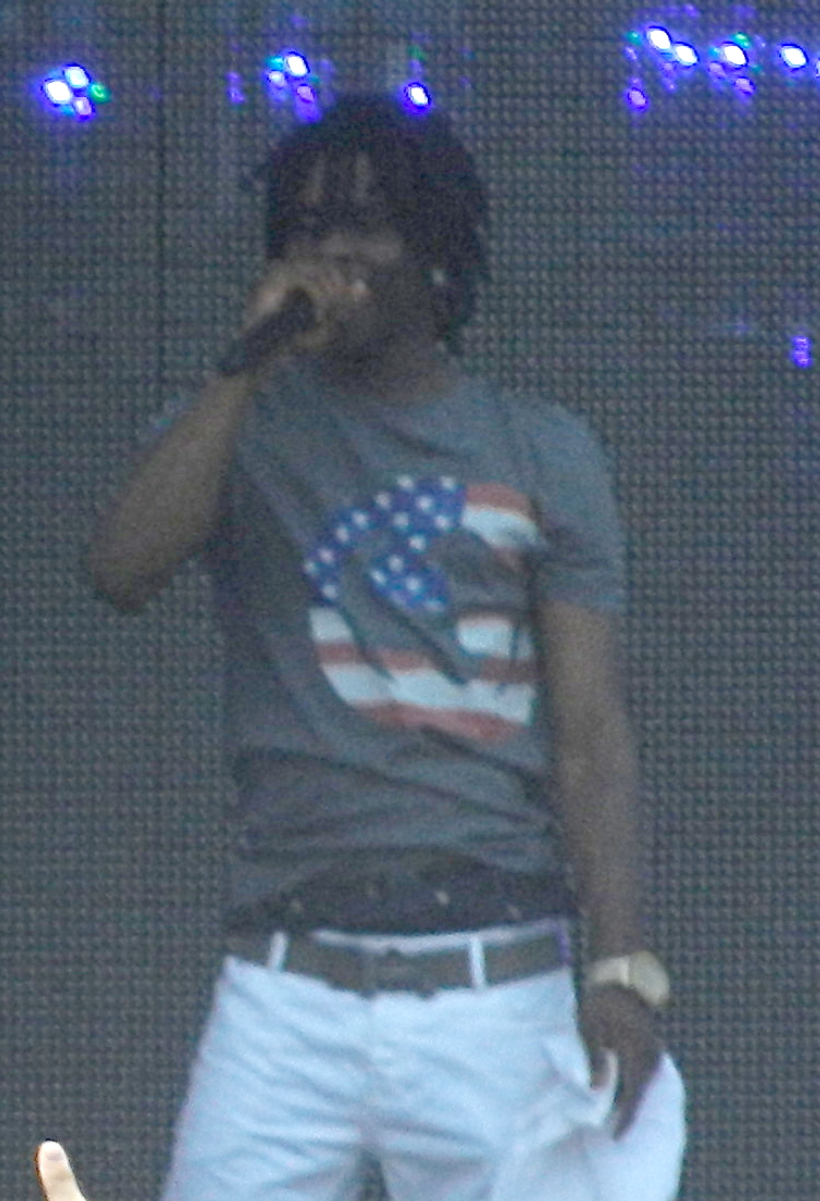 Chief Keef
Chief Keef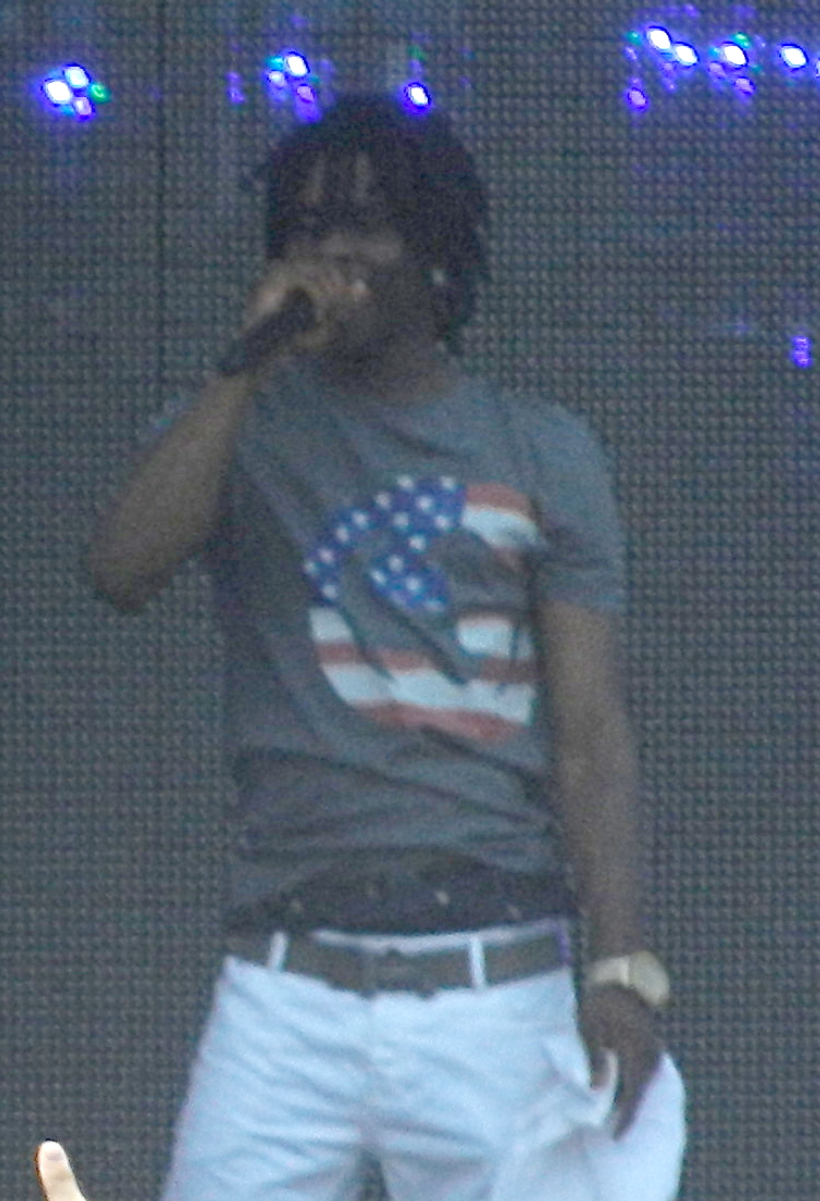 Born




(

1995-08-15

)

August 15, 1995




Residence

Los Angeles, California, U.S.

Other names

Chief Sosa, Almighty Sosa, Sosa

Occupation

Rapper

record producer

songwriter

Years active

2011–present

Children

4

Musical career

Genres

Labels

Glo Gang

1017 Brick Squad

FilmOn Music

Fontana

E1

RBC

Associated acts

Fredo Santana

Lil Reese

Young Chop

A$AP Rocky

Playboi Carti

Website

www.chiefkeef.com [147]

Glo Gang

Parent company

Entertainment One

Founded

2014

Founder

Chief Keef

Status

Active

Distributor(s)

E1 Music

Genre

Hip hop, midwest hip hop, drill

Country of origin

United States

Location

Chicago, Illinois




Los Angeles, California

Official website

glogangworldwide.com [148]
Keith Farrelle Cozart[1] (born August 15, 1995),[3] better known by his stage name Chief Keef, is an American rapper and record producer. Keef's music first became popular among high school students from Chicago's South Side during his teen years in the early 2010s.[4] In 2012, Keef's popular street single "I Don't Like" was remixed by rapper Kanye West, reaching the Billboard Top 10 and further lifting Keef's profile.[4] A bidding war between major labels resulted in Keef signing to Interscope. His debut album Finally Rich was released in December 2012, and featured the singles "I Don't Like" and "Love Sosa", which would popularize the Chicago rap subgenre drill.[5]
Cozart has faced ongoing legal issues during his career, including weapon possession charges, house arrest sentences, and a performance ban imposed by the Chicago authorities.[6] Despite being dropped from Interscope in late 2014 and later signing to 1017 Records, Keef continued self-releasing projects through his own Glo Gang label, including Nobody (2014), Back from the Dead 2 (2014), Bang 3 (2015), and Thot Breaker (2017). In recent years, critics have pointed to Cozart as a major influence on contemporary hip-hop through his innovation of the drill subgenre and his impact and influence on other artists.[7][5][8]
Born




(

1995-08-15

)

August 15, 1995




Residence

Los Angeles, California, U.S.

Other names

Chief Sosa, Almighty Sosa, Sosa

Occupation

Rapper

record producer

songwriter

Years active

2011–present

Children

4

Musical career

Genres

Labels

Glo Gang

1017 Brick Squad

FilmOn Music

Fontana

E1

RBC

Associated acts

Fredo Santana

Lil Reese

Young Chop

A$AP Rocky

Playboi Carti

Website

www.chiefkeef.com [147]

Glo Gang

Parent company

Entertainment One

Founded

2014

Founder

Chief Keef

Status

Active

Distributor(s)

E1 Music

Genre

Hip hop, midwest hip hop, drill

Country of origin

United States

Location

Chicago, Illinois




Los Angeles, California

Official website

glogangworldwide.com [148]
Chief Keef was born Keith Farrelle Cozart in Chicago, Illinois when his mother, Lolita Carter, was 16 and unwed. He is named after his deceased uncle, Keith Carter, who was known as "Big Keef."[9] He lived at the Parkway Garden Homes, locally known as O-Block, located in the Washington Park neighborhood on the city's South Side, a stronghold for the Black Disciples street gang of which Cozart is a member.[10][11] Cozart has been estranged from his biological father, Alfonso Cozart;[12] since he was a minor. Cozart's legal guardian was his grandmother, whom he lived with during his residence in Chicago.[13] He began rapping at a very young age, regularly listed as a 5-year-old, using his mother's karaoke machine and blank tapes to record his music.[14] During his childhood, Keef attended Dulles Elementary School and the Banner School, a therapeutic day school.[14] Keef dropped out of Dyett High School at age 15.[15][16]
Bang 3, Nobody, and The Cozart (2014–2016)
Cozart began experimenting with the production of his music in 2014, which Meaghan Garvey of The Fader noted as being fitting for Keef, as the rapper has "always been more concerned with vibe than meaning, and production is his most efficient tool to create a mood without getting bogged down by pesky syntax."[34] In January, Cozart announced working on a new mixtape entitled Bang 3.[38] In February, Cozart revealed the cover art to his upcoming mixtape Back From The Dead 2, which served as the sequel to his critically acclaimed mixtape, Back From The Dead.[39] During the month, Keef stated that his former lean addiction and bad mixing contributed to the lack of quality music on his two mixtape projects Bang Pt. 2 and Almighty So and that he was also disappointed in both projects.[40] Later in the month, Keef announced an EP before his second studio album Bang 3, entitled Bang 4, as a preview.[41] The following day, Fredo Santana announced that he and Keef were going to release a collaboration album.[42] In March, Keef released the first official single from Bang 3 entitled "Fuck Rehab" featuring his fellow Glo Gang artist and cousin Mario "Blood Money" Hess, which marked Hess's final appearance on a song before his death on April 9, 2014.[43] On March 14, Keef released the official music video for "Fuck Rehab".[44] Although Interscope executive Larry Jackson announced that Bang 3 would be released on June 10, it was again delayed.[45]
In October 2014, Cozart was dropped by Interscope Records, but confirmed via Twitter that every project he had planned, including the release of the long-awaited Bang 3 would still be released, as he planned.[46] Young Chop criticized Interscope's decision to drop Keef.[47] Despite being set for a Christmas 2014 release, Bang 3 did not materialize.[48] Keef's mixtapes, Mansion Musick, which was set for a November 28 release, and Thot Breakers, which was set to release on February 14, 2015, were also noted to not release as scheduled.[49] However, Keef was successful in releasing Big Gucci Sosa, a 12-track collaborative mixtape, with Gucci Mane,[50][51] as well as Back From the Dead 2, which was made available for digital download from iTunes.[52] Keef experimented with the production of his own tracks, self-producing 16 of the 20 songs on the mixtape.[53] David Drake of Pitchfork Media, stated, "For his first steps into the rapper-producer territory, he shows promise—though it's tough to imagine most of these beats working outside the context of a Chief Keef album, as they are primed to frame his vocals."[54] Rolling Stone ranked the mixtape 25th on its list of the 40 best rap albums of 2014, with the publication commenting, "The bleak world from which he came still shapes his sound; it's a bleak and lonely record, with few guests and a darkly psychedelic shape formed by drugs and likely PTSD. Yet he finds a gleeful humanity inside the world's rotten core, with bluntly potent, economical rapping that gets strong mileage per word."[55] In November, Keef announced Nobody, a "Glo Producer album" that featured guest vocals from Kanye West and Tadoe.[56] The album was set to be released on December 2,[56] but was ultimately released on December 16.[57] The album's title track was noted for being one of Keef's more emotionally driven outputs,[58] with Chris Coplan of Consequence of Sound writing, "the track itself feels like the apex of a night spent binge-drinking."[59] Additionally, the album was awarded a 7.0/10 score by *Pitchfork Media'*s Meaghan Garvey.[53]
On February 18, 2015, Cozart released Sorry 4 the Weight, a 20-track mixtape.[60] Elliott Pearson of The Alibi commented "Sorry 4 the Weight is another consistent chapter in the rapper's singular Midwestern gothic repertoire, and if 'What Up' is any indication, he's made serious progress as a beat-maker too."[61] The mixtape was largely a solo effort, featuring only Andy Milonakis and Glo Gang labelmate, Benji Glo.[49][62] In 2015, Keef's track "Faneto" was noted for slowly building momentum since its October 2014 release.[63][64] On April 24, 2015, Keef announced his next album, titled The Cozart, adding that it would be released soon.[65]
In May 2015, Cozart signed with FilmOn Music, a division of media tycoon Alki David.
On July 11, 2015, Marvin Carr, better known by his stage name, Capo, a longtime member of Cozart's Glo Gang label, was shot and killed in a drive-by shooting in Chicago.[66] Upon killing Capo, the drivers of the vehicle reportedly struck a stroller with 13-month-old Dillan Harris in it, killing the baby instantly. Keef later announced via Twitter that he would be holding a free benefit concert to tribute Capo, as well as encourage concertgoers to donate to Harris' family. Additionally, Keef announced the formation of the Stop the Violence Now Foundation, in an attempt to decrease crime in Chicago.[67] Due to outstanding warrants in Illinois, Keef was scheduled to attend the concert via hologram from a sound stage in Beverly Hills.[68] The concert, organized by HologramUSA and FilmOn Music originally intended to be held in Chicago's Redmoon Theater,[69] faced a series of delays after Chicago mayor Rahm Emanuel's office claimed Keef was "an unacceptable role model" and that his music promoted violence.[70] Keef's representatives then worked out an arrangement with promoters of the Craze Fest event, located in Hammond, Indiana, in an attempt to hold the concert there. Cozart's hologram was able to plea for peace in Chicago, stating, "Stop the violence, stop nonsense, stop the killing. Let the kids grow up," before performing "I Don't Like". Fearing that the concert was a threat to public safety, Hammond mayor Thomas McDermott, Jr. successfully organized for the city's police to shut down the generators powering Keef's hologram. McDermott was quoted saying, "I know nothing about Chief Keef. All I'd heard was he has a lot of songs about gangs and shooting people — a history that's anti-cop, pro-gang and pro-drug use. He's been basically outlawed in Chicago, and we're not going to let you circumvent Mayor Emanuel by going next door."[71] Chicago Tribune columnist Eric Zorn criticized Emmanuel and Hammond for their decisions, claiming they infringed upon Keef's First Amendment rights.[69]
Glotoven & Almighty So 2 (2019–present)
In early 2019, Cozart and Zaytoven worked together in the studio and later confirmed that he was going to drop a collaborative mixtape called Glotoven. He then released the single Spy Kid. On March 15, 2019, the mixtape was released to the public.[81]
On April 20, 2019, Cozart then revealed that he has another mixtape called Almighty So 2, he also teased a song featuring Lil Uzi Vert called "Moolani". He then dropped a song with Youngboy Never Broke Again called "Fireman". The mixtape is also set to have features with Uzi Vert, Soulja Boy and Lil Reese, among others. Cozart also released another single titled "Boost".[82]
As part of his signing with Interscope Records, Keef's label imprint, Glory Boyz Entertainment (GBE), was established.[83] Keef, along with his manager, Rovan Manuel, each owned 40% shares of GBE. Keef's cousin and fellow rapper, Fredo Santana, Keef's uncle Alonzo Carter, and Anthony H. Dade, owned the remaining 20% of GBE.[13] Various associates of Keef's would be signed with the label, such as rappers Lil Reese, Fredo Santana and producer Young Chop.[84][85][86] The label had already been active since 2011, however only released mixtapes and was not a full on record company. After releasing Keef's Finally Rich in December 2012, the label was set to release an album by Lil Reese in the coming months, along with various mixtapes. However, on January 3, 2014, Keef said that Glory Boyz Entertainment was "no more," and was starting a new record label named Glo Gang.[87][88] Prior to his death, Blood Money revealed in an interview the members of Glo Gang to be Keef, Tray Savage, Ballout, Capo, Tadoe, Justo, and himself.[89]
Chief Keef

Tadoe

Ballout

Tray Savage

Lil Flash

Benji Flo

JusGlo
Lil Reese

Fredo Santana (deceased)

Capo (deceased)

Blood Money (deceased)

SD

Snap Dogg

Gino Marley
Many publications have referred to Cozart as a highly influential figure in contemporary hip-hop, for both his musical style and gangster image. Cozart's melodic style of rapping and his characteristically slurred delivery of lyrics has been called the catalyst for the success of mumble rap, and an influence on a large number of modern artists such as Young Thug, Lil Pump, XXXTentacion, Lil Uzi Vert and Juice Wrld, among others. Additionally, Cozart's heavy use of adlibs, specifically the word "aye" as a major part of a song was a major influence on the Soundcloud rap subgenre and the artists that emerged from it.[7][5][8]
In an August 2012 interview with Baltimore radio station 92Q Jams, Lupe Fiasco stated that Chief Keef "scares" him and described Keef as a "hoodlum" and representative of Chicago's "skyrocketing" murder rate.[134] A tweet from Keef's account threatening Fiasco was posted on September 5,[136] but Keef claimed that his account had been hacked and that the previous tweet was inauthentic.[137] On September 13, 2012, Fiasco released a video interview in which he made amends to Keef.[138]
In November 2014, rap group Migos and Glo Gang member, Capo, were involved in a physical altercation in a Chicago restaurant.[139] Later, Keef uploaded an image onto Instagram featuring the alleged stolen chain belonging to rapper Quavo of Migos.[140] Though this incident escalated the already existing tension between members of Glo Gang and members of Migos, the feud between the two groups was later seemingly ended.[141]
On September 15, 2012, Keef uploaded an obscene photograph featuring the rapper receiving fellatio from a female fan onto the image sharing application Instagram.[142] Keef shortly removed the image from his account.[143] However, his account was subsequently banned for violating Instagram's terms of service.[144] Keef has since created another Instagram account, and has had his activities on the app mentioned by various outlets.[145][146]
Finally Rich (2012)

Bang 3, Part 1 (2015)

Bang 3, Part 2 (2015)

Dedication (2017)