Everipedia is now
IQ.wiki
- Join the
IQ Brainlist
and our
Discord
for early access to editing on the new platform and to participate in the beta testing.
Apulia
Apulia



Puglia(Italian)Púgghie / Puie / Puje

(Neapolitan)

Puia

(Sicilian)

Poulye

(Arpitan)

Country

Italy

Capital

Bari

Government

 • President

Michele Emiliano (PD)

Area

 • Total

19,358 km

2

(7,474 sq mi)

Population

 • Total

4,063,888

 • Density

210/km

2

(540/sq mi)

Demonym(s)

English:

Apulian


Italian: Pugliese

Time zone

UTC+1 (CET)

 • Summer (DST)

UTC+2 (CEST)

ISO 3166 code

IT-75

GDP (nominal)

€74.8 billion (2017)[2]

GDP per capita

€18,400 (2017)[3]
HDI (2017)
0.844[4]


very high

· 18th of 21

NUTS Region

ITF

Website

www.regione.puglia.it [37]
Apulia (/əˈpuːliə/ ə-POO-lee-ə; Italian: Puglia [ˈpuʎːa]; Neapolitan: Pùglia [ˈpuʝːə];[1] Albanian: Pulia; Ancient Greek: Ἀπουλία, romanized: Apoulía) is a region in Southern Italy bordering the Adriatic Sea to the east, the Ionian Sea to the southeast, and the Strait of Otranto and Gulf of Taranto to the south. The region comprises 19,345 square kilometers (7,469 sq mi), and its population is about four million.
It is bordered by the other Italian regions of Molise to the north, Campania to the west, and Basilicata to the southwest. Across the Adriatic and Ionian Seas, it faces Albania, Bosnia-Herzegovina, Croatia, Greece, and Montenegro. Its capital city is Bari.



Puglia(Italian)Púgghie / Puie / Puje

(Neapolitan)

Puia

(Sicilian)

Poulye

(Arpitan)

Country

Italy

Capital

Bari

Government

 • President

Michele Emiliano (PD)

Area

 • Total

19,358 km

2

(7,474 sq mi)

Population

 • Total

4,063,888

 • Density

210/km

2

(540/sq mi)

Demonym(s)

English:

Apulian


Italian: Pugliese

Time zone

UTC+1 (CET)

 • Summer (DST)

UTC+2 (CEST)

ISO 3166 code

IT-75

GDP (nominal)

€74.8 billion (2017)[2]

GDP per capita

€18,400 (2017)[3]
HDI (2017)
0.844[4]


very high

· 18th of 21

NUTS Region

ITF

Website

www.regione.puglia.it [37]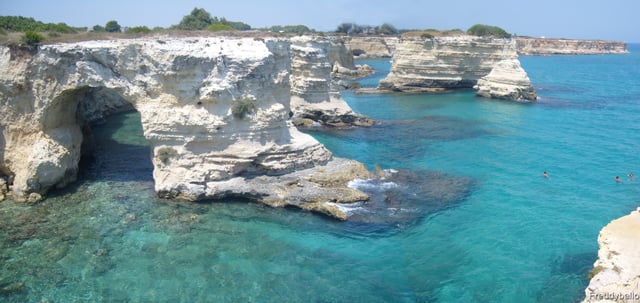 Torre Sant'Andrea, Salento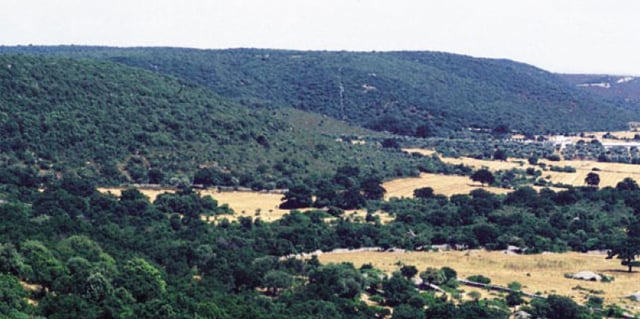 Landscape of the Murge plateau
Apulia's coastline is longer than that of any other mainland Italian region. In the north, the Gargano promontory extends out into the Adriatic like a 'sperone' ("spur"), while in the south, the Salento peninsula forms the 'tacco' ("heel") of Italy's boot.[5] The highest peak in the region is Mount Cornacchia (1,152 meters above sea level) within the Daunian Mountains, in the north along the Apennines.
Outside of national parks in the North and West, most of Apulia and particularly Salento is geographically flat with only moderate hills.
The climate is typically mediterranean with hot, dry and sunny summers and mild, rainy winters. Snowfall, especially on the coast is rare but has occurred as recently as January 2019 (following on from snow in March 2018 and January 2017). Apulia is among the hottest and driest regions of Italy in summer with temperatures sometimes reaching up to and above 40 °C in Lecce and Foggia.
The coastal areas, particularly on the Adriatic and in the southern Salento region are frequently exposed to winds of varying strengths and directions, strongly affecting local temperatures and conditions, sometimes within the same day. The Northerly Bora wind from the Adriatic can lower temperatures, humidity and moderate summer heat while the Southerly Sirocco wind from North Africa can raise temperatures, humidity and occasionally drop red dust from the Sahara. On some days in spring and autumn, it can be warm enough to swim in Gallipoli and Porto Cesareo on the Ionian coast while at the same time, cool winds warrant jackets and sweaters in Monopoli and Otranto on the Adriatic coast.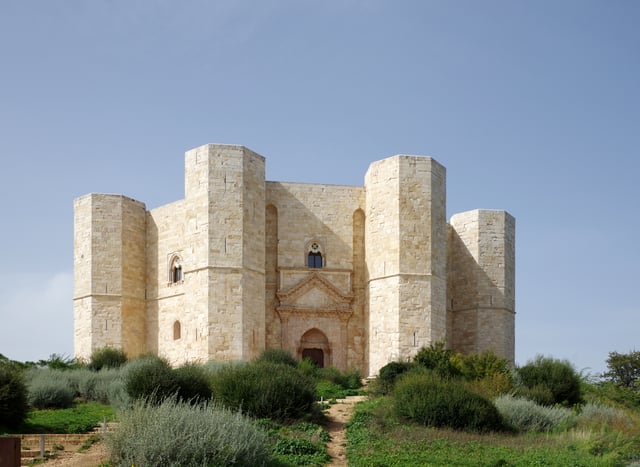 Castel del Monte, built by the Holy Roman Emperor Frederick II between 1240 and 1250 in Andria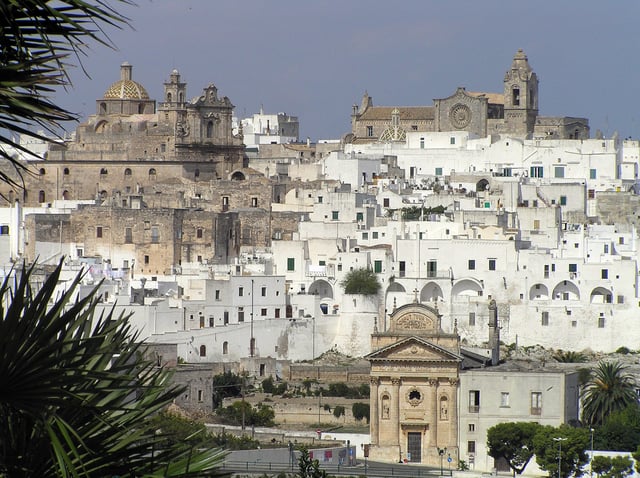 The medieval town of Ostuni
Apulia is one of the richest archaeological regions in Italy. It was first colonized by Mycenaean Greeks.[7]
Some parts of the regions were conquered by the Muslim Saracens, and the Emirate of Bari was established for a brief period of time by Muhammad Abul Abbas of Sicily.
Apulia was an autonomous duchy until 1130 when its duke became king of Sicily. After 1282, when the kingdom lost the island of Sicily itself, Apulia remained part of the remnant Kingdom of Naples (confusingly known also as the Kingdom of Sicily), and remained so until the unification of Italy in 1861. This kingdom was independent under the House of Anjou from 1282 to 1442, then was part of Aragon until 1458, after which it was again independent under a cadet branch of the House of Trastámara until 1501. As a result of the French–Spanish war of 1501–1504, Naples again came under the rule of Aragon and the Spanish Empire from 1504 to 1714. When Barbary pirates of North Africa sacked Vieste in 1554, they took an estimated 7,000 slaves.[10] The coast of Apulia was occupied at times by the Turks and at other times by the Venetians.[11]
In 1861 the region became part of the Kingdom of Italy, with the new capital city at Turin. In the words of one historian, Turin was "so far away that Otranto is today closer to seventeen foreign capitals than it is to Turin".[12]
The region's contribution to Italy's gross value added was around 4.6% in 2000, while its population was 7% of the total. The per capita GDP is low compared to the national average and represents about 68.1% of the EU average.[13]
The share of gross value added by the agricultural and services sectors was above the national average in 2000. The region has industries specialising in particular areas, including food processing and vehicles in Foggia; footwear and textiles in the Barletta area, and wood and furniture in the Murge area to the west.[14]
Apulia's thriving economy is articulated into numerous sectors boasting several leading companies: Aerospace (Sitael, Blackshape, Leonardo S.p.A.); Agriculture (Casillo Group, G.C. Partecipazioni), Automotive (Getrag, a subsidiary of Magna International); Food and Beverage (De Carlo, Divella, Quarta Caffé); Furniture (Natuzzi); ICT (Exprivia); Mechanics (Isotta Fraschini Motori, MERMEC); Publishing (Laterza), Tourism (Nicolaus tour).
Year

2006

2007

2008

2009

2010

2011

2012

2013

2014

2015

2016

2017

2018

unemployment rate


(in %)

12.6%

11.1%

11.6%

12.6%

13.5%

13.2%

15.7%

19.7%

21.5%

19.7%

19.4%

18.8%

16%
There are an estimated 50 to 60 million olive trees in Apulia, and the region accounts for 40% of Italy's olive oil production. There are four specific Protected Designation of Origin (PDO) covering the whole region.[18] Olive varieties include: Baresane, Biancolilla, Brandofino (Castiglione), Buscionetto (Biancolilla), Carolea, Cellina di Nardò, Cerasuola (Ogliara), Cerignola (Bella di Cerignola), Cima di Bitonto, Cima di Mola, Coratina,[19] also grown in Corning, CA., a 2018 Gold Medal New York International Olive Oil Competition (NYIOOC) winner,[20] Frantoio, Garganica, La Minuta, Leccino, Moresca, Nocellara Etnea, Nocellara Messinese, Ogliarola, Ogliarola Barese, Ogliara Messinese, Ottobratica, Peranzana that is produced as "Certified Ultra-Premium Extra Virgin Olive Oil",[21] Rotondella, Santagatese, Saracena, Tonda Iblea, and Verdello (subspecies of San Benedetto).[22][23]
Xylella fastidiosa disease
The olive oil industry in Apulia is under threat from the pathogen Xylella fastidiosa, a disease which inhibits the uptake of water and nutrients by the trees. The south-eastern part of the region is at the centre of the epidemic.
The region has a good network of roads, but the railway network is less comprehensive, particularly in the south.[14] The region is crossed northwest to southeast by the A14 highway (Bologna–Taranto), which connects the region capital, Bari, to Taranto, the second most populous city in the region. The A14 also connects Foggia and points further north along the Adriatic coast to Pescara, Ancona, Rimini and eventually, Bologna. The only other highway in the region is the A16 (Napoli–Canosa), which crosses the Italian peninsula east–west and links the region with Napoli.
There are two international airports, Karol Wojtyla Airport in Bari (IATA: BRI) and Brindisi Airport (IATA: BDS), which serves as the principal logistical hub for the United Nations Global Service Center headquartered in Brindisi. With the approval of a redevelopment project in 2018, the Grottaglie Airfield (IATA: TAR) will host a spaceport for the Italian Space Agency and Virgin Galactic.
Historical population

Year

Pop.

±%

1861

1,335,000

—    

1871

1,440,000

+7.9%

1881

1,609,000

+11.7%

1901

1,987,000

+23.5%

1911

2,195,000

+10.5%

1921

2,365,000

+7.7%

1931

2,508,000

+6.0%

1936

2,642,000

+5.3%

1951

3,220,000

+21.9%

1961

3,421,000

+6.2%

1971

3,583,000

+4.7%

1981

3,872,000

+8.1%

1991

4,032,000

+4.1%

2001

4,021,000

−0.3%

2011

4,091,000

+1.7%

2017

4,063,888

−0.7%

Source: ISTAT 2001
Emigration from the region's depressed areas to northern Italy and the rest of Europe was very intense in the years between 1956 and 1971. Subsequently, the trend declined, as economic conditions improved, to the point where there was net immigration in the years between 1982 and 1985. Since 1986 the stagnation in employment has led to a new inversion of the trend, caused by a decrease in immigration.[24]
Cuisine plays an important role throughout Apulia. The key locally produced ingredients used there include olive oil, artichokes, tomatoes, aubergine, asparagus, and mushrooms.[27] In summer it is very common to use also the carosello, a variety of muskmelon which is often consumed in an immature state. Several PDO and PGI products are made in Apulia; among can be found some types of cheese like the Canestrato Pugliese PDO and Burrata di Andria PGI, of olive oil like the Collina di Brindisi PDO, Dauno PDO, Terra d'Otranto PDO, Terre Tarentine PDO and Terra di Bari PDO, some fruits and vegetables like the Arancia del Gargano PGI, Carciofo Brindisino PGI, Cipolla bianca di Margherita PGI, Clementine del Golfo di Taranto PGI, La Bella della Daunia PDO, Limone femminello del Gargano PGI, Patata novella di Galatina PGI and Uva di Puglia PGI. Moreover, also a type of bread, Pane di Altamura PDO and a legume called Lenticchia di Altamura PGI are present in the list.
As with the other regions of Italy, the national language (since 1861) is Italian. However, because of its long and varied history, other historical languages have been used in this region for centuries. In isolated pockets of the southern part of Salento, a dialect of Greek called Griko is still spoken by a few thousand people.[28] In addition, rare dialects of the Franco-Provençal language called Faetar and the closely related Cellese are spoken by a dwindling number of individuals in the mountain villages of Faeto and Celle di San Vito, in the Province of Foggia.[29] The Arbëreshë dialect of the Albanian language has been spoken by a small community since refugees settled there in the 15th century.[30]
Daunian Mountains

Gargano

Iapygians

Messapians

Sacra Corona Unita

Salento

Tavoliere delle Puglie

Terra d'Otranto

Trullo