Everipedia is now
IQ.wiki
- Join the
IQ Brainlist
and our
Discord
for early access to editing on the new platform and to participate in the beta testing.
Anne Frank
Anne Frank
Born

Annelies[2] or Anneliese[3] Marie Frank


(

1929-06-12

)

12 June 1929


Frankfurt, Prussia, Weimar Republic

Died

February or March 1945

(aged 15)


Bergen-Belsen concentration camp, Eastern Hanover, Nazi Germany

Resting place

Bergen-Belsen concentration camp, Lower Saxony, Germany

Occupation

Diarist

Language

Dutch

Citizenship

German until 1941

Stateless from 1941

Relatives

Otto Frank (father)

Edith Frank (mother)

Margot Frank (sister)

Buddy Elias (cousin)

---

Signature
Annelies Marie "Anne" Frank (German: [anəˈliːs maˈʁiː ˈfʁaŋk], Dutch: [ɑnəˈlis maːˈri ˈfrɑŋk]); 12 June 1929 – February or March 1945)[4] was a German-born Dutch-Jewish diarist. One of the most discussed Jewish victims of the Holocaust, she gained fame posthumously with the publication of The Diary of a Young Girl (originally Het Achterhuis in Dutch; English: The Secret Annex), in which she documents her life in hiding from 1942 to 1944, during the German occupation of the Netherlands in World War II. It is one of the world's best known books and has been the basis for several plays and films.
Born in Frankfurt, Germany, she lived most of her life in or near Amsterdam, Netherlands, having moved there with her family at the age of four and a half when the Nazis gained control over Germany. Born a German national, she lost her citizenship in 1941 and thus became stateless. By May 1940, the Franks were trapped in Amsterdam by the German occupation of the Netherlands. As persecutions of the Jewish population increased in July 1942, the Franks went into hiding in some concealed rooms behind a bookcase in the building where Anne's father, Otto Frank, worked. From then until the family's arrest by the Gestapo in August 1944, she kept a diary she had received as a birthday present, and wrote in it regularly. Following their arrest, the Franks were transported to concentration camps. In October or November 1944, Anne and her sister, Margot, were transferred from Auschwitz to Bergen-Belsen concentration camp, where they died (probably of typhus) a few months later. They were originally estimated by the Red Cross to have died in March, with Dutch authorities setting 31 March as their official date of death, but research by the Anne Frank House in 2015 suggests it is more likely that they died in February.[4]
Otto, the only survivor of the Franks, returned to Amsterdam after the war to find that her diary had been saved by his secretary, Miep Gies, and his efforts led to its publication in 1947. It was translated from its original Dutch version and first published in English in 1952 as The Diary of a Young Girl, and has since been translated into over 60 languages.
Born

Annelies[2] or Anneliese[3] Marie Frank


(

1929-06-12

)

12 June 1929


Frankfurt, Prussia, Weimar Republic

Died

February or March 1945

(aged 15)


Bergen-Belsen concentration camp, Eastern Hanover, Nazi Germany

Resting place

Bergen-Belsen concentration camp, Lower Saxony, Germany

Occupation

Diarist

Language

Dutch

Citizenship

German until 1941

Stateless from 1941

Relatives

Otto Frank (father)

Edith Frank (mother)

Margot Frank (sister)

Buddy Elias (cousin)

---

Signature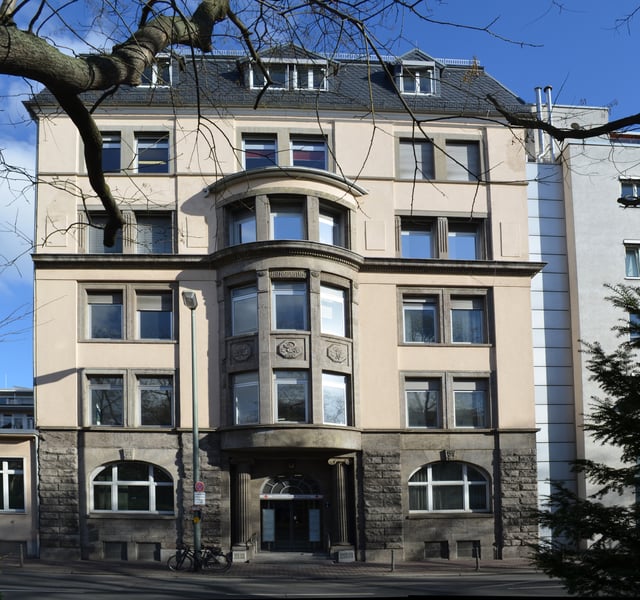 Anne Frank's birthplace, the Maingau Red Cross Clinic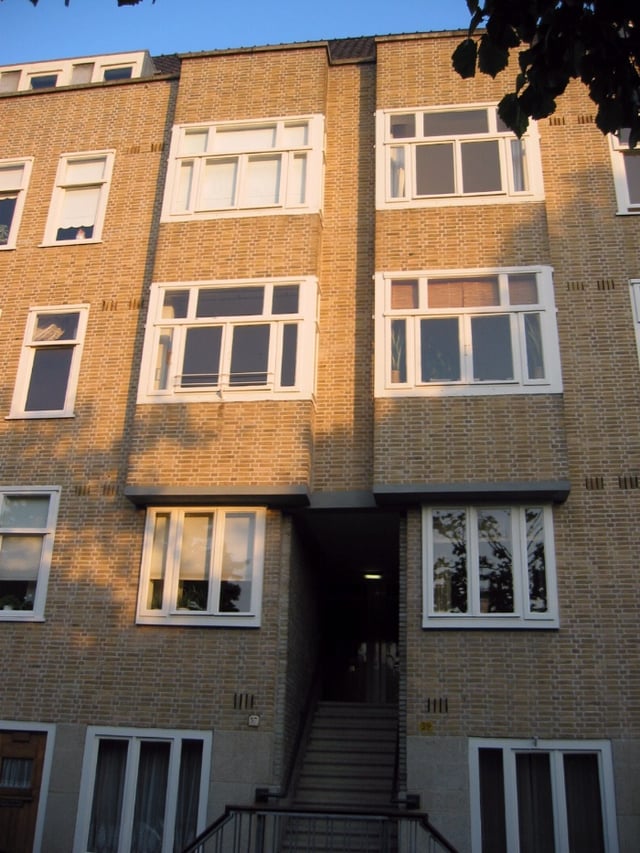 The apartment block on the Merwedeplein where the Frank family lived from 1934 until 1942
Frank was born Annelies[2] or Anneliese[3] Marie Frank on 12 June 1929 at the Maingau Red Cross Clinic[5] in Frankfurt, Germany, to Edith (née Holländer) and Otto Heinrich Frank. She had an older sister, Margot.[6] The Franks were liberal Jews, and did not observe all of the customs and traditions of Judaism.[7] They lived in an assimilated community of Jewish and non-Jewish citizens of various religions. Edith was the more devout parent, while Otto was interested in scholarly pursuits and had an extensive library; both parents encouraged the children to read.[8] At the time of Anne's birth the family lived in a house at Marbachweg 307 in Frankfurt-Dornbusch, where they rented two floors. In 1931 the family moved to Ganghoferstrasse 24 in a fashionable liberal area of Dornbusch called the Dichterviertel (Poets' Quarter). Both houses still exist.[9]
In 1933, after Adolf Hitler's Nazi Party won the federal election, Edith Frank and the children went to stay with Edith's mother Rosa in Aachen. Otto Frank remained in Frankfurt, but after receiving an offer to start a company in Amsterdam, he moved there to organize the business and to arrange accommodations for his family.[10] He began working at the Opekta Works, a company that sold the fruit extract pectin, and found an apartment on the Merwedeplein (Merwede Square) in the Rivierenbuurt neighbourhood of Amsterdam. By February 1934, Edith and the children had joined him in Amsterdam. The Franks were among 300,000 Jews who fled Germany between 1933 and 1939.[11]
After moving to Amsterdam, Anne and Margot Frank were enrolled in school—Margot in public school and Anne in a Montessori school. Margot demonstrated ability in arithmetic, and Anne showed aptitude for reading and writing. Anne's friend, Hanneli Goslar, later recalled that from early childhood, Frank frequently wrote, although she shielded her work with her hands and refused to discuss the content of her writing.
In 1938, Otto Frank started a second company, Pectacon, which was a wholesaler of herbs, pickling salts, and mixed spices, used in the production of sausages.[12][13] Hermann van Pels was employed by Pectacon as an advisor about spices. A Jewish butcher, he had fled Osnabrück with his family.[13] In 1939, Edith Frank's mother came to live with the Franks, and remained with them until her death in January 1942.[14]
In May 1940, Germany invaded the Netherlands, and the occupation government began to persecute Jews by the implementation of restrictive and discriminatory laws; mandatory registration and segregation soon followed.[14] Otto Frank tried to arrange for the family to emigrate to the United States – the only destination that seemed to him to be viable[15] – but Frank's application for a visa was never processed, due to circumstances such as the closing of the U.S. consulate in Rotterdam and the loss of all the paperwork there, including the visa application.[16] Even if it had been processed, the U.S. government at the time was concerned that people with close relatives still in Germany could be blackmailed into becoming Nazi spies.[15]
The Frank sisters were excelling in their studies and had many friends, but with the introduction of a decree that Jews could attend only Jewish schools, they were enrolled at the Jewish Lyceum. Anne became a friend of Jacqueline van Maarsen in the Lyceum.[14] In April 1941, Otto took action to prevent Pectacon from being confiscated as a Jewish-owned business. He transferred his shares in Pectacon to Johannes Kleiman and resigned as director. The company was liquidated and all assets transferred to Gies and Company, headed by Jan Gies. In December, Otto followed a similar process to save Opekta. The businesses continued with little obvious change and their survival allowed Otto to earn a minimal income, but sufficient to provide for his family.[17]
Time period chronicled in the diary
For her thirteenth birthday on 12 June 1942, Frank received a book she had shown her father in a shop window a few days earlier. Although it was an autograph book, bound with red-and-white checkered cloth[18] and with a small lock on the front, Frank decided she would use it as a diary,[19] and she began writing in it almost immediately. In her entry dated 20 June 1942, she lists many of the restrictions placed upon the lives of the Dutch Jewish population.[20]
Otto and Edith Frank planned to go into hiding with the children on 16 July 1942, but when Margot received a call-up notice from the Zentralstelle für jüdische Auswanderung (Central Office for Jewish Emigration) on 5 July, ordering her to report for relocation to a work camp, they were forced to move the plan ten days forward.[21] Shortly before going into hiding, Anne gave her friend and neighbour Toosje Kupers a book, a tea set, a tin of marbles, and the family cat for safekeeping. As the Associated Press reports: "'I'm worried about my marbles, because I'm scared they might fall into the wrong hands,' Kupers said Anne told her. 'Could you keep them for me for a little while?'"[22]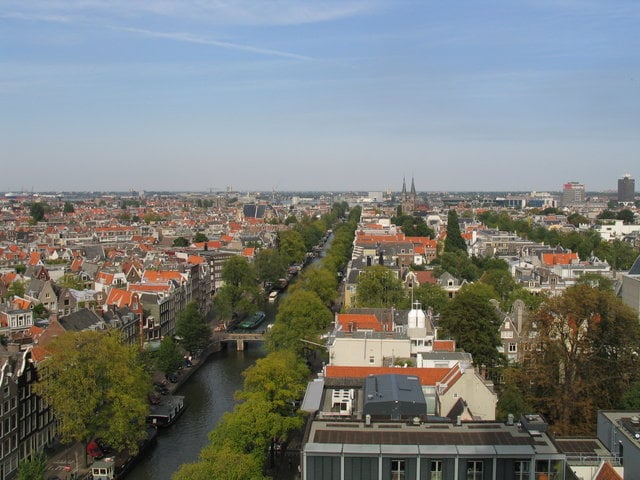 The Secret Annex with its light-coloured walls and orange roof (bottom) and the Anne Frank tree in the garden behind the house (bottom right), seen from the Westerkerk in 2004
In her writing, Frank examined her relationships with the members of her family, and the strong differences in each of their personalities. She considered herself to be closest emotionally to her father, who later commented, "I got on better with Anne than with Margot, who was more attached to her mother. The reason for that may have been that Margot rarely showed her feelings and didn't need as much support because she didn't suffer from mood swings as much as Anne did."[31] The Frank sisters formed a closer relationship than had existed before they went into hiding, although Anne sometimes expressed jealousy towards Margot, particularly when members of the household criticized Anne for lacking Margot's gentle and placid nature. As Anne began to mature, the sisters were able to confide in each other. In her entry of 12 January 1944, Frank wrote, "Margot's much nicer ... She's not nearly so catty these days and is becoming a real friend. She no longer thinks of me as a little baby who doesn't count."[32]
Frank frequently wrote of her difficult relationship with her mother, and of her ambivalence towards her. On 7 November 1942 she described her "contempt" for her mother and her inability to "confront her with her carelessness, her sarcasm and her hard-heartedness," before concluding, "She's not a mother to me."[33] Later, as she revised her diary, Frank felt ashamed of her harsh attitude, writing: "Anne, is it really you who mentioned hate, oh Anne, how could you?"[34] She came to understand that their differences resulted from misunderstandings that were as much her fault as her mother's, and saw that she had added unnecessarily to her mother's suffering. With this realization, Frank began to treat her mother with a degree of tolerance and respect.[35]
The Frank sisters each hoped to return to school as soon as they were able, and continued with their studies while in hiding. Margot took a shorthand course by correspondence in Bep Voskuijl's name and received high marks. Most of Anne's time was spent reading and studying, and she regularly wrote and edited her diary entries. In addition to providing a narrative of events as they occurred, she wrote about her feelings, beliefs, and ambitions, subjects she felt she could not discuss with anyone. As her confidence in her writing grew, and as she began to mature, she wrote of more abstract subjects such as her belief in God, and how she defined human nature.[36]
Frank aspired to become a journalist, writing in her diary on Wednesday, 5 April 1944:
I finally realized that I must do my schoolwork to keep from being ignorant, to get on in life, to become a journalist, because that's what I want! I know I can write ..., but it remains to be seen whether I really have talent ... And if I don't have the talent to write books or newspaper articles, I can always write for myself. But I want to achieve more than that. I can't imagine living like Mother, Mrs. van Daan and all the women who go about their work and are then forgotten. I need to have something besides a husband and children to devote myself to! ... I want to be useful or bring enjoyment to all people, even those I've never met. I want to go on living even after my death! And that's why I'm so grateful to God for having given me this gift, which I can use to develop myself and to express all that's inside me! When I write I can shake off all my cares. My sorrow disappears, my spirits are revived! But, and that's a big question, will I ever be able to write something great, will I ever become a journalist or a writer?[37]
She continued writing regularly until her last entry of 1 August 1944.
The Diary of a Young Girl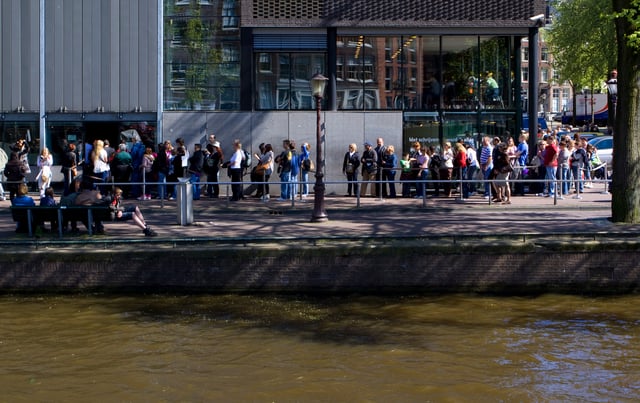 People waiting in line in front of the Anne Frank House entrance in Amsterdam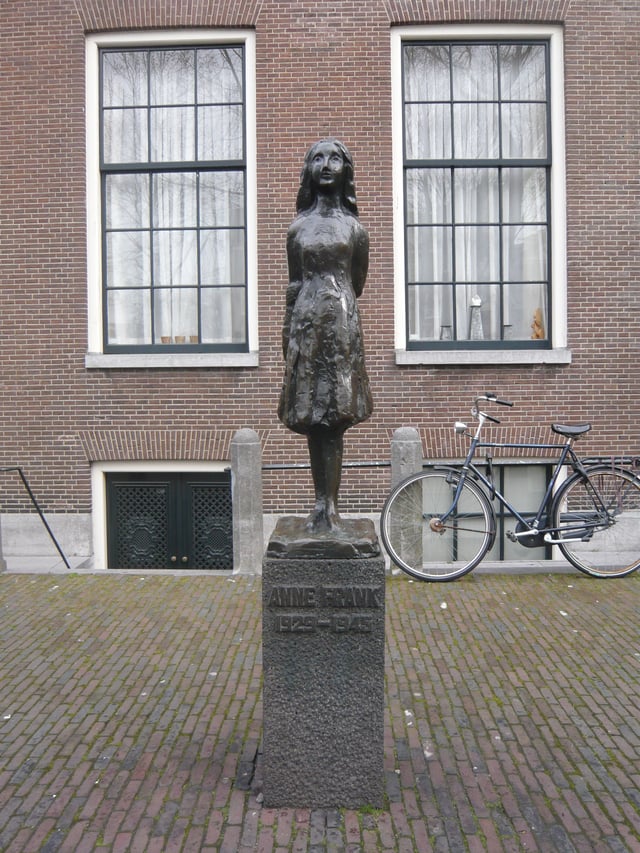 Statue of Anne Frank, by Mari Andriessen, outside the Westerkerk in Amsterdam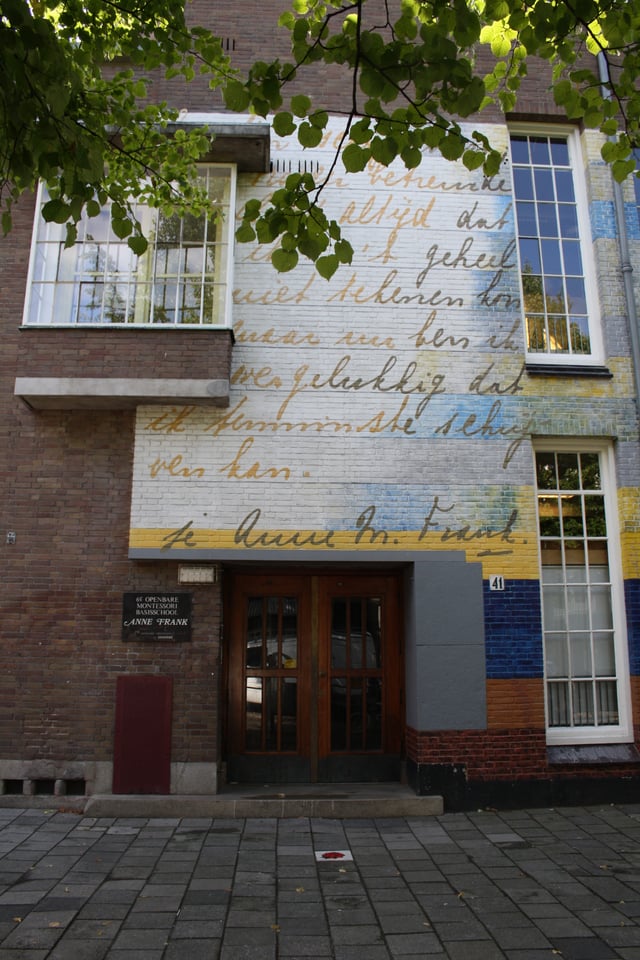 The Anne Frank School in Amsterdam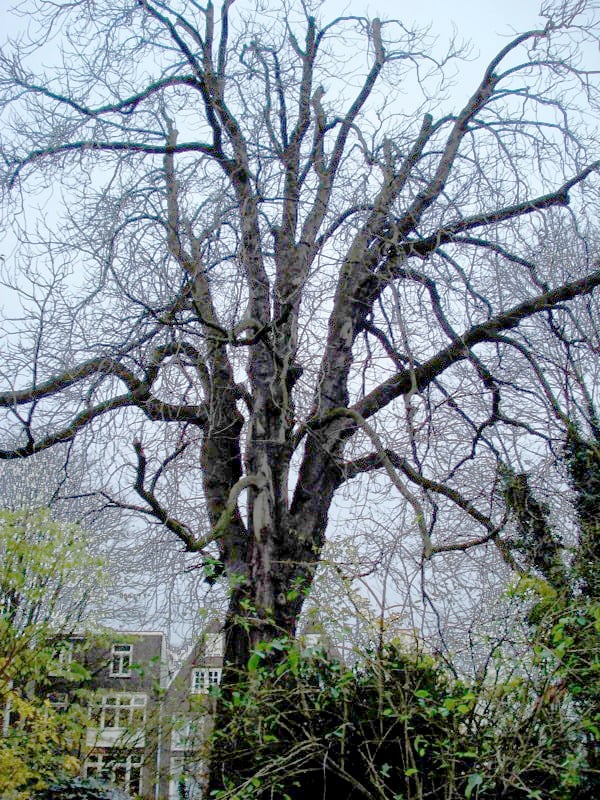 The Anne Frank tree in the garden behind the Anne Frank House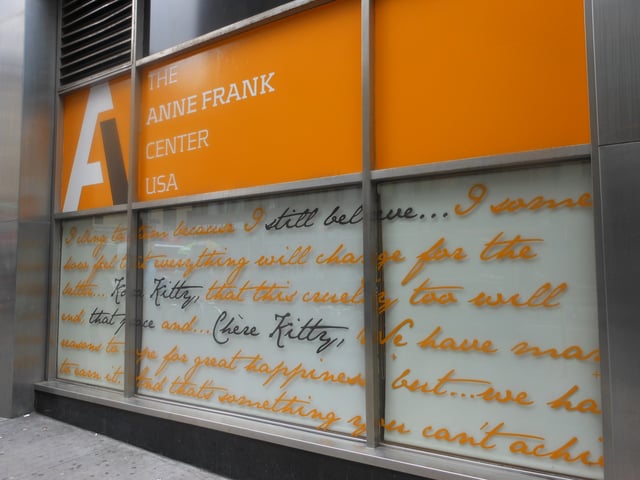 Anne Frank Center in New York
On 3 May 1957, a group of citizens, including Otto Frank, established the Anne Frank Stichting in an effort to rescue the Prinsengracht building from demolition and to make it accessible to the public. The Anne Frank House opened on 3 May 1960. It consists of the Opekta warehouse and offices and the Achterhuis, all unfurnished so that visitors can walk freely through the rooms. Some personal relics of the former occupants remain, such as movie star photographs glued by Anne to a wall, a section of wallpaper on which Otto Frank marked the height of his growing daughters, and a map on the wall where he recorded the advance of the Allied Forces, all now protected behind acrylic glass. From the small room which was once home to Peter van Pels, a walkway connects the building to its neighbours, also purchased by the Foundation. These other buildings are used to house the diary, as well as rotating exhibits that chronicle aspects of the Holocaust and more contemporary examinations of racial intolerance around the world. One of Amsterdam's main tourist attractions, it received a record 965,000 visitors in 2005. The House provides information via the internet and offers exhibitions that in 2005 travelled to 32 countries in Europe, Asia, North America, and South America.[105]
In 1963, Otto Frank and his second wife, Elfriede Geiringer-Markovits, set up the Anne Frank Fonds as a charitable foundation, based in Basel, Switzerland. The Fonds raises money to donate to causes "as it sees fit". Upon his death, Otto willed the diary's copyright to the Fonds, on the provision that the first 80,000 Swiss francs in income each year was to be distributed to his heirs. Any income above this figure is to be retained by the Fonds for use on whatever projects its administrators considered worthy. It provides funding for the medical treatment of the Righteous Among the Nations on a yearly basis. The Fonds aims to educate young people against racism, and loaned some of Anne Frank's papers to the United States Holocaust Memorial Museum in Washington for an exhibition in 2003. Its annual report that year outlined its efforts to contribute on a global level, with support for projects in Germany, Israel, India, Switzerland, the United Kingdom, and the United States.[106]
In 1997, the Anne Frank Educational Centre (Jugendbegegnungsstätte Anne Frank) was opened in the Dornbusch neighbourhood of Frankfurt, where Frank lived with her family until 1934. The Centre is "a place where both young people and adults can learn about the history of National Socialism and discuss its relevance to today."[107]
The Merwedeplein apartment, where the Frank family lived from 1933 until 1942, remained privately owned until the 2000s. After becoming the focus of a television documentary, the building—in a serious state of disrepair—was purchased by a Dutch housing corporation. Aided by photographs taken by the Frank family and descriptions in letters written by Anne Frank, it was restored to its 1930s appearance. Teresien da Silva of the Anne Frank House and Frank's cousin, Bernhard "Buddy" Elias, contributed to the restoration project. It opened in 2005. Each year, a writer who is unable to write freely in his or her own country is selected for a year-long tenancy, during which they reside and write in the apartment. The first writer selected was the Algerian novelist and poet El-Mahdi Acherchour.[105]
Anne Frank is included as one of the topics in the Canon of Dutch History, which was prepared by a committee headed by Frits van Oostrom and presented to the Minister of Education, Culture and Science, Maria van der Hoeven, in 2006; the Canon is a list of fifty topics that aims to provide a chronological summary of Dutch history to be taught in primary schools and the first two years of secondary school in the Netherlands. A revised version, which still includes her as one of the topics, was presented to the Dutch government on 3 October 2007.
In June 2007, "Buddy" Elias donated some 25,000 family documents to the Anne Frank House. Among the artefacts are Frank family photographs taken in Germany and the Netherlands and the letter Otto Frank sent his mother in 1945, informing her that his wife and daughters had perished in Nazi concentration camps.[108]
In November 2007, the Anne Frank tree—by then infected with a fungal disease affecting the tree trunk—was scheduled to be cut down to prevent it from falling on the surrounding buildings. Dutch economist Arnold Heertje said about the tree: "This is not just any tree. The Anne Frank tree is bound up with the persecution of the Jews."[109] The Tree Foundation, a group of tree conservationists, started a civil case to stop the felling of the horse chestnut, which received international media attention. A Dutch court ordered city officials and conservationists to explore alternatives and come to a solution.[110] The parties built a steel construction that was expected to prolong the life of the tree up to 15 years.[109] However, it was only three years later, on 23 August 2010, that gale-force winds blew down the tree.[111] Eleven saplings from the tree were distributed to museums, schools, parks and Holocaust remembrance centres through a project led by the Anne Frank Center USA. The first sapling was planted in April 2013 at The Children's Museum of Indianapolis. Saplings were also sent to a school in Little Rock, Arkansas, the scene of a desegregation battle; Liberty Park (Manhattan), which honours victims of the September 11 attacks; and other sites in the United States.[112] Another horse chestnut tree honoring Frank was planted in 2010 at Kelly Ingram Park in Birmingham, Alabama.[113]
Over the years, several films about Anne Frank appeared. Her life and writings have inspired a diverse group of artists and social commentators to make reference to her in literature, popular music, television, and other media. These include The Anne Frank Ballet by Adam Darius,[114] first performed in 1959, and the choral work Annelies, first performed in 2005.[115] The only known footage of the real Anne Frank comes from a 1941 silent film recorded for her newlywed next-door neighbour. She is seen leaning out of a second-floor window in an attempt to better view the bride and groom. The couple, who survived the war, gave the film to the Anne Frank House.[116]
In 1999, Time named Anne Frank among the heroes and icons of the 20th century on their list The Most Important People of the Century, stating: "With a diary kept in a secret attic, she braved the Nazis and lent a searing voice to the fight for human dignity".[92] Philip Roth called her the "lost little daughter" of Franz Kafka.[117] Madame Tussauds wax museum unveiled an exhibit featuring a likeness of Anne Frank in 2012.[118] Asteroid 5535 Annefrank was named in her honour in 1995, after having been discovered in 1942.[119]
People associated with Anne Frank

Searching for Anne Frank: Letters from Amsterdam to Iowa (book)