Everipedia is now
IQ.wiki
- Join the
IQ Brainlist
and our
Discord
for early access to editing on the new platform and to participate in the beta testing.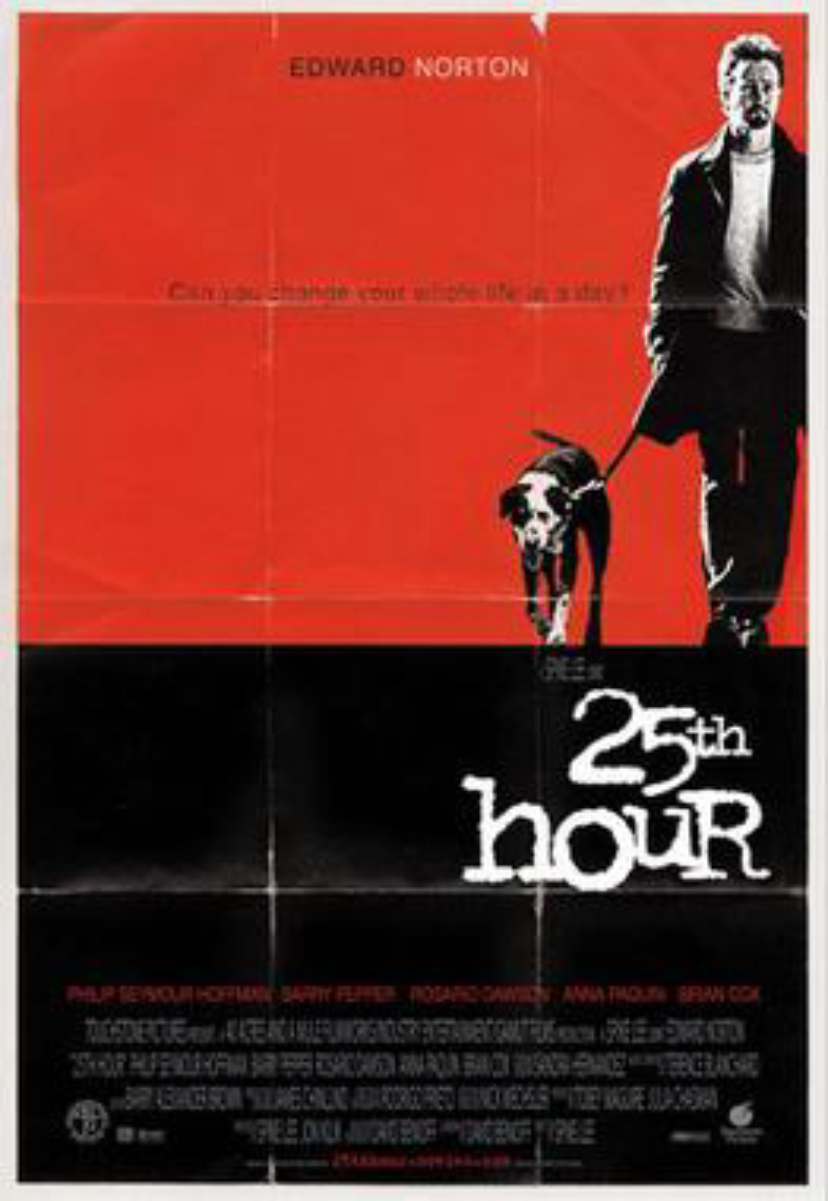 25th Hour
25th Hour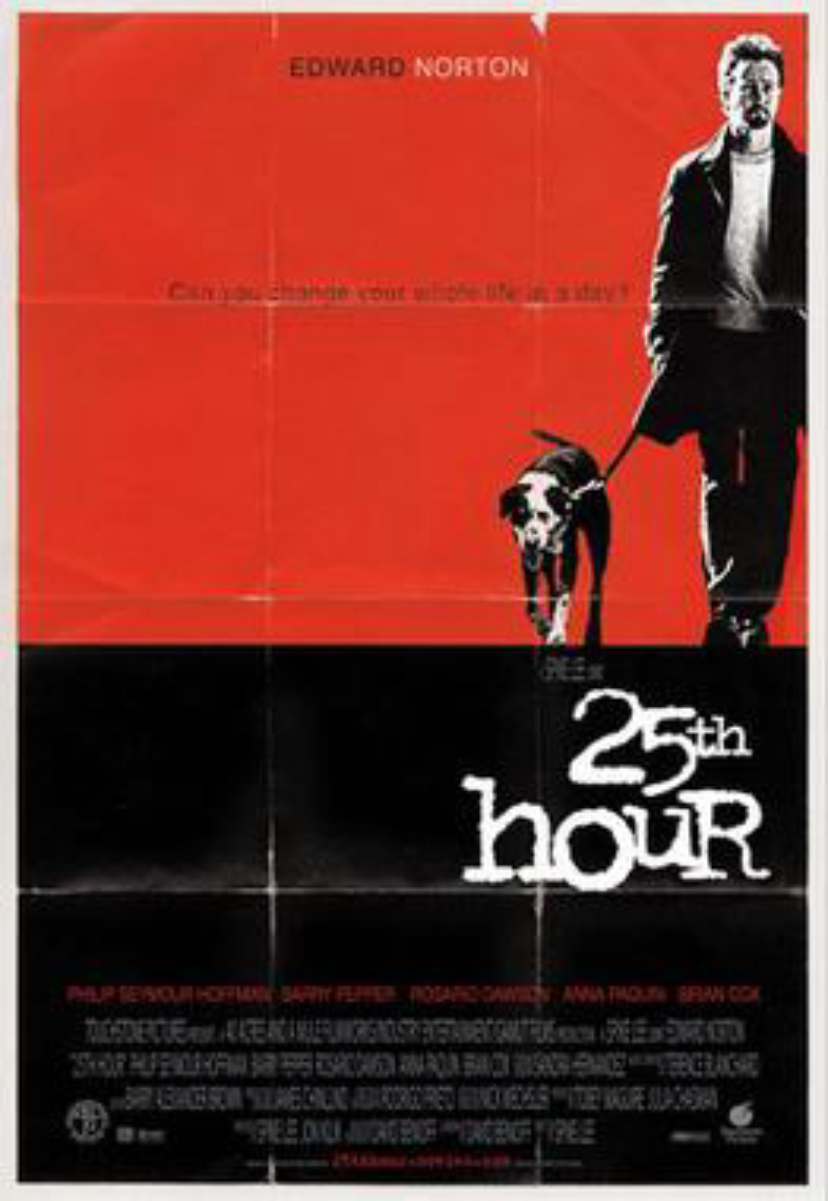 25th Hour

Directed by

Spike Lee

Produced by

Screenplay by

David Benioff

Based on

The 25th Hour

by David Benioff

Starring

Music by

Terence Blanchard

Cinematography

Rodrigo Prieto

Edited by

Barry Alexander Brown

Distributed by

Buena Vista Pictures

135 minutes

[1]

Country

United States

Language

English

Budget

$5 million

[2]

Box office

$23.9 million

[2]
Scene From Movie
25th Hour is a 2002 American drama film directed by Spike Lee and starring Edward Norton. Adapted by David Benioff from his own novel The 25th Hour
25th Hour opened to positive reviews, with several critics since having named it one of the best films of its decade.[55]
25th Hour

Directed by

Spike Lee

Produced by

Screenplay by

David Benioff

Based on

The 25th Hour

by David Benioff

Starring

Music by

Terence Blanchard

Cinematography

Rodrigo Prieto

Edited by

Barry Alexander Brown

Distributed by

Buena Vista Pictures

135 minutes

[1]

Country

United States

Language

English

Budget

$5 million

[2]

Box office

$23.9 million

[2]
Spike Lee & Ed Norton On Charlie Rose
A car pulls up short on a New York City street, and Montgomery "Monty" Brogan gets out with his buddy Kostya to look at a dog lying in the road. The animal may have been mauled in a dogfight so Monty intends to shoot him, but changes his mind after he looks it in the eye. Monty decides to take the dog to a nearby clinic instead.
Later, in 2002, Monty is about to begin serving a seven-year prison sentence for dealing drugs.
He sits in a park with Doyle, the dog he rescued, on his last day of freedom.
He plans to meet childhood friends Frank Slattery and Jacob Elinsky at a club with his girlfriend Naturelle Riviera.
Frank is a hotshot trader on Wall Street; Jacob is an introverted high school teacher with a crush on 17-year-old Mary, one of his students.
Monty visits his father, James, a former firefighter and recovering alcoholic who owns a bar, to confirm their plans to drive to the prison the following morning.
Monty's drug money helped James keep the bar, so a remorseful James sneaks a drink when Monty goes to the bathroom.
Facing himself in the mirror, Monty lashes out in his mind against everyone else: all the New York stereotypes he can think of, from the cabbies to the firefighters, the corner grocers to the mobsters, as if he hates them all.
Finally, he turns on himself, revealing that he is actually angry for getting greedy and having not given up drug dealing before he was caught.
In a flashback, Monty remembers the night he was arrested.
DEA detectives come to Monty's apartment while he's still there. They find the drugs immediately and not after any real search, suggesting that Monty had been betrayed. Monty sold drugs for Uncle Nikolai, a Russian mobster. Kostya tries to persuade Monty it was Naturelle who turned him in, since she knew where he hid his drugs and money. Monty refused to turn state's evidence against Nikolai, but he's not sure what Nikolai will do at the club that night. Monty remembers how he met Naturelle when she was 18, hanging around his old school, and how happy they were. He asks Frank to find out if it was Naturelle who betrayed him.
Jacob sees Mary outside the club, so Monty invites her inside with them.
Discussing what kind of a future Monty can have after prison, Frank says they can open a bar together, even though he told Jacob he believes Monty's life is over, and that Monty deserves his sentence for dealing drugs.
Frank accuses Naturelle of living high on Monty's money, not caring where it came from, but she reminds Frank that he knew as well and said nothing.
The argument culminates in Frank's insulting Naturelle's ethnicity, followed by her slapping Frank and leaving.
Jacob, meanwhile, finds the courage to kiss Mary, but both appear to be in shock afterwards and go their separate ways.
Monty and Kostya go see Uncle Nikolai, who gives Monty advice on surviving in prison.
Nikolai then reveals it was Kostya, not Naturelle, who betrayed Monty, and offers him a chance to kill Kostya in exchange for protecting his father's bar.
Monty refuses, reminding Nikolai that he had asked Monty to trust Kostya in the first place.
Monty walks out, leaving Kostya to be killed by the Russian mobsters.
Monty returns to his apartment and apologizes to Naturelle for mistrusting her.
At the park, he transfers custody of Doyle to Jacob.
Then he admits that he is terrified of being raped in prison, whereupon he asks Frank to brutally beat him, saying if he goes in ugly he might have a chance at survival. Frank refuses, so Monty deliberately provokes him. Frank is goaded into taking out his frustration, leaving Monty bruised and bloody, with a broken nose. Frank is in tears as Monty gets up and goes home.
Naturelle tries to comfort him as Monty's father arrives to take him to Federal Correctional Institution, Otisville. On the drive to prison, James suggests they go west, into hiding, giving Monty one last vision of freedom. Once again Monty sees a parade of faces from the streets of the city, followed by a vision of a future where Monty avoids imprisonment, reunites with Naturelle, starts a family, and grows old. As the fantasy ends, we see Monty, his eyes closed and face still bruised, sitting in the passenger's seat of the car, which has driven past the bridge to the west and towards prison.
Edward Norton as Montgomery "Monty" Brogan

Philip Seymour Hoffman as Jacob Elinsky

Barry Pepper as Frank Slaugherty

Rosario Dawson as Naturelle Riviera

Anna Paquin as Mary D'Annunzio

Brian Cox as James Brogan

Tony Siragusa as Kostya Novotny

Levan Uchaneishvili as Uncle Nikolai

Tony Devon as Agent Allen

Misha Kuznetsov as Senka Valghobek

Isiah Whitlock, Jr. as Agent Flood

Michael Genet as Agent Cunningham

Patrice O'Neal as Khari

Al Palagonia as Salvatore Dominick

Aaron Stanford as Marcuse

Marc H. Simon as Schultz

Armando Riesco as Phelan
Benioff completed the book The 25th Hour while studying at the University of California Irvine,[3][4] which was published in 2001. Six months before the book's publication, a preliminary trade copy was circulated, which Tobey Maguire read and he was interested in playing the role of Monty Brogan. He acquired the option for a potential film project and asked Benioff to adapt it into a screenplay.[5][4] However, after the script was written, Maguire became pre-occupied with the Spider-Man film and had to abandon the plan, although he would later act as a producer on the film that was made. Spike Lee then expressed an interest in directing the film.[4][6] Spike Lee was interested in the long monologue that Benioff called the "fuck monologue" whereby Monty ranted against the five boroughs of New York; Benioff had considered leaving it out as he thought it might not be dramatic, and Lee persuaded Benioff to keep it in. Disney picked up the film rights and wanted the monologue cut, but Lee filmed the scene nonetheless.[4]
The film was in the "planning stages" at the time of the September 11 attacks, and so Lee "decided not to ignore the tragedy but to integrate it into his story".[7]
Terence Blanchard composed the film's musical score. Other songs that appear in the film (and are not included in the original score) include:
Big Daddy Kane – "Warm It Up, Kane"

Craig Mack – "Flava in Ya Ear"

The Olympic Runners – "Put the Music Where Your Mouth Is"

Grandmaster Melle Mel – "White Lines (Don't Don't Do It)"

Liquid Liquid – "Cavern"

Cymande – "Bra"

Cymande – "Dove"

Cymande – "The Message"

Bruce Springsteen – "The Fuse"
The Better Call Saul season 1 episode "Bingo" makes both visual and verbal references to this film and its source novel, as well as to The Simpsons. Jimmy tells Kim to "Picture The 25th Hour, starring Ned and Maude Flanders", when he phones Kim to tell her the Kettlemans, one of whom is facing jail time, have hired him to replace Kim as their attorney.[18][19][20]
List of cultural references to the September 11 attacks