Woodbridge Henge is a circular monument near Woodbridge, Suffolk, East Anglia, United Kingdom. It dates to Neolithic and Bronze Ages and also consists of a ditch with an external earthwork, and a burial mound in the middle. [1]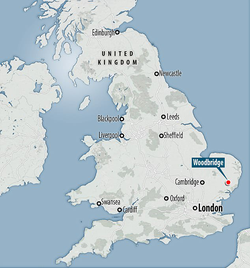 Woodbridge location in the UK
The site was discovered by ScottishPower Renewables during the construction of East Anglia ONE windfarm. It has been excavated by Archaeological Solutions in Bury St Edmunds, under project manager Vinny Monahan. Monahan has called the site "phenomenal" and experts have suggested that it is of "international significance" . He noted that the henge ditch had a "perfectly preserved" walkway, with tookmarks and wood in some places "as good as the day it was placed in the earth" . [1]
Among the finds was the skull of an Auroch, an extinct, prehistoric type of cattle that was radiocarbon dated to 4,300 BC. The skull has been cut in a way that suggests it had potentially been fixed to a pole as a totem or used as some form of headdress. [3]
Around 400 archaeologists have been involved studying the site in the last two years, with anything up to 250 people working on it at any given time. [2]
Skull of an Auroch found at the site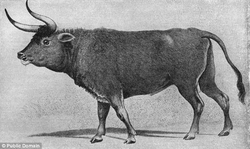 An ancient Auroch