Everipedia is now
IQ.wiki
- Join the
IQ Brainlist
and our
Discord
for early access to editing on the new platform and to participate in the beta testing.
Reuters
Reuters
Reuters

Division

Industry

News agency

Founded

October 1851

 (

1851-10

)

Founder

Paul Julius Reuter

Headquarters

Canary Wharf, London, United Kingdom

Worldwide

Michael Friedenberg

(President)

, Stephen J. Adler

(Editor-in-Chief)

Parent

Thomson Reuters

Website

reutersagency.com [54] (B2B) reuters.com [55] (B2C)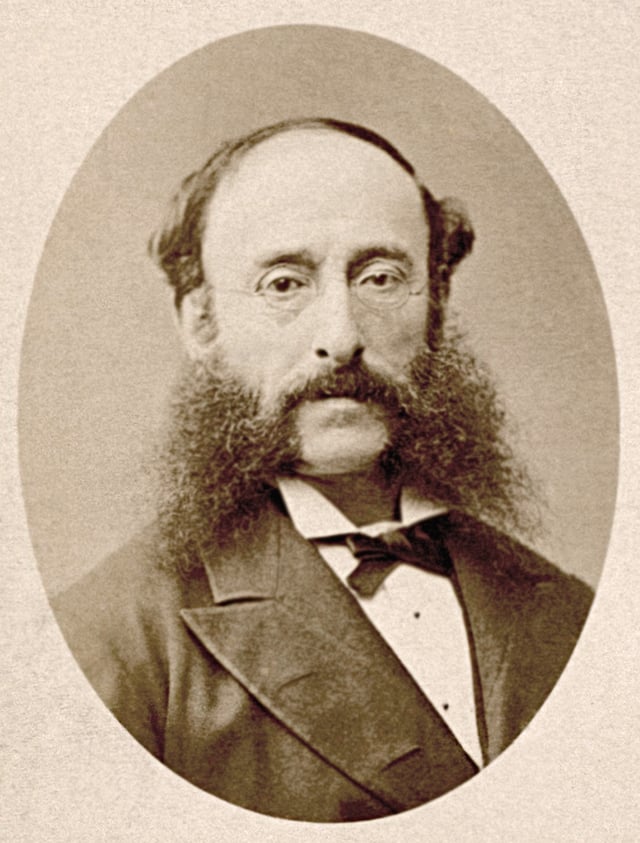 Paul Reuter, the founder, by Nadar, c. 1865
Reuters (/ˈrɔɪtərz/) is an international news organization owned by Thomson Reuters.[1] Until 2008, the Reuters news agency formed part of an independent company, Reuters Group plc, which was also a provider of financial market data. Since the acquisition of Reuters Group by the Thomson Corporation in 2008, the Reuters news agency has been a part of Thomson Reuters, making up the media division. It was established in 1851.
Reuters

Division

Industry

News agency

Founded

October 1851

 (

1851-10

)

Founder

Paul Julius Reuter

Headquarters

Canary Wharf, London, United Kingdom

Worldwide

Michael Friedenberg

(President)

, Stephen J. Adler

(Editor-in-Chief)

Parent

Thomson Reuters

Website

reutersagency.com [54] (B2B) reuters.com [55] (B2C)
The company returned to private ownership in 1916, with all shares purchased by Roderick Jones and Mark Napier; they renamed the company "Reuters Limited", dropping the apostrophe.[5] In 1923, Reuters began using radio to transmit news internationally, a pioneering act.[4] In 1925, The Press Association (PA) of Great Britain acquired a majority interest in Reuters, and full ownership some years later.[2] During the world wars, The Guardian reported that Reuters "came under pressure from the British government to serve national interests. In 1941 Reuters deflected the pressure by restructuring itself as a private company." The new owners formed the Reuters Trust.[4] In 1941, the PA sold half of Reuters to the Newspaper Proprietors' Association, and co-ownership was expanded in 1947 to associations that represented daily newspapers in New Zealand and Australia.[2] The Reuters Trust Principles were put in place to maintain the company's independence.[6] At that point, Reuters had become "one of the world's major news agencies, supplying both text and images to newspapers, other news agencies, and radio and television broadcasters."[2] Also at that point, it directly or through national news agencies provided service "to most countries, reaching virtually all the world's leading newspapers and many thousands of smaller ones," according to Britannica.[2]
In 1961, Reuters scooped news of the erection of the Berlin Wall.[7] Reuters was one of the first news agencies to transmit financial data over oceans via computers in the 1960s.[2] In 1973, Reuters "began making computer-terminal displays of foreign-exchange rates available to clients."[2] In 1981, Reuters began making electronic transactions on its computer network and afterwards developed a number of electronic brokerage and trading services.[2] Reuters was floated as a public company in 1984,[7] when Reuters Trust was listed on the stock exchanges[4] such as the London Stock Exchange (LSE) and NASDAQ.[2] Reuters later published the first story of the Berlin Wall being breached in 1989.[7]
The share price grew during the dotcom boom, then fell after the banking troubles in 2001.[4] In 2002, Britannica wrote that most news throughout the world came from three major agencies: the Associated Press, Reuters, and Agence France-Presse.[8] Reuters merged with Thomson Corporation in Canada in 2008, forming Thomson Reuters.[2] In 2009, Thomson Reuters withdrew from the LSE and the NASDAQ, instead listing its shares on the Toronto Stock Exchange and the New York Stock Exchange.[2] The last surviving member of the Reuters family founders, Marguerite, Baroness de Reuter, died at age 96 on 25 January 2009.[9] The parent company Thomson Reuters is headquartered in Toronto, and provides financial information to clients while also maintaining its traditional news-agency business.[2]
In 2012, Thomson Reuters appointed Jim Smith as CEO.[6] Almost every major news outlet in the world subscribed to Reuters as of 2014. Reuters operated in more than 200 cities in 94 countries in about 20 languages as of 2014. In July 2016, Thomson Reuters agreed to sell its intellectual property and science operation for $3.55 billion to private equity firms.[10] In October 2016, Thomson Reuters announced expansions and relocations to Toronto.[10] As part of cuts and restructuring, in November 2016, Thomson Reuters Corp. eliminated 2,000 worldwide jobs out of its around 50,000 employees.[10]
Name

Nationality

Location

Date

Hos Maina

Kenyan

Somalia

12 July 1993

Dan Eldon

Kenyan

Somalia

12 July 1993

Kurt Schork

American

Sierra Leone

24 May 2000

Taras Protsyuk

Ukrainian

Iraq

8 April 2003

Mazen Dana

Palestinian

Iraq

17 August 2003

Adlan Khasanov

Russian

Chechnya

9 May 2004

Waleed Khaled

Iraqi

Iraq

28 August 2005

Namir Noor-Eldeen

Iraqi

Iraq

12 July 2007

[23]

Saeed Chmagh

Iraqi

Iraq

12 July 2007

[23]

Fadel Shana'a

Palestinian

Gaza Strip

16 April 2008

Hiro Muramoto

Japanese

Thailand

10 April 2010

Molhem Barakat

Syrian

Syria

20 December 2013
Criticism and controversy
In July 2013, David Fogarty, former Reuters climate change correspondent in Asia, resigned after a career of almost 20 years with the company and wrote about a "climate of fear" which resulted in "progressively, getting any climate change-themed story published got harder" following comments from then deputy editor-in-chief Paul Ingrassia that he was a "climate change sceptic". In his comments, Fogarty stated that "Some desk editors happily subbed and pushed the button. Others agonised and asked a million questions. Debate on some story ideas generated endless bureaucracy by editors frightened to make a decision, reflecting a different type of climate within Reuters—the climate of fear," and that "by mid-October, I was informed that climate change just wasn't a big story for the present. …Very soon after that conversation I was told my climate change role was abolished."[28][29] Ingrassia, formerly Reuters' managing editor, previously worked for The Wall Street Journal and Dow Jones for 31 years.[30] Reuters responded to Fogarty's piece by stating that "Reuters has a number of staff dedicated to covering this story, including a team of specialist reporters at Point Carbon and a columnist. There has been no change in our editorial policy."[31]
Subsequently, climate blogger Joe Romm cited a Reuters article on climate as employing "false balance", and quoted Dr. Stefan Rahmstorf, Co-Chair of Earth System Analysis at the Potsdam Institute that "[s]imply, a lot of unrelated climate skeptics nonsense has been added to this Reuters piece. In the words of the late Steve Schneider, this is like adding some nonsense from the Flat Earth Society to a report about the latest generation of telecommunication satellites. It is absurd." Romm opined that "We can't know for certain who insisted on cramming this absurd and non-germane 'climate sceptics nonsense' into the piece, but we have a strong clue. If it had been part of the reporter's original reporting, you would have expected direct quotes from actual skeptics, because that is journalism 101. The fact that the blather was all inserted without attribution suggests it was added at the insistence of an editor."[32]
According to Ynetnews, Reuters was accused of bias against Israel in its coverage of the 2006 Israel–Lebanon conflict after the wire service used two doctored photos by a Lebanese freelance photographer, Adnan Hajj.[33] In August 2006, Reuters announced it had severed all ties with Hajj and said his photographs would be removed from its database.[34]
In 2010, Reuters was criticised again by Haaretz for "anti-Israeli" bias when it cropped the edges of photos, removing commandos' knives held by activists and a naval commando's blood from photographs taken aboard the Mavi Marmara during the Gaza flotilla raid, a raid that left nine Turkish activists dead. It has been alleged that in two separate photographs, knives held by the activists were cropped out of the versions of the pictures published by Reuters.[35] Reuters said it is standard operating procedure to crop photos at the margins, and replaced the cropped images with the original ones after it was brought to the agency's attention.[35]
Accusations of pro-Fernando Henrique Cardoso bias
In March 2015, the Brazilian affiliate of Reuters released a text containing an interview with Brazilian ex-president Fernando Henrique Cardoso about the ongoing Petrobras scandal. One of the paragraphs mentioned a comment by a former Petrobras manager, in which he suggests corruption in that company may date back to Cardoso's presidency. Attached to it, there was a comment between parenthesis: "Podemos tirar se achar melhor" ("we can take it out if [you] think it would be better"),[36] which is now absent from the current version of the text.[37] The agency later issued a text in which they confirm the mistake, explaining it was a question by one of the Brazilian editors to the journalist who wrote the original text in English, and that it was not supposed to be published.[38]
Media of the United Kingdom

List of news agencies

Interbank market, competitor

Press Association, a UK rival of Reuters
Reuters Market Data System

Reuters 3000 Xtra

Reuters Instrument Code

Reuters Insider

Reuters TV

Reuters Market Light
Thomson Reuters Business Classification

Thomson Reuters Messenger

Thomson Reuters Citation Laureates

Thomson Reuters Indices

Thomson Reuters/Jefferies CRB Index

Thomson Reuters league tables

Thomson Reuters Realized Volatility Index

Thomson Reuters Foundation