Everipedia is now
IQ.wiki
- Join the
IQ Brainlist
and our
Discord
for early access to editing on the new platform and to participate in the beta testing.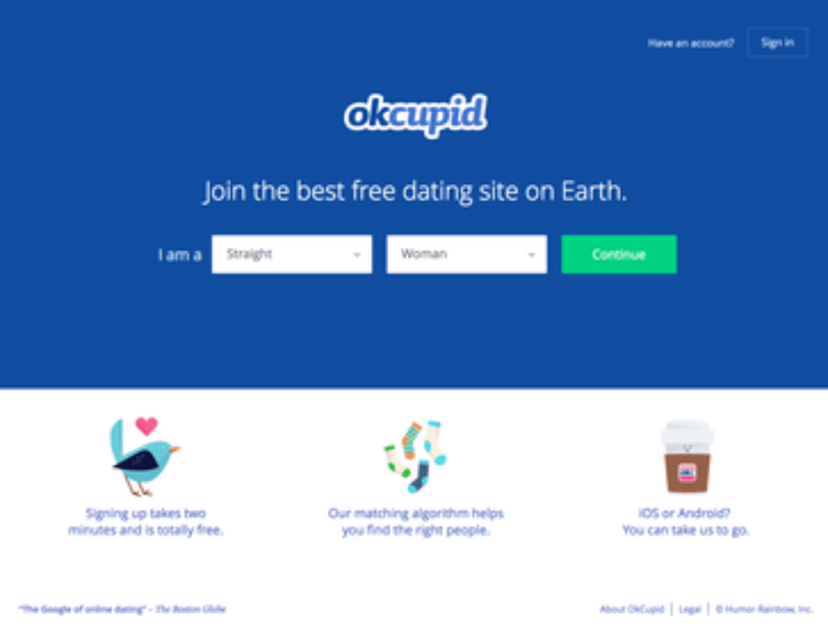 Okcupid
OkCupid (sometimes abbreviated as OKC[2]) is an American-based, internationally operating online dating, friendship, and social networking website that features multiple-choice questions in order to match members. It is supported by advertisements, by paying users who do not see ads, and by selling user data for data mining.
According to University of Texas at Austin psychologist David Buss, "Apps like Tinder and OkCupid give people the impression that there are thousands or millions of potential mates out there. One dimension of this is the impact it has on men's psychology. When there is ... a perceived surplus of women, the whole mating system tends to shift towards short-term dating,"[23] and there is a feeling of disconnect when choosing future partners.[24] In addition, the cognitive process identified by psychologist Barry Schwartz as the "paradox of choice" (also referred to as "choice overload" or "fear of a better option") was cited in an article published in The Atlantic that suggested that the appearance of an abundance of potential partners causes online daters to be less likely to choose a partner and be less satisfied with their choices of partners.[25][26]
Despite being a platform designed to be less centered on physical appearance,[21] OkCupid co-founder Christian Rudder stated in 2009 that the male OkCupid users who were rated most physically attractive by female OkCupid users received 11 times as many messages as the lowest-rated male users did, the medium-rated male users received about four times as many messages, and the one-third of female users who were rated most physically attractive by the male users received about two-thirds of all messages sent by male users.[26] Additionally, a study published in the August 2018 edition of Science Advances by researchers at the University of Michigan and the Santa Fe Institute found that users of an unnamed, popular, and free online dating service in New York City, Boston, Chicago, and Seattle typically pursued potential partners ranked on average 25 percent more desirable than they were (as measured by the PageRank algorithm).[27] Coupled with data released by the dating app Tinder showing that only 26 million of the 1.6 billion swipes that the app records per day actually result in matches (despite users spending on average about an hour and a half per day on the app), an article published in the December 2018 issue of The Atlantic concluded "Unless you are exceptionally good-looking, the thing online dating may be best at is sucking up large amounts of time."[26]
2014 experimenting on users
In 2014, OkCupid revealed in a blog post that experiments were routinely conducted on OkCupid users.[28] The site revealed that one experiment included removing users' profile pictures on January 15, 2013 ("Love is Blind Day") and analyzed user responses to messages, conversations, and contact details. When the photos were restored, users who had started "blind" conversations gradually began tapering off their conversations, leading OkCupid's CEO Christian Rudder to remark "it was like we'd turned on the bright lights at the bar at midnight".[28] In a separate A/B test, OkCupid used a placebo number instead of users' true match percentage. The results suggested that doing this caused users, who were "bad matches" under the original algorithm, to actually like each other: "When we tell people they are a good match, they act as if they are."[22]
The revelation that OkCupid conducted these experiments on users led to criticism. Rudder attempted to defend the company, in part by suggesting that it would be unethical not to experiment on users:
I think part of what's confusing people about this experiment is the result ... this is the only way to find this stuff out [what actually works for a dating site], if you guys have an alternative to the scientific method I'm all ears.[29]
2016 data scraping and release
In May 2016, a team of Danish researchers have made publicly available the "OkCupid dataset" project, containing (as of May 2016) 2,620 variables describing 68,371 users on OkCupid for research purposes (e.g., for psychologists investigating the social psychology of dating).[30] The data release spurred criticism,[31] and an investigation by the Danish Data Protection Authority.[32]
2017 switch to using real names from pseudonyms
In December 2017, OkCupid rolled out a change that would require users to provide their real first name, in place of a pseudonym as was previously encouraged. Although the company later clarified that nicknames or initials would be acceptable,[33] despite a list of "banned words" being employed, this change has been criticized as potentially paving the way to harassment of individuals and minorities,[34] to doxing,[35] and it has been noted that unlike other dating sites that encourage the use of first names, OkCupid "encourages long profiles full of intimate details, including candid answers to questions about sex and politics", making connecting that information with a real name more problematic to users.[36]
In 2017 OkCupid reported on Twitter that they had removed Christopher Cantwell's user profile for being a white supremacist after a woman reported receiving a message from him. This raised questions from some users who wondered about the ease with which the company could eliminate users from its platform.[37][38][39][40]
User photos for data mining
Clarifai, an A.I. start-up, built a face database with images from OkCupid, due to common founders in both companies.[41]
2019 alleged credential stuffing incident
A February 2019 report alleged that many users reported lost access to their accounts in a manner consistent with either a data breach or a widespread "credential stuffing" incident. "Credential stuffing" describes using passwords stolen from one service (like another dating site) to attack another service, on the assumption that many people will reuse passwords across websites. OK Cupid denied any data breach or system errors.[42]
OkCupid claimed 3.5 million active users as of September 2010. According to Compete.com, the website attracted 1.3 million unique visitors in February 2011.[43]
The site used to have a highly active journal/blogging community as well. Journals are not available to new members and the feature is now "retired." Members have the option of saving favorite user profiles, which display the favorited person's responses to questions and profile updates on the member's front page.
Any adult may join the site and all users may communicate with others via private messages or an instant messaging "chat" function. OkCupid was the first major dating site to offer unlimited messaging free of charge, although this was limited in late 2017 when OkCupid's official blog announced the site is "getting rid of open-messaging" and making sent messages invisible to the recipient until they in turn interact with the sender.[44] A-List (paying) members see no advertising and have more filtering options and preferential placement in an "A-List Matches" section of search results. A-list members can also browse openly while choosing whether or not their profile is displayed to those they visited.[45]
OkTrends, the official blog of OkCupid, presents statistical observations from OkCupid user interactions, to explore data from the online dating world.
To generate matches, OkCupid applies data generated by users' activities on the site,[46] as well as their answers to questions. When answering a question, a user indicates his or her own answer, the answers he or she would accept from partners, and the level of importance he or she places on the question. The results of these questions can be made public. OkCupid describes in detail the algorithm used to calculate match percentages. Assuming a user is a paid user ("A-List"), the site notifies a user if someone likes that user.
Comparison of online dating websites