Mo Vlogs [4] ​ real name Mohamed Beiraghdary. He took birth in Dubai (United Arab Emirates) on 08 March 1995. He lives in Dubai with her Mother - Nadereh Samimi aka Naddia and Sister- Parisa aka Lana Rose. Mohamed's Father name is Esmail Beiraghdary, he currently don't live with his family. Before moving to Dubai he used to live in London along with Mother and Sister.He began dating YouTube sensation Narins Beauty.
Mo started his Youtube carrier as a gamer with his Youtube channel in 2011 by the name "HitspecK0" and later in 2013 he started new VLog channel "Mo Vlogs". Mo Vlogs is the name through which he is famous nowadays. [2] ​
Mo started his career on YouTube with a gaming channel HitspecK0 in 2011, which has around 97 videos and around 8000 Subscribers. [7] ​ The last video uploaded to his gamming channel was on 17 Jan 2015. On Mo Vlogs he uploaded his first video "My first Vlog!" on 7th Dec 2014. He used to have around 10,000 to 20,000 views on his daily Vlogs and around 2,00,000 to 5,00,000 views on Vlogs in which he features supercars. He gained the booming fame on YouTube after he uploaded videos like "Rich Kids of the Middle East - The Most Expensive Car Event in the World !!!" , "Racing in my Friends Bugatti !!! " , "THE LUXURY DUBAI LIFESTYLE - BILLIONAIRE BOYS " , "Girl Driving a Bugatti in Dubai !!! " [3] ​ and "Paying CASH for my New Car !!! ". These videos have 3 Million to 10 Million views on YouTube and as of February 2017, he has around 3 Million subscribers on his Vlog channel. [1] ​
Associated With
He and Aleem Iqbal both have channels featuring luxury cars [6] ​
Mo vlogs and His SisterLna rose offical musical video  wollop wollop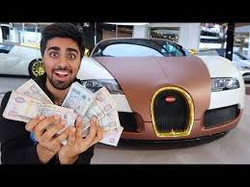 Mo vlogs in one of his Youtube channel video
Mo Vlogs video of him meeting Salman Khan