Liliana Catia dos Santos Aveiro , also known as, Katia Aveiro , (October 5, 1977) [1] ​ who once went by the artistic name, Ronalda , is a Portuguese ​ singer, television personality ​​, and business owner in the country of Portugal ​. [2] ​ [3] ​ [4] ​She has released many singles throughout her career including, "Boom sem parar". She is the brother of Fútbol ​ superstar ​ Cristiano Ronaldo ​. [5] ​ [6] ​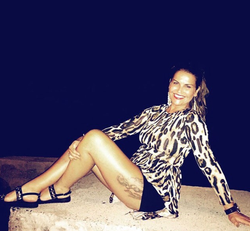 Katia Aveido Ronaldo posing for a photo.
Biography
Early Life
Katia Aveiro was born and raised in Funchal, Madeira Islands ​ to parents Jose Dinis Aveiro and Maria Dolores dos Santos. [8] ​ [7] ​ She is the second youngest child of four. Her siblings are Elma, Hugo, and Cristiano Ronaldo ​. [9] ​
DKB - Acurrucate ft. Katia Aveiro.
During her young life, it is said that she and her family were lower class people who were considered to be in poverty. Her father was a municipal gardener and her mother was a cook. [10] ​ [11] ​ She has great-grandmother Isabel De Piedade was from Cape Verde. [12] ​
She graduated from Dr. Horácio Bento de Gouveia School in Madeira. [13] ​ After graduating High School, she worked an array of different jobs which included helping her mother run a restaurant and other activities. [14] ​
Supportive of her brother Ronaldo's athletic achievements as an up and coming star for Manchester United ​, she became a part of his support circle and one of the people he trusts most. She continues to form part of his inner circle and often attends gala events in support of her brother. [15] ​
Career
Music
In 2005, Katia began her singing career in Lisbon with the name, "La Ronalda". [16] ​ [17] ​ [18] ​ She has since released several albums and singles throughout many years and continues to release new music each year. [19] ​ [20] ​
Albums
2005: Pronta pra te amar (Ronalda)
2006: Esperança (Ronalda)
2007: De corpo e alma (Ronalda)
2013: Boom sem parar
2014: Latina de cuerpo y alma
2015: Delicia (ft. Marcus Machado)
Singles
2005: "Pronta P'ra Te Amar".
2006: "Portugal Mundial 2006".
2013: "Boom sem parar"
2014: "Latina de cuerpo y alma"
2015: "Delicia" (ft. Marcus Machado) [21] ​
Rodriguinho dança e cumpre desafio ao som de Kátia Aveiro, irmã de seu ídolo, Cristiano Ronaldo.
Reality Television
Katia has competed on a number of reality shows including the 2014 season of Supervivientes and the 2015 series of Dança com as estrelas. [22] ​
In 2014, she also competed against Gandía Shore star and winner Abraham Garcia on Supervivientes: Honduras. [23] ​
Restaurant: Cascatas e Girassóis
In 2018, she opened a restaurant near her hometown in Funchal called Cascatas e Girassóis. The restaurant is located at the Marina shopping mall. [24] ​
Book of Recipes
In 2017, Katia and her mother released a book of recipes called Receitas da minha querida mãe . [25] ​
Personal Life
Katia lives in Lisbon ​ with her two children, Rodrigo and Denis. [26] ​